One of the most necessary aspects of any travel planning is deciding where you are going to stay. Considering the variety of hotels, hostels and rental properties available around the world, lodging options are forever expanding. But if you are looking for a unique spin on your next trip, why not consider staying in a tent? And I don't mean one you pitch yourself.
From the simple pleasures of a real bed and running water to more luxurious options including carpeted floors and working fireplaces, consider booking one of these furnished tents on your next vacation.
Budget Tents (less than $150 per night)
If you are looking for a more "rustic" experience but would rather not forgo the conveniences of modern life, consider booking a furnished tent at Willow-Witt Ranch in Ashland, Oregon, complete with a wood stove and private deck. Enjoy a complimentary tour of the family farm during your stay, and use the fully equipped kitchen to cook a meal with local produce picked right from the garden.
Cost: $125/night (2-person tent) or $145/night (4-person tent)
The Corcovado Adventures Tent Camp offers private tents nestled between the ocean and the jungle. Regular wildlife visitors to the area include birds, butterflies, and even monkeys. The tents are rented as part of an adventure package, which also includes free use of kayaks, canoes, snorkeling equipment, boogie boards, surfboards, and fishing gear during your stay.
Cost: $415 for a 3-night adventure package (low season)
We've called El Cosmico "the chicest and most charming campground in existence" and for a good reason! The canvas safari tents are affordable and adorable, but you can also choose to upgrade to a tepee, yurt, or trailer. Amenities include wood-fired hot tubs and bikes for rent, and visitors can relax in the campground's hammock grove. Check out The Everygirl's Weekend City Guide to Marfa for advice on when to visit and what to do during your stay.
Cost: $85/night (safari tent)
For a luxury tent experience at an unbeatable price, the Samode Bagh in Jaipur offers 44 tented cottages complete with marble bathrooms, air conditioning and heating, carpeted floors and private porches. Available activities at this garden retreat include outdoor sports, horse and camel safaris, and an outdoor Jacuzzi and spa.
Cost: around $90/night
Mid-range Tents ($150-300 per night)
Airbnb offers travelers shared rooms, private rooms, entire homes, and—yes—even tents, like these furnished bell tents in the United Kingdom. For a moderate price, the host will deliver and set up your tent(s) within an hour of Bath, England, complete with airbeds, lighting, and a few cozy details (including rugs and throws!).
Cost: $186/night
The roofs of these geodesic structures, or "dome rooms" at Elqui Domos, can be opened for unimpeded views of the night sky from the comfort of your bed. A private bathroom is included on the first floor of the tent. In addition to exploring the skies from the hotel's observatory during an astronomic tour, guests can book reiki, tarot, or meditation services during their stay.
Cost: $155/night (low season) or $190/night (high season)
After a long day of hiking, rock climbing, or other adventures in Moab, even the most outdoorsy traveler might enjoy amenities such as hot water and a wood-burning stove, both available for tent lodgers at Moab Under Canvas. Fun options for nearby activities during your stay include hot air balloon rides, rafting, horseback riding, and Hummer or Jeep tours.
Cost: $179/night (Safari Tent) or $294/night (Deluxe Tent)
The Sandat Glamping Tents (located less than two miles from the center of Ubud) boast indoor bathrooms, a wi-fi connection, garden views, and a private infinity pool. Each of the five tents contains original pieces handcrafted by Balinese artists, and each tent is decorated in a unique style (such as the marine-inspired theme of Tent Sarong).
Cost: $260/night (low season) or $290/night (high season)
Treat Yo'self Tents ($300-500 per night)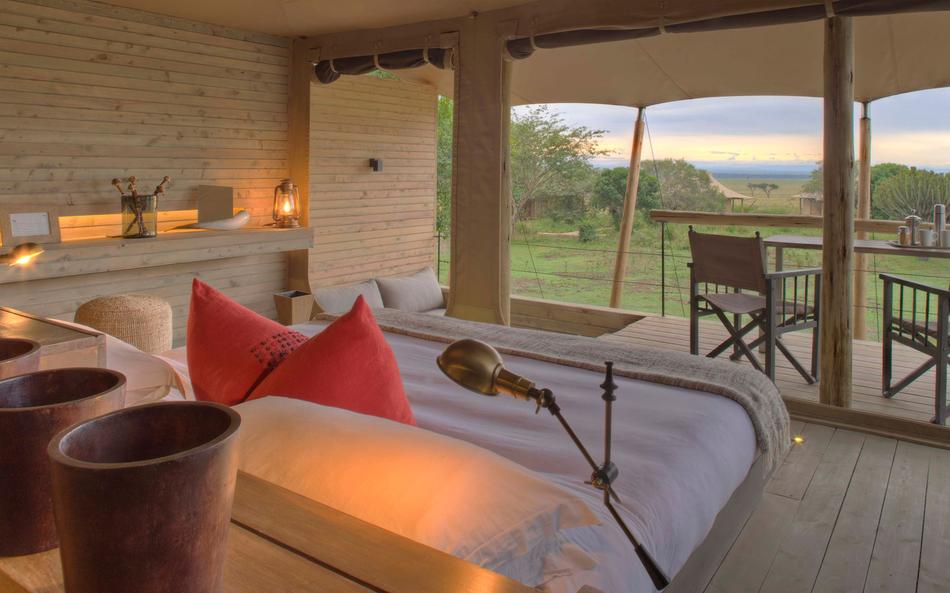 The luxury safari tents at Kichwa Tembo include private verandas with gorgeous views of the Masai Mara National Reserve. This &Beyond lodge also offers guided activities such as game drives, nature walks, and even a hot air balloon safari to enhance your stay.
Cost: $330/night (classic tent, low season) or $400/night (superior tent, low season)
The Nightfall hosts actually built the tents themselves, including welding the frames, sewing the canvas coverings, and even building the furniture. Available luxuries include espresso coffee, complimentary champagne, and organic bedding, and guests can choose from extras including personalized yoga sessions, a guided walk through Lamington National Park, or even a massage in the forest. One of the main selling points of this tent camp is its privacy and tranquility, so be sure to book in advance if you hope to snag one of these luxury accommodations.
Cost: $455/night for a midweek stay
Have you ever stayed in a tent camp? Would you consider it? Share in the comments below!