It's no secret that we are big podcast fans here at The Everygirl. We've done a few previous round ups of our favorites that covered everything from murder mysteries to celebrity life advice. Today our round up covers our favorite podcasts for getting inspired on your commute.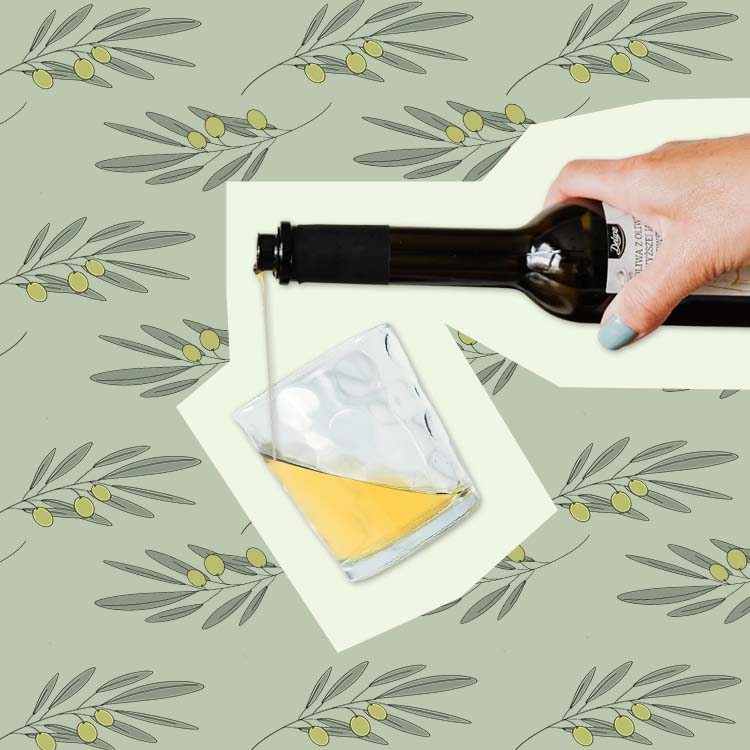 we love olive oil, but this seems a bit too far... or is it?
If you're tired of singing along to Top 40 to and from work each day, give these a try and we promise you'll feel more inspired (and smarter!) afterwards. Whether you're an aspiring entrepreneur with a great business idea, or interested in living a healthier lifestyle, these shows are a sure fire way to kick-start your inspiration.
Produced by NPR, each week host Guy Raz interviews the innovators and creatives who started some of today's most well-known brands. Episodes are a quick half hour and have covered everything from fashion brands like Kendra Scott and Patagonia to technology darlings like Buzzfeed and Instagram.
On her podcast, Katie Dalebout sits down with guests from all walks of life to dive into their own stories of relationships, business, personal growth, and everything in between. Dalebout started her namesake brand after dedicating countless hours to journaling to increase her self-awareness and become a better person. On Let it Out, she and her guests inspire listeners to take their own journey to self fulfillment.
Each year, thousands of people ascend upon the Aspen Institute in Colorado for the Aspen Ideas Festival. The accompanying podcast allows anyone, anywhere, to listen to the over 350 presenters and their insights into ideas and issues shaping the world. Podcast episodes cover a wide range of topics; from political commentary, to technology acceleration, to "The Future of Imagination."
Hosted by two women's leadership experts, Stuff Mom Never Told You dives into issues that we face as women and how to combat them to thrive in today's world. Emilie Aries and Bridget Todd cover everything from politics and societal issues to women in the workplace and our personal relationships. Each episode focuses on a present challenge, but the hosts then apply strategies to inspire listeners to work toward a better world.
Poppy Harlow is a journalist for CNN and Forbes.com, and on her Boss Files podcast she sits down with some of the most well-respected CEOs to talk about how they're driving revenue while also investing in social responsibility. Tune in to learn how some of the biggest brands, like KIND, Starbucks, and Under Armour, are focusing on giving back to their communities.
Marie Forleo was recognized as an inspirational thought leader by the most motivational woman herself — Oprah Winfrey. Every week Marie publishes multiple episodes covering a variety of topics all aimed at helping listeners live their best life. From being more confident at work, to taking better care of yourself at home, Marie's episodes offer actionable advice from her and her well-known friends.
Side Hustle School is a daily podcast. Each episode is a quick 10-minute listen and highlights a profitable side hustle submitted by listeners. If you love your full time job but have an interest in creating your own small business, the ideas in each Side Hustle School episode are really interesting.
TED Talks are revered globally for their inspiring and thought-provoking speakers and topics. The YouTube videos of the Talks have been viewed millions of times and are shared in classrooms around the world. The Radio Hour podcast takes the best of TED Talks and puts them in the palm of your hand (in the form of over 120 episodes) to listen to on the go.
Magic Lessons is the podcast of Elizabeth Gilbert, the author who became a household name after publishing her memoir Eat Pray Love a decade ago. Gilbert then went on to publish Big Magic, a nonfiction book the digs into the nature of inspiration and how to let go of fear to find it. Her podcast expands upon these ideas and invites guests from across different industries to weigh in.
The Good Life Project podcast is a passion project from a group of entrepreneurs and creatives like Brene Brown, Seth Godin, and Elizabeth Gilbert. Each episode is focused on living a life rich with meaning and engagement with yourself and with others, but topics vary widely from relationships and career to societal issues.
Did we miss any of your favorite inspirational podcasts?