Something I didn't expect happened in 2018. I started my own business! Sure, I'd daydreamed about it plenty, but it wasn't until 2018 that I gained the confidence to branch out on my own. To say it's been a rollercoaster of emotions doesn't do my journey justice. Looking back, there are steps I'd wish I'd taken sooner to help keep my business organized and running smooth.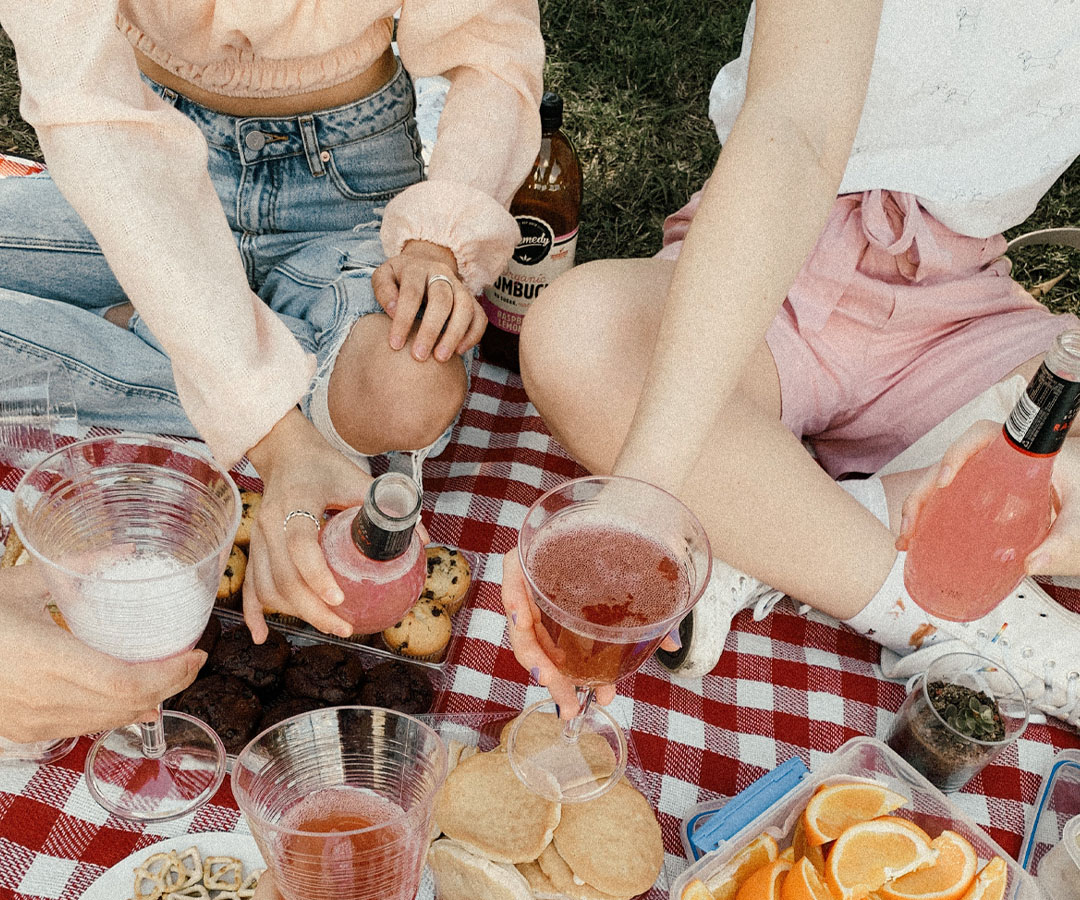 CURRENTLY TRENDING IN /
LIVING
your complete summer shopping guide
One thing you'll need when you launch your business? A professional website to put your best foot forward that doesn't burn through your entire startup budget. That's why we partnered with Squarespace—their platform is easy to use and the features can scale with you as your business grows. So no matter what stage you're at, you will have a high functioning and professional web presence.
1. Define Your Mission
When you run your own business, it's pretty hard not to fall into people-pleasing patterns. At first, you want to take on every client or project that comes your way. Sometimes you let negative feedback on a product get in your head. Doubt as an entrepreneur is beyond normal, but if you define your mission before you start, it will be easier to stay on track.
Spend some time thinking about what it is you want to do and what your values are. Create a mission statement for your business, even if you aren't going to show it to anyone. Although, posting your mission statement on your business' website is great for accountability.
2. Choose Your Name
I named my business after myself. As most of my work as a writer gets credited under a byline (not a business name) this format works for me. Of course, you may want a more creative name for your business and that's great too! Take your time choosing a name, but have it decided before you take these next steps.
If you're unsure of whether you need to trademark, patent, or copyright your business name or products, this resource from the United States Patent and Trademark Office is a great place to learn about your options.
3. Mark Your Territory
You're probably not in danger of someone stealing your ideas yet, but you should take precautions. As soon as you know what your name is, secure the website domain and social media handles for your business. Squarespace's domain feature is an easy way to check the availability of the domain you want.
Even if you don't foresee using certain social media channels (such as new ones that may pop up any day now), secure your business' name on them. Again, you may not use these channels, but you won't want someone else using your name on them either. It's hard to predict what the next big social media platform will be, so one day you may be glad you secured your brand's name early on.
4. Determine Your Rate or Product Costs
In the beginning, it may be tempting to work for free to build your portfolio. You may want to charge less than you need to in order get your product out in the world. That's understandable. But before you launch your business, determine exactly what your pricing model is. Consider your business expenses and income needs when determining pricing. Even if you don't stick to these numbers, they'll give you a base point to reference when negotiating.
Switching from an hourly rate to a project based rate can be confusing. Consider using a time tracking app (such as Harvest) at first to determine exactly how long it's taking you to complete projects. Ideally, this knowledge will help you determine a fair rate for your work.
When working with clients or vendors, it's vital you use legal contracts to protect yourself and your business. Whether it be to ensure payment, work is completed, or confidentiality, taking the time to create appropriate legal documents can make or break your business. Don't worry, you don't need to hire a pricey lawyer. Tools like Docracy allow you to create free, and legally binding, contracts.
5. Figure Out Your Finances
If you're like me, you launched a business so you could focus on doing what you love. Chances are you weren't planning on doing accounting work too — unless accounting is your jam, in which case, us creative entrepreneurs would be lucky to hire you. Before you start making money as an entrepreneur, learn how to manage it.
Start by creating a plan for funding your own healthcare and retirement savings. Next, figure out an accounting and invoicing system that works best for you. Think about how you'll keep track of business expenses, how you'll pay any employees, and in what format you'd prefer payment. And don't forget to brush up on your tax codes. Quarterly taxes for entrepreneurs and freelancers are no joke.
Before I became an entrepreneur, I made sure I had a decent chunk of money saved that could support me while I launched my business. I truly believe that being able to focus on growing my business instead of how I was going to pay rent that month was a huge contributing factor to my success. Focusing on working with clients and on projects I knew would grow my business meant that I was profitable pretty fast. Financial experts always advise having at least three months of living expenses saved in case you find yourself unemployed, but growing a business can take much longer than job hunting. Having at least six months of living expenses saved will allow you to make the right financial decisions for your business.
6. Create a Marketing Plan
Sure, tapping into your personal network is a great start, but if you want your business to succeed you'll need to reach new customers and clients. A photographer will want to advertise on Instagram every day, but a business consultant may feel more at home on LinkedIn. Figure out if an ad in your local paper or a Facebook campaign is best for your business. You need to find the marketing channels that work for you. A little trial and error to figure out what your customer base responds to is normal. Just make sure you know how to analyze your marketing numbers so you can work toward improving them.
There are many ways to market your business. If you're not sure which is best for you, consider enrolling in an online marketing course through a service like Skillshare. In a few hours, you'll have a better understanding of how to market via social media or how to best utilize your budget.
7. Perfect Your Branding
Whether you're a graphic designer or an artisanal baker, you need to make sure your branding is clear and concise. Your designs, photography, and text should all work well together across anything associated with your business.
For those of you who aren't graphic designers (myself included!), Canva can be a lifesaver. Essentially it's a tool that allows you to create beautiful professional graphics for social media, email, web, and even paper goods like posters and flyers. They also have a "brand kit" feature that allows you to upload your logos, colors, and fonts, so you can create cohesive branding across any graphics you use.
On the editorial side, think about how language can help (or hurt) your business. Words can be used not only to sell a product or service, but to sell a brand. Make a list of your favorite brands and examine their copy. Is there social media presence snarky or is it uplifting? When you think of the brand what words would they never use? What authors, movie characters, or politicians do they remind you of? Really focus on how they use language to connect with their customers. When you name your products, write website copy, or do PR for your business, your language should always reflect your brand's mission.
Don't be intimidated by writing! You know your business better than anyone and will find the best words to portray it. If you need a little help in this department, pick up a great book on copywriting for some help getting started. I also highly recommend using free tools like Hemingway Editor and Grammarly to improve your writing and double check your spelling and grammar.
8. Launch Your Website
Not a tech wizard? Don't worry, you can still create a beautiful and professional looking website using Squarespace. They have a range of easy-to-use and customizable templates that require no coding experience whatsoever. They offer a seemingly endless amount of templates designed to serve a variety of businesses. Are you a musician? They have a template for that. Work in the non-profit sector? They have your back. Need to promote your brand spanking new media business? Yep, there's a template for that too.
Check out these tips on how to create a freelance portfolio when you're first starting out!
9. Tell the World
In 2018 I kept the launch of my business quiet — I wasn't sure if I would sink or swim and worried everyone watched me fail. Six months later my business was thriving. I was proud that all my hard work paid off so I shared my business' progress on LinkedIn. It felt like I was bragging, but the outpouring of support I received was unbelievable. Within 10 minutes, a contact from my professional network reached out. She didn't know I'd left my last job and wanted to work together. If I'd announced my business sooner, maybe it would have grown faster.
Make a checklist of all the opportunities you have to promote the launch of your brand. Don't forget Facebook groups, professional conferences, or websites like Newswire that allow you to share press releases. Promote your brand's website or your freelance portfolio any chance you can get. It's time to be loud and proud!
10. Do the Work
You've been dreaming about launching this business, now it's time to get to work! You may need a little help to make your dreams come true, so don't be afraid to ask for help. Upwork is an online platform that allows you to hire freelancers from around the world on any budget. Need help writing killer product copy or are looking for a data scientist wiz? Post a job and watch the applications roll in.
Managing a team of employees, or even your own workload, can be challenging. A project management system like Asana or Trello can help you plan projects and break down their steps into assignments for your team or yourself.
It may be difficult to get into a groove when you first start working for yourself, but with passion and determination, you'll be able to make sure your business is off to a great start this year!
This post was in partnership with Squarespace, but all of the opinions within are those of The Everygirl editorial board.