Flying this holiday season? If so, you might be feeling a bit anxious. Maybe you haven't set foot in an airport since March. Perhaps you're on edge, hoping that your quarantine and negative test are enough. Or, maybe you're even feeling nervous about the reaction from others when you reveal that you plan on boarding a plane this month.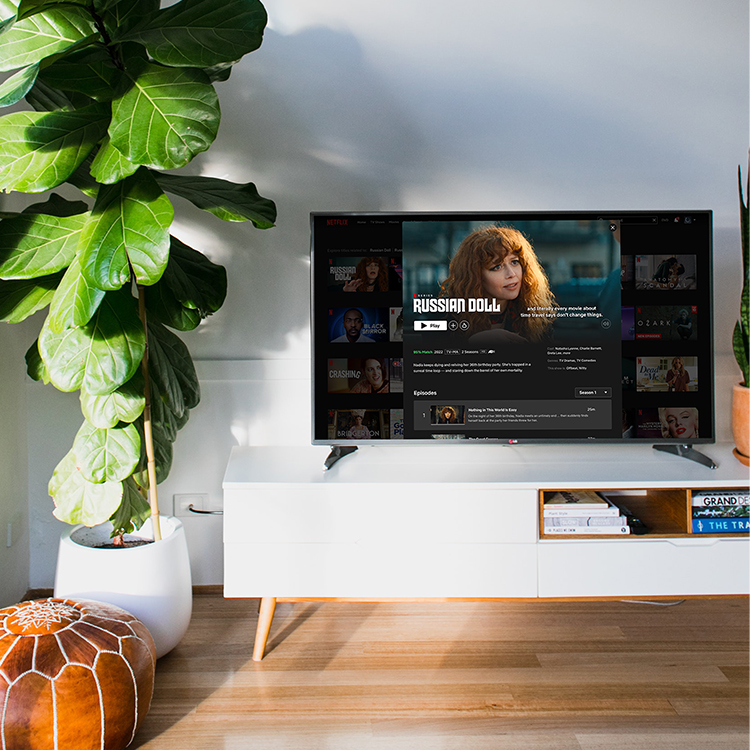 stop mindlessly scrolling on Netflix—these shows have our seal of approval
However you're feeling, we are likely all in agreement that flying is going to look different for the foreseeable future. I remember the days when I used to catch an Uber for the airport an hour before my flight, and I knew exactly what to expect depending on the terminal and relied on pre-check to let me cruise through.
But what now? You have to do what you feel most comfortable with, but for those who have had to make the decision to fly in 2020, here are 10 things to know before you fly this holiday season.
1. Stay up to date on restrictions both in your home location and your destination
As the pandemic wages on and we move further into the fall/winter wave we were warned about, make sure you check in regularly on the status of restrictions both in your hometown and your destination. There may be a required quarantine period or proof of a negative test within 48-72 hours prior to travel. The last thing you want is to arrive and find out that your hotel won't let you stay because you didn't follow the restrictions.
2. Book a flight during off hours
The days immediately leading up to a holiday? Probably not a good time to travel. Any Friday afternoon or Sunday evening? Also not great. If you want to avoid the crowds, steer clear of peak times and instead book those hours that others are unlikely to choose. Think early mornings, random weekdays.
3. Travel on airlines blocking off middle seats
Southwest, Delta, and Alaska Airlines are all still blocking off middle seats, though Southwest's middle seat policy ends on December 1. Frontier is doing temperature checks at boarding. Want a quick rundown of policies? Checkout these from Fodors and NerdWallet, but know that these can change. If you want the most up-to-date information, consider calling your airline directly.
4. Consider how you're getting to the airport
Most of us called an Uber to the airport without a second thought pre-March 2020. Now, the thought of being in a car with a stranger for an extended period of times is anxiety-inducing on both ends… you have no idea who was in the car before you, no idea if this person is taking precautions, and what if you were to unknowingly infect someone while they're on the job? The easiest way around it is to drive yourself but, for many carless city-dwellers, that's not an option. In those cases, make sure your driver is wearing a mask when you get into the car, and wear your mask throughout the drive. You can also ask if they mind if you roll the window down to maximize airflow.
5. Limit your time at the airport and your interaction with others
I know more than a few people who love getting to the airport hours before their flight to unplug, hang out at the bar, grab a meal, and relax. This isn't the time to do that. Get there with enough time that you can wait out a crowd as they pass by, but otherwise, try to spend the minimum amount of time possible exposed to others in the terminal. If there's a line at TSA and others aren't socially distancing, hang back until it clears out a bit. Have everything you need at the ready to limit time exposing those who are working. And, when you get to your gate, if there's a crowd, simply try to find another gate to hang around until your flight boards.
6. Quarantine, test, quarantine again
This is the deal: if you get exposed and test the next day, you'll likely show up as negative. So, you need to quarantine (14 days is ideal) before your test, then continue to quarantine after it comes back negative. Remember, a negative test before travel is worthless if you go back out into the world and get exposed prior to your flight. Also, here's a spoiler: quarantining definitely does not mean meeting your friends for outdoor drinks.
7. Bring your own sanitizing wipes and hand sanitizer
Some airlines are giving out sanitizing wipes to passengers as they board, and there are sanitizer stations set up throughout the airport, but don't count on it. Your safest bet is to have your own sanitizer kit on-hand and use it often. Note: while it is an airborne virus, the CDC does emphasize expressing caution with frequently-touched surfaces while traveling.
8. Wear a mask—and don't remove it unless absolutely necessary
If everyone wears a mask, your risk decreases. It's such an easy step to take, so make sure you take it seriously. Additionally, most airlines are only offering water, no beverage or food service, to try to limit the reasons to take your mask off mid-flight. Those around you will be wearing theirs—make sure you're wearing yours.
9. Test again when you get back
Just because you made it to your destination and back safely doesn't mean you're off the hook quite yet. When you return home, lay low for 14 days and then test again before you resume your socially-distanced routine.
10. Try to combine all holiday travel into one trip, if possible
If you're working from home, your schedule may be a bit more flexible than normal. Can you leverage that into working from your family's home or your holiday destination for several weeks in November and December? Two fewer flights means two fewer possible exposures in a crowd.
With all that being said, the CDC has recommended against holiday travel this year. In an ideal world, we'll hold small, socially-distanced celebrations, or only gather with people we already live with, if at all.
However, we also know that there are many who haven't seen their families since March, and this may represent the first chance to lay your eyes on your parents in-person in 2020. We all need to make the decision that we are most comfortable with and take the maximum precautions possible. If that decision includes flying this holiday season, then we hope these tips will help ease your nerves a bit—and perhaps even put you in a safer position.