Malta is poised to be the next "it" spot to visit — somehow under the radar up until recently, it's just starting to pick up traction in the travel world — and with good reason. Like Croatia and Iceland (two countries whose tourism picked up in a major way over the past few years), it has beautiful views aplenty, the most incredible history, and vibrant culture, people, and (very importantly!) amazing food.
Malta is a tiny archipelago country consisting of three main islands, floating in the Mediterranean Sea just south of Sicily and to the east of Tunisia. Its strategic location and ancient inhabitation means its history is as diverse as it is interesting, from being under Byzantine rule to, most recently, being a British colony (The Crown fans might remember that this is where Queen Elizabeth II lived before she assumed the crown!). Now a republic, it's an insanely interesting mix of Arab influences, remnants of its British rule, and tons of Sicilian/Greek influence. While Maltese is spoken throughout the island, English is actually a main language as well, so it's a particularly good pick for foreign-language-averse travelers! Last but not least, it's a supremely affordable destination — while neighboring Italy is an expensive locale to visit, getting around, staying in, and eating in Malta is still very inexpensive, though that might change as tourism picks up in the country!
Ready to book your ticket to this treasure of the Mediterranean? Here are 10 must-see or must-do things to do for your upcoming trip (or to just get you dreaming about visiting!).
1. Mdina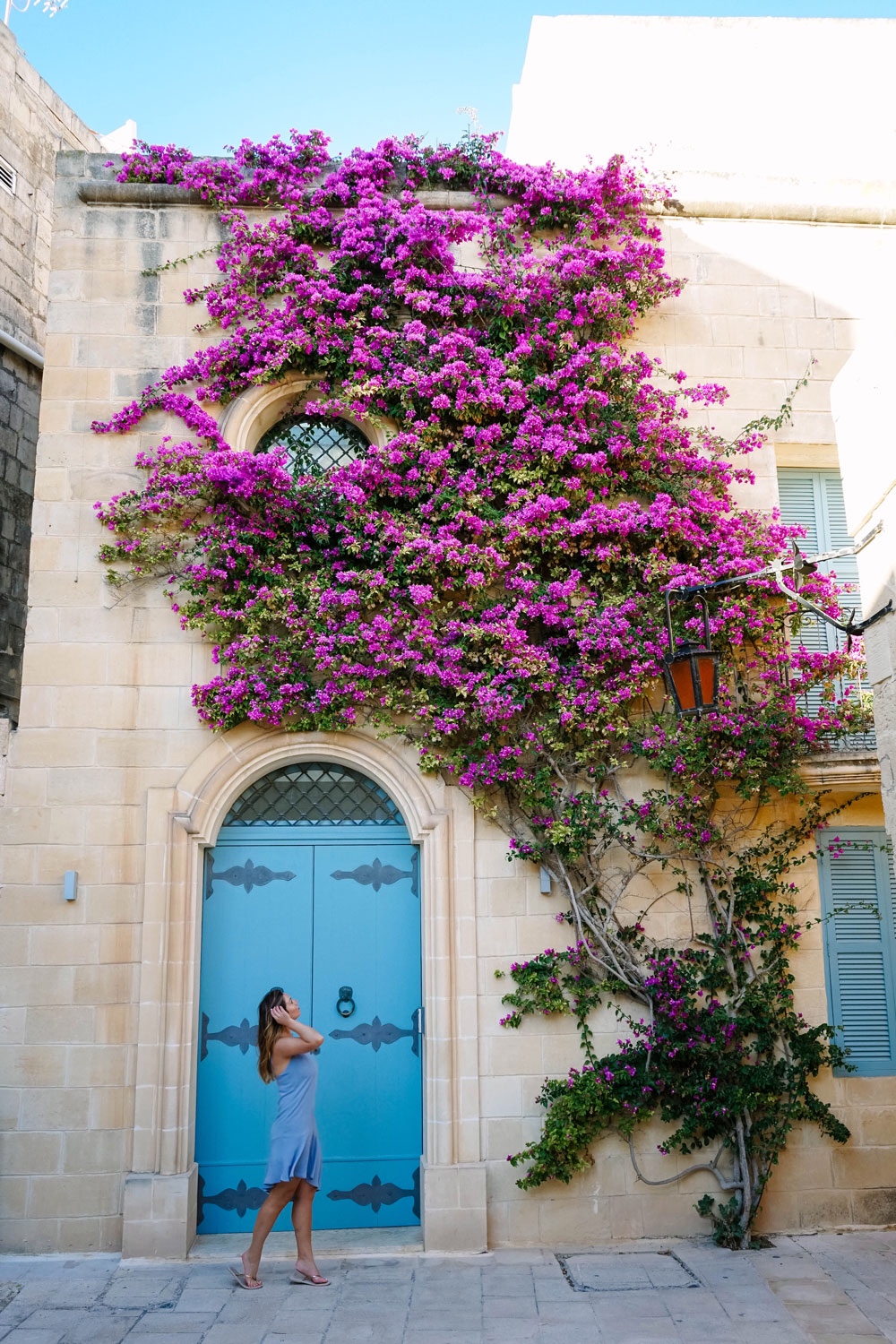 Mdina is also known as "The Silent City" — once the capital city of Malta, it was abandoned and left for ruin until it was restored to its former splendor, making it now a popular tourist destination and a key Game of Thrones shoot location. The city walls have been featured more than once in GoT! Must-dos here are to wander around the ancient city (visiting this much-photographed flower door is easy, as it's a very small city to stroll through!), stopping by Fontanella Tea Garden for stunning views and their famous cake, and getting pastizzi (a local pastry filled with either ricotta or peas) at Crystal Palace, a pretty grimy but famous cafe that locals flock to!
2. Azure Window
Sadly, the Azure Window on the island Gozo collapsed in 2017. Also a Game of Thrones filming location, this is where Daenerys and Khal Drogo's Dothraki wedding took place! It was absolutely stunning and, shockingly, you used to actually be able to walk across the area that eventually collapsed into the ocean. Fortunately, they banned that just before a wind storm collapsed the window. It's still worth a visit though, because even without the window structure, it's still absolutely stunning and you can see the famous azure blue pool that some brave divers will go into right in front of it.
3. Blue Lagoon
If you're visiting Gozo, then stopping by the stunning turquoise waters at nearby Comino (a tiny island you can get to in 10 minutes by boat from the Gozo harbour) is an absolute must. Surrounded by grottos, it's one of the most vividly turquoise and beautiful lagoons in the world. It's pretty remarkable to cross over the deeper, inkier blues of the Mediterranean into the bright turquoise waters — it's literally a natural wonder right in the middle of the ocean! One tip for visiting here is to negotiate for a little grotto tour with the boat driver you end up going with, because they're definitely worth seeing after swimming in the warm waters of the lagoon!
4. Valletta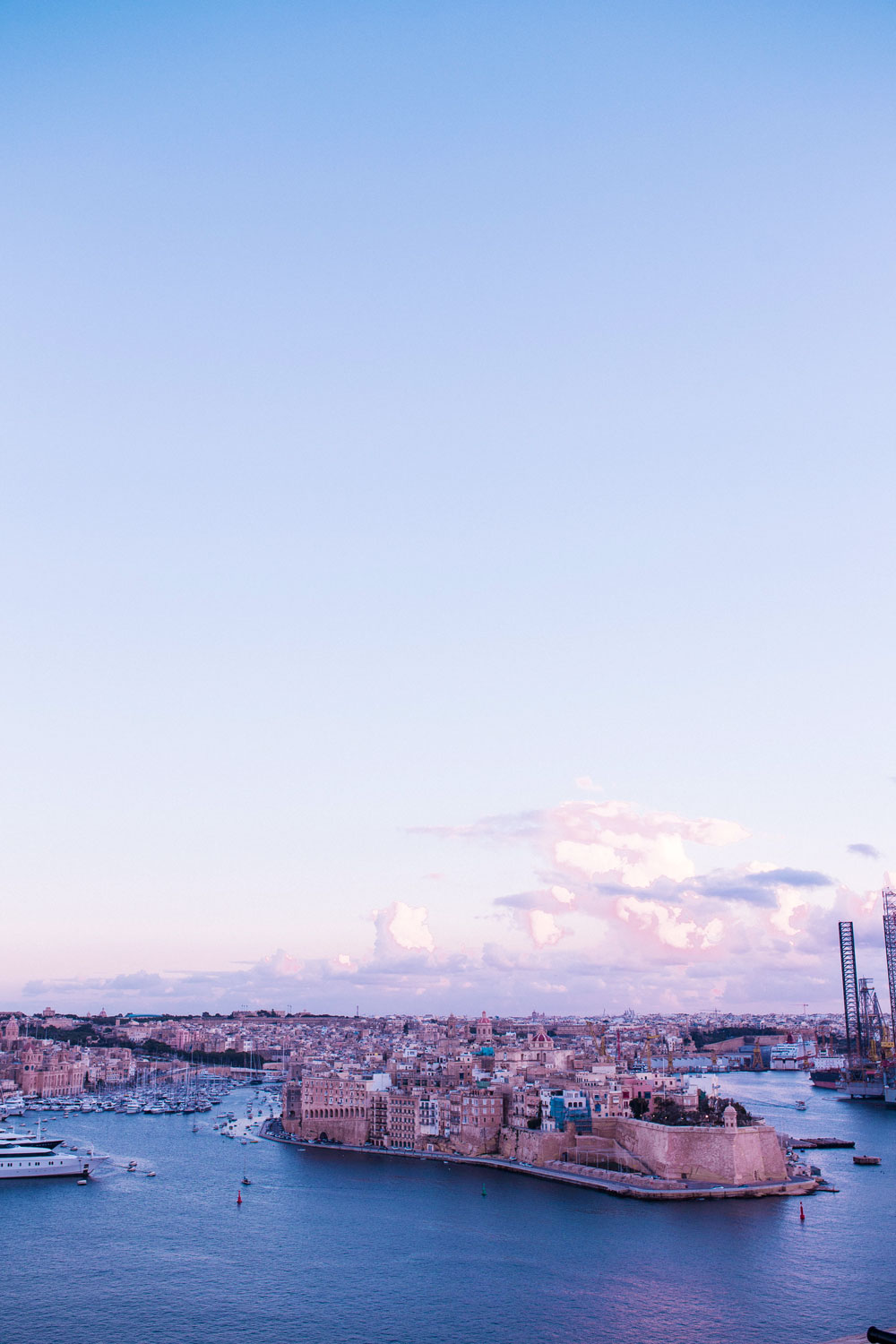 Valletta is the capital city of Malta, and it is every bit deserving of its capital position in the country. From stunning historic Baroque architecture to its famous St. John's Cathedral, it's one place that would be an amazing home base during your visit to Malta. Must-dos are to wander around its many residential and commercial streets, to see its beautiful City Hall (which contrasts beautifully with its surrounding areas thanks to its modern design), to stop by the Upper Barrakka Gardens (where you have a great view of The Three Cities), and, if you have time, to take one of the free walking tours that bring you through a bit more of Maltese and local Valletta history! This is where Queen Elizabeth II lived, which isn't surprising once you're in Valletta — there's certainly a very regal element to the city. One last tip is to hold onto your ferry tickets, which allow you to take the Barrakka lift either up or down from the ferry terminal for The Three Cities to the Upper Barrakka Gardens for free!
5. The Three Cities
The Three Cities are not just one place but, similarly to Cinque Terre, a name given to a collection of historical towns just across the water from Valletta. Because of the country changing hands quite a bit, a lot of cities have multiple names, so important to note for The Three Cities, they are known as Birgu (or Vittoriosa), Senglea (or Invicta), and Cospicua (which mercifully only has one name!). They are quieter than Valletta or Sliema, the other main city, so perfect areas to get lost in for a day with little to no agenda! Gardjola Gardens in Senglea is beautiful and offers an amazing view of Valletta, while Birgu is likely the most beautiful town to just get lost in, with street after street of beautiful houses, churches, and cafes.
6. Blue Grotto
Fortunately, the Blue Grotto is still intact and it is an absolute dream! There are two ways of seeing it: from below by boat (something that would be well worth doing during the warmer months, when you can tour more of Malta's stunning seaside sights on the Mediterranean sea) or from above by following a short walk from the nearby parking lot. It's especially worthwhile seeing either earlier in the morning or closer to sunset, when that golden hour really slants through the opening of the grotto!
7. Marsaxlokk
Visiting Marsaxlokk is literally like walking into a town frozen in time. A traditional fishing village, Marsaxlokk is on the South-Eastern side of the main island and is famous for its stunning harbor, where traditional Maltese fishing boats (painted in vivid blues, reds, yellows, and greens with eyes painted on watching out and protecting its passengers) are packed like sardines in the turquoise waters. To see the harbor from its best vantage point, hire a boat (like all of Malta, it's super affordable to do so — around $10 for a whole group!) and get them to go through the harbor for you. The Maltese are extremely kind and nice, so don't be shy about making a couple polite requests — they're typically very accommodating!
8. St. Peter's Pool
You can either visit St. Peter's Pool by car (though be prepared to drive on the left side of the road, a standard left over by the British!), or you can take the boat you hired from Marsaxlokk and take the approximately 30 minute boat trip to see St. Peter's Pool from the water — either way, you can take in the stunning turquoise natural swimming pool and, if you can, go for a little swim!
9. Sliema
Sliema is the most cosmopolitan place in the whole country, with a beautiful modern mall called The Point and as much shopping as any other major European city would offer. Like Valletta, Sliema is an amazing launchpad for the rest of the country so if you're looking for a good place to stay, Sliema is definitely one of the best options! Sliema has beautiful residential streets in vivid tones — each house is different from the next and features the stunning traditional Maltese balconies you'll find throughout the country! Sliema also has an amazing sea wall that offers amazing views of Valletta, as well as a set of Roman baths dug into the rock shore. If it's warm enough and the waves aren't too strong, take a dip here in one of the baths as the waves crash in!
10. Gozo
In addition to the remnants of the Azure Window, all of Gozo is worth spending some time in. As the second largest island in the country, it's quieter than the main island but still filled with culture and a long history. It's a slower pace here, so it would be a great second stop if you wanted to have two different places to stay in during your Malta trip — the first in perhaps Valletta or Sliema and the second here for a more low-key, relaxed tail end to your trip! From the main city of Victoria which has beautiful architecture, the stunning Ta'Pinu church, or visiting an amazing neolithic site with megalithic temples, there's so much to see and do on the island!
Have you ever been to Malta or considered going? Tell us in the comments below!