Honestly, it feels like every time I update the apps on my phone, I'm inundated with newness. Whether it's a redesign of my favorite white-noise-for-sleeping app (seriously, why did it need to LOOK different?!) or the ever-changing format of Snapchat (may my story-watching habits rest in peace), it feels like we can barely get used to one update before those developers are rolling out another. While I'm all in favor of progress and innovation, it can get pretty overwhelming when one of the most-used apps of all time hits us with something totally different.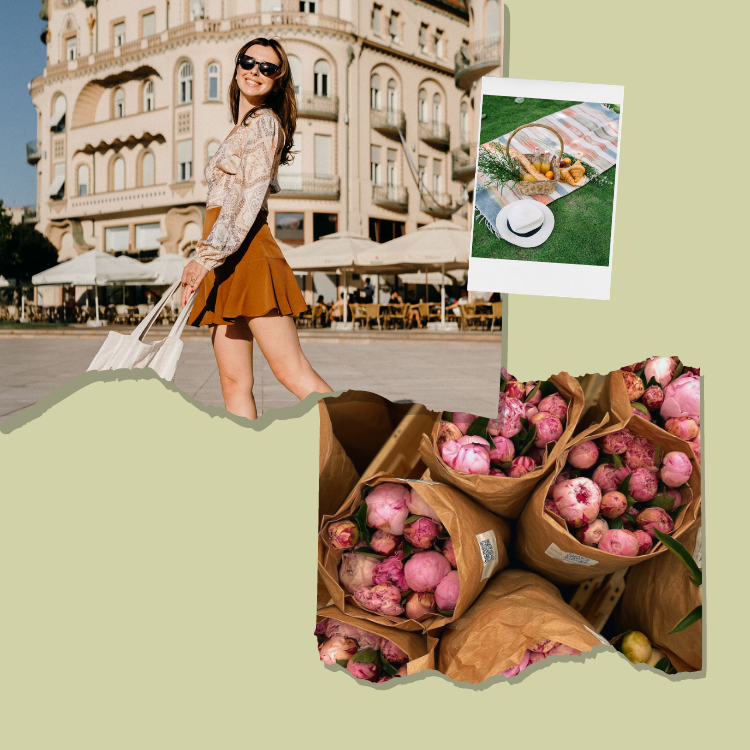 read this if you're in your saving era this summer
That's how I felt when I woke up and opened Instagram to see the new IGTV (Instagram TV) feature. I was freaked out that the new "channels" were going to interrupt my regularly scheduled scrolling — and I didn't know what it meant for myself personally or for the brands I love to follow.
After extensive research and a little old-fashioned trial and error, I discovered allll you need to know about the new IGTV — whether you're a blogger, brand rep, social media manager, or simply one of the 1 billion active Insta users worldwide.
1. IGTV consists of "channels," much like YouTube channels.
IGTV content does not go straight into your feed or into that top bar with Instagram Stories. Nope, IGTV content is housed in a completely different spot in a completely different format. Now, as an Instagram user, you have your feed (the grid of photos that never go away), your stories (the live-action snapshots you share for 24 hours), and your channel (keep reading).
2. Within the Instagram app, you can access it in two places.
Like I said, IGTV content is not housed with your other IG photos and videos. To access IGTV on your Instagram app, simply tap the tiny TV icon on your homepage, right next to the direct messages icon. When you tap on that, you'll be taken to your IGTV homepage — this is where you'll find a broad range of video content you may be interested in. Everyone you already follow who has an IGTV channel will appear here — think of it as the "feed" of IGTV — it's easy to scroll through to see only content you care about, or you can even discover new channels and topics you're interested in.
The second way to access IGTV within the app is through specific accounts. Say, for example, you love following one specific beauty blogger's tutorials, and you only want to see what she's created for the platform. Head to her profile, then an IGTV logo will be present in her story highlights (those circular assets right below the bio). From there, you can see all the IGTV videos she's created in one convenient place. (If there's no IGTV icon on someone's profile, it means they haven't created a channel… yet!)
3. If that's not enough, you can download the entire separate IGTV app.
So say you read that last paragraph and immediately thought, "That's not enough!!" We hear you (and so does Instagram!). You can head to the app store to download the brand new IGTV app — all video, all the time.
4. Anyone with an Instagram account can create a channel.
You get a channel, you get a channel, you get a channel! You don't automatically have a channel — but you can create one in about 15 seconds. You don't have to be a business account to get started — simply head to that IGTV icon I told you about (refresher: top right-hand corner of the home screen, right next to the messages icon), then tap on the tiny circular gear-looking-thing (right-hand side, about halfway down the screen), and hit "create channel." The app will then guide you through the quick process, and you'll be up and running in no time!
5. The videos on the channels are shown "the way you use your phone" — full screen and vertical.
Think: More like FaceTiming a friend, less like watching Netflix at the gym. There's no screen flipping necessary (or even allowed) here — so when creating vids for the platform, they should be filmed vertically (ideally on your phone — so you know it'll fit the screen perfectly!). If you want to upload a video that was filmed horizontally, you can — but it'll be cropped to fit the screen.
6. Video length rules depend on the account.
Unlike on the feed, your videos aren't limited to one single minute. This offers a lotttt of flexibility for content creation. The time limits IGTV does have, though, are a little confusing — for the average IG user like myself, videos must be between 15 seconds and 10 minutes long. For big brands and larger, verified accounts, the time limit goes up to 60 minutes. The wide range of the time limit is fun — you can share a quick video of your dog's cute new trick as easily as you can share your best friend's full 6-minute carpool karaoke to the entirety of "Bohemian Rhapsody."
7. The videos don't go away (like they would on your story).
IGTV videos are static — meaning once they're uploaded, they're there until physically deleted. Technically speaking, your stories are still the best place to share in-the-moment experiences — but the Instagram police won't come for you if you choose to upload an entire video chronicling your brunch.
8.
It doesn't have to change your Instagram experience.
Whether you use Instagram for fitness inspiration, something work-related, a way to forget the world and watch cat videos, or just as a way to interact with your friends, that doesn't have to change (unless you want it to). IGTV is simply a way to enhance your Instagram experience, not take away from the parts of the app you already love. If you want nothing to do with IGTV, that's okay! You never have to click on that little icon, and (at least for now), the videos will never infiltrate your usual feed.
9. Uploading a video is easy.
Finally, let's get to the good stuff. To upload a video to your newly created channel, head to the IGTV icon on the app, then click on your own tiny picture in the right-hand middle portion of the screen. It'll take you to your own channel profile, where it'll say "no videos yet," with the option to "upload a video" right below. Once you tap that, it'll take you to your own videos within your camera roll — from there, you choose the one you want, add a title and description, and then you're done! As of now, you can't film something live on IGTV — you have to record it first, then upload second.
Additionally, unlike normal photos and videos on your grid feed, you can also upload to your IGTV channel from your computer. To do so, head to your own profile on the web version, and IGTV will be an option under your bio, between "posts" and "saved." From there, you can upload a video directly from your computer. There's one catch to uploading from a computer, though — the videos will still be shown vertically, so recordings filmed on your computer will be cropped.
10. There's no limit to what you can create.
As cheesy as this may sound, IGTV, at its core, is super exciting. It's an amazing way for amateur videographers, cinematographers, vloggers, and tutorialists to create content for the masses. You can choose to create highly edited, produced videos with professional lighting and graphics, or you can simply record your day-to-day life, musings, feelings, and experiences. Since it's just beginning, it's an exciting time to get on board with IGTV — it's going to be HUGE, and we all get to be a part of it. So go out there — get creating!