Whether you're a seasoned chef or frozen dinners from Trader Joe's are your meal of choice, you can't deny the happiness when you unwrap a cookbook on Christmas morning. It involves no scrolling, you can bookmark your faves, they look gorgeous sitting on your counter, and you can cook whoever gave it to you a recipe from the book as a thank you. It's really a win-win for everyone involved!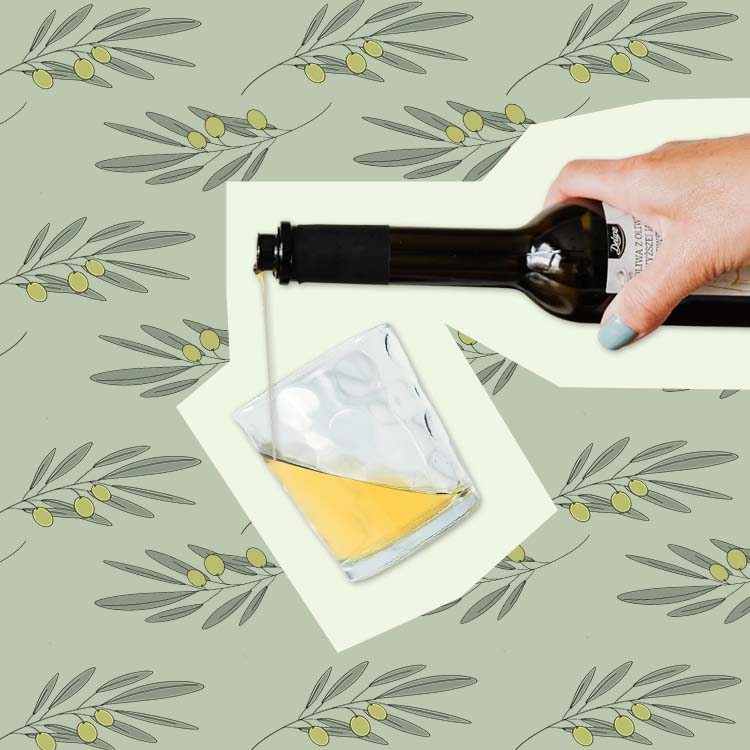 we love olive oil, but this seems a bit too far... or is it?
We're sharing what cookbooks are on our wishlist this season to give you all the ideas for your own! We might just send this whole list to our friends and family. Mom, sister, cousin, BFF — take note!
use code novbook18
Jessica Merchant
Not only does every recipe in this book look delicious, it's also filled with tons of beauty DIYs (Avocado face mask? Yes, please!). The pitaya popsicles look heavenly!
Joanna Gaines
Okay, so I technically already have this cookbook, but I'm going to bend the rules because it's THAT good and I know you're going to want it too. I have been making 1-2 recipes a week out of this book (as thank you presents for the many bridal and wedding showers our kind friends have thrown us) and every single one is better than the last. The instructions are easy to follow, not too complicated, and the end result is so delicious you have to stop yourself from sitting down and eating the entire pan with a spoon. I've texted all my close friends to add it to their Christmas list, STAT.
Alison Roman
I just moved intoto a new apartment, my first big-girl home, and right now I'm really into making it as chic and cozy as possible. This Christmas I'm looking to kill two birds with one stone with the cookbook Dining In. It's shockingly pretty – is that what happens when you cook with foods that aren't beige? – and the recipes look so delicious, unique, and totally doable. It's great for the foodie who wants to up their cooking game, and also for anyone wanting to add an unexpected accent to their coffee table.
Gaby Delkin
I've been following Gaby on Instagram for ages, and I love her accessible, gorgeous food. Every recipe from her site I've made is a hit, so I'm dying to try all the recipes in her new cookbook.
Julia Turshen
Julia Turshen is one of those women whom you may not know about, but she's definitely had her hand in developing recipes you have made before. Small Victories is full of elevated recipes to make you feel like you are an actual chef, and will get you out of your normal recipe rut. Plus, the blue and white gingham book spine is just adorable.
Lauren Toyota
When I was vegan (a phrase I say all too often), I watched every single one of Lauren Toyota's YouTube videos. She understands that food is such an important part of culture and gathering, but she also finds a way to make all of those recipes (think buffalo chicken dip, mac and cheese, garlic bread, cinnamon rolls), vegan! I'm not vegan anymore, but I do try to incorporate vegan meals into my diet as much as I can (for the animals, the planet, and my body!). Every single recipe in this cookbook looks delicious and easy. Lauren's food photography is also on another level, so I'll probably keep this one open at all times.
Snoop Dogg
Ok, this sounds like a joke, but it isn't. This cookbook is full of comfort food like baked mac and cheese and orange chicken. I think it's such a great funny gift to get someone for a white elephant that can still actually be useful.
Lindsay Maitland Hunt
Let me get this out of the way right here at the top: I hate cooking. I have like one knife. I burn everything to a crisp so dark it's been compared to a solar eclipse. I once cut into an onion without peeling it because I had no idea you were supposed to peel an onion (there is also, distressingly, video evidence of this transgression). ALL THAT TO SAY this is a cookbook for literally anyone. It's amazing. It's my bible, my magna carta, my Vogue. The recipes are easy to follow (seriously you can trust me) and attainable. I've now made Shakshuka and miso butter toast and Tzatziki — which were really words I knew but could not conceive of beforehand. I know this is a roundup of cookbooks we want for the holidays but I LITERALLY WANT FOR NOTHING ELSE — and anyway, you should buy this for yourself and everyone you know and just leave random copies for passerby, cool?
Thug Kitchen
I'm going to be honest... I'm not a vegan. But I LOOOVE that the premise of this book is that veganism (and an overall plant-based lifestyle) isn't boring or weird — it can actually be totally badass. I love learning about new ways to be healthy and make the most of my eating habits — and I absolutely appreciate an artful swear word (or 500).
Wendy Rowe
Anyone who knows me knows I like things to be holistic — my health care, my skincare, and my cookbooks. I love the idea of eating that isn't a diet or fad, but rather just focused on getting all the nutrients your body needs. So for Christmas, I'm asking Santa to give me "Eat Beautiful" by Wendy Rowe, because it does exactly that. This pretty little cookbook covers all things from good digestion to stress-busting tips to intermittent fasting (because even some trends have legitimacy to back them up), and sorts recipes by the season in which the produce is the freshest, explaining the health and beauty benefits of each ingredient. Oh and there's a whole section on alcohol — even us healthy people need to have fun!
Laura Fuentes
We are a family obsessed with tacos and have them at least 2-3 times a week. Though I love our go-tos, everyone needs to switch things up once a while, and this book seems to have endless options for simple but delicious taco night combos.