With summer just around the corner, everyone is setting their sights on long-awaited beach days. Sure, you could just grab a towel and hit the sand, but why not make your day at the beach a five star experience? Stake your claim on a sandy spot and make the most of your vacation with these must-haves. From lounging to staying active, we've got you covered!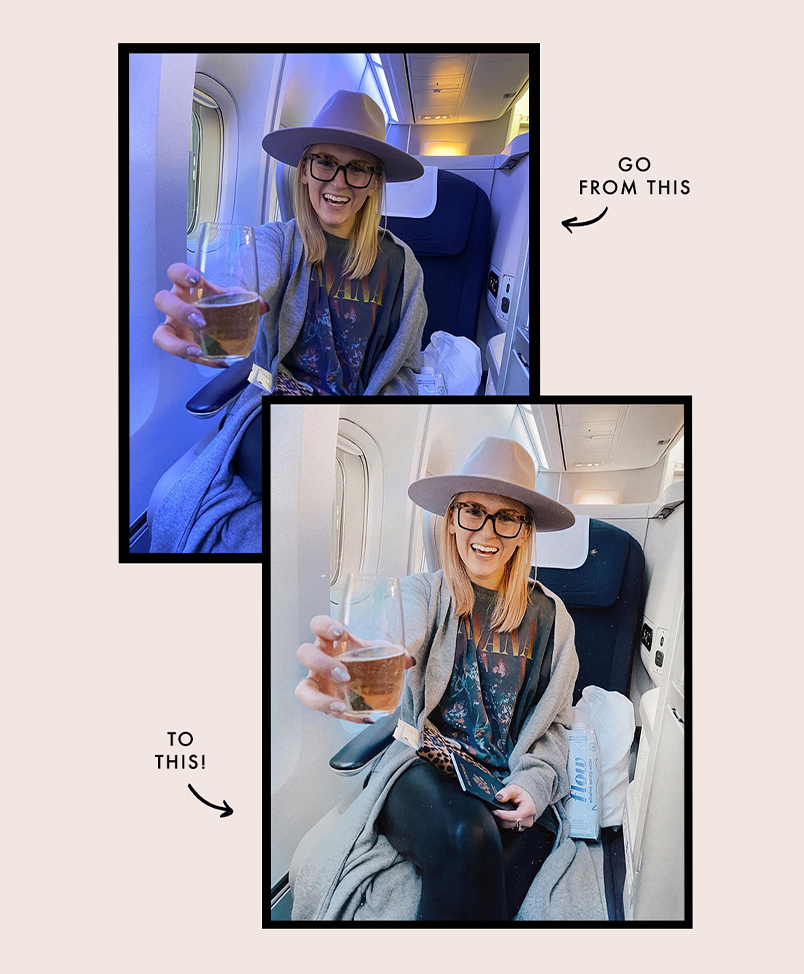 Want to style, shoot, and edit your photos perfectly every time?
We're sharing our secrets to photo editing in our all-new online course, Mastering Photo Editing On Your Phone. Enrollment closes on Thursday, so grab your spot now!
1. Lovin' Summer Beach Tent $169
These beach tents give you just the space you need to stretch out on the sand while keeing you protected from UV rays (because even the most devoted sun worshippers need some shade). Portable, lightweight, and easy to assemble, Lovin' Summer's tents create your own little oasis. They come in a variety of colors but we love the neutral stripes of the South Beach style. The best part? It only takes one person to set it up! That means less time working and more time beaching.
2. Short Surf Board $520
We couldn't imagine a better (or prettier!) way to hit the waves. This board might even serve as motivation to learn a new skill.
3. Sunglasses Case $42
Sunglasses are a must for the beach so when you take them off, keep them protected! Stow your sunnies in this adorable hand stitched aviator case.
4. Portable Speaker $49
A day at the beach should always be accompanied by music. Give your trip a soundtrack with this vintage inspired portable speaker. Tune in to the local radio stations or open it up to hook up your phone.
5. Waterproof/Shockproof Phone Case $79.99
We all enjoy making memories at the beach. The weather is perfect, the sun is warm, the waves are rolling in, and the hot sand is slipping through your toes. More than likely, you'll want to capture a few moments (or maybe all of them!). This LifeProof case keeps your phone safe from sand and sea so you can capture those memories carefree.
6. Beach Paddles $26
We all have that friend that is not content with just basking in the sun or playing in the waves. They need activities and they need them now. This game is perfect for the restless beachgoer and will always be a classic. And with paddles as cute as these, you may even convince the perpetual tanners to join in.
7. Vintage Ladies 7-Speed Cruiser $199.99 
This reasonably priced coaster bike is perfect for a little cruising. Ride along the beach or venture out and explore! You never know when you'll stumble upon a cool local spot or a great view.
8. Bamboo Knife, Fork, Spoon (set of 8 each) $10 
We love this set of natural bamboo cutlery for an ocean side picnic. Keep a few on-hand for midday snacks and afternoon hors d'oeuvres.
9. Oversized Tote $75 
After coming home from the beach, it's inevitable that you'll find sand everywhere. Keep out the sand with this oversized canvas tote with zipper closure.
10. Waterbottle with Infuser $19.99
When you head to the beach, beat the summer heat and stay hydrated! Take your fruit infused water down to the dunes in this BPA free water bottle. It disassembles to make infusing and cleaning simple.
11. Oversized towel $29
This towel makes a beautiful spread for laying out, picnicking, or cozying up when the cool breezes come through at sunset.
This post was sponsored by Lovin' Summer but the opinions within are those of The Everygirl editorial board.