The great outdoors. Isn't it interesting how we crave it in the winter? How we yearn for the smell of chimney smoke in frigid air, the warming sip of steamed milk, and the sparkle of stars in a dark night sky?
Maybe it's because with winter comes a hectic holiday pace we secretly want to rebel from. We want slow and simple, tucked up and curled away. And what better place to do so than in front of a roaring fire, cozied up in knits and blankets, listening to a nearby owl hoot the hour?
Well, let's get you there. Regardless of how truly "off-the-grid" you want to go this season, the below is a round-up of ten of the best Airbnb cabins that'll get you to zero with minimum effort and maximum potential for taking it all in.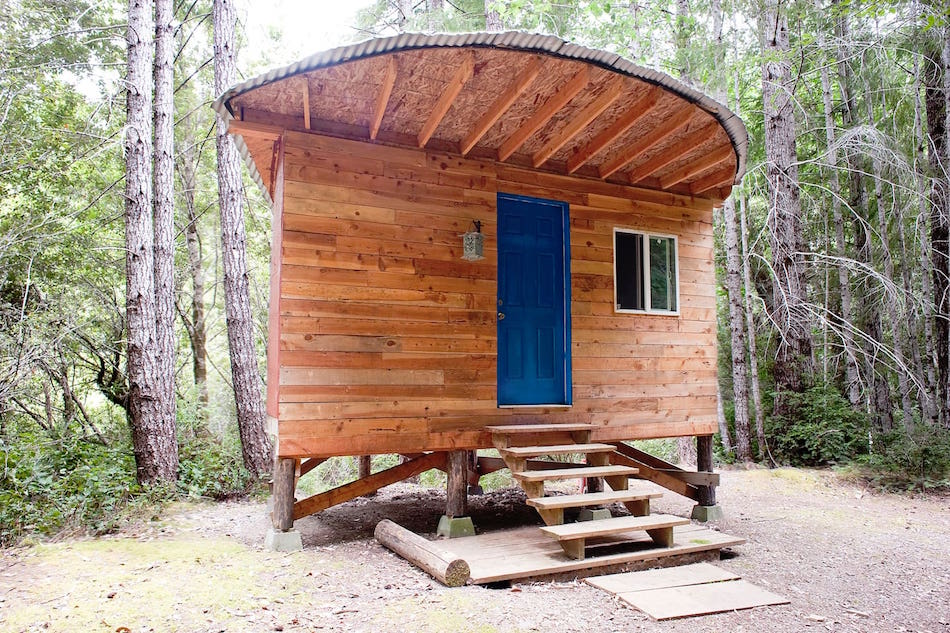 Sleeps: 2
$68/night
Want to really go off-the-grid? Start here. This Northern California nugget is tucked deep in the Six Rivers National Forest and part of its own sustainable village — offering everything from a shared outdoor kitchen, bath-house and sauna, to even compostable toilets. This is where you go to ditch the wifi (because there isn't any) and find solace in the silence, broken only by the morning chickens, goats, frogs and dogs that also live on the property.
Sleeps: 4
$135/night
This vibrant little dwelling sits beneath tall pine trees, offers an expansive deck, and strikes the ideal distance near Big Bear Village that's close, but far enough away you won't be bothered by the hustle and bustle. Though it looks simple, this cabin is actually fully-stocked to cater to whatever you might need for a cozy night in. Extra bonus? Your furry guests are welcome here, too.
Sleeps: 4
$300/night
For those who crave the outdoors but with a modern take, enter: The Glass Cabin. Supremely situated in the Hudson Valley and impeccably furnished with natural, vintage and mid-century mod decor, this two-bedroom cabin was intentionally designed to "get as close to nature as possible." With architecture that seamlessly blends deck to forest floor and roof line to tree limb, it more than succeeds. Save up for this one.
Sleeps: 4
$165/night
When thinking of a "classic log cabin," this place is what you picture. Remodeled from its 1940s bones to include a full kitchen, modern amenities, indoor fireplace and outdoor fire pit, here you'll want nothing more than a continuous cup of hot cocoa and for your iPhone get lost in a pile of Lincoln logs.
Sleeps: 2
$225/night
The "best AirBnB" according to Outside Magazine? This place, and it's not hard to see why. A carriage house studio made from reclaimed wood, French doors that open to sweeping mountain views, surrounded by wildlife and decorated in beautiful minimal-modern way, you can't go wrong. You'll be really glad wifi is available here, since you'll immediately start researching jobs with "telecommuting ok" in the description.
Sleeps: 2
$125/night
View, view, view. You need to see the view afforded from the porch of this cabin set in the Wolffork Valley and built in the 1880s from hand-hewn timber. Whether you're up early to watch the fog roll down the countryside, or up late to catch snowflakes dancing among the Christmas lights, this place is a living postcard.
Sleeps: 4
$175/night
Cabin? Yurt? Does it really matter when you're staying on 27 acres of private land in the San Juan Mountains? This location will really get you out of your comfort zone. Though you're only 15 minutes from the nearby town of Creede, you'll need an AWD vehicle to trek to this little haven of isolation that hangs out over the La Garita range. The 12' yurt contains solar-powered lights, composting toilet, sink and shower, also a propane fridge and oven, with wood provided for the cast iron stove. Snuggle up; pets and up to four guests are welcome.

Sleeps: 3
$115/night
History is rich with this one: a charming two-story former granary turned cottage that's located on a sprawling 18-acre property. The homes of Presidents Monroe, Jefferson and Madison are all within 30 miles, and the cabin itself boasts a surprising open floor plan, stone fireplace and an Instagrammable kitchen that practically beckons pour-over coffee.
9. Cabin 71 | Spicewood, TX
Sleeps: 4
$175/night
A picture-perfect homestead right outside of Austin, this place is crafted to the next level. With an open, wood-rich floor plan you can cook in the full kitchen without missing the haps in the living room, which is complete with a working limestone fireplace. Enjoy a reading room, two bedrooms and bathrooms (each with claw foot tubs), as well as the patio bordered by rosemary, roses and lavender.
Sleeps: 4
$600/night
Always worth the splurge? Big Sur. And this cabin is no exception. Peaking out atop the Pacific Ocean is a rentable cabin that also serves as a working goat farm. Get up early to help milk the goats (or to try the homemade goat cheese) and trek down to nearby Pfeiffer Beach or Big Sur Bakery. With a complete kitchen, full bath, washer/dryer and sleeping for four, grab three friends and get up, up and away.
11. Tye Haus | Skykomish, WA
Sleeps: 6
$155/night
Vintage ski posters deck the walls in this stunning A-frame that's part of Timber Lane Village, near Steven's Pass Ski Resort. The renovated cabin is surrounded by some of the best hiking trails in the Cascades (and the owners provide tear sheets detailing how to get to them) and it's also fully furnished, offering one bedroom, a fold-out couch in the living room and an upper loft with three additional beds.
Sleeps: 4
$139/night
This place truly gives you the cabin feel without needing to hike all day through the woods to get it. Built in 1834, this cabin retains its charm while also offering a king-sized bed, claw foot tub, even gift certificates to take advantage of restaurants and shopping nearby. It's a getaway cheat you'll wish you had discovered so much sooner.
Sleeps: 5
$175/night
This hand-crafted wooden gem is located 20 minutes away from Medford and near the historical, charming town of Jacksonville. Soak in the hot tub, visit nearby Wooldridge Creek Winery, or just take advantage of the fact you're staying on seven acres of wooded bliss.
Sleeps: 6
$175/night
Near the Wisconsin border and Big Powderhorn Ski Hill, this place is at its prime in the wintertime. Sleeping six with two bedrooms and four beds, this is the perfect spot to hole up for a weekend by the fire with great wine and even better friends.
Sleeps: 5
$235/night
Relive all your favorite moments from White Christmas here, in a charming rustic-meets-luxury cabin just a mile away from Stowe's picturesque main street. Detailed out in antique and vintage furniture (wait until you see the wallpaper in the master), this cabin offers an additional lofted bedroom, full kitchen, wood-burning stove and two patios. Get ready to "wash your hair in snow."
Do you have a favorite place you love to retreat to in the winter? Where is it?
This article was originally published on November 16, 2016.