Anyone who has ever lived in a small space (a studio, tiny apartment, dorm, etc.) knows how valuable any and all surface area is. This, of course, includes the space atop (and sometimes under) one's dresser. It's very easy to stick a lamp, candle, and a tangled pile of jewelry on it and call it a day—or you can make the most of this precious flat surface by investing in the right storage accessories and turning it into something much more functional and stylish.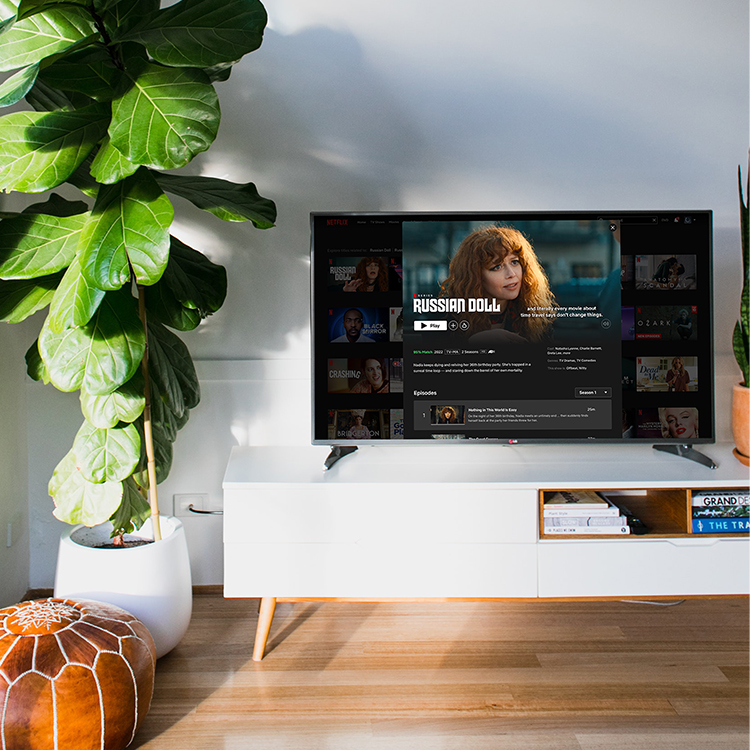 stop mindlessly scrolling on Netflix—these shows have our seal of approval
You'll need:
• dresser (obviously)
• lamp
• trays (or storage with lids if you don't like to dust frequently)
• compartmentalized storage
• something pretty—a framed photo, trinket, or fresh flowers
• rug to finish the space
We teamed up with The Land of Nod to demonstrate how easy a stylish and organized dresser can come together with the right pieces. We selected two different chests of drawers because furniture is a big investment, and this piece is one of the smartest choices you can make when it comes to furnishing a home. Either of these dressers can also be used as a media stand, bar, entryway table, nightstand, side table, office storage, the list goes on… not to mention they are both gender neutral and work for all ages.
Ok, enough chatting, let's get to it!
1. Dresser as a Make-up Vanity
First we styled this classic campaign dresser as a make-up vanity by incorporating a mirror, multiple trays, containers for make-up organization, and a wall shelf for additional storage. We also went with a floor lamp (instead of a table lamp) to clear up even more space atop the dresser. For anyone who has had multiple female roommates (or sisters) and not enough bathrooms, this is a sure bet to make getting ready in the morning less stressful.
SHOP THE LOOK
dresser, The Land of Nod
mirror, The Land of Nod
You Are Beautiful card
white floor lamp, The Land of Nod
honeycomb wall shelf, The Land of Nod
pineapple print, The Land of Nod
mirrored tray, West Elm
crystal tumbler, West Elm
acrylic make-up holder, Container Store
clock, Pottery Barn
candle, Diptyque
aqua stripe rug, The Land of Nod
2. Dresser as an Accessories Closet
Next we took this understated whitewashed dresser and turned it into the perfect spot for accessories. Baubles, bracelets, earrings, and sunglasses are organized by type in separate acrylic and marble trays, while hats and bags are hung on various hooks (or atop the hamper!) making them easily accessible as you're getting ready. There are a lot of ingenious contraptions out there for jewelry storage—we are big fans of tall jewelry stands like these and necklace trees like this.
SHOP THE LOOK
dresser, The Land of Nod
white rock lamp, The Land of Nod
acrylic tray, Container Store
Home Sweet Home banner, The Land of Nod
Panama hat, Target
elephant wall hook, The Land of Nod
acrylic bracelet holder, Container Store
marble sunglasses tray, West Elm
cloth books, Penguin Classics by Coralie Bickford-Smith
woven hamper, The Land of Nod
​grey and white rug, The Land of Nod
GIVEAWAY:
To Enter: We are giving away $250 in Land of Nod accessories to one lucky winner! Visit The Land of Nod and leave a comment letting us know what you'd get with your credit! Make sure you comment with your email.
Deadline: Enter by Wednesday, August 19. Winner will be announced on Facebook and Twitter, Thursday, August 20!
This story is sponsored by The Land of Nod but all of the opinions within are those of The Everygirl editorial board.