So, you've decided you want to bake your holiday gifts this year. You draw upon your trusty repertoire of recipes and are shocked to find you can only actually make three things: chili, spaghetti, and Rice Krispie treats. While all of these are perfectly delicious, they will not make the cut.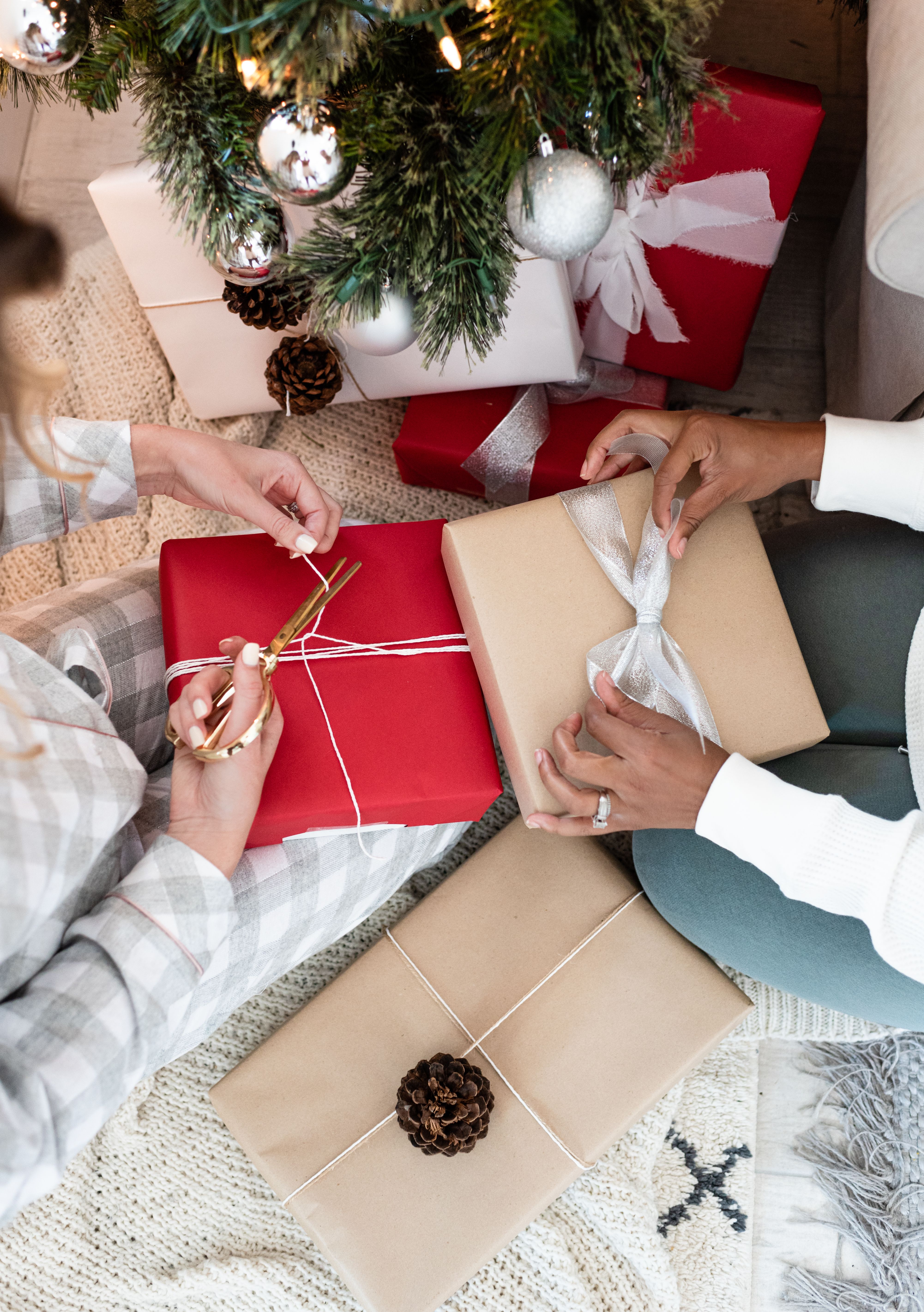 Your holiday shopping starts and ends here—our gift guide has everything you need for everyone on your list.
Don't panic: below are three recipes that are simultaneously easy and impressive. All it takes to send warm wishes to your loved ones this year is an afternoon in your kitchen and Mariah Carey's Christmas album on repeat.
Chocolate Bark
PERFECT FOR: Those who want a no-bake project and like a lot of "wow" for little work.
I went to the bulk bin section of my grocery store and decided on a few things that looked good for the toppings, but you can use anything you'd like. Crushed candy canes, sprinkles, freeze-dried strawberries, or pistachios are a few options I think would be just as delicious.
Chocolate Bark
1 pound dark chocolate, chopped
1/2 cup cashews, roughly chopped
1/4 cup crystallized ginger, chopped
1/2 cup dried cranberries
Line a baking sheet with parchment paper and set aside. Place the chocolate in a heatproof bowl over a pot of simmering water on the stove. Make sure the water is not touching the bowl. Stir often until almost all of the chocolate is melted. Remove from heat and stir until the chocolate is completely smooth. You don't want the chocolate to be too hot, just warm enough to be melted. Pour the melted chocolate onto the parchment paper in roughly a 9-10" square.
Sprinkle the toppings over the melted chocolate. You may need to gently press the toppings in with a clean spatula. Place in the fridge to cool completely, break into large chunks, and serve.
HOW TO WRAP: Cellophane bags and festive ribbon (velvet, anyone?) are your best friends when it comes to food gifting. Package up the bar tie it off with a pretty bow and a gift tag if you're so inclined.
Apricot Thumbprints
PERFECT FOR: The purist who wants to gift holiday cookies, but is looking for something more elevated than a simple sugar cookie.
When I was in fourth grade I made these thumbprints for my class show and tell—that's how easy they are. I love the idea of gifting a classic, old-fashioned cookie for holidays. I have updated the recipe with some cardamom and orange zest straight in the dough for a little extra something. You can use any kind of fruit preserves you like.
Apricot Thumbprints
(makes about one dozen cookies)
2/3 cup unsalted butter, room temperature
1/3 cup white sugar
2 large egg yolks
1 teaspoon pure vanilla extract
1/2 teaspoon kosher salt
1 and 1/2 cups all-purpose flour
1/2 teaspoon ground cardamom
Zest from a large orange
1/3 fruit preserves (I used apricot jam)
Preheat the oven to 350 degrees Fahrenheit and line a cookie sheet with parchment paper. In the bowl of a stand mixer or in a bowl with a handheld mixer, cream the butter and sugar together until light and fluffy. Add the egg yolks and vanilla and beat well. Stir together the salt, flour, and cardamom in a separate bowl. Gradually add the flour mixture to the butter mixture on low speed, just until the flour is incorporated. Roll into small balls and press down the centers with the mark of your thumb. Bake for 15-17 minutes. Cool slightly, remove from pan, and fill with preserves. Dust with powdered sugar.
HOW TO WRAP: Ditch the Tupperware and package up cookies in glass jars. I love large Mason or Weck jars for stacking cookies. Tie it off with a bow and you're done.
Hot Fudge Sauce
PERFECT FOR: Adding a homemade touch to a gift basket.
Growing up my mom would make a double batch of this hot fudge sauce for holiday gifts and it has always been a favorite of mine with vanilla ice cream. It's so easy to make and more unexpected than a standard batch of Christmas cookies. I love the idea of adding a jar of this sauce to a basket with sprinkles, a jar of cherries, and caramel sauce for DIY sundae kit.
Hot Fudge Sauce
(makes about six 8-ounce jars)
32 ounces dark chocolate, chopped
2 and 1/2 cups half-and-half
1 cup white sugar
1 teaspoon pure vanilla extract
1 tablespoon instant espresso powder (optional)
In a large pot on the stove, combine the chocolate, half-and-half, and sugar. Bring to a low boil while stirring often. Simmer the mixture over low heat and stir constantly until it is smooth and creamy (about two minutes.) Remove from heat. In a separate small bowl combine the vanilla and espresso powder (if using) and add to the chocolate mixture. Pour the hot sauce into jars and seal. Store in the refrigerator and reheat in the microwave or in a simmering pot of water on the stove.
HOW TO WRAP: Tie a ribbon and a gift tag around the jars for a simple touch. For extra credit, get some holiday fabric and cut out circles about an inch wider that the jar lid. Add the fabric underneath the jar ring for an old fashioned, festive look.
If you don't have time this season to make your own homemade holiday gifts, Sweet Petite has an assortment of freshly made sweets for stocking stuffers and hostess gifts that can be shipped anywhere in the United States.