When someone mentions skiing the first place to come to most people's minds is America's bread basket of ski resorts: Colorado. What many people don't realize, however, is that most Colorado resorts are hours way from the nearest airport, expensive, and tend to get really crowded in peak season. So we looked north, east, and west to Montana, Vermont, and Utah to round up three great non-Colorado destinations to consider for your next ski trip.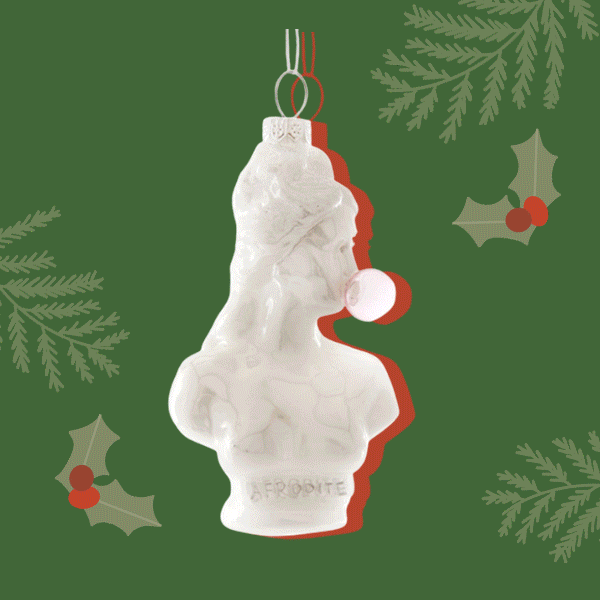 Whether you prefer your tree to be a masterpiece or a beautiful array of memories, there's something for everyone at Carlyle Avenue's ornament shop. Don't miss their expertly curated collection!
1. Whitefish, Montana
photo by Danielle Moss
THE RESORT
Nearest Airport:
FCA: Glacier National Park Airport in Kalispell, MT (now with direct flights from Chicago's O'Hare Airport (ORD) on United Airlines. United's flights run on Saturdays from December 19, 2015 – April 2, 2016, so you'll cover 1352 miles in 3 hours, getting you into Montana by 12:05 p.m. We even went skiing that afternoon!)
Lift Ticket Cost:
$73/day, $67/2+ days, $64/half day
Favorite Runs:
1. Gray Wolf runs down the back side of the mountain and is extra long with panoramic views of Glacier National Park for half the run.
2. Inspiration intermediate run down the front side of the mountain was voted #20 on CNN's Top 100 Ski Runs in the World last year.
3. Good Medicine is a black diamond gladed run located between the intermediate cruisers Toni Matt and Big Ravine on the front side of the mountain. The snowghost trees (snow covered pine trees that look like ghosts) are spread out nicely so it's perfect for the novice glade skier wanting to experience the "off piste" (off the groomed runs) natural snow and terrain, but if it's over your head, you can traverse out to one of the blue groomed runs on either side.
WHERE TO STAY
1. The Lodge at Whitefish Lake
Pulling up to the Lodge at Whitefish Lake you're greeted by a massive outdoor fireplace and neatly stacked firewood. Immediate coziness envelopes you despite the cold temperatures and the rustic lodge decor reminds you why you came to Montana. Address: 1380 Wisconsin Ave, Whitefish, MT 59937
2. Grouse Mountain Lodge
Located on the golf course, which turns into the 15km Glacier Nordic Center in winter and offers value rates in winter. Address: 2 Fairway Dr, Whitefish, MT 59937
3. Kandahar Lodge
Located on the mountain near the ski lodge, this lovely European style hotel gives you the easiest access on and off the slopes. (If you're looking for more upscale dining, make a reservation at their award-winning restaurant Cafe Kandahar.) Address: 3824 Big Mountain Rd, Whitefish, MT 59937
WHERE TO EAT
1. Belton Chalet
Nestled on the side of the highway near Glacier National Park, the Belton Chalet casts a feeling like you've stepped back in time in 1920s Switzerland. Address: 12575 Highway 2E, West Glacier, MT 59936
2. Tupelo Grille
Located in downtown Whitefish, Tupelo is the perfect dinner spot for big groups. Be sure to get the baked mac and cheese! Address: 17 Central Ave, Whitefish, MT 59937
3. Wasabi Sushi
Everything on the menu rocks, you really can't go wrong. Try the saki, and if you can, ask to meet the owner Paula. She's the best. Address: 419 2nd St E, Whitefish, MT 59937
4. The Bierstube (on Big Mountain)
Be sure to grab a beer with friends after hitting the slopes.
5. Montana Coffee Traders (in downtown Whitefish)
The quaint neighborhood spot where locals and tourists go for morning jo. Odds are if you've met anyone during your stay in Whitefish, you'll run into them at MCT. They also serve great options for breakfast and lunch. Address: 110 Central Ave, Whitefish, MT 59937
WHAT ELSE YOU CAN DO

photo by Alaina Kaczmarski
1. Visit Glacier National Park and cross that off your bucket list!
photo by Danielle Moss
2. Snowmobiling with Swan Mountain Outfitters or cross-country skiing at the Glacier Nordic Center
3. Want to cozy up indoors? Take a brewery and distillery tour! Two new ones opened just this past month. Check out Great Northern Brewery, Bonsai Brew, Spotted Bear Spirits, or Whitefish Spirits!
2. Stowe, Vermont
THE RESORT
Nearest Airport:
Burlington International Airport (BTV)
Lift Ticket Cost:
$115/day, $110/2+ days, $92/half day
Favorite Runs:
1. The Front Four: Goat, Starr, Liftline, National. Stowe's legendary challengers.
2. Main Street: a pretty cruiser blue with great views of the Green Mountains.
3. Perry Merril: the longest blue run at the resort, this one has just the right about of challenge to keep things interesting.
WHERE TO STAY
1. Stowe Mountain Resort
The perfect amount of luxury and ski-lodge style right on the mountain, so you can enjoy a delicious glass of wine at one of their beautiful restaurants and then be on the slopes in minutes. Luxurious without being over-stuffy, they've done a great job of really making it feel like that cozy Vermont we all want but with all the little extras that make your experience memorable. Address: 7412 Mountain Road, Stowe, VT 05672
2. Field Guide
A newbie to the Stowe scene, Field Guide is sure to soon be a favorite for those looking for a more boutique hotel experience. With a approachable modern take on the decor and its fabulous in town location (walkable to countless bars and restaurants), this hotel should not be missed. Address: 433 Mountain Road, Stowe, VT 05672
3. Trapp Family Lodge
If you are a fan of the Sound of Music (and who isn't?) and are looking for a truly unique, Austrian-inspired experience – don't overlook the Trapp Family Lodge. Run by the von Trapp family for decades, this hotel isn't just rich in things to do but also in history as well. Address: 700 Trapp Hill Rd, Stowe, VT 05672
WHERE TO EAT
1. Plate
Upscale, but in a way that just makes you feel special, not stuffy, Plate is the perfect place to unwind after a day on the slopes (or in the shops). With a menu that will have you drooling and decor that will make you want to stay forever, there are many reasons to love this sweet little spot. Address: 91 Main Street, Stowe, VT 05672
2. Doc Ponds
​Low key, but with a delicious menu that is pub-like but with an amazing foodie twist. Delicious ingredients, craft brews, yummy cocktails all make Doc Ponds the perfect apres- ski location. Address: 294 Mountain Road, Stowe, VT 05672
3. Harrison's
A longtime favorite spot by locals and tourists alike, Harrison's is a Stowe staple. A great spot for the entire family, with great service, prices and eats. Address: 25 Main Street, Stowe, VT 05672
4. Idletyme Brewing Company
Part brew house part delicious restaurant, Idletyme is like the best of both worlds. With craft beer brewed on one corner, and a cozy (well decorated) restaurant on the other, everyone leaves happy after a visit to Idletyme. Address: 1869 Mountain Road, Stowe, VT 05672
WHAT ELSE YOU CAN DO
1. Ice Skating at Spruce Peak
Right at the base, this scenic little skating spot is a great activity for the entire family (and makes for some great pictures!)
2. A tasting at Stowe Cider
With Cider being all the rage in New England at the moment, a tasting at Stowe Cider is an absolute must. A family-run cidery, all of their apples come straight from Vermont – making it all that much more special.
3. A snowy sleigh ride with Gentle Giants
A snowy sleigh ride through the Vermont mountains and covered bridges just seems like something out of a story book, but you can make it your reality with a ride with Gentle Giants.
4. A spa day at Topnotch or Stowe Mountain Lodge
Skiing and spa days just seem to go hand in hand. And why not unwind at some of the most luxurious spas in Vermont. We are already envious.
5. Snowshoeing at the Trapp Family Lodge
With access to over 60 miles worth of trails, the Trapp Family Lodge is the perfect place for some snow-shoeing or cross country skiing. Allowing you to take in the beautiful mountains in a whole new way.
3. Park City, UTAH
Photo by Kyle Austin on Unsplash
THE RESORT
Solitude Mountain Resort
Solitude isn't the biggest or most popular ski resort in Park City (For that you'll want to head to Park City Mountain Resort, now with lift services that connect it to Canyons Resort for access to twice as many runs). You'll want to venture out to Park City proper for your restaurants and night-life, but Solitude itself is one of the area's best kept secrets, well-loved by locals and free from Park City's winter crowds. It's also half the price of Park City's other resorts, which is a win in my book.
Nearest Airport:
Salt Lake City International Airport (SLC) in Salt Lake City, UT
Lift Ticket Cost:
Starting at $51/day. Click here to see prices for your desired trip date.
Favorite Runs:
1. Dynamite: The perfect run for a newer intermediate skier who wants to try skiing the full length of the mountain. Like everywhere at Solitude, you'll have incredible views throughout.
2. Eagle Ridge: Enjoy fabulous views from high up on a ridge for this short run. Skiers can veer off for short black diamond trails that connect back to more easygoing slopes, so it's great for skiers looking to test out more challenging runs.
3. Honeycomb Canyon/Woodlawn: For the intermediate to advanced skier, Honeycomb Canyon represents what Solitude is all about: a quiet, crowd-free backcountry experience with the convenience of an in-bounds resort. Skiers can choose to head straight down Woodlawn for sweeping mountain views, wide powder bowls and tree runs, or they can traverse to more challenging black diamond runs.
4. BONUS: Solitude has an amazing nordic ski area for those who want to try their hand and cross-country skiing. Ski-trails wind around alpine lakes and along low ridges, so even those afraid of heights can experience the magic of Utah mountains.
WHERE TO STAY
1. Powderhorn Lodge
Simple but pretty ski in/out accommodations in Solitude Village.
Address: 12000 Big Cottonwood Canyon, Solitude Mountain Resort, Solitude, UT 84121
2. The Washington Schoolhouse Hotel
Intimate and luxurious, it was voted Gayot's #1 boutique hotel in the world.
Address: 543 Park Avenue Park City, UT 84060
3. Newpark Resort
Because there's nothing better than returning from a day on the slopes to soak in a private jacuzzi with views of the mountains.
Address: 1456 Newpark Boulevard, Park City, UT 84098
4. An airbnb
Ski trips can be costly, so opting for one of Park City's plentiful airbnbs can keep your budget in check.
WHERE TO EAT
1. Purple Sage
Modern comfort food inspired by cowboy culture and the American west. Try the Mac n' Cheese.
Address: 434 Main St., Park City, UT 84060
2. Zoom
Trendy fare with local ingredients. Owned by Robert Redford himself, the restaurant is housed in an old converted train station.
Address: 660 Main St., Park City, UT 84060
3. Squatters Roadhouse Grill & Pub
Laid back and not too pricy, this is where the locals go for good food and craft beer. Perfect for weekend brunch.
Address: 1900 Park Ave, Park City, UT 84098
WHAT ELSE YOU CAN DO
1. Tour (and eat/drink at) High West Distillery & Saloon, the only Ski in/out distillery in the west. See how the whiskey is distilled in house, enjoy to-die-for craft cocktails, and bring home a bottle as a souvenir.
2. Visit the Olympic Park. Watch Olympian hopefuls train, tour the grounds and ride the bobsled (not for the faint of heart.) For those who want slower going, "extreme" tubing will still give you a rush without the G-force.
3. Catch a film. Not in town for the Sundance Film Festival? You can still enjoy some of the films the festival has to offer (and others) with the Park City Film Series. (Bonus: Some are completely free!)