Once you master your curling iron, it's easy to get into a bit of hair rut. You may do the same wavy hairstyle everyday without realizing how much more your curling iron can do. So why not use your curling iron to its full potential? You can create three totally different wavy hairstyles all with one curling iron just by changing a few simple things.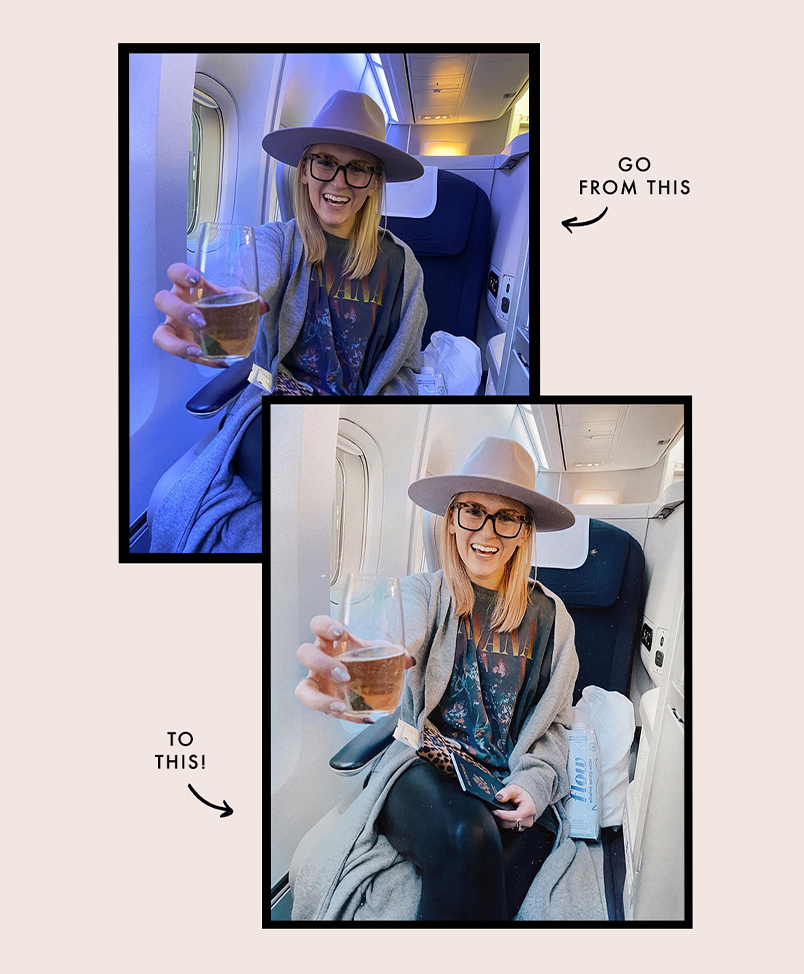 Want to style, shoot, and edit your photos perfectly every time?
We're sharing our secrets to photo editing in our all-new online course, Mastering Photo Editing On Your Phone. Enrollment closes on Thursday, so grab your spot now!
For these three looks, I recommend starting with a 1 or 1.25 inch curling iron. It's perfect for a variety of hair lengths, particularly medium to long. Here I'm using a really great affordable option, the Conair Instant Heat Styling Iron. If you want to go the next step up, the Hot Tools Gold Curling Iron is fantastic as well.
1. Subtle Waves
Sometimes you want to wear your hair straight, but a flat iron can make it too stiff and unnatural. Try using a curling iron to create some subtle waves for a more natural look.
After blow drying or straightening your hair, pull hair up leaving one layer down. Starting with the bottom layer, curl large 2-inch sections of hair at a time, only wrapping them around your curling iron once.
Continue this, curling each piece away from your face in the same direction, until you've gotten to all three layers of hair. Your hair will still be sleek and straight but with a more casual ease to it.
2. Everyday Waves
To create a look with some more texture, simply curl smaller pieces of hair with the same curling iron.
Curling one layer at a time, wrap medium size pieces (1-1.5 inch) all the way around the curling iron, leaving out just the ends.
Curl the pieces in the front away from your face and alternate the direction of the curl after that. I recommend doing one layer at a time here as well.
3. Beach Waves
For a more natural, bohemian vibe, opt for piece-y waves. Start by adding a texturing spray to your locks, like Bumble & Bumble Thickening Dryspun Finish Spray. Using the same curling iron, wrap small sections of hair (.5-1 inch) all the way around, leaving out the ends.
After holding the iron for 7-12 seconds (depending on your hair's thickness), unravel the hair without unclamping the iron. Gently pull the iron downwards to straighten the ends. If this is too difficult, you can also use a flat iron to straighten the ends when you're finished.
Shake out the waves so they're not so perfect and you'll be left with perfectly tussled, beach-y locks.