Anyone who's ever wasted an hour (or an entire afternoon) browsing Pinterest has likely seen some version of an Ikea Expedit shelf (recently renamed the Kallax—just to confuse everyone). The cubed-shape shelves are available in a variety of sizes, shapes, and colors making them one of our favorite items from the Swedish manufacturing powerhouse. And most often used.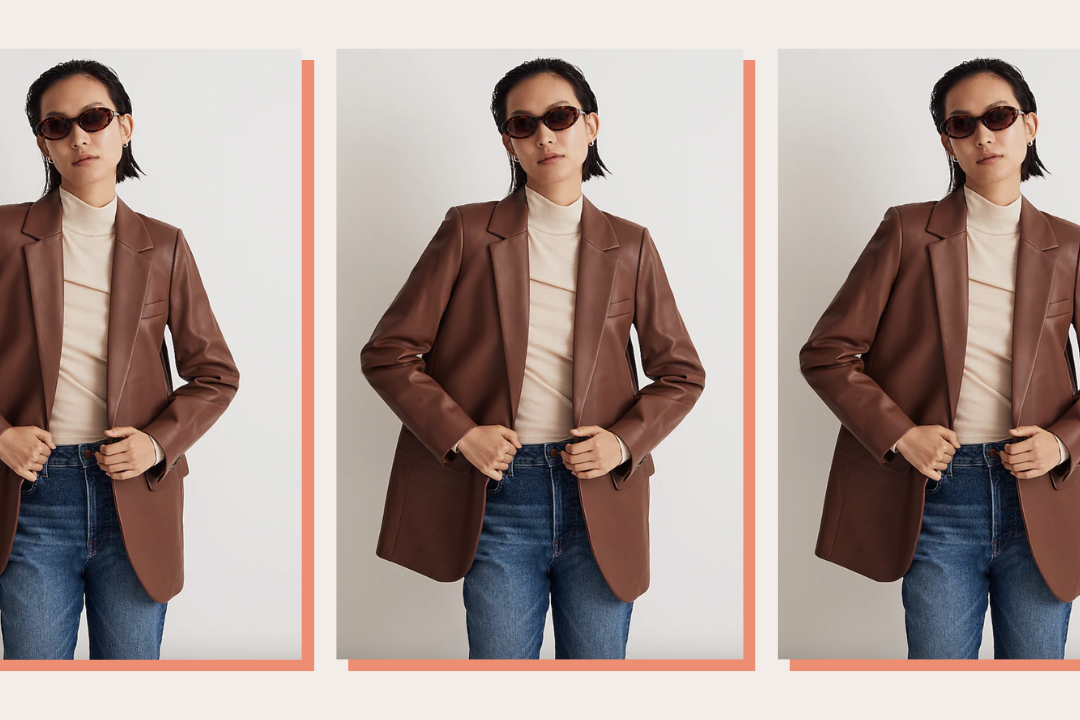 time for your fall wardrobe update!
This Ikea collection has snuck into just about every Everygirl home tour (no surprise when you consider this 4-cubby puppy comes in at a meager $35!) and the best part? How people around the world take this single item and put their own décor twist on it. Different books, home décor accessories and necessities, and placement in a room turn the Kallax (are we calling it that yet?) into something completely unique. We've seen it used as a room divider in a studio apartment, a TV stand in a small one-bedroom, and a smart storage solution for this start-up's office.
We thought we'd put our own spin on styling the Expedit/Kallax using the smallest and most affordable $35, 4-cube shelf. We teamed up with custom framing company Framebridge to demonstrate how this surprisingly chic and practical investment piece can suit a number of your furniture needs: fashionable bar, practical media stand, or dreamy bedside table. All you need? A quick styling change for a completely new purpose!
All of the custom framework for the art in this shoot, from the 5″ custom frames for your Instagram photos (see nightstand styling) to the 30×40″ oversized frame (see media stand styling), was done by Framebridge. Anyone who has ever needed a large piece of art framed can attest that the costs are often astronimical. Even at big box crafting stores with coupons, a frame for an 16×20″ piece of art can run you upwards of $300. We were first-time users to Framebridge and can attest the process and the prices are worth your while. Smaller custom frames start at $39 and the largest frames (up to 40×40″) with a mat only cost $150: that's a fraction of the price at most custom framing stores! They offer 26 different frames, and prices vary by the size of the art, not the style frame.
All Everygirl readers get 15% off their order at Framebridge for the next two weeks using code THEEVERYGIRL at checkout!
Ikea Kallax as a BAR
STYLING A BAR
The Obvious Ingredients: Booze. All kinds. Your favorite and your regular guests' favorites. Bonus points if they're delicious and pretty.
The Less Obvious: Don't be afraid to use the open shelving to store glassware and serving pieces. We know dust may collect, but nothing a quick rinse or wipe down can't fix. And if you're anything like us, use the glasses frequently enough that dust doesn't have time to collect. Game nights every Friday at our place! Yes, please.
SHOP THE BAR LOOK
Kallax (formerly Expedit) shelf, Ikea
black and brass legs, Pretty Pegs
mirrored custom frame, Framebridge
pink Paris doors photograph, Anna With Love
gold bamboo custom frame, Framebridge
Le Bicyclete print, Anna With Love
black candlesticks, CB2
camel cocktail napkins, Hattie Sparks
vintage decanter, Dovetail (in Chicago)
gin, whiskey and vodka, Koval Distillery
tray, CB2
champagne flutes and wine glasses, CB2
pink flutes, CB2
gold-rim glassware, vintage
top hat ice bucket, Kate Spade
copper mugs, Wayfair
hide rug, RugsUSA
Ikea Kallax as a NIGHTSTAND
STYLING A NIGHTSTAND
The Obvious Ingredients: A reading lamp, a recommended novel, a scented candle, glasses, and fresh flowers for when you treat yo'self.
The Less Obvious: The bottom shelves can be used to store anything and everything you keep in the bedroom: clothes and accessories, perfume and jewelry, even extra linens. Think creatively about bin use! We recommend a mix and match look for more of an easy, relaxed feel. Baskets, bins, glass boxes, porcelain dishes… the options are endless! Practical and pretty.
SHOP THE NIGHTSTAND LOOK
Kallax (formerly Expedit) shelf, Ikea
custom Instagram frames, Framebridge
mirror, Birch Lane
lamp, Ikea
magnifying glass, Anthropologie
vase, Jayson Home
candle, Anthropologie
FUN porcelain containers, Jayson Home
gold and glass display box, Birch Lane
footed dish (w/ jewelry), West Elm
square bin, Serena + Lily
basket, Birch Lane
rug, Ikea
linen duvet cover, West Elm
Euro sham, West Elm
tassle throw, Anthropologie
IKEA KALLAX AS A MEDIA STAND
STYLING A MEDIA STAND
The Obvious Ingredients: A TV. Duh. (Note: this is a teeny tiny screen but larger TVs also fit on the 8-cube Expedit. Er Kallax. We'll never get used to it.)
The Less Obvious: Media stands should also include other forms of entertainment… you know… things that don't have a screen for you to stare at. Mix in books, games, magazines, and albums (because you're super trendy and asked for a record player for Christmas). This way, when you plop down to turn on last week's Good Wife, one of these other items might distract and even entice you to do something other than zone out on the TV. (Of which we are certainly guilty.)
SHOP THE MEDIA STAND LOOK
Kallax shelf, Ikea
wooden legs, Pretty Pegs
custom frame, Framebridge
"Keep Not Settling" oversized print, The Everygirl
wall sconce, Serena + Lily
x bench, Ballard Designs
record player, Amazon
floor planter, Gather (in Chicago)
candle, Gather
small planter, Gather
matches, Design Darling
triangle, Gather
vase, Gather
wall planter, Gather
wire baskets, Container Store
rug, Dash and Albert
SEE MORE HOW TO STYLE FEATURES:
How to Style a Desk 3 Ways: for the Student, the Post-grad & the Career Woman
How to Style the West Elm Parsons Desk
How to Style an Entryway
How to Style a Nightstand
How to Style a Coffee Table
This post was sponsored by Framebridge but all of the opinions within are those of The Everygirl editorial board.