Barcelona is magical, and Madrid has some of the most beautiful art and architecture you could imagine, but there's something to be said for the smaller towns among the heavy hitters in Spain. The quiet alleyways, cobblestoned streets, and undiscovered gems you find in smaller towns simply can't be replicated in the hustle and bustle of larger cities.
On top of that, visiting smaller towns can really help a traveler get to know what life is really like in a new country, and Spain is no exception. On your next visit to the cultural marvel that is Spain, tack one of these five smaller towns onto your itinerary to round out the perfect trip.
Girona

Source: National Geographic
Girona is a small, historic town home to cobblestoned streets, Medieval relics, and believe it or not, one of the best restaurants in the world. Located on the Onyar River, you'll find beautifully painted houses along the water's edge, and perfectly picturesque streets in the old town.
Also in old town is the Catedral de Girona, a key landmark in Girona, and the widest vaulted Gothic space in the world. After a visit to the cathedral, walk along the old Roman walls of the city, Passeig de la Muralla, for unbelievable sights of the surrounding region.

Source: Everything Everywhere
Food-wise, the heavy hitter is the famed El Celler de Can Roca, a three-star Michelin restaurant opened by a trio of brothers who continue to be some of the most influential people in the food industry. The restaurant is certainly not the only famed spot in Girona—the entire town is food-centric, and great dishes are all around. Nu and Babel are two other delicious (and more affordable) options if you can't get a spot at El Celler de Can Roca.
Frigiliana

Source: Bang On Style Blog
Known best for its white-washed homes, Frigiliana is a stunning town in southern Spain (though parts can feel more like Morocco or Greece) perfect for an easy, no-stress day trip. The town is divided into two sections: the newer, lower neighborhood and the older, upper section (which is where you'll likely want to spend most of your time).
Spend the day exploring the town on foot, and allow yourself to roam around instead of sticking to a set itinerary—this is one of those places that is most magical when experienced on your own time. Plan a leisurely morning exploring the steep streets, and stopping into tucked away shops and cafes as you go.

Source: Bang On Style Blog
After spending your morning exploring the town, sit down to lunch with a view. There are a few different restaurants in the area that offer incredible views including La Taberna del Sacristan and Bar Restaurante El Acebuchal. Both boast an incredible atmosphere and fantastic Mediterranean fare.
And be sure to bring your camera—this town is often referred to as one of the most beautiful villages in Spain.
Ronda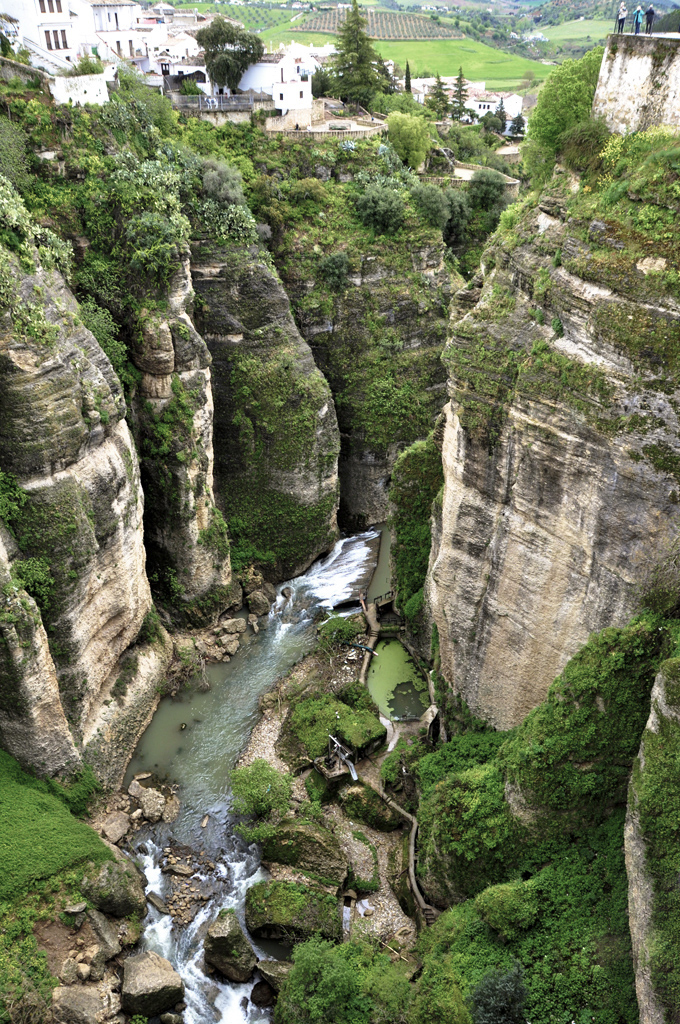 Source: Cristóbal Poyato
Situated above a deep gorge, Ronda is easily one of the most dramatic, visually stunning spots in Spain, as well as one of the oldest, dating back to 9th century BC.
The Puente Nuevo, a bridge joining the older side of the town with the newer, is one of Ronda's most famous landmarks and should be at the top of your list (the best view of it is from the gorge below).

Source: Francisco Manuel Esteban
Ronda is often credited as the home of modern day bullfighting so a visit to the The Real Maestranza bullring is a must see. It was built in the 1700s, and is one of the most beautiful, historic bullrings in the entire country. The Arab Baths in Ronda are among the most well preserved in Spain, and deserve a stop to see as well.
There's certainly a lot to see in Ronda, but be sure to take time to relax and take in the lifestyle here. There are a number of great outdoor tapas spots and some beautiful plazas that make for great, relaxing people-watching spots.
Begur

Source: Caitlin Timson
The Costa Brava region of Spain is amongst the most beautiful and most traveled areas in the country. Just an hour north of Barcelona in Costa Brava is Begur, a hidden gem of a town that has a lot to offer.
Located right on the coast, there are plenty of opportunities to get on the water in Begur. The coastal pathways are some of the most unique, beautiful spots in town so you'll most definitely want to carve out time to explore there. The views from the paths are unreal, and the beachside bars along the coasts mean you can stop for a quick refreshment if you need a break.
There are a few different options for great meals (let's be real, the entire country is full of amazing food), but a stop into the restaurant at Hostal Sa Rascassa is a must. Fantastic food (get the tuna tartar!) and the most beautiful atmosphere imaginable are just waiting for you.

Source: Caitlin Timson
A stroll (or two!) through the old quarter of Begur makes for a good way to spend an evening. Window shop, take in the views, and lose yourself in the charm and character of Begur.
Salamanca

Source: Catedral Salamanca
While it's not as quite as small as some of the other picks on this list, Salamanca is chock full of fantastic food, beautiful places to see, and all of the charm of a small town.
You'll likely want to start your adventures visiting the Old City, a UNESCO World Heritage Site. The sandstone structures and Renaissance style pay tribute to Spain's historic beauty and culture. You could easily spend an entire day in this area alone, taking in the age-old architecture around you. The Universidad Civil, founded in 1134, is a fascinating stop—its the oldest founded university in Spain.

Source: Trevor Huxham
Salamanca has no shortage of great restaurants—you could stumble into just about any cafe and enjoy a fantastic meal. Tapas restaurants are abound, but El Pecado is a wonderful spot for a modern dining experience in a chic space with bold pops of color. Definitely make a reservation in advance, as this is a popular spot.
After checking out the history and taking in a meal or two, it's time to grab a drink and wind down the day. Salamanca is home to a large population of international students, and predictably has a great selection of bars and clubs. We suggest you stroll over to Tío Vivo for a unique setting and outstanding drinks, not to mention the occasional live music performance.