There are many more than five reasons why we love the Dalmatian Coast! The Republic of Croatia is an absolute charmer, holding more delights than Dubrovnik's famous walls hold hidden nooks and crannies.
Sandwiched between Italy and the former Eastern Bloc, Croatia has flown relatively low under the travel radar, frequently bypassed (by Americans, at least) in favor of the Grecian islands or Austrian Alps. But its travel popularity is growing lately, as you've undoubtedly heard about, seen, or pinned dream-worthy Croatian scenes—specifically along its western Dalmatian Coast.
With summer approaching, chances are your sense of wanderlust is revving in high gear, but just in case you need any more convincing that Croatia is worth the price of a plane ticket, let these five incentives do the trick.
1. Scooter rides through lavender fields.
Sure, renting any form of transportation while traveling can be equal parts terror and exhilaration, but doing so in Croatia will at least frame those emotions with stunning scenery. Pick a town that's a little off the beaten path (like Supetar on the island of Brač) and spend a few hours on a motorbike winding up and down roads lined with olive groves, wild lavender (which the country is known for), and pausing to take in spell-binding views of the Adriatic.
2. A view with a side of cocktail.
Truth be told, you probably won't remember much about the drinks at Café Buza, the gold-standard of drinking locations in Dubrovnik (aka the "Pearl of the Adriatic"). And honestly, it doesn't matter. You don't come here for the menu—you come here for the experience of feeling your way along stone walls, convincing yourself you're lost, and then ducking through a literal hole in the wall to appear beneath white umbrellas while the sea spills out in front of you. Touristy? Perhaps. But find yourself a better place to sit unbothered and sip champagne while the sun sets, and I'll cover your tab.
3. Shop inside a palace.
Something Croatia does quite impressively is preserve the past while living in it, sometimes quite literally. There's a reverence that feels progressive, and you truly get the sense that this is a place proud of its heritage: the highs, the lows, and even the in-betweens. You can ponder this as you shop Diocletian Palace in the heart of the city of Split—it's a labyrinth of cafes, vendors (don't forget to check out the stalls in the basement), and apartments that have reinterpreted old Roman ruins to satisfy modern needs.
4. In vino, veritas.
With Italian neighbors, you know the Dalmatian Coast will have a handle on the important things, namely cheese, olive oil, and wine. And it does! Thanks to its Mediterranean climate, a number of grapes do well here, including Pošip, Debit, Grk, and Marastina for white, and Babić, Plavina, and Plavac Mali for red. Chances are, a local wine bar won't be far from wherever you're staying, so treat yourself to a glass and be sure to chat with your server about what he or she would recommend. Try any offered pelinkovec, too. It's an herbal liqueur best enjoyed after a big meal and even better when homemade.
5. Be your own captain.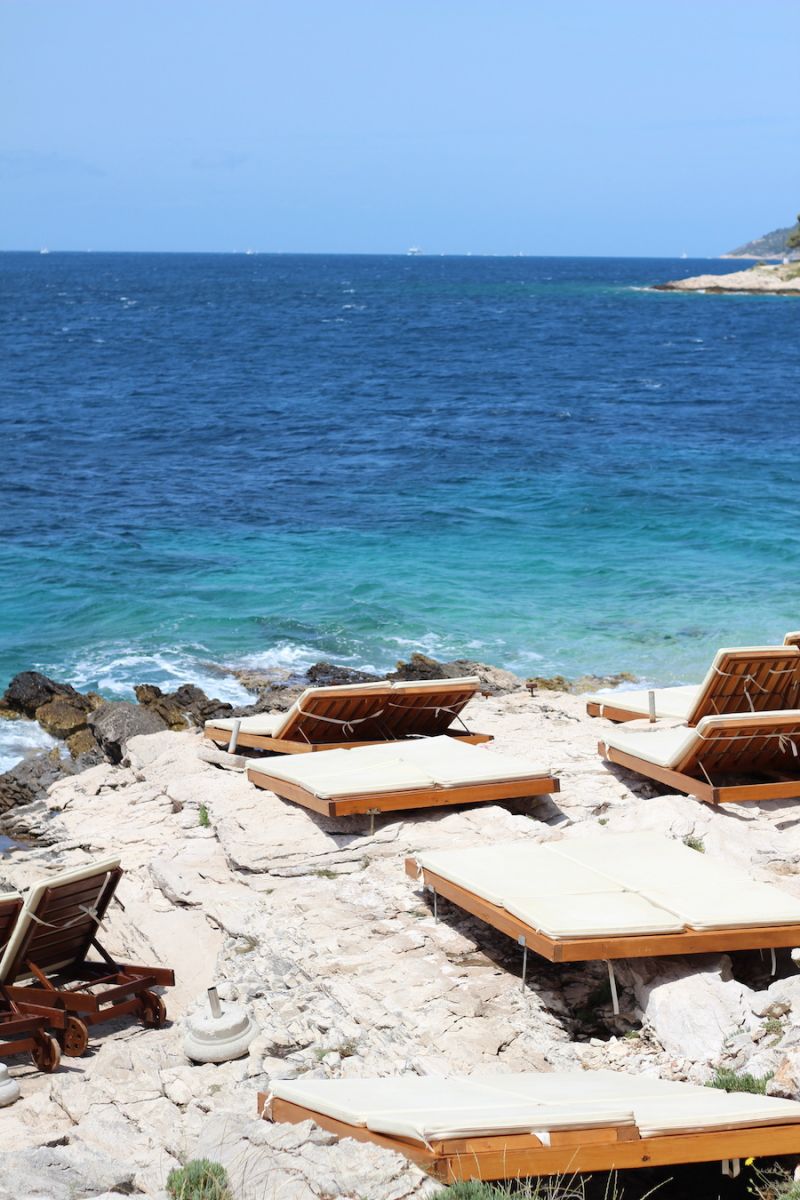 Want to feel like a true explorer? Hit the high seas off the coast of Hvar. Rent a small motorboat from the inner harbor, pack a picnic lunch, and spend the afternoon following the zigzag that is the Pakleni Islands. When the sun is overhead, drop anchor, dive in, and then dry off on one of the many crags rising up along the water. If you're feeling particularly free, look for the FKK signs and leave your clothes—plus any worries, anxieties or stresses—on board. (Wink, wink.)
Have you been to the Dalmatian Coast? Where did you go and what did you love about it?