Traveling can be tiring and expensive and time consuming, especially when you consider time zone differences, long journeys in small seats, and a drained bank account. And vacation days don't exactly grow on trees, am I right? But despite the hassle, I typically find traveling to be quite restorative, as many of us do!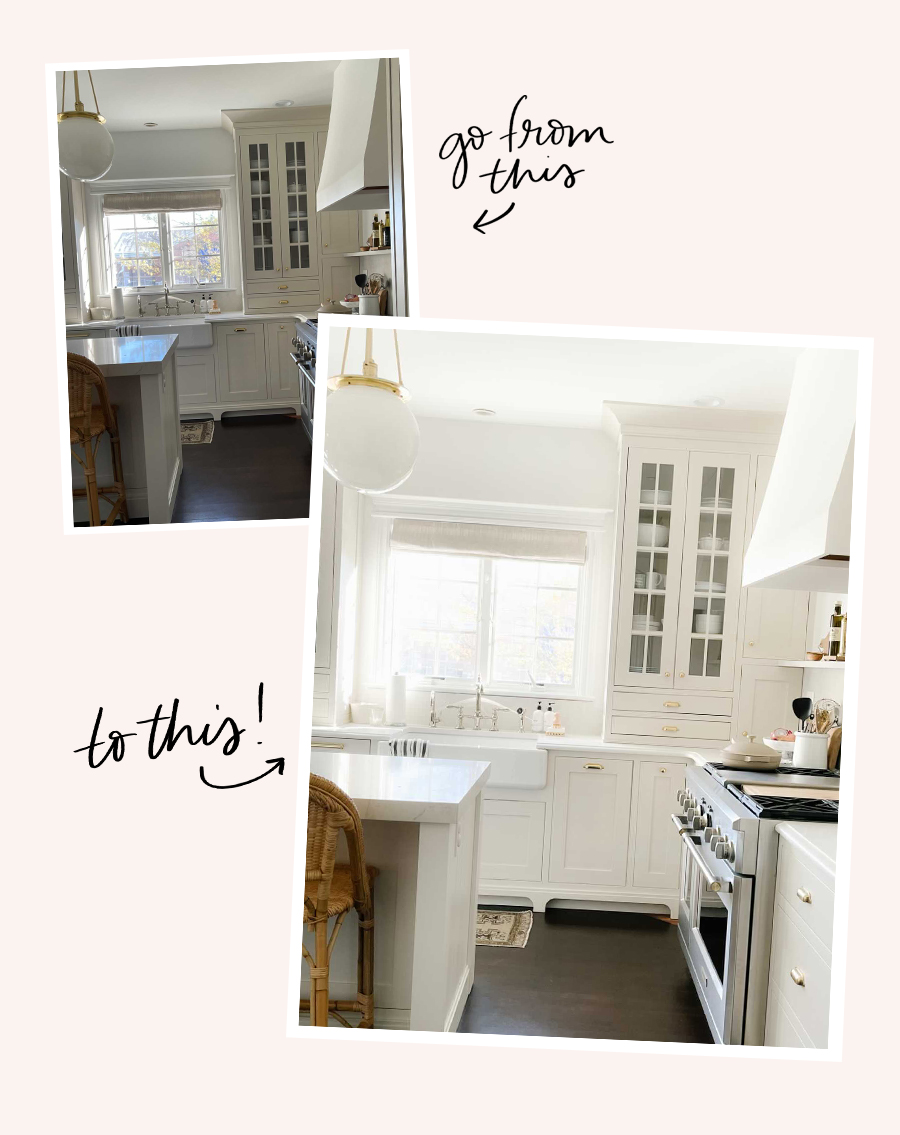 NEW! The Everygirl Presets for One-Click Editing
We just launched mobile Lightroom presets, available for download right now! A beautiful photo is literally just a tap away. And with nine different styles from moody to ultra bright, you'll have endless editing options.
GRAB THE PRESETS >
However, there are times when a staycation can be the perfect rejuvenating alternative to a whirlwind vacation. But just because you're staying home doesn't mean you can't do a little cultural exploring! Here are five destination themed ideas, all with recipe and entertainment options, to spend a night in and still get your cultural fix for when travel is out of the question.
When you can't get to London, England…
Source: Asiyami Gold
Stay in and…
EAT THIS: Hop across the pond (er, hallway) and try a spicy take on classic shepherd's pie or enjoy BBC-approved sausages with apple mash for supper. Finish off your British culinary experience with a citrusy slice of St. Clement's pie.
DRINK THAT: Mix up a classic English cocktail to sip on, such as a Mr. Stair, or pour yourself a British brew and envision yourself in a cozy London pub.
LISTEN TO: With names like Adele and Ellie Goulding, British singers are almost as well known in the U.S. as American artists. Popular bands from the U.K. include Coldplay, Mumford & Sons, Oasis, and, of course, the Beatles.
WATCH: Some of the best romantic movies are set in London (think Notting Hill, Love Actually, and About Time), but popular feature films such as Skyfall or Sherlock Holmes offer action-packed alternatives.
READ: Try Zadie Smith's debut novel White Teeth to explore 1970s London, or wander about the English countryside with a classic British novel by Jane Austen, Charles Dickens, Virginia Woolf, or one of the Brontë sisters.
When you can't get to Paris, France…
Source: Christine Davis
Stay in and…
EAT THIS: Paris is one of our favorite cities for food lovers, so there is no shortage of culinary options for your Parisian night in. Classic French dishes include coq au vin and chicken fricassee (the latter can be made in our favorite—the slow cooker!), and be sure to begin or end your meal with a verrine, a trendy French dish in a small glass that can contain something sweet, spicy, savory, or anything in between.
DRINK THAT: The sidecar was allegedly invented at the Ritz Hotel in Paris circa World War I, or you could indulge in a glass of wine—red, white, rosé or bubbly, France makes it all!
LISTEN TO: Current French artists topping the charts include Toulouse-born singer-songwriter Jain and The Voice winner Kendji Girac.
WATCH: For a visual journey to the City of Lights, consider the award-winning Amelie, which was filmed in more than 80 locations around Paris. Or try Midnight in Paris, a fantastical rom-com featuring Owen Wilson and Rachel McAdams.
READ: Stroll along the Seine with a copy of The Little Paris Bookshop or explore the Fifth Arrondissement in the 1920s with The Paris Wife.
When you can't get to to Jaipur, India…
Source: Reema Desai
Stay in and…
EAT THIS: In Rajasthan, sweets are often served with the main course, not after, so prepare a ghewar dish (a popular sweet at Jaipur festivals) to eat with your dal baati churma. Many Rajasthani dishes are vegetarian, but if you are craving meat, try a spicy meat curry like this one.
DRINK THAT: Pair dinner with an eponymous Jaipur Martini (Bombay sapphire, fraises des bois and martini rose) or Rose of Jaipur (gin, lemon, cinnamon rose syrup and prosecco), garnished with rose petals to celebrate the Pink City.
LISTEN TO: The most popular commercial music in India by far is filmi, music created for Indian films and often performed by "playback singers," such as the popular Arijit Singh and Shreya Ghoshal.
WATCH: Although many Hollywood movies use India as a film location (think A Mighty Heart starring Angelina Jolie and Zero Dark Thirty, both of which used Indian locations when they didn't receive permission to film in Pakistan), The Best Exotic Marigold Hotel and The Darjeeling Limited were actually filmed in and set in Jaipur and Udaipur, two of Rajasthan's biggest cities.
READ: In her travel memoir, Dreaming in Hindi: Coming Awake in Another Language, journalist Katherine Rich details her time in Rajasthan for a freelance writing assignment. For fiction fans, Janet Sola's The Overnight Palace features an American woman on her own journey of self-discovery in the Indian desert state.
When you can't get to Rome, Italy…

Source: Christine Davis
Stay in and…
EAT THIS: Pasta is a classic staple of Italian food and, lucky for you, one of Rome's most traditional dishes only requires five ingredients! With just salt, pasta, butter, pepper, and cheese, you can do as the Romans do and whip up a plate of cacio e pepe for dinner. Rome is also known worldwide for its artichokes, which can be baked, fried, or added to pizza.
DRINK THAT: Wine is always a good choice for an Italian evening, but if you want something a little stronger try a shot of grappa or sambuca, both traditional Italian liqueurs. Don't forget to add three coffee beans to your sambuca for health, happiness, and prosperity!
LISTEN TO: Elisa is a popular Italian singer-songwriter who writes and records mostly in English. For Italian lyrics, try the soulful voice of Marco Mengoni or the pop beats of Francesco Gabbani.
WATCH: Visit the Eternal City in black and white with a screening of Audrey Hepburn and Gregory Peck's classic Roman Holiday. For a more modern classic, watch a young Matt Damon in The Talented Mr. Ripley or relive one of Russell Crowe's best performances in the Oscar winning Gladiator.
READ: Angels and Demons, the precursor to The Da Vinci Code, will take you on a fast-paced ride through Rome and the Vatican as you uncover the secrets of the Illuminati in this historical fiction thriller. Alternatively, dive into one of Helen Constantine's 20 short stories about the city throughout history in her collection, Rome Tales.
When you can't get to New York City, U.S.A…

Source: Christine Amorose
Stay in and…
EAT THIS: As a cultural hub in the United States, the cuisine choices in the Big Apple are endless. Order take-out from your favorite restaurant—New York City is particularly known for its pizza scene—or enjoy breakfast for dinner. Did you know chicken and waffles were popularized in Harlem, and eggs benedict was allegedly first served at the Waldorf Hotel (now the Waldorf Astoria)?
DRINK THAT: You could stir up the traditional Manhattan, or channel one of its neighboring boroughs with a Brooklyn or Bronx cocktail.
LISTEN TO: New York City has produced popular artists in nearly every musical genre—including Jennifer Lopez, Jay-Z, Joey Ramone, Carly Simon, and Alicia Keys—but it is also known for its musical scene on stage. Hamilton is just the latest Broadway hit to come out of New York, after debuting Off-Broadway at The Public Theatre in 2015.
WATCH: Log onto your Netflix or Hulu account to binge-watch Friends, Girls, Law & Order, Gossip Girl, How I Met Your Mother or any of the many television series set in the city from Sex and the City.
READ: Brooklyn-based author Kristopher Jansma's newest novel Why We Came to the City follows a group of friends navigating New York City together after college. If you're looking to read something set in a specific neighborhood, the New York Public Library has you covered.