It can be overwhelming to plan a trip to California. A state unlike any other, it spans desert and mountain ranges, sprawling cities, sleepy farm towns and, of course, beaches. So many beaches! With more than 800 miles of coastline marked by sunbaked sand, rocky crags, and even a few snoozing seals, no one would blame you for jetting up Highway 1 and pulling a hard left wherever you please—you're bound to see something good.
But just in case you want a little more structure to your trip, here are five California beach towns that are low on crowds and high on a slice of the Pacific you can't get anywhere else.
1. Cayucos: 2 hours north of Santa Barbara
Source: Aspects of Style
Source: Cayucos Chamber of Commerce
Source: First Time Central Coast
Central California is primed with picturesque weather and vineyards as far as the eye can see. Dotted between Paso Robles to the north and San Luis Obispo to the south is Cayucos, tucked on a curve of the coast just above Morro Bay. It has managed to avoid the over development seen in other nearby cities and is simply the perfect spot to wake up to some surf, have a cookie, and try your luck at a game of poker in the back of the Old Cayucos Tavern. Cowboys have been hanging out here since 1906—and when has taking a cowboy's advice ever steered you wrong?
2. Carpinteria: 15 minutes south of Santa Barbara
Source: Nicole Ziza Bauer
Source: Atelier Christine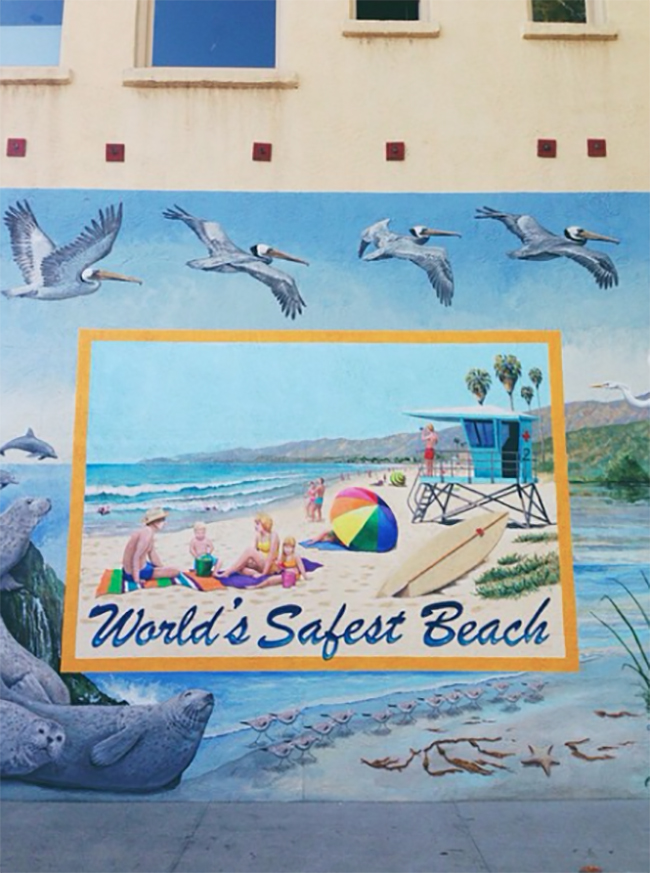 Source: Nicole Ziza Bauer
Just fifteen minutes south of Santa Barbara, this is where you come to contemplate all the life choices that didn't result in you owning a tiny, shingled cottage steps from the beach. With some of the state's friendliest people, the best of cupcakes, and even the "world's safest beach," Carp nails it. And with just a few hours strolling Linden Avenue, you'll start to wonder how old is too old to sign up for surf camp. There's a spirit and a vibe here that once you've experienced, is impossible to forget.
3. Imperial Beach: 30 minutes south of San Diego
Source: Nicole Ziza Bauer
Source: Imperial Beach Locals
Source: Local Adventurer
There's Southern California, and then there's southern Southern California. Imperial Beach is the southernmost point on all of the West coast, and also the southwestern-most point in the continental U.S. Because of its tucked away location between the Pacific Ocean and San Diego Bay, it also has a preserved "classic" SoCal feel about it. Throw on jean shorts, retro tube socks, and roller skates (or blades), pick up some pizza at Filippi's then cruise down to the pier—from which you can spot both Mexico and San Diego—for lunch.
4. Capitola: 1.5 hours south of San Francisco
Source: Studio DIY
Source: Deco Tartelette
Source: Studio DIY
The oldest seaside town in all of California, Capitola retains every ounce of charm that you'd expect and more. It's absolutely worth a stop if you're anywhere in the Santa Cruz area—if for nothing else but to see its most striking feature: the row of Venetian-inspired bungalows facing the beach. These bright pops of color were built in the 1920s to bring a little Italy to California (who wouldn't want that?) and are best viewed while sipping an iced mocha chai from Mr. Toots Coffeehouse across the way.
Tip: Visit in September for the Begonia Festival, when dozens of begonia-covered barges float along the lagoon.
5. Fort Bragg: 3.5 hours north of San Francisco
Source: FortBragg.com
Source: FortBragg.com
Source: Bachir Badaoui 
There's a moody yet beautiful quality to Northern California, part mysterious and part mesmerizing. Once you're north of San Francisco, you're practically enveloped in coastal redwood trees and Fort Bragg, just west of the Jackson State Forest, is one of the best places to experience them. The town used to be centered around its lumber mill, but it has since reconnected to its roots (literally). In Fort Bragg you'll now find farm-to-table fare, many a charming bed and breakfast with stunning views, and even an old railroad bridge turned pedestrian path.
After a day hiking among the trees, make time to check out Fort Bragg's Glass Beach, too. It's where citizens used to dump their garbage off cliffs into the ocean. Decades later, the beach now glitters with specks of sea glass the ocean has returned. From trash, comes treasure.
Only in California.
Where's your favorite beach in California?