Whether you're hosting (or attending!) a Friendsgiving party, we can all agree that it's a great way to take the stress out of the holidays—mostly because you're surrounded by best friends and everyone is responsible for bringing a dish (and the wine is flowing!). The last thing anyone wants to be worried about is a time consuming recipe, and I'm a firm believer of sticking to classic, simple recipes that are packed full of flavor.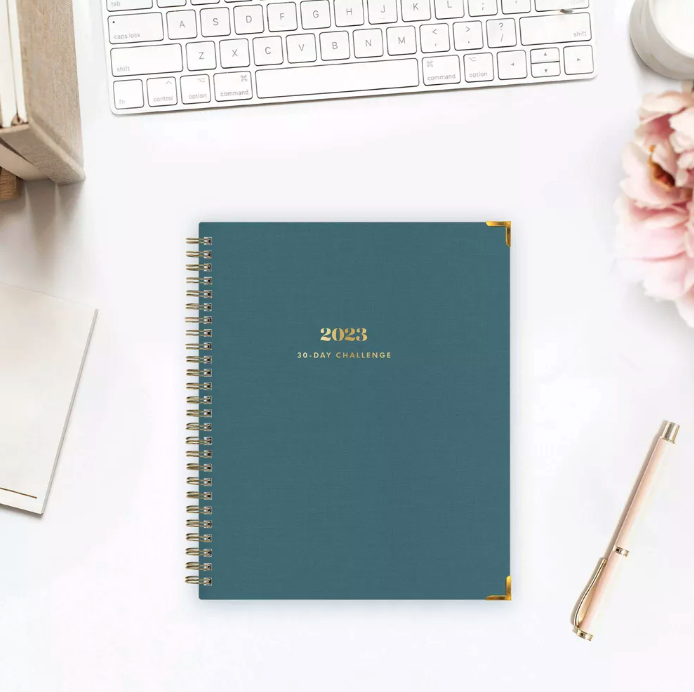 We may be biased, but this is the ultimate planner for the motivated goal-getter. Schedule your days, track your habits, and set new goals every month.
I'm sharing seven easy to moderately easy recipes to bring to your next Friendsgiving party, along with a few styling tips.
Place Settings and Decor Ideas
When entertaining a crowd, I believe that decor should be minimal, natural, and easy. The less you have to worry about the better! Simple place cards made of recycled cardstock paper paired with greenery make beautifully natural place settings that will easily tie into your tablescape.
• Greenery: tie sprigs of rosemary, thyme, or evergreen together with twine or linen ribbons
• Layer table with flat eucalyptus leaves and white pumpkins
• Keep place settings fuss free and natural
• Place small bowls of fruit along the table spread to add color (or as light snacks)
Recipes
For this spread, I stuck with classic holiday recipes that will please any crowd. You'll want to bring dishes that are easy, delicious, and compliment the host's main spread (usually turkey or ham). All of these recipes are very basic and extremely easy to make, especially if you need to make a dish quickly.
(Plan ahead tip: I recommend prepping most of the ingredients for the hand pies the night before, because that recipe requires more prep. Pop the prepared hand pies in the oven before arriving to the party for warm, fresh pies.)
Caramelized Onion and Bacon Mashed Potatoes
Ingredients: 
3 pounds russet potatoes, peeled and cut into 1-inch cubes
3/4 cup heavy cream or whole milk
1 1/2 cups unsalted butter, cubed
salt and cracked pepper to taste
1 teaspoon chopped parsley or thyme
3/4 cup cooked bacon, chopped
1/2 cup caramelized onions
Directions:
Bring a large pot of salted water to a boil then add the cubed potatoes. Cook until they're soft (about 30 minutes).
While waiting for the potatoes to boil, cook bacon to desired level of crispiness and caramelize the onions. In a small saucepan, heat the heavy cream with the butter, salt and pepper.
Once the potatoes are done cooking, drain the pot well and add the potatoes to the bowl of a stand mixer with the paddle attachment (or transfer them to a large bowl if using an electric mixer). Add the cream and butter mixture, chopped bacon and caramelized onions to the potatoes and beat on medium speed until smooth and to taste.
Recipe adapted from My Paris Kitchen by David Lebovitz.
Maple Syrup Mashed Sweet Potatoes
Ingredients:
6 lbs sweet potatoes, peeled and cubed
1/2 stick of butter, melted
1/2 cup heavy cream
4 tablespoons maple syrup
salt and pepper to taste
chopped pecans for garnish
Directions:
In a large pot, bring lightly salted water to a boil. Add sweet potato chunks and boil for 40 minutes, or until tender enough for a knife to pierce through. Add cooked sweet potatoes to a large bowl and mix with a stand mixer or electric hand mixer. Fold in melted butter, heavy cream, maple syrup, and salt and pepper to taste. Mix well until all ingredients are incorporated, about 3 minutes. Transfer mashed sweet potatoes to serving bowl and garnish with pecans.
Orange Cranberry Sauce 
Ingredients:
1 orange
1 1/2 pounds fresh cranberries
1 cup granulated sugar
1 cinnamon stick
3 tablespoons water
Directions:
Using a citrus peeler, peel thick strips of skin off the orange. Combine cranberries, sugar, cinnamon stick, water, and orange peels in a saucepan set to medium heat. Cook the mixture, stirring occasionally, until the cranberries start to pop and the sauce thickens, about 20 to 25 minutes. Remove the orange peels and the cinnamon stick and transfer sauce to a serving bowl. Garnish with orange zest and a sprig of rosemary.
Recipe adapted from Williams Sonoma.
Roasted Maple Carrots
Ingredients:
1 pound tri-color/rainbow carrots
2 tablespoons olive oil
3 tablespoons maple syrup
dash of salt for seasoning (to taste)
roasted pumpkin seeds, micro-greens, or thyme sprigs for garnish
Directions:
Preheat oven to 400F. Mix olive oil, maple syrup, and salt in a bowl. Arrange carrots on a foil-lined baking sheet. Brush carrots with liquid mixture and roast for about 20 minutes, alternating them halfway through. Once roasted, transfer to a serving plate and garnish with roasted pumpkin seeds, micro-greens, or thyme sprigs.
Glazed Pomegranate Green Beans
Ingredients:
1 1/2 pounds green beans, washed and trimmed
1/3 cup orange juice
1/4 cup pomegranate juice
2 tablespoons white balsamic vinegar
1 tablespoon maple syrup
1 teaspoon onion powder
salt and pepper to taste
pomegranate seeds for garnish
Directions:
Steam the green beans in a Dutch oven or steamer basket. Bring the water to a boil, simmer and steam (covered) for about 8-10 minutes. In a large skillet, combine the orange juice, pomegranate juice, vinegar, maple syrup, and seasonings. Bring the ingredients to a boil while stirring occasionally. Cook until liquid is reduced by half. Add beans and toss to coat. Transfer to a serving platter and garnish with fresh pomegranate seeds.
Recipe adapted from Taste of Home.
Blackberry Lemon Hand Pies
Ingredients:
For the crust:
3 cups unbleached all-purpose flour (I use King Arthur's)
2 tablespoon granulated sugar
1 teaspoon salt
20 tablespoons unsalted butter, cut into 1/4-inch cubes (about 2 1/2 sticks of butter)
1/2 – 3/4 cups cold water
2 teaspoon lemon extract
whole milk
sanding sugar for dusting
For the filling:
2 pints blackberries
1 1/2 cups granulated sugar
2 teaspoons freshly squeezed lemon juice
Directions:
For the crust:
Combine the flour, sugar, and salt in a food processor and pulse a few times to mix the ingredients. Add cubed butter pieces, scattering them across the mixture evenly. Pulse until the cubes are about the size of peas.
Add lemon extract to the water. Sprinkle the ice water extract mixture 1 tablespoon at a time over the mixture and pulse once after each addition. Continue adding water until the dough forms small, cottage cheese like crumbly lumps. The dough should clump when pinched together. Don't over process the dough—it shouldn't form into a ball while still in the food processor.
Dump the dough onto a lightly floured surface and pat it into two 1-inch thick disc without over-handling it (do not knead the dough). Wrap both disks in plastic wrap and refrigerate for at least 1 hour before making the hand pies.
For the filling:
Combine the blackberries, sugar, and lemon juice in a saucepan. Cook over medium heat, mashing blackberries and mixing ingredients together with a wooden cooking spoon. Bring the mixture to a rolling boil then lower the heat to low, cooking for 15 more minutes and continuously stirring. Skim any foam from the mixture out with a metal spoon.
Transfer the jam into clean jars and let cool or refrigerate overnight. The jam will keep, refrigerated, for up to three weeks.
For the hand pies:
Preheat the oven to 375F and line a baking sheet with parchment paper. Rest the dough for a couple minutes on a flour dusted surface until it's workable and no longer solid. Roll out dough with a rolling pin to between 1/4 to 1/2 inch thick. Use a 3-inch round biscuit cutter to cut the dough into circles. Roll each circle of dough a second time, so they become about 1/8 inch thick and about 5 inches wide. Dust the circles lightly with flour and transfer to the parchment paper on the baking sheet. The circles willl be placed on top of each other to form the hand pies. Chill the circles for about 15 minutes.
Remove the tray of circles from the refrigerator. Working with one circle at a time, place two tablespoons of blackberry filling in the center of each circle. Gently brush the edges of the circle with a little bit of milk. Place a clean circle on top of the filling and seal corners gently with a finger. Use a fork to gently press the edges together.
Arrange the finished pies at least 1 inch apart on the baking sheet. Cut an 'x' shape into the top of each pie with a knife and brush the tops with milk, then sprinkle with sanding sugar. Bake the hand pies for 35 minutes, or until the tops begin to turn golden brown (it's natural for the filling to come out of the 'x' a bit). While the first batch of pies are baking, prepare the rest of the pies with remaining ingredients and chill until ready to be baked.
Allow the pies to cool for 10-15 minutes before eating! Although hand pies are best on the day they were made, they can be stored for up to a week in a sealed container (at room temperature) or can be frozen for up to three months.
Recipe adapted from The Kitchn Cookbook. 
Apple Bourbon Cider Cocktail 
Ingredients:
3/4 cup apple cider
1/3 cup bourbon
2 tablespoons honey
freshly squeezed juice from half a lemon
slices from one apple for garnish
Directions:
In a medium saucepan, combine the cider, honey, and lemon juice and stir over medium heat. Bring ingredients to boil, then simmer for 5 minutes. Remove from heat. Add bourbon and stir mixture well. Pour into individual glasses, and garnish with apples or other decorative garnishes.