Do you ever have that itch to get something brand spankin' new? What about the desire to splurge on a closet-transforming piece that updates every #OOTD, or the item that totally transitions your summer wardrobe into fall (with a whole lot of style)? I know, I know — in a dream world we can afford something new, gorgeous, and stylish AF to instantly update our wardrobes. Well it's our favorite time of year, aka Nordstrom Anniversary Sale, and you know what that means — it's time to pinch yourself, because dreams are about to come true.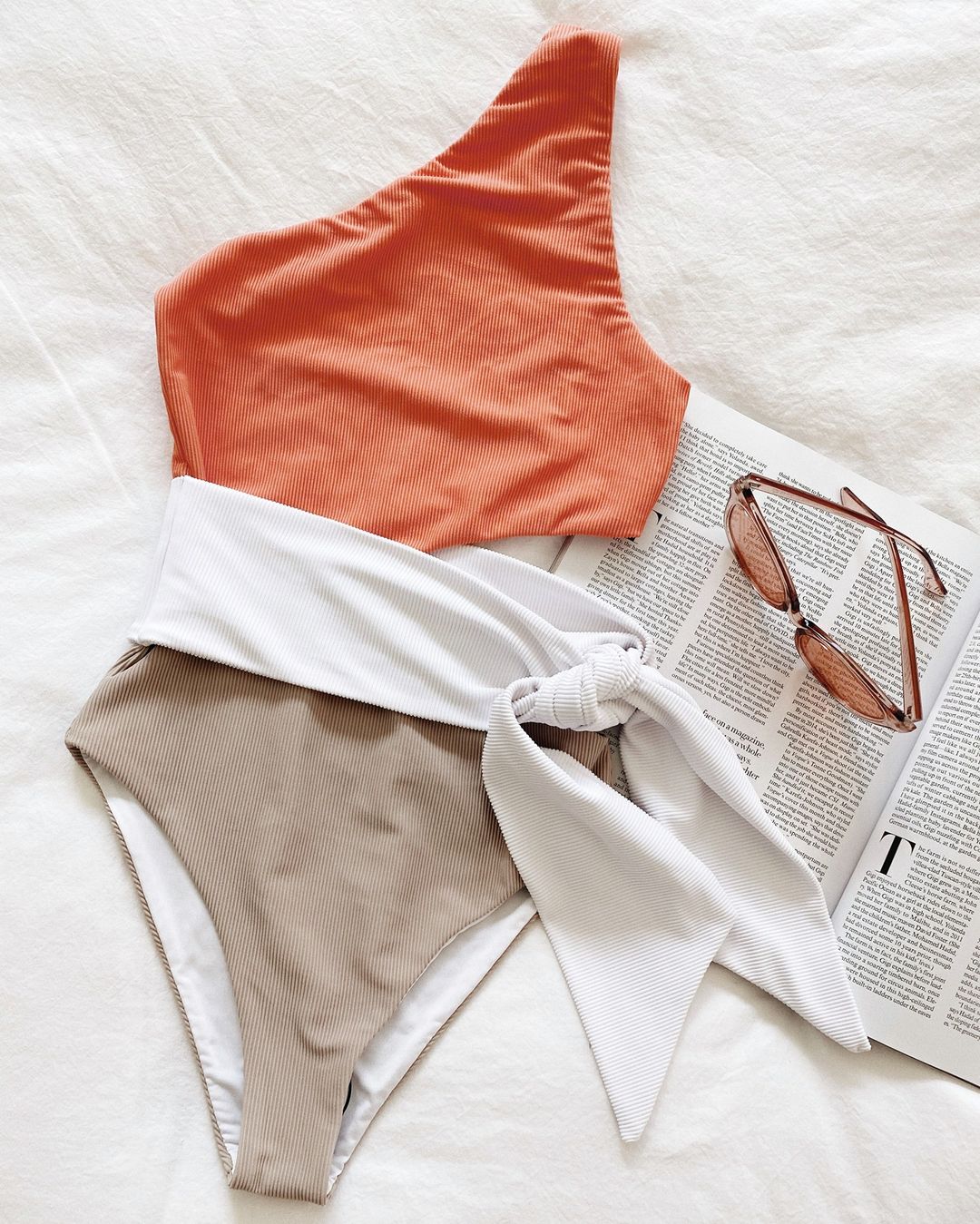 Consider your swimsuit search done.
The best shopping event of the year, the Nordstrom Anniversary Sale, offers all of our favorite brands and pieces at a fraction of the price, meaning you should stock up now for wardrobe staples and beauty buys you'll use all year long. Head over to Nordstrom to snag some major discounts, shop our favorite deals of the season, or check out our editors' picks that we're all obsessing over below. Your wardrobe has never looked better (and your wallet has never been happier).
1. The Jacket You'll Wear on Repeat
If there's one part of my wardrobe I absolutely couldn't live without, it's my jackets. A jacket can take any basic jeans-and-tee situation to a full look, and every year when the Nordstrom sale rolls around, my main goal is to score another one to add to my collection.
My staple leather jacket is black, but I'm absolutely obsessed with this one from Topshop — it's color is different from anything I have (but it comes in black too!), and I love how the cropped cut will look with all of my high-waisted jeans and skirts. I can already tell this is going to my go-to for fall.
MORE FROM THE SALE
2. The Essential Work Shirt
Alright, you guys, I've finally found it — "it" being the work shirt of my dreams. And it's all thanks to a little something called Nordstrom Anniversary Sale. More chic than the typical white button-up but just as classic, this silk top is truly one of the most comfortable and most stylish things I've ever put on my body. I felt like Diane Keaton in Something's Gotta Give, like I'm ready to escape to my mansion in the Hamptons.
MORE FROM THE SALE
3. A Classic Tote
Speaking of classic and chic, how cute is this work tote!? The iconic Madewell bag gets a trendy update with a subtle stripe of suede, making it my new go-to for travel style and workwear.
MORE FROM THE SALE
4. Chic Basics
Not to be toooo dramatic, but the ultimate goal of my life is to be comfortable. I love clothing that makes me forget I'm wearing clothing — while still looking as chic as humanly possible. When I'm shopping the Nordstrom sale, I gravitate toward chic basics that will keep me cozy once the Chicago temps start dropping. I fell madly in love with this Something Navy sweater (comes in so many colors!), and these comfy loafers go with just about any outfit imaginable.
MORE FROM THE SALE
5. Comfortable Loungewear
I've never loved an item of clothing the way I love the Thread & Supply Wubby — and bonus! This year, they made a few changes based on customer feedback, so the Wubby is better than ever.
MORE FROM THE SALE
6. Oversized Sweaters
If I could only wear one thing for the rest of my days (that wasn't a robe — I'd die for a robe), it would be a big ol' sweater with those sleeves that fall past your hands and the cuddliest fabric that feels like a hug all day long. BURY ME IN SWEATERS okay that is all!
MORE FROM THE SALE
7. Classic Blazer
Going into this sale, I wanted to pick up good quality basics that will last me all fall and winter. I've been wearing these jeans basically every single day, so I wanted more options to wear with them so I don't always look like I'm wearing the same thing every day! I have a similar blazer to this and wear it at least once a week, making this one a total staple.
MORE FROM THE SALE
This post was in partnership with Nordstrom, but all of the opinions within are those of The Everygirl editorial board.