Now that we have given you 7 Ways to Style Hair for Every Summer Occasion, courtesy of Lindsey Kidd, it only seems fitting to show you the makeup looks created by makeup artist Natalie Laine that will pair perfectly with each fabulous hairstyle. All you need to do is follow a few simple steps using products you probably already have in your beauty cupboard to get complete yet oh-so-effortless and melt-free looks for any summer event, from an afternoon with the girls to the summer wedding.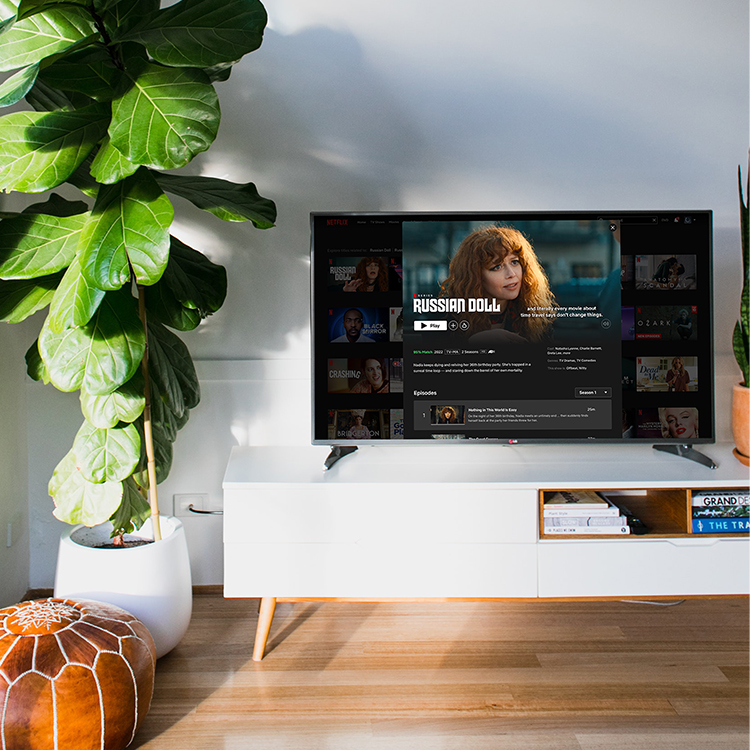 stop mindlessly scrolling on Netflix—these shows have our seal of approval
We guarantee that with these 7 flawless, humidity-proof looks, you will definitely be putting your best face forward for the rest of the summer.
Saturday Afternoon with the Girls
Step 1: Apply sunscreen to protect your skin, a creamy golden mineral powder to combat oil, and a bronzer for a sunkissed look. When applying bronzer, concentrate on your cheek bones, middle of forehead, bridge of nose, cupid's bow, and chin.
Step 2: Brush a light layer of shimmer eyeshadow across your lids. Place some lighter shadow in the corner of your eyes to help them pop.
Step 3: Complete your look with a fun lip in a peach or pink tone.
Products Used: Supergoop SPF 30 Anti-Aging City Sunscreen Serum // Jane Iredale Pure Pressed base/mineral powder in Golden Glow // Mac mineralize skin finish in Gold Deposit // Urban decay naked palette // Pink lip gloss
The Music Festival
Step 1: Apply tinted moisturizer, BB cream, and bronzer. Tinted moisturizer and BB Cream are two fantastic products for the hot summers. They give your skin an even tone and provide lightweight coverage that still allows your skin to breathe. For oily skin, set with powder.
Step 2: Apply eye makeup. To avoid that embarrassing moment in the summer heat when your makeup starts running, try switching out your normal eye makeup for waterproof mascara and eyeliner.
Step 3: Finish your look off with a bright lip. Revlon's Just Bitten lip stains
are a great selection of affordable, bright options for summer that provide
long-lasting color and resist wear. For something lighter, try a tinted lip
balm.
Products Used: Maybelline Dream Fresh BB Cream // Nars Bronzer in Laguna (less shimmer) // Mac mineralize skin finish in Gold Deposit (shimmer) // Revlon Just Bitten Kissables // L'oreal Voluminus Waterproof mascara // Urban Decay 24/7 Glide-On Eye Pencil // Burt's Bees Tinted Lip Balm in Red Dahlia
Beach Day
Step 1: Generously apply sunscreen with a minimum of SPF 35, tinted moisturizer, and bronzer. Don't forget to reapply sunscreen throughout the day.
Step 2: Play up those lashes with some fabulous waterproof mascara and even a little eyeliner.
Step 3: To take your look to the next level, add a swipe of gold shimmer eyeshadow across your lids or a bright summer gloss.
Products Used: Kiehl's BB Cream Actively Correcting and Beautifying with SPF 50 // Makeup Forever waterproof eyeliner in teal // Revlon Just Bitten in Rendezvous // MAC all that glitters shadow
Woke Up Late
Step 1: Apply moisturizer evenly across your face with your fingers or a foundation brush and follow with cream blush to the apples of your cheeks for a pop of color. This will brighten your whole face and make you appear awake.
Step 2: Quickly curl your lashes and then swipe on two coats of volumizing mascara. If you have time, use a pencil to define your brows. Filling in your brows can help make you look neat and pulled together.
Step 3: Apply lip gloss.
Products Used: NARS Pure Radiant Tinted Moisturizer SPF // Sheu Uemura lash curler // Voluminus Waterproof mascara // Becca cream blush // Benefit-High Brow, brow lifting pencil
Morning Commute
Step 1: Apply primer which offers protection, evens out skin tone, and does a great job resisting heat. Top it off with a golden mineral powder for a natural finish that will keep you from looking oily. Apply blush using your clean two middle fingers. Smile and apply the blush to the apples of the cheeks and blend the color backward.
Step 2: When pressed for time and in a sticky situation, opt for liquid waterproof liner that won't run. The best way to apply is by gently stretching your eyelid at the outer corner so it's taut. Start your line at your inner corner and stay as close to your lashes as possible. Instead of drawing one straight, create a few dashes. Then try to connect them. With practice, you'll eventually be able to apply it in one quick swipe.
Step 3: Finish your look off with a red lip. I chose Bare Minerals Marvelous Moxie Lipstick in Live It Up because it is very creamy and a great red for all skin tones.
Products Used: Color Science Face Primer Sunforgettable SPF 30 // Jane Iredale Pure Pressed base/mineral powder-Golden Glow // Becca cream blush //Makeup Forever Aqua liner in black // Bare Minerals Marvelous Moxie Lipstick in Live It Up
Dinner Date Al Fresco
Step 1: Apply foundation on your skin, following with concealer over any blemishes or dark circles.
Step 2: Prime your lid by patting on foundation to form a base for your makeup to stick to.
Step 3: Recreating a smoky eye is easiest with a multitonal eye-shadow palette. Rub the softest color in your palette above the creases and up to the brow bones to highlight. Sweep the light, pearly shadow around the inner corners of your eyes to make them seem larger. You can even dust a little of this shade under your lower lashes to offset dark circles. Next, dip the tip of a dampened makeup brush into the darkest shadow, and draw a line across your upper and lower lash lines as well as your crease. Smudge it with your finger, a brush, or a cotton swab for a blurred effect. Trace on one last layer of the darkest color as liner and smudge as well.
Step 4: Curl your lashes, following with a coat of the deepest, darkest mascara you have. Use a light brow pencil to highlight the brow bone and then fill in your eyebrows with a coinciding color.
Step 5: Swirl on a bit of blush along the apples of your cheeks. perfect enlightened flush.
Step 6: Whether you normally use lipstick or not, gloss is a must on a first date.
Products Used: Revlon Colourstay Concealer Light // Dior Natural Finish Loose Powder // Urban Decay Naked Palette // Urban Decay Eyeshadow in Mushroom // Dior 5 Couleurs Eye Shadow // L'Oreal Super Liner Gel Intenza in Pure Black 01 // Benefit-Hervana Blush // Revlon Photoready Cream Blush in Flushed // L'Oreal – Infallible Lip Liner in Always Toasted 708 // Marvelous Moxie lipgloss by Bare Minerals (sticky) // Stila Lip Glaze (shiny, not sticky) //Benefit High Brow lifting pencil and Instant Brow Pencil
Summer Wedding
Step 1: Take a dense, flat top brush and dip it into your foundation. Dot this onto your nose, the cheeks, around the borders of your face, and your chin. Use circular motions to fill in all over face, and then apply blush. Choosing the right blush is essential for summer. Fair skin with warm undertones look gorgeous with a peachy-yellow shade. Fair skin with cool undertones naturally work best with cool pinks. Medium skin tones with yellow or olive undertones look beautiful with amber shades. Dark skin tones with warm undertones surprisingly radiate more with cool bright pink blush shades than with warm shades. Once you find your shade, lightly brush it along the apples of your cheeks.
Step 2: For your eyes, use light warm colors to prevent a mess in case the ceremony runs late and you are stuck in the sun. Brush a champagne color across your lids and accent your crease with warm tones like light brown or pink. Line your bottom lashes with liner, staying close to the lash line, then smudge over it with a lighter color eyeshadow. Swipe on two coats of mascara, starting first with closed eyes so you get the first coat on the top/back of the lashes.
Step 3: Finish your look with a sophisticated bright lip. Don't forget to use a gloss so you can pack it in your clutch and avoid any melting hazards.
Products Used: GLOW TIME™ FULL COVERAGE MINERAL BB CREAM // Benefit Peek a bright eyes-eye Illuminating kit (it has a cream base in it so the eyeshadow will stick) // Urban decay 24-7 eye pencil in demolition //L'oreal Voluminus Waterproof mascara // Benefit Hervana // Nars Bronzer in Laguna // Revlon Just Bitten lip stain in Lovesick
Models: Jasmin Peraza, Clarissa Vanhousen, Kathy Webb, Allyson Fulcher, Haley Urquhart, Megan Silianoff, Praveena Paladugu