We all want to look our best at holiday festivities, but figuing out how to dress up your look apart from your everyday makeup routine can be a bit of a challenge. That's why we asked Los Angeles based makeup artist Elaine Barnett to share some #trending holiday looks as well as the tools we need to create them.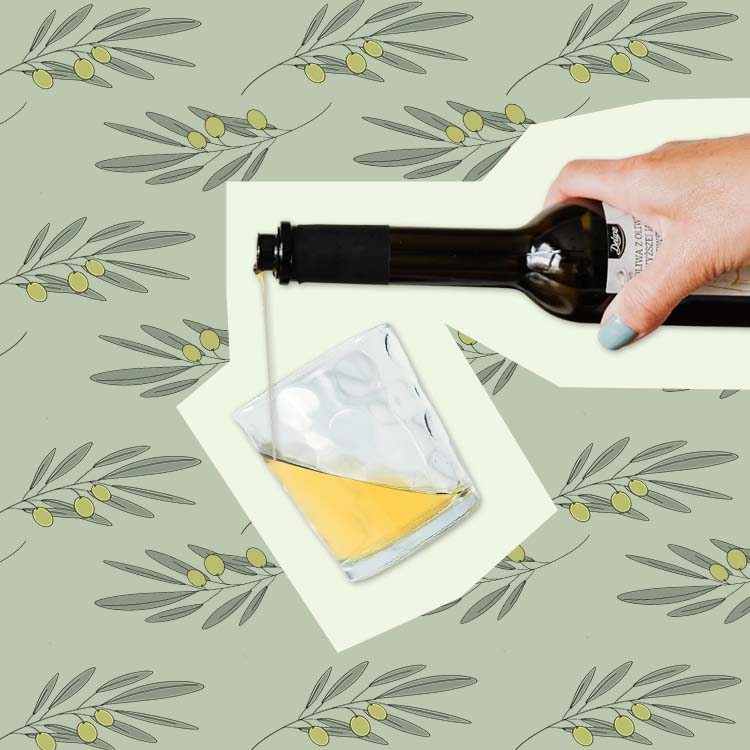 we love olive oil, but this seems a bit too far... or is it?
1. Peachy Glow
Source: Getty Images / Huffington Post
Amp up your natural features by using a highlighter like the MAKE UP FOR EVER Pro Light Fusion Undetectable Luminizer on your check bones and sweep a peachy-bronzer like NARS' The Multiple in 'Na Pali Coast' on eyes, cheeks and lips. Just add Sephora Collection's Ultra Shine Lip Gel in 'Totally Lucid' to complete your look.
2. Full Glam
Source: Celebuzz
For a full on glam look, start by creating a soft warm smokey eye with the Tarte 'In Bloom' palette and Kat Von D's Tattoo Liner to create a winged eye. Smudge out your lower lash line with a dark brown shadow and add some false lashes to open up your eyes. Finish off this look by grooming eyebrows with Anastasia's Dip Brow and adding a dark burgundy lip like MAC's lipstick in 'Dark Side'.
3. Daring Bronze
Source: Deavita
For an edgy yet sophisticated holiday look, concentrate the focus on your eyes by applying a shimmery bronze cream eyeshadow like ColourPop's shadow in 'Moonshine' all over the lid from lash line to crease. Finish off your look by applying Stila Cosmetics' waterproof eyeliner in 'Stingray' along lash line, L'Oreal Paris' Original Voluminous mascara on lashes and Philosophy's Flavored Lip Gloss in 'Coconut Frosting' on your lips.
4. Rosy Glow
Source: @golden_barbie
Play up your features by using one of the hottest colors on trend right now, red or rose toned eyeshadow palettes. Check out Huda Beauty's Rose Gold Palette or Anastasia Beverly Hills' 'Modern Renaissance' palette. These colors will make your eye color pop while giving warmth to your skin. Pair this look with a 'barely there' red lip tint to create depth and don't forget to use highlighter to get a pretty glow.
5. Glitter Lips
Source: Wire Image for Refinery 29
This is for the showstopper that likes to stay on trend during the holidays. Glitter lips are all the rage since Pat McGrath came out with her Lust 004 Lip Kits. Apply this glitter lip to really make your pout pop while applying Ardell Lashes' Double Up Demi Wispies false lashes to keep the drama balanced. If you need help, check out this video.

6. Soft Glam
Source: London Beep
For a natural but glammed up look, create a soft smokey-eye with Urban Decay's Naked2 palette by applying silver and champagne shadows concentrated on the lid and inner corner of the eye while dusting a shimmery gold eye shadow on the lower lash line. After applying black liner to your upper lash line, add Ardell's Lash Accents #318 lashes to the outer edge of your lash line to create drama and finish off your look with a peachy beige shimmery gloss.
7. Bold Brows and a Bold Lip
Source: Seventeen
Instead of reaching for that contour palette, let your natural freckles and skin tone show. Play up your brows by creating a bold look with Anastasia Beverly Hills' Dip Brow and an orange-red lipstick by Kat Von D in 'Countess' to keep it bright.
8. Sparkly Eyes
Source: Highbrow
This is for the girl on the go that still wants to sparkle and shine bright during the holidays. Keep your eyes the focus by applying a glittery pigment from lash line to crease to make your eyes sparkle and pop. Add a couple coats of Too Faced 'Better Than Sex' mascara to lashes and Soap & Glory's Sexy Mother Pucker Pillow Plump XXL lip plumping gloss in 'Pink Well' on lips to finish your look.