The whole notion of non-toxic beauty is gaining more and more traction and we'll be honest, it's pretty new to us, too. It's not about using products that are all natural or organic. Instead, it's just about using products that don't contain chemicals that are known to be unsafe. We're talking about ingredients that are scientifically proven to be linked to issues like cancer, hormone disruption, ADHD, autism, allergies, reproductive problems, and so on.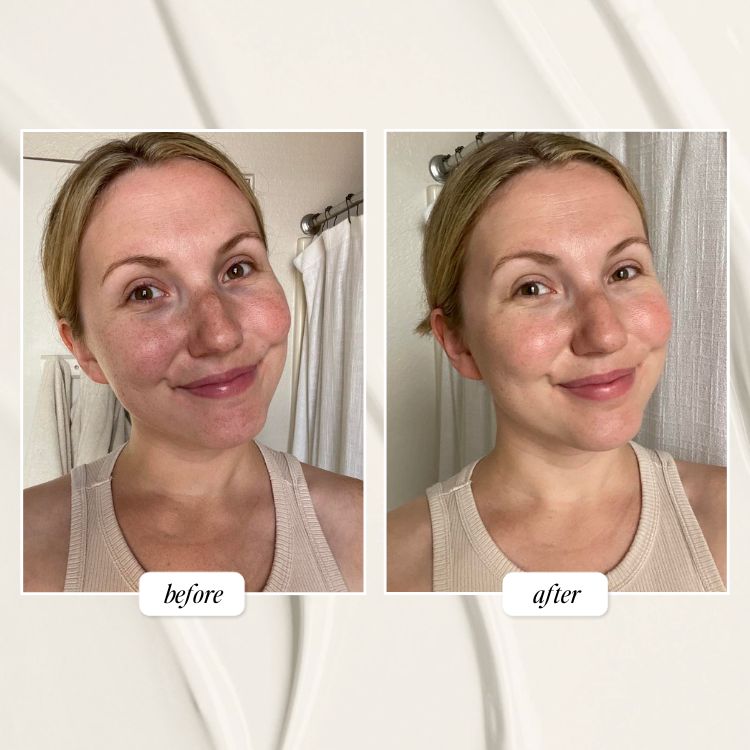 "But surely the personal care products I use (like my holy grail foundation that I spent a penny on) couldn't possibly be unsafe?" That's the exact thought we had, but the truth is pretty scary. The good thing is that you may live in a country where there is regulation on ingredients companies are allowed to use in their products, but for those of us in the U.S., a bill has yet to be passed regulating the use of toxic ingredients in beauty products—the first and only was in 1938. Only 11 ingredients are banned and there are thousands of harmful chemicals being used in these products we all thought were basically perfect. For more, read this and check out the Skin Deep database to learn about the safety of the products you love.
Here's the thing: There's no way to eliminate toxins from your lifestyle completely. Harmful chemicals are everywhere—in the foods we eat, in the air we breath, etc. And a lot of these are things we cannot change, but which beauty products we use is something well within our control! We're all about moderation, though, and definitely not preaching to change every little product you own. But if this whole clean beauty movement is something that interests you and you want to switch to safer products, then you'll love these eight non-toxic beauty products. From shampoo to makeup to nail polish, we guarantee there is a non-toxic favorite out there just waiting for you to discover.
You may have heard of "3-Free" when it comes to nail polish, but what about "5-Free," like these gorgeous Smith & Cult polishes? That means this lacquer is not formulated with dibutyl, phthalates, toluene, formaldehyde, formaldehyde resin, and camphor—all harmful chemicals we definitely don't want sitting on our nails for prolonged periods of time. Not only is the packaging to die for, but the formula is smooth and gives high coverage. It's a win on all accounts.
Beautycounter has one of the highest ingredient selection processes in the game, but aside from their bonus points for clean beauty, they also have celeb makeup artist Christy Coleman on their team helping to formulate amazing products from makeup and skincare to hair care and body care, too. This Lustro Sugar Scrub and Enrich Body Butter set will leave your skin smooth, glowing, and happier than ever before, we promise.
If you take a look at the ingredients list of your bath products and personal care products in general, you'll most likely notice the word: fragrance. It might seem like just a simple ingredient, but it's actually a word that is made up of thousands of potentially harmful ingredients that are linked to cancer, hormone disruption, allergies—the list goes on. Because fragrance is absorbed into the bloodstream directly through the skin, it's peace of mind to slather on products that are completely safe, like this set.
This gorgeous palette will give you the matte and luster finish you could possibly need day-to-day. It's formulated without parabens and pthalates (read more on those here), but it definitely has high pigmentation, longevity, and a formula that is so smooth that the shades will glide on like butter.
This mask is one of REN's best sellers for a reason. It lifts dead skin and resurfaces to dramatically improve skin tone, texture, firmness, and radiance, while minimizing the appearance of pores and reducing sun damage, hyperpigmentation, and old acne scars. It contains a cocktail of four acids—glycolic acid from pineapple, lactic acid from passion fruit, citric acid from lemon, and tartaric acid. Who says clean skincare can't be high performing?
Many lipsticks contain lead, aluminum, synthetics, polybutenes, and petroleum byproducts—to name a few harmful things you don't want sitting on your mouth all day. (You know they say women eat about five pounds of lipstick in their lifetime? Yuck!) Bite Beauty has highly pigmented lip products that are good enough to eat. No really, their hydrating formulas are infused with food-grade ingredients so that your lips feel as gorgeous as they look.
This rosemary hair oil has quickly become a favorite treatment for hair and scalp. It's packed with natural essential oils that give off a spa-like scent that will drift you off into complete relaxation. There's lots of ways to use it, too. Add a couple drops to your conditioner, use it as a leave-in hair serum after washing your hair, or layer it on as a hair mask overnight and wash it out in the morning. Any way you go about it, your hair is going thank you because it promotes hair growth and soft, lustrous locks.
You know that glowing cheekbone look that supermodels seem to have? This product is the closest thing we've been able to find to mimic that glow. It's ultra sheer and creamy (never sticky or greasy!) and gives a satin-pearl finish. It's the ultimate illuminator for the tops of the cheekbones and high points of the face. The founder of RMS Beauty Rose-Marie Swift created a website called Beauty Truth—it's worth a look!
Many eyeliners are formulated with mysterious waxes and fragrances, but these are perfectly safe—and they are amazing—buttery and creamy and long lasting. Plus, the colors are fantastic. What more could you want in an eyeliner?
Do you have any favorite non-toxic beauty products? Share them with us in the comments below.