It's a well-known fact that the worst part of vacation is the act of actually getting out the door, mostly due to the age-old question that we've been asking ourselves for decades: "How much do I really need to pack?"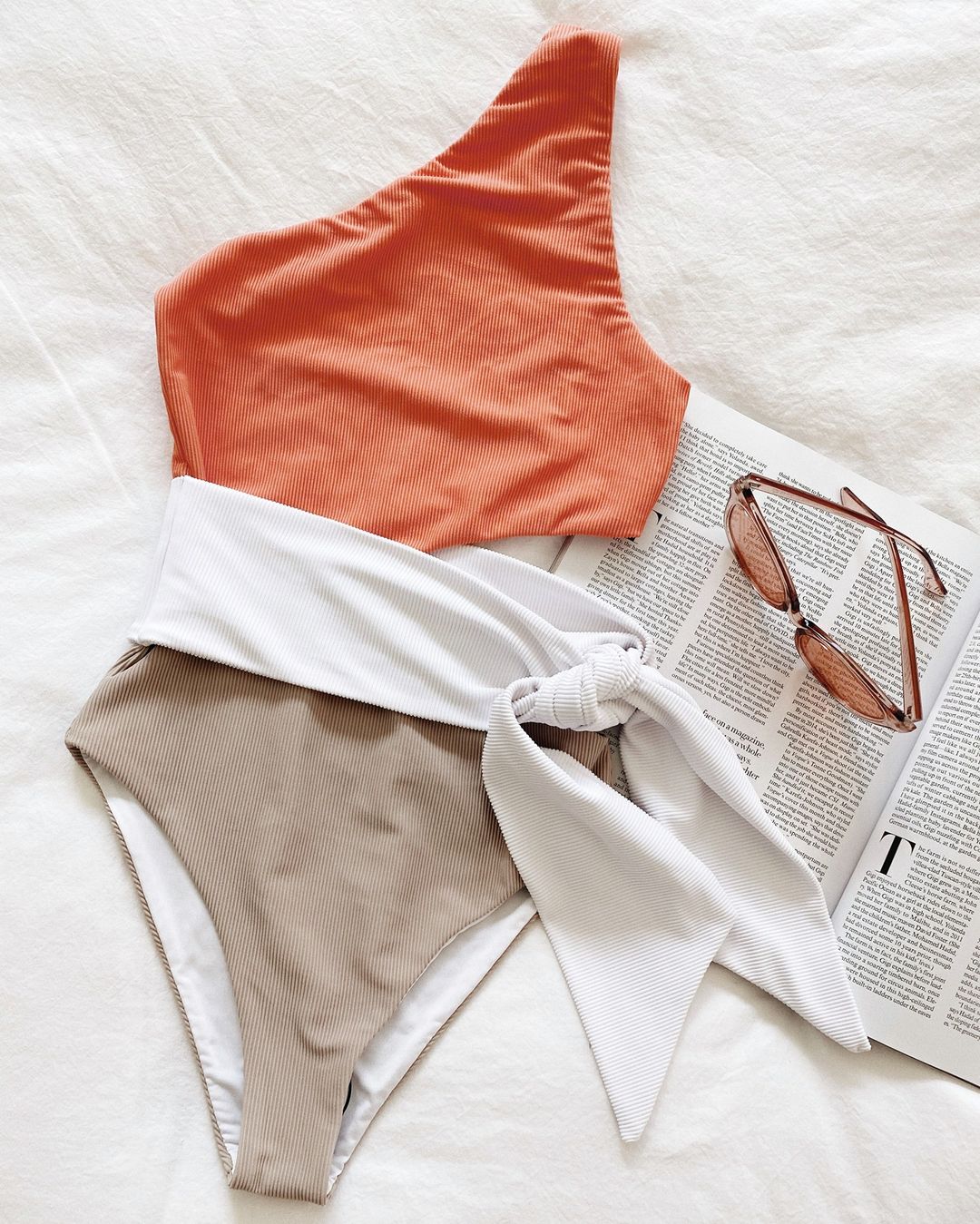 Consider your swimsuit search done.
Because the anxiously awaited Memorial Day is the first holiday to kick off the summer, and those checked baggage fees are certainly not getting any cheaper, we paired up with travel pro and style blogger, Soraya Pena of Chic Flavours to show us how to create four different looks perfect for any holiday weekend occasion– be it the beach, BBQ, picnics or patios– with just a few items! Consider your packing skills exponentially sharpened.
Essential Items:
Classic, black tee: A black tee is like your wardrobe's cup of coffee. It's best when it's plain, black, and absolutely essential under any weather condition. Why black? Paired with the right items, you can easily get away with wearing a black tee anywhere from the zoo to a five-start restaurant.
Cropped boyfriend jeans: Shocker–your dark skinnies actually aren't the most versatile denim in your closet! Boyfriend jeans give you the most bang for your buck, and here's why: 1. They add more personality to your outfit, bringing basically anything you pair with them up a notch and 2. their loose fit tends to be much more comfortable during long plane, train, and car rides.
Brown leather sandals: Your daytime go-to. We love the lace-up features of these ones from Old Navy. They're comfy, and the neutral color looks great with anything. (Yes, you can wear them with your black tee!)
Wide-brimmed hat: Planning to be out in the sun? Don't forget to bring a hat! A wide-brimmed number is an easy way to shade your face from harmful rays, and put a fun twist on your outfit!
Nude pumps: Your night-time standby. I've never met an outfit that didn't look stellar with nude, pointed pumps. Arguably the most flattering of all footwear – they'll elongate your legs and show off your adorable LWD. (What's an LWD? See below!)
White Blazer: Nothing says "summer chic" more than a classic, tailored white blazer. Throw it over your black tee with nude pumps, and you've got evening-wear!
Little white dress: You've heard of an LBD (Little Black Dress) but what about an LWD? It's Memorial Day, girl – is there a more perfect time to break out your Little White Dress? White will brighten your features and compliment those rays you soaked up on the beach. Take it from day to night with one simple shoe swap.
Mid-sized purse: Perfect for daytime. You'll need some room to cart around essentials like your camera, sunglasses, a sweater, (for those ever-changing May temperatures) and sunscreen.
Clutch: You'll want one for occasions where you don't need to be hauling around extra items. Choose a fun print or graphic – it will pack some punch into an otherwise basic outfit.
How to pack them:

Remember, all items you bring should go together – this gives you endless options and allows you to get dressed quickly. Less time in front of the mirror = more time on the beach!
Tightly roll your soft items (like tee's, sweatpants, sweaters, etc) and fold the sturdier ones (blazers, jeans, jackets, etc). Place the rolled clothing on the bottom of your suitcase, and the folded items on top. This helps you fit more in less space, and it also prevents wrinkling.
To easily pack hats, stuff items inside to prevent crushing, and place the hat on the bottom of your bag. Carefully place (rolled) clothing around the brim of the hat, and then lay carefully over the top.
Utilize the space inside your shoes – loafers and running shoes have a lot of room that can be used for things like phone chargers, socks, nail polish, and extra pairs of sunglasses.
Use small items like undies and PJ's to fill in the cracks in between your other clothes.
Blouses, dresses, and other delicate items should be lightly folded on top.
Avoid the dreaded zipper snafu – when you're done packing, place a plastic dry-cleaning bag on top of all of your clothes. Tuck in the edges. If anything gets caught when you go to unzip your suitcase, it will be the plastic bag, and your silk slipdress will be saved.
Don't forget the Wrinkle Spray, and Spot Remover!
What are your weekend travel tips? Share them with us below, or on twitter @TheEverygirl_!
Shop Soraya's Looks:
Don't forget to follow Soraya on Social!
Blog: Chic Flavours
Instagram: @SorayaCarito
Twitter: @SorayaCPena
Facebook: /ChicFlavours
This post was sponsored by Old Navy. Check out Old Navy's latest fashion lineup in store or online at oldnavy.com.