What feels more American than winding through backcountry roads, the smell of charcoal and cut grass wafting in through open windows, and the fading sun streaking the sky with pastel pinks, oranges and blues?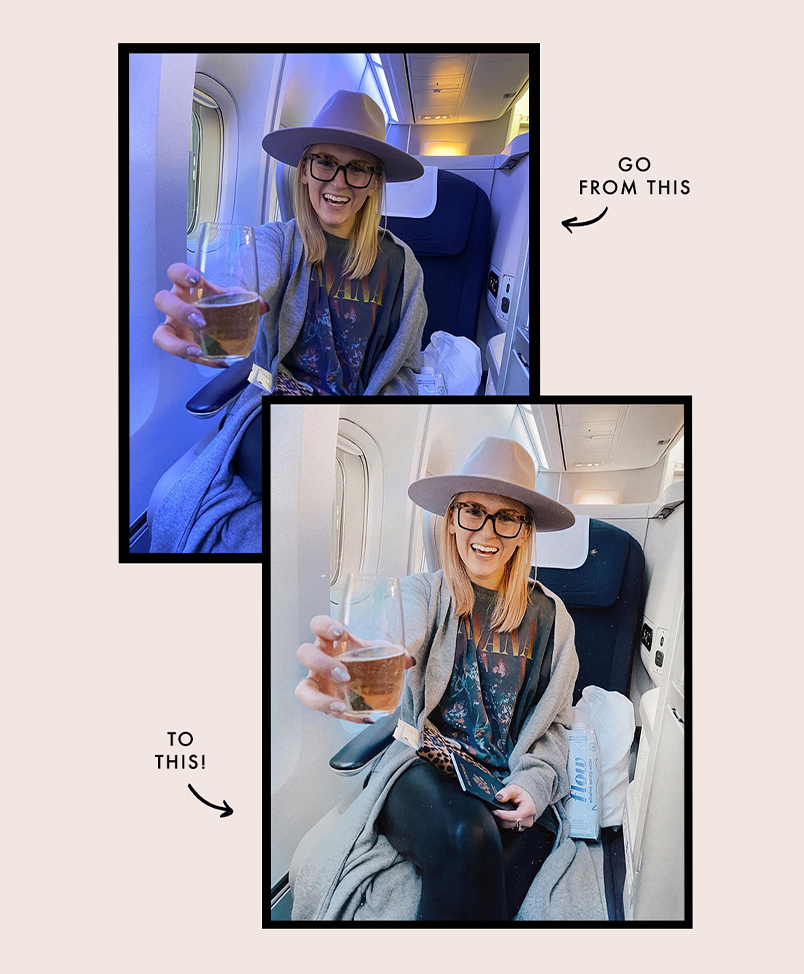 Want to style, shoot, and edit your photos perfectly every time?
We're sharing our secrets to photo editing in our all-new online course, Mastering Photo Editing On Your Phone. Enrollment closes on Thursday, so grab your spot now!
Just one thing: bourbon. America's only "native spirit."
With ninety-five percent of the world's bourbon made in Kentucky, it will most surely punctuate any time you spend in the state—if it's not the sole reason you head there to begin with. It doesn't matter if you prefer wine, beer, vodka, or chamomile tea, touring the Kentucky Bourbon Trail is a must for anyone interested in history, agriculture, business, cooking, art—and even the early roots of feminism, if you look hard enough.
And, OK, we admit it. It's about tasting bourbon, which always seems better steps from the barrel, too.
WHEN TO VISIT
To get the most out of a trip (and to preserve your faculties for things like driving, eating, or simply remembering that you visited) it's best to take at least three days to make your way along the trail. With over a dozen different distilleries (some up to 80 miles apart), you won't be able to see them all in one trip. But the below guide will get you started, especially if you want to skip the tour bus and hit the golden trail on your own.
If you plan to travel on the weekend, then it's strongly advised to book any tours you can online in advance. It'll save you the defeat of driving an hour to find that all the tours are either booked or you have to spend an hour wandering the gift shop. (Reminder: All distilleries on the Bourbon Trail operate in EST.)
WHAT TO KNOW
A quick recap of what makes bourbon a differentiated version of whiskey (the general term for a spirit distilled from a grain): Bourbon must contain 51% corn and be aged in new, charred, American white oak barrels, and be bottled at no less than 80 proof. Traditionally, bourbon was the Mad Men drink of old—harsh, meant to put some hair on your chest. But in recent years, bourbon has seen a resurgence in popularity, especially among women, thanks to smoother, more palatable recipes and a booming mixology scene.
Bourbon shouldn't be a two-ounce pour you want to hide in soda; it's a culinary feat, crafted with an artisan level of detail your taste buds will thank you for.
DAY 1: LEXINGTON
YOUR BOURBON AGENDA
Lexington is the second largest city in Kentucky, making it a great jumping off point for starting the official Bourbon Trail. It's home to the University of Kentucky, which means that you'll easily find hotels, AirBnBs, and restaurants to suit any budget.
In the center of Lexington are your first two stops: Barrel House Distilling Co. and Town Branch Distillery. Town Branch is only place on the trail where you'll taste both bourbon and beer (their Kentucky Bourbon Barrel Ale is a personal favorite) as they operate as both a brewery and a distillery. Get on the first tour starting at 10 a.m., that way you have plenty of time to head to your next stop, Woodford Reserve.
One of only three distilleries that are registered as historic landmarks, Woodford's property is tucked among bluegrass hills and built to reflect traditional Irish and Scottish stone architecture. It's a beautiful tour that will set the vibe for appreciating the simplicity and inherent craftsmanship of bourbon and whiskey, in general.
From Woodford you could either head north up to another registered historic landmark, Buffalo Trace, or head south to round out your day with a stop at Wild Turkey. The visitor center at Wild Turkey is impressively designed and rich with history, and also neighbor to Four Roses, only eight miles away. Four Roses is a charming property set with Spanish-style architecture and while the tour is worth prioritizing, it makes for a great day-end stop because if you miss the last group you can still sit in on a $5 tasting (and take home your glass, too).
WHERE TO STAY
Are you a horse lover? Stay at the equestrian themed, but tastefully done, Campbell House. If you want to step back in time to 1883 (but with modern day amenities) book a room at the Lyndon House.
WHAT TO EAT
Grab a sandwich and support local farmers at Stella's Kentucky Deli, indulge your inner hippie at Alfalfa, or go for the good stuff at the acclaimed Bluegrass Tavern, where they have over 400 rare bourbons at the bar.
DAY 2: BARDSTOWN
YOUR BOURBON AGENDA
Waking up in the town voted "The Most Beautiful Small Town in America" is worth the drive, but Bardstown is also conveniently west as you move along the trail from Lexington. Be sure to stay, or at least stay for a meal, at the Old Talbott Tavern and Inn. It's been open since 1779, hosting everyone from outlaw Jesse James and the Queen of Romania to President Lincoln as a young boy.
Bardstown is the best base for exploring the third registered historic landmark Maker's Mark, located roughly twenty miles away in Loretto. Start your second day here, where a step on its property is like stepping back in time. Pay particular attention to the role Margie Samuels (wife of founder T. William Samuels) played in developing Maker's iconic red wax-dipped bottle.
From Makers, head over to Heaven HiIl if you want a more museum-like experience. Their Bourbon Heritage Center will guide you through the stories of several different brands with an educational tasting at the end. Then, visit a few smaller distilleries nearby such as Willett Distillery (their family story will inspire you regardless of what business you're in), Limestone Branch Distillery, and Corsair.
Other smaller batch distilleries worth visiting (but hard to do from Bardstown) include: MB Roland, Silver Trail Distillery, Old Pogue Distillery, and Wilderness Trail Distillery, among others.
WHERE TO STAY
See if you can spot the ghosts while staying at the legendary Old Talbott Tavern and Inn. Or, for a less eventful but still totally charming evening, rent a room at the Bourbon Manor Bed & Breakfast.
WHAT TO EAT
Eat like a local at Mammy's Kitchen, like a king at Harrison-Smith House, or like Lincoln at Old Talbott Tavern.
DAY 3: LOUISVILLE
YOUR BOURBON AGENDA
On the last leg of your bourbon journey, head up to Louisville up from Bardstown. On your way, stop at Jim Beam for a look around their Stillhouse in Clermont. They offer a variety of tours, from a private insider experience to a lesson on proper bourbon tasting, so even if you're short on time you can still find something to suit.
Once in Louisville, visit the Bulleit Experience just south of downtown, then head fifteen minutes north to Evan Williams (named after Kentucky's first commercial distiller) for a guided tour around their artisanal distillery. It's located on historic "Whiskey Row," a block of West Main Street where up to 50 distilleries once operated until Prohibition. Take the tour at Kentucky Peerless, too. Though you can only sample the Lucky Moonshine right now, their bourbon is set to debut in early 2017.
Finally, just northeast of Louisville is Kentucky Artisan Distillery. It's a craft operation that, in addition to producing whiskey and bourbons in-house, also offers consulting for new and novice distillers. So, if after three days of golden grains, vanilla caramel aromas and smooth, warming sips you find yourself wanting your own bit of the angels' share, then you'll know exactly where to start.
WHERE TO STAY
If you fancy some art with your bourbon, then book a stay at the boutique 21c Museum Hotel. If Hollywood's calling your name, then you'll love The Brown Hotel.
WHAT TO EAT
Dine with a glass of bourbon barrel-aged vino at Old 502, get a seriously good locally-sourced grilled cheese at The Table Cafe, or opt for the tasting menu at 610 Magnolia. (If available, get the charred octopus salad with sweet carrot puree. Your taste buds will praise Chef Edward Lee.)