Wherever you are this summer, there's no reason adventure can't be had. A road trip is the quintessential way to capitalize on the season's long days and balmy nights.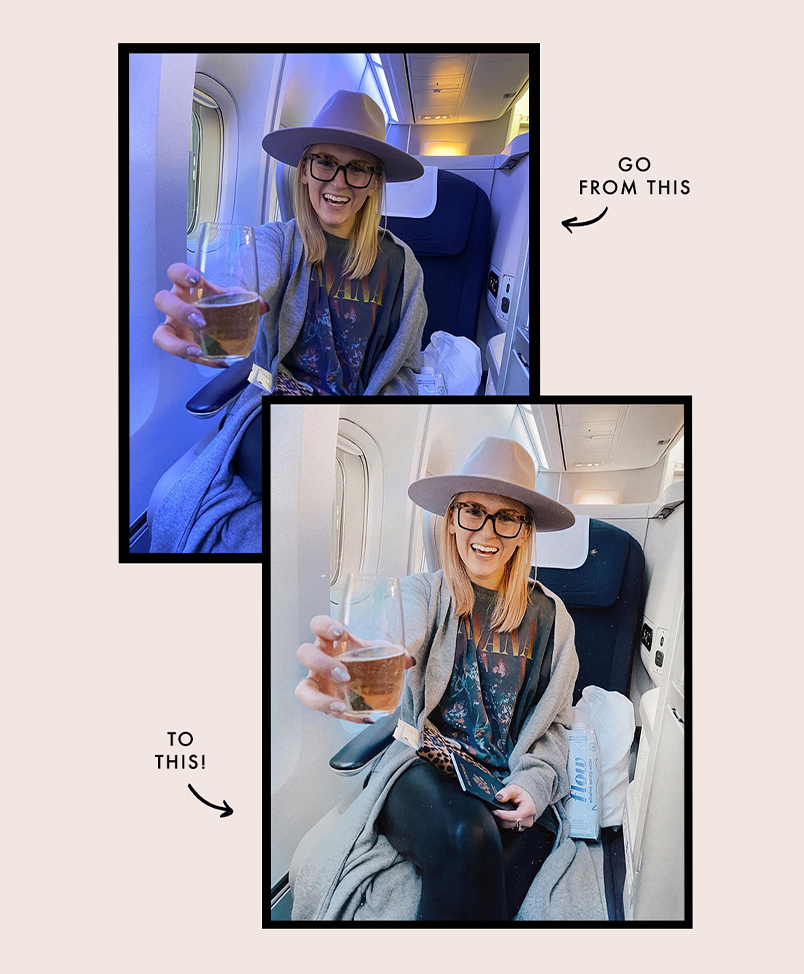 Want to style, shoot, and edit your photos perfectly every time?
We're sharing our secrets to photo editing in our all-new online course, Mastering Photo Editing On Your Phone. Enrollment closes on Thursday, so grab your spot now!
But if you can't carve out the time to trek the nation from coast to coast, don't worry. Below we're listing one city in 50 states — from the unexpected to the hard-to-miss — that you can reach by car.
 Alabama
Fairhope – Named "Jewel of the Eastern Shore" by "Southern Living" magazine, this scenic city on the Gulf Coast is peppered with antebellum homes, oak-lined streets, and loads of small-town charm.
Alaska
Homer – Dotted at the end of the Kenai Peninsula, this Alaskan town is one of the best places to explore the Kachemak Bay. You can't miss the Spit, a 4.5-mile piece of land that juts out into the water, a favorite for runners, walkers, boaters, diners, even eagle viewers.
Arizona
Suapi – Go to hike the blue-green waterfalls of Havasu Falls, stay for the proximity to the Grand Canyon.
Arkansas
Bentonville – Originally built in New Jersey, architect Frank Lloyd Wright's Bachman-Wilson Home was threatened by repeated flooding, so it was taken apart and reconstructed at Crystal Bridges Museum of American Art in Bentonville, AR. (Be sure to book your tickets in advance!)
California
Ojai – A haven for art, wine, and Pixie tangerines, Ojai is small town southern California at its best. Take the PCH in from either the north or the south and don't miss sunset. That's when the valley is transformed by hues of pink, peach, and periwinkle for its hallmark "Pink Moment."
Colorado
Telluride – Nestled in the Rocky Mountains, Telluride is all you'd hope a former Victorian mining town to be. In summer or winter, this picturesque town looks straight out of a movie, fitting since it holds a film festival every year.
Connecticut
Litchfield – While not quite Stars Hollow, it's close. This part of Connecticut is thought to have inspired the Gilmore Girls locale. Think quintessential New England with rolling hills and black and white dairy cows. You'll definitely be back in the fall.
Delaware
Odessa – Settled by the Dutch in the 1660s, this is one of the best places to experience Colonial architecture preserved in present day. Over 80 buildings in its historic district are listed on the National Register of Historic Places.
Florida
Anna Maria Island – With turquoise waters and white sand beaches, this Floridian island feels almost Caribbean, except for the fact that you can drive there from Tampa.
Georgia
Helen – Quirky and a little kitschy? Maybe. But if you knew there was a mountain town in Georgia that could be easily mistaken for Bavaria, Germany, wouldn't you want to check it out?
Hawaii
Hana – Really, if you're cruising Hawaii on any island, you're doing good. But just in case you  need a recommendation, the road to this town is pretty popular for a reason.
Idaho
Coeur D' Alene – The archetypal "summer on the lake" spot. Enough said.
Illinois
Galena – Its Main Street wasn't named "Best Main Street in the Midwest" for nothing. Galena's tiny storefronts are packed with vintage treasures, artisanal olive oils, wine tasting rooms, even a distillery.
Indiana
New Harmony – Formerly the site of not one, but two attempts to create a Utopian society, today New Harmony retains its "harmonious" spirit through inspired architecture, calming labyrinths, and secret gardens.
Iowa
Amana Colonies – For over 80 years these seven villages were completely self-sustaining, utilizing equipment and farming methods brought over from Germany. Today they're your perfect excuse to go off the grid and delight in slow, simple, and homemade.
Kansas
Topeka – Home to lavender fields as far as the nose can smell. Many farms harvest during the summer and might need a few volunteers. Wink, wink.
Kentucky
Bardstown – Whether you're hitting the Bourbon trail or hopping on the Lincoln Heritage Trail, Bardstown is a perfect pit stop.
Louisiana
Natchitoches – Don't worry if you can't pronounce it, locals will still welcome you into Louisiana's original French colony dating back to 1714. If it looks familiar, it probably is — it's where 1989's "Steel Magnolias" was filmed.
Maine
Bar Harbor – If you're up here, then you can't miss Acadia National Park, especially in the summer. The park's entry point of Bar Harbor is pretty cute, too.
Maryland
Berlin – Not related to the German one. Instead, it's garnered its own reputation named on "best-of" lists ranging from coolest to cutest to safest to even "Most Enchanting, Magical Christmas" towns. Check it out for yourself to see how it measures up.
Massachusetts
Concord – Of grape, Revolutionary War, and Louisa May Alcott fame. This town is known for all three.
Michigan
Mackinac Island –  Technically you'll drive first to Mackinac City, then get on a ferry, and then a bike. Or horse drawn carriage. Or walk. The island has no-car policy, but chances are you won't mind.
Minnesota
Grand Marais – This seaside sparkler was recently named "Coolest Small Town in America" in 2015. A magnet for artists, adventurers, musicians, and your occasional moose, it'll definitely inspire any summer visitor.
Mississippi
Oxford – From the Civil Rights Movement to Faulkner, there are so many poignant cultural touchpoints here. And the excellent food is just the icing.
Missouri
St. Charles – In 1804 Lewis and Clark set off from St. Charles in their famed trek out west. Today, much of the historic town remains the same except for a few more wineries, boutique shops, and restaurants.
Montana
Whitefish – As you might expect with any town in Montana, you go to Whitefish to get outdoors. This gateway to Glacier National Park offers alpine sliding, hiking, zip lining, boating, and plenty of fresh air.
Nebraska
Alliance – Carhenge. Go and you'll know.
Nevada
Tonopah – In between Reno and Vegas, you'll find this old silver and gold mining town with a very interesting history. It also has a legendary Clown Motel, so maybe visit during the day.
New Hampshire
Portsmouth – Welcome to one of America's oldest cities, settled in 1623. Spend a day at the Strawbery Banke Museum (as wonderful as it sounds), then stroll the town's brick sidewalks, stopping in as many bookstores, cafes, and ice cream parlours as you can.
New Jersey
Cape May – If it's summer, then head here. Though traditionalist at heart, Cape May is an easy please. Victorian homes and salt water taffy: Is there a better combination?
New Mexico
Taos – Before Columbus discovered America, the Pueblo village of Taos stood thriving and inhabited. Visit this adobe community today and gain a deeper respect for the native culture that permeates every corner.
New York
Hudson – Where nature and culture collide. Originally a port town that prospered until the early 20th century, today Hudson's gorgeous architecture is finding new life housing boutique hotels, antique stores, and restaurants. Downtown Warren Street is sure to please.
North Carolina
Southport – If you're happiest when seaside, then this is your spot. A haven for sea captains back in the day, today it's home to North Carolina's 4th of July festival, scrumptious crab cakes, and the perfect launch point for discovering the Brunswick Islands.
North Dakota
Medora – Supposedly North Dakota is America's least visited state, which is a shame given the beauty of Teddy Roosevelt National Park. Explore the Scenic Loop Drive of the South Unit near Medora, or head up to Watford City for the North Unit's scenic 14-mile drive.
Ohio
Yellow Springs – Funky, eclectic, wonderful. Known for being inclusive and one of the last stops on the Underground Railroad — you're welcome here even if you don't like granola.
Oklahoma
Medicine Park – A cobblestoned resort town perched on Medicine Creek, this little village was known to charm Roy Rogers, Bonnie and Clyde, even Al Capone. Who knew?
Oregon
Astoria – There are too many beautiful, bucket list-worthy places in Oregon to single out just one. But if you're a "Goonies" fan, then Astoria should definitely rank near the top.
Pennsylvania
Wellsboro – The home of the Grand Canyon, the other one. Also known as the Grand Canyon of Pennsylvania or Pine Creek Gorge.
Rhode Island
Providence – As the smallest state, you might as well start in the capital and work your way out from there.
South Carolina
Greenville – If you haven't heard about Greenville yet, you will. With equal blend of nature and downtown renovation, it's no wonder it's one of the fastest growing cities in the US.
South Dakota
Keystone – With an old West vibe and Mt. Rushmore to boot.
Tennessee
Chattanooga – A blossoming hotspot with boutique hotels, foodie-approved restaurants, and the longest pedestrian bridge in the world.
Texas
Wimberley – Cool off from the Texas heat with a dip in Jacob's Well, an artesian spring about an hour outside of Austin. (Reservations and smart swimming practices are a must.)
Utah
Spring City – Though a bit out of the way, this entire town is a National Historic District. Its preserved architecture presents a slice of pioneer life while its growing arts community ensures it can stand its ground in the present.
Vermont
Montpelier – The smallest state capital in the country (by population), Montpelier is big on culture, especially food culture. It's where the New England Culinary Institute is based, so you can count on some of the best farm-to-table fare of anywhere.
Virginia
Charlottesville – The Blue Ridge Mountains are the perfect backdrop for canoeing, golfing, antiquing, touring Monticello, or hopping on the American wine trail of the same name.
Washington
Poulsbo – "Little Norway" is sure to get you in the Viking spirit. Don't miss the Marina Market's Licorice Shrine, either. From red to black to blueberry, they have all kinds.
West Virginia
Chester – Because if you're on a road trip and you don't stop at The World's Largest Teapot, are you even on a roadtrip?
Wisconsin
New Glarus  – If you're looking for "Swiss Town USA," then you've found it. First established as a Swiss colony in 1845, this town has retained enough alpine charm (and cheese and chocolate) to please both local and traveler.
Wyoming
Thermopolis – Its Greek name is very telling. Before entering Yellowstone, stop here to relax in the healing waters of the world's largest hot springs. Keep your eye out for bison.
No road trip is complete without some serious tunes. Don't worry, we've got you covered:
Know of a hidden gem in your home state? Share in the comments!