Whenever I feel overworked, overwhelmed, and burnt out, the first thing I do is plan a trip. Traveling has long been my escape, but as we all know, changing scenery has been tricky during the pandemic. After seeing a friend post photos of her trip to Getaway House—a community of socially-distanced cabins 80 miles from Atlanta in Suches, Georgia—I wanted in. I had reached my breaking point, and my anxiety was on at its peak. I just knew escaping for three days was what I needed to reset, especially since the cabin was WiFi-free and the website hinted that cell service could be spotty. To me, that translated to that even if I wanted to work or obsessively check my email, I couldn't.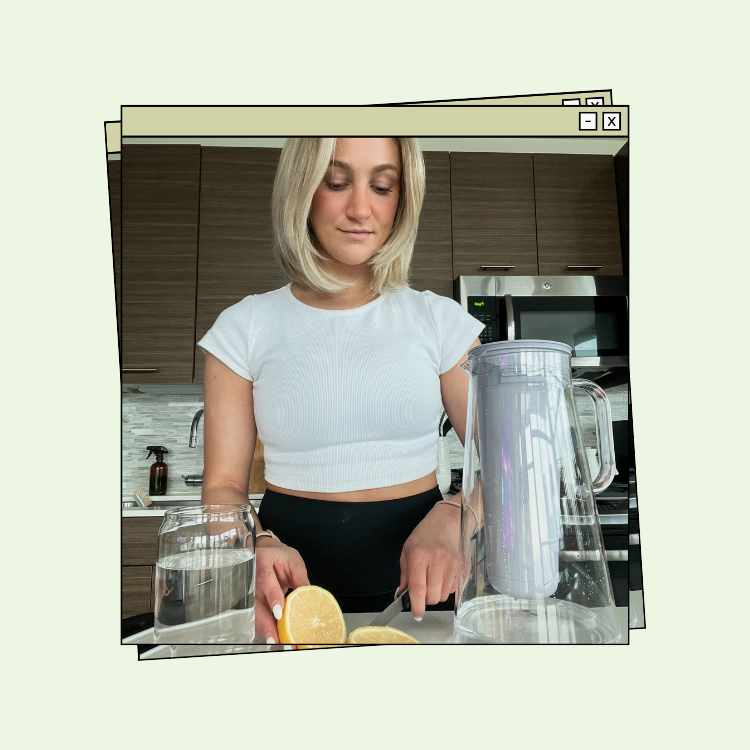 get it right in 2023 and beyond
I packed a few bare necessities and items to induce relaxation like books, a puzzle, sheet masks, a journal, wine, and loads of snacks from Trader Joe's. If you notice, I didn't mention my computer. My freelance career has helped me create an unhealthy obsession with work and deadlines, because when I'm not working, I'm not earning an income. Some would call this the scarcity mindset—and they're right. This mindset has made me a workaholic without any boundaries. Leaving behind my laptop felt like leaving my phone at home. I thought that no WiFi and a boatload of items proven to calm the mind would make relaxing easy.
Boy, was I wrong.
On the first day of my trip, I woke up and went for a walk. Truthfully, because it was so quiet, I was afraid that the boogie man or a bear would get me. But since I have lived to tell this tale, you can see I proved my anxiety wrong and made it back to civilization just fine. After my walk, I committed to spending the day reading a book I'd been carrying in my purse for months. But as I read the words on the page, my mind kept wandering. All I could think about were the emails I must be missing, not to mention that I was having social media withdrawals. My need to check-in felt so urgent that I walked for about 20 minutes and held my phone in the air until I got enough service to check my email.
My relaxing trip was starting to feel like torture. I couldn't understand why relaxing was so difficult. I mean, shouldn't it be enough that I took a break? I quickly realized that escaping to new scenery didn't guarantee relaxation because I don't make caring for myself in everyday life a priority. Self-care is hard and something to work at daily. A trip can't change our habits or how we treat ourselves, even if we're in a space curated for the very reset we so crave.
By day three, I was finally starting to shake the work and social media FOMO. I didn't worry about capturing the moments for Instagram, and I felt less anxious about not having access to emails and started to get used to the silence. I recently spoke with my therapist about my daily bad habits of checking emails the moment I open my eyes, and she said something so simple but profound: "This means you're putting the needs of others above your own and not caring for yourself." I felt that. For the first time, someone had put into words that my habits were indeed unhealthy and in need of tweaking.
Do I still sometimes wake up and check my emails? Yup. Do I let the last-minute requests stress me out at times? Yup. However, there is something that has changed. I recognize that my emotional reactions to these things are mine to change, and that I don't have to say yes to everything that comes my way if it means busting my boundaries. Self-care and relaxation aren't just about doing something nice for yourself—like a bubble bath, face mask, or a nice meal—it's about setting boundaries and creating good habits in your day-to-day life so that when you do have an opportunity to take a well-deserved break and change your scenery, you can actually enjoy it without guilt.
What I'm about to say might be a hot take, but it was an important takeaway from my trip: I don't have to share every trip I go on—well, at least in real-time. Take photos because you want to, not for likes. I understand what I'm saying could be perceived as coming from a judgmental place, but it's not. I am learning to adopt this mindset because my work intertwines with social media. I sometimes find it challenging to turn that creative part of me off, but it's essential.
Find a way to shift how you relax that works for your lifestyle.
It's the little changes to your life that can make a big impact. When I want to relax and notice myself multitasking or mindlessly scrolling social media, I put my phone in another room and allow myself to be in the moment with limited distractions. Find a way to shift how you relax that works for your lifestyle. I promise you, it makes a difference.