"I was so busy convincing everyone around that I was living the dream, that I didn't even notice I wasn't anymore." After realizing she truly wasn't happy, Allessia Imbrogno began tackling every aspect of her life where she was lacking fulfillment and dedicated 2013 as her "selfish" year. Living "selfishly," she moved into her own apartment, set and achieved fitness goals, and ended the year by quitting her job with a spur of the moment decision. Now, a happier and healthier 25-year-old, Allessia maintains her lifestyle blog, LITTLE LESSY, freelances her brand specialist skills, and couldn't pass up the opportunity to become brand manager at the new startup, PlaidFox.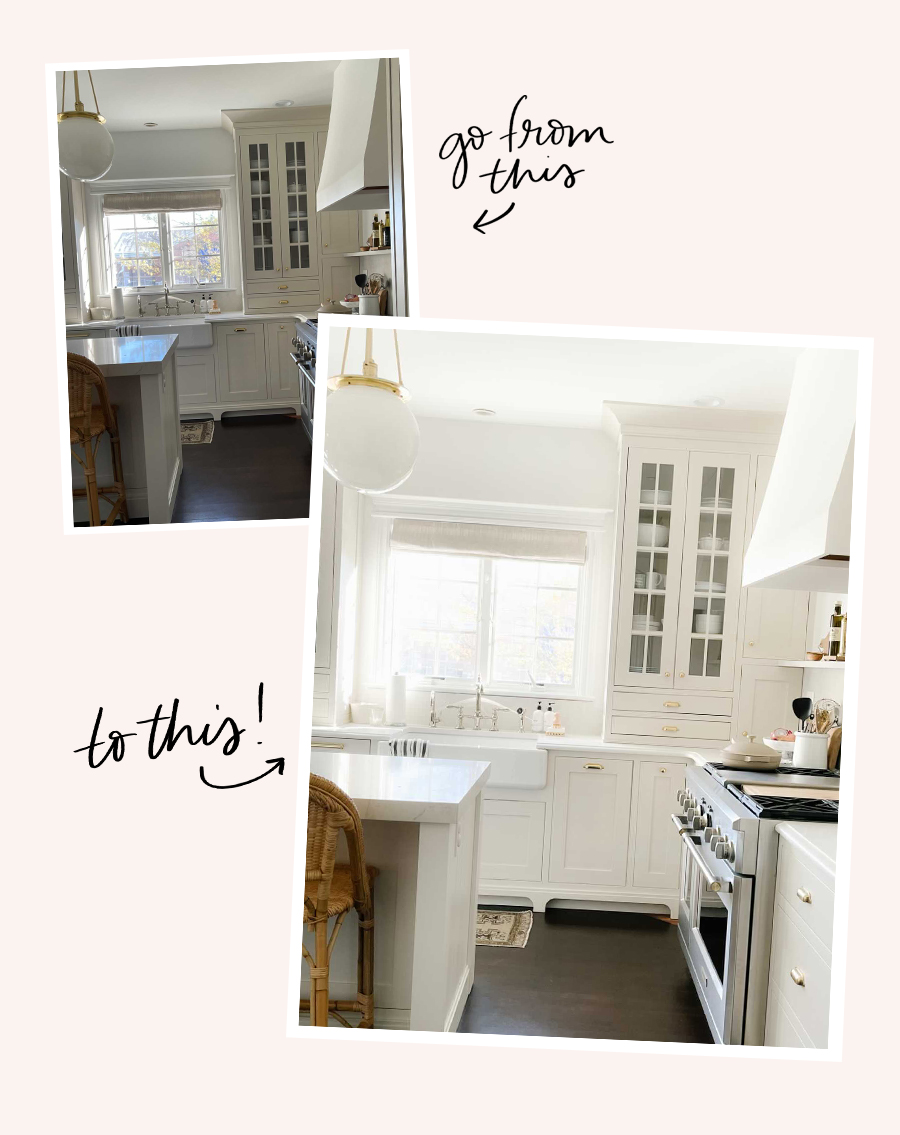 NEW! The Everygirl Presets for One-Click Editing
We just launched mobile Lightroom presets, available for download right now! A beautiful photo is literally just a tap away. And with nine different styles from moody to ultra bright, you'll have endless editing options.
GRAB THE PRESETS >
Origianally from Toronto, Allessia moved to Vancouver for work, and it's not hard to imagine why she hasn't left. Her apartment is nestled in an old building that was a hotel more than a century ago. With a simple black and white modern design, her clean décor has a few pops of color and metallics to add a bit of glamour. She livens her space up with an array of succulents and greenery that would make anyone feel welcome. Today, she welcomes us into her inviting space, and we're not sure we ever want to leave.
Full name: Allessia Imbrogno
Age: 25
Location: Vancouver, BC
Current title/company: Freelance Brand Specialist / Brand Manager at PlaidFox
Educational background: Bachelor of Advertising Design from OCAD U
You dedicated 2013 to focusing on yourself and spent your energy in picking up hobbies you wanted to try (including decorating your home), setting goals, and making big changes. On a bit of a whim you quit your dream job in December, the position that originally brought you from Toronto to Vancouver. How did you know that leaving your dream job was a decision that needed to be made?
It's funny, if you had told me on the Monday of the week I gave my notice that by Wednesday I'd be quitting my job, I would have told you, you were out to lunch. In many ways it was a very sudden, spur of the moment, kind of crazy decision. However, as I reflect back on 2013 (and believe you me that year requires a lot of reflection) it's so clear that it had actually been a long, drawn out series of breakdowns (re: denial) that ultimately lead to a breakthrough.
The short(ish) version of the story is that in January of 2013 I remember waking up and just sort of thinking "who am I and how did I get here?". I was so busy convincing everyone around me (myself included) that I was living the dream that I didn't even notice I wasn't anymore. I didn't know if it was one thing or everything that was making me unhappy so all I could think to do was to just start tackling various parts of my life in hopes to get somewhere. I moved into my own apartment, got really invested in my health and fitness goals and just lived a "selfish" year of letting myself do whatever I wanted (and not do whatever I didn't want to do) guilt-free.
The last thing to give was the job. I won't say it's easy to re-invent your entire life (including losing 25lbs) but it's much easier than walking away from the stability of the "dream job at the dream company". I realized that at some point I'd gone from loving going into work every day, to waking up wishing I was sick. I remember finally thinking to myself, "life should not feel this hard". That was really the moment I knew I had to make a change. I really believe that you should be in love with every minute of your life so I pulled the plug on my job at lululemon in December and I haven't looked back once (safe from doing contract work for them now, haha!).
You say in some ways last year you "lived selfishly." What advice do you have for other young women looking to make major changes to live the life that they really want?
Oh man, I could literally spit out enough inspirational quotes and pieces of advice to break Pinterest right now. I think the number one thing is to trust your gut. It'll get you to exactly where you want to be if you let it. For most of the year I couldn't articulate what was wrong but deep down inside of me there was this knowing feeling that things could be better. Listen to that voice inside of you, she knows what's up. Life shouldn't feel like a constant uphill battle. If it does, it's probably the universe's way of trying to get you to make a change. If you don't take action, eventually the universe will (and it won't be pretty). It boggles my mind how many people ride shotgun in the car of their life. Take the wheel and have total faith that things will work out. Maybe that's naïve but it hasn't failed me yet. There's usually a lot of uncertainty when you're about to make a major change so for me the belief that it's all going to be just fine is really comforting.
After taking a few weeks off to enjoy the holidays and visit with family, you announced on your blog, LITTLE LESSY, that you are starting your own personal freelance graphic design/brand identity company, piccolo design co.. Is this an ambition that you've had for some time?
Yes and no. I think one of the red flags while I was working at lululemon was that I couldn't decide what I wanted my next step to be. I desperately wanted something there to work but I just wasn't excited about any internal opportunities. It wasn't until I removed that hypothetical roadblock that I was able to see my career path again.
My dream for piccolo design co. is that in 10 years it's a full service brand experience agency specializing in setting up small local businesses. Initially (as announced in my blog post), I thought I'd hit the freelance train right away but instead I was presented with an opportunity I just couldn't pass on (see, I told you things just work out). In a few months I'll be joining an online furniture and home decor start-up as their brand manager. I couldn't't have asked for a more perfect job to help me build the experience I need to make my dreams for piccolo a reality.
Now that you're your own boss, what does your typical day look like?
Since my new job hasn't started yet, I still have a few months left of bossing myself around. A 6am wake up call gets me to the gym by 7. A morning sweat sesh is my favorite way to start the day. Once I get back to my apartment, I shower and settle down at my desk with a protein smoothie, a cup of coffee and a tall glass of water. My first order of business is to read my horoscope (thanks Elle!) and then it's time to actually get serious. It was definitely an adjustment learning to be your own boss and work from home. I'm balancing keeping my apartment a sane environment to live and work, freelance projects and working on my blog. I get overwhelmed really easily so I always make a "to-do" list for the day so I have a clear sense of what I need to accomplish. I've come to learn that freelancing is less about "putting in the hours" and more about getting the project done, so that list is actually the boss of me. My day is done when the items are all crossed off. There are days where I spend 10 hours working and days where I only spend 5. So far I'm really enjoying the flexibility of working that way.
Tell us the process you went through while looking for your place. Do you rent or own? How long have you been there?
I actually kind of found my apartment on Instagram! A friend of mine was always posting the most beautiful photos of her place. When my existing lease came up I reached out to the property manager of her building to see if anything was available for rent. The manager told me she had something available on the 5th floor and at that point I pretty much knew it would be mine. I'm kind of a sucker for "signs" and not only has "5" always been a significant number to my family (all our birth dates have a 5 in it), the last two apartments I'd lived in were units 515 and 510. After seeing it, I knew I had to have it. A friend gave me a really good piece of advice which was to submit a "personal resume" with my rental application sharing a bit about myself, my interests and hobbies. In such a competitive housing market I'm quite sure this move made me stand out from the crowd. Sure enough a month later I was moving into my dream place, yet again, apartment 510. I've been here for a year now and I fall in love with my place again, every time I come home.
The décor in your home is very cohesive and almost has a feeling of professional design to it. How would you describe your decorating style? Did you have a specific vision before you began designing?
Professional?! I'm flattered! I definitely did a fair bit of pinning before decorating my place which ultimately helped me develop a clear vision. I really love simple and bright spaces so I was aiming for a Scandinavian meets Mid-Century Modern aesthetic. I think the cohesiveness is probably the result of the black and white colour scheme (I'm not big on colour). A girlfriend of mine calls my place the Cruella Deville of apartments. I'm not sure she means it as a compliment but I take it that way! Ha! The one thing I was really mindful of when decorating was to be patient with finding the perfect pieces. It's always tempting to furnish a place from top to bottom at Ikea in a weekend but I knew I'd end up having buyers remorse. I lived with my TV sitting on a cardboard box for 6 months until I found a stand I liked. I don't regret that one bit.
Your apartment is in an old heritage building that was originally a hotel in the earlier 1900s. How has the architectural history influenced your design style?
I'm not sure that the architectural history influenced my style as much as I'd say I fell in love with the architecture because it complimented my style. When I was looking for a place I was intentionally searching for something with charm and character because I wanted to feature it. I ended up designing the layout around said details in order to show them off. It was a bit of a challenge but, as an example, I loved the radiators so much that I sacrificed a better layout in order to keep them visible.
Were you on a budget while styling your home? Do you have any favorite places to shop when searching for affordable pieces?
I'm still in such a transient place in my life that making massive investments in high-end furniture just doesn't make sense. I can't predict how long I'll actually be in this apartment so it seems silly to buy something that may not work in my next place. There's a neat warehouse here in Vancouver, Anizco, that sells old hotel furniture so if you're up for a little DIY project you can always score there. I definitely utilized craigslist to snatch up a few items and as much as I hate to admit it, Ikea prevailed once again. I definitely have a love-hate relationship with that place only because everyone's apartments start to look the same. Pretty well all of my Ikea pieces got a little "Allessia TLC" in an effort to make them feel a bit more unique and less expected.
What is the biggest purchase that you splurged on when decorating your place? Why did you decide to splurge on that piece—why did you have to have it?
To be honest the biggest splurge I made was actually painting my apartment white. For some reason the building owners thought it would be a great idea to make all the suites this God-awful green colour. As you can probably tell, colour isn't really my thing so the green absolutely had to go. To paint it, was a massive undertaking but it made a world of difference in the end and was worth every hour and penny spent.
We adore the chalkboard 'apartment directory' you have on one of your walls. It's simple, unique and adds a bit of texture and quirkiness to the space. We're quite sure it was a DIY project. Where did you find the idea, and how can others replicate it in their home?
Pinterest! Guilty as charged. I stumbled across an image of a home that had something similar and I thought it was a super fun idea. DIYing it was easy-peasy. Just 2 quick coats of black chalkboard paint on your wall and you're ready to direct guests!
What was the biggest challenge in decorating your home? How did you overcome that challenge?
I honestly think the biggest challenge for me was being patient and waiting to find the right pieces at the right price. I am an instant gratification-ist so it was extremely tempting to just decorate the whole place overnight. I had to work at being okay with it being in a state of "undone" for a few months. For a while I didn't even want to let anyone come over because it bothered me that much! In the end it was worth it because I found great pieces that I really love and that work perfectly in the space.
You started your blog just over a year ago as a creative outlet and a way to keep your friends and family informed on what was going on in your life. What can readers expect to see on LITTLE LESSY?
My blog is a bit of a smorgasbord – I suppose because I never expected anyone other than my mother to read it, I wasn't too concerned about giving it a theme. I post about everything from simple life updates, to recipes, to Vancouver city hotspots and apartment DIYs. Lately I've been allowing myself to be a bit more vulnerable on my blog and the support from my readers has been extremely humbling.
I think the thing I most want people to know about LITTLE LESSY is that I do it because I love it. It's not for money or sponsorship or anything like that. I try to keep it really honest and genuine. I'm not always consistent but that's just because I don't believe in wasting reader's time with mediocre content just for content's sake.
What do you love about living in Vancouver? Any favorite places that you suggest our readers visit?
Oh dear, I could go on forever about this. I am extremely passionate about my city. If I were to walk 5 minutes in any direction from my apartment I'd either end up in the major shopping district, in the middle of a forest or lying on the beach. The restaurant scene is unbelievable and you're never more than a stones throw away from an insanely good cup of joe. Put simply, Vancouver is a big city with small town charm. Plus, the views don't suck at all.
Check out Nineteen Ten or Old Faithful for stunning uncommon goods. The croissants at Beaucoup Bakery will literally change your life. Grab a cup of coffee from Revolver and a scoop of ice cream from Earnest Icecream. A fish taco from Tacofino is never a bad idea and if you're feeling guilty about all those indulgences a sweat session at Kondi Fitness will do your body good.
Allessia Imbrogno is The Everygirl…
Aidan or Big?
Ummm… custom built furniture? Aidan's the clear choice.
Guilty pleasure?
Honestly? Going to bed at 9:30. I like to joke I'm 25 going on 50.
If you could have lunch with any woman, who would it be and what would you order?
Darcy Miller! I saw her speak at ALT Summit 2 years ago and developed a mega crush on her! As for my order, truffled mac and cheese, please.
Where do you look for inspiration?
I definitely get a lot of inspiration from Pinterest and Instagram. I absolutely love the visual discovery that those two channels offer. I'm also a massive blog reader (no surprise there) so often times I get inspired through that as well.
Couch: Ikea Karlstad w/ Tapered Legs from Uncle Bobs Workshop (DIY here)
Dining Chairs: Thrifted from Anizco and refinished (DIY here)
Headboard: a Homesense find!
Bedside Chest: Ikea Brimnes Dresser with Gold Leafing (DIY here)
Living Room Rug: Ikea Lappljung Ruta Rug