There's just something so festive about garlands, evergreen boughs, trees, and the like. They don't even have to be decked out in lights, baubles, or tinsel—they're the epitome of holiday magic all on their own. Amber Corpora, a healthcare professional in Pennsylvania, leaned into woodsy wonder when decorating her home for the holiday season. Organic elements like dried oranges (so trendy for holiday decor this year, but also completely and utterly timeless), comfy blankets and pillows, and beautiful bells, (and an adorable puppy) all round out the look and make everything picture-perfect.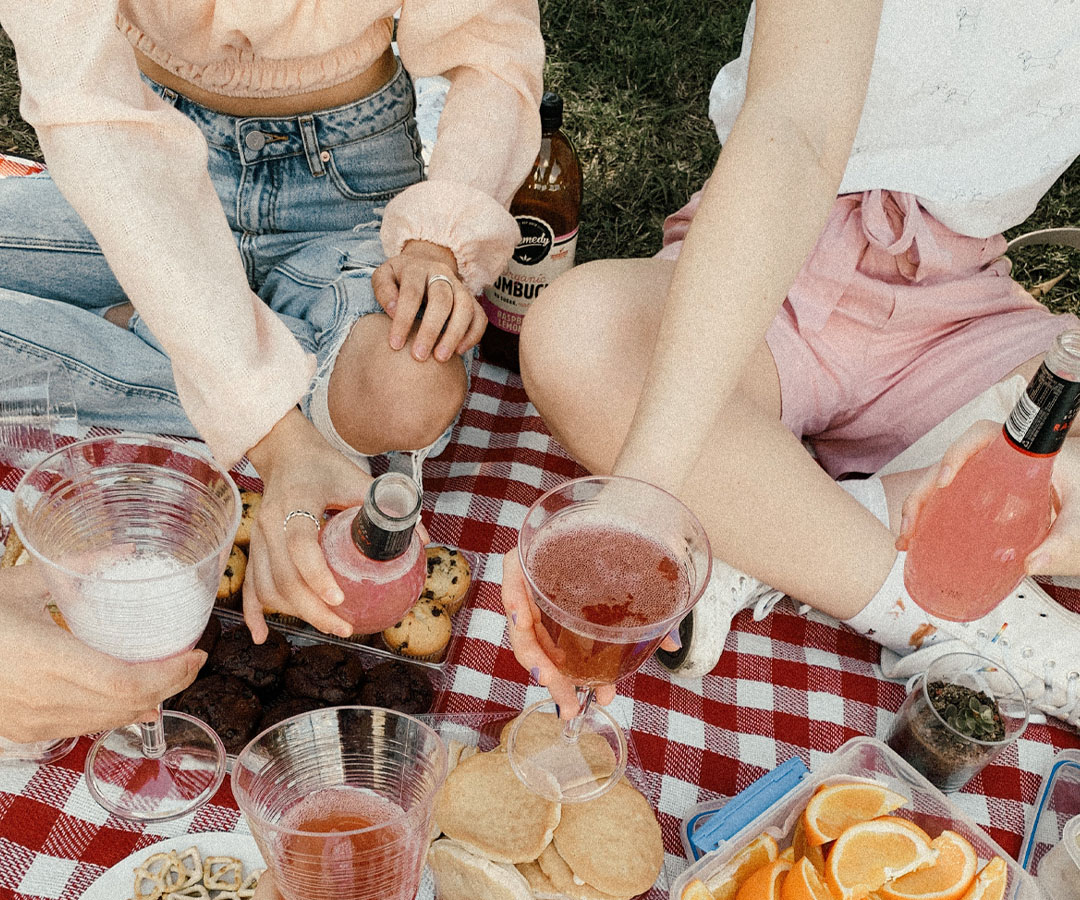 CURRENTLY TRENDING IN /
LIVING
your complete summer shopping guide
Read on for her most-loved holiday traditions, where she finds her gorgeous decor, and the best Christmas gift she's ever given. (And scroll for puppy pictures, of course!)
Name: Amber Corpora
Location: Easton, PA
Sq. Ft: 2,200
When do you start decorating for the holidays?
We start decorating inside the first few weeks of November, before Thanksgiving. I know this may seem early to some people, but the holiday season is my favorite time of the year and I want the magic to last as long as possible! My husband is a little more of a traditionalist, so we wait to decorate the outside of our home until the weekend after Thanksgiving.
Tell us about your holiday decorating process.
To start decorating for the holidays, we first pack up all of our fall items. Starting with a clean, fresh space is so key when it comes to decorating. I like to see each room as a blank canvas so I can be intentional as well as creative.
We put up our main Christmas tree first then move on from there. After it's fluffed, we add any lights we need, then garland, picks, and ornaments, before finishing our tree trimming with some ribbon! The thick, wired ribbon is the best and easiest to work with.
I like to do each room at a time because the mess can get out of hand quickly. Our living room becomes a staging area full of Tupperware and boxes for a few days, and that's OK!
How do you budget when it comes to decorating seasonally? (Things can get expensive for such a short time of the year!)
I love to shop sales and clearance both before and after the holidays to stretch our budget. Every year after Christmas, I shop the clearance sections for things like gift tags, wrapping paper, tape, gift bags, and decor. I try not to overbuy on decorations throughout the year; its so important for me to be intentional in what I choose to display in our home instead of buying something just because it's trendy or on sale. Sticking to meaningful items—what truly sparks joy—is key for creating that perfect and personal holiday vibe.
Another way I limit spending is to shop my home. See what you have! You may end up looking at your decor differently once it's placed in a different room or used for a new purpose. For example, this year I used a throw blanket from Walmart as a tree skirt instead of purchasing a new one. I am also a huge fan of the Facebook Marketplace. We found our coffee table on there, and I scored a vintage crate that I used to put trees on this year!
Where do you shop for holiday decor?
Supporting small shops, especially female-owned, is so important to me. My mom instilled in me a love for craft shows so every year (minus 2020) we travel around Pennsylvania to different craft shows and festivals to shop our favorite vendors. We have made this a tradition that we occasionally turn into a girls trip. Over the years, we have developed relationships with vendors who we always look forward to purchasing from! Etsy is another one of my favorite sources for seasonal items and gifts. Of course, I also shop HomeGoods, Target, and Hobby Lobby.
Do you have a favorite ornament on your tree?
We have so many sentimental ornaments! One of our trees is dedicated entirely to ornaments we've collected from travel or that have been passed down through generations. My favorite ornament this year, though, is this pair of angel wings. Sadly, our puppy, Tino, crossed the rainbow bridge this October at only four months old. He was diagnosed with a rare lung disorder, but you would never guess he was that sick if you didn't know. We miss him every day! When I saw this ornament at Cocalico Creek Home on a visit to Lancaster, PA, I knew it would be our way to memorialize Tino at Christmastime.
Do you have any holiday traditions that are special to you?
Every year, we visit NYC to do alll of the Christmas tourist things like see the tree at Rockefeller Center and all of the window displays on 5th Avenue. Back home in Philly, we go to the Philly Pops Christmas show in the beginning of December to kick off this season! When we were growing up, my parents always made sure my sister and I had Christmas pajamas from "Santa's elves." Even though we're 29 and 25 now, [we] still plan what pajamas we're going to wear on Christmas Eve.
Do you have any tips for readers who may live in smaller apartments (and who are on a budget) who might not be able to decorate to their heart's desire?
I lived in New York City for four years, so I totally understand how frustrating it can be when space is an issue. When I lived in an apartment, I got creative. I absolutely got a tree (faux, because I lived in a 5th floor walk-up) and put a fresh wreath on the door. Focus on small touches instead of big pieces of decor, and use them sparingly so that the apartment feels festive without being cluttered.
What's your favorite piece of holiday decor that you own?
My most favorite holiday decor piece is the snowman that sits in front of our fireplace. My mom purchased it at a craft show and gave it to us for the first Christmas in our new home. For me, the snowman channels all the magic that the holidays bring.
How are you adjusting your celebrations this year?
My husband and I are both healthcare professionals; needless to say, we take the current guidelines seriously because we know firsthand how crucial they are. Though we will miss our large family Christmas celebrations, we want to do our part to keep our relatives safe. This is also our first Christmas with our new puppy, Nico, so we won't mind being home with him one bit!
Amber Corpora is The Everygirl…
Hot chocolate or hot cider? Hot chocolate
Favorite Christmas song? "I'll be Home for Christmas," any version!
Favorite Christmas movie? Home Alone
Favorite holiday treat? Italian Christmas cookies
A small business you love: Panzino Creations! She is so talented. That is where the snowman is from.
The best gift you've ever given? A few years ago I surprised my husband (then boyfriend) with a trip to Maui!
What's at the top of your Christmas list this year? Instead of doing big gifts, we're going to get some new lighting for the house! Oh… and all the skincare!