Forget what you think you know about Amsterdam. The city is charming, trendy, and wonderfully fashion-forward. Visit around summertime and you can expect everyone to be outside, sipping coffee overlooking the canals.
Falling in love with Amsterdam is easy when you know where to go. After moving last summer from Los Angeles to Amsterdam to pursue a traveling lifestyle, Selena of Find Us Lost shares her favorite spots from her own adventures in the city.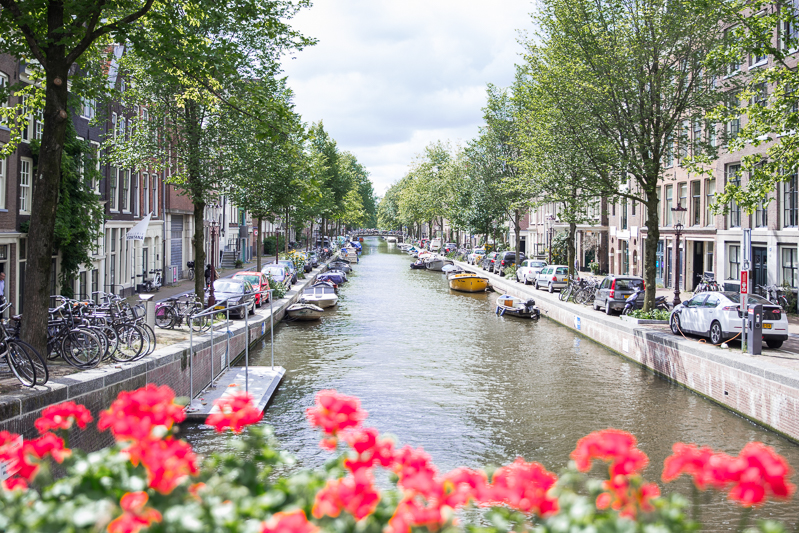 Where to Stay
Budget – Under $120/night
Airbnb – there are endless gems to be found on Airbnb. If your priority is to stay within the main canals of Amsterdam, try finding a canal house near the 9 streets. For something more budget-friendly, neighborhoods like the Jordaan and De Pijp are also good picks within walking distance of anywhere within the city.
Mid-range – $150-300/night
The Hoxton Hotel – set inside a row of classic Amsterdam canal houses that previously housed the Mayor of Amsterdam, the Hoxton is a design-lover's dream. The hotel hosts weekly events and features a trendy bar that you simply won't want to leave.
Sir Albert Hotel – positioned just outside Amsterdam's city center, Sir Albert Hotel combines modern comfort with historic details. This boutique "contemporary chic" hotel is just a stone's throw away from the trendy neighborhood of De Pijp and the outdoor Albert Cuypmarket.
Splurge – $300-$500/night
The Dylan Amsterdam – located in one of the most desirable parts of the city, Amsterdam's 9 Streets, the Dylan is a sophisticated take on Dutch luxury housed inside a traditional canal house. Their 'Restaurant Vinkeles' also boasts a Michelin star.
Conservatorium Hotel – walking into this hotel is in experience in itself – the tall ceiling is glass, and housed inside the courtyard of a former music conservatory. It's directly across from the Van Gogh Museum and Rijksmuseum, so you won't need to go far to experience some of the best cultural sites in Amsterdam.
What to Do
Entertainment
Canal Rides – There's no better way to see the city and learn about its history than cruising through Amsterdam's picturesque canals. Most companies let you bring your own food and drinks, so grab a bottle of wine and some cheese for a perfect afternoon boat ride.
The Concertgebouw – this luxurious concert hall organizes live music performances weekly. It's world-renowned for acoustics and often hosts free lunchtime concerts, so check the schedule in advance to plan out a day to visit.
Culture
EYE Film Museum – You can take a free ferry to the North side of Amsterdam to visit this newly built museum, which features exhibitions and films. Their café also has a beautiful view overlooking the water.
Rijksmuseum – The Rijksmuseum is the best place to view paintings and works from the Dutch Masters. It's a large museum with new collections on display every few months, so don't be surprised if you end up spending a few hours there.
Van Gogh Museum –The Van Gogh Museum is a multi-story building which hosts the world's largest collection of Vincent Van Gogh's artwork. It's situated just across from the Rijksmuseum, so remember to buy a combo ticket if you plan on visiting both.
Anne Frank Huis – The newly renovated Anne Frank Huis takes you on an informative and fascinating tour through the house in which the Frank's hid during the Holocust. Book tickets in advance, because you'll often find a line out the door.
Outdoors
Vondelpark – bike, walk, or picnic at this park below Amsterdam's canal district filled with bridges and the occasional café. On a sunny day you'll find many locals spending a lazy afternoon in this park.
Hortus Botanicus. One of the oldest botanical gardens in the world, the Hortus Botanicus is home to a variety of greenhouses and a beautiful outdoor garden. Grab lunch nearby at De Plantage afterwards, a local restaurant inspired by the garden district.
Where to Shop
Things I like Things I Love – a trendy clothing boutique featuring vintage picks and a small collection of home goods. There are three locations around the city so it's not hard to find one nearby.
Gerard Doustraat – this street in De Pijp neighborhood of Amsterdam has some of the best boutique clothing stores and gift shops in the city. Highlights include jewelry and home goods store Anna + Nina and clothing boutique Felice Home of Brands.
The 9 Streets – filled with trendy shops and restaurants and the occasional vintage store, this neighborhood is a must-see in Amsterdam. For unique home finds, visit De Weldaad.
Albert Cuypmarket – open every day except Sunday, this outdoor market has everything from clothes and shoes, to flowers and home goods. Don't forget to grab a warm stroopwafel (Dutch caramel-filled waffle cookie) for a pick-me-up between stalls.
Where to Eat
Best Eats under $10
Foodhallen – can't decide what to eat? The Foodhallen has everything from Vietnamese spring rolls to traditional Dutch bitterballen. Don't miss the Yuzu cake from Petit Gâteau.
Pluk – Pluk is a trendy café in the city center that's perfect for an afternoon cup of coffee or sandwich. Browse their selection of gift items for sale while you wait for a table.
De Carrousel – head here for traditional Dutch pannenkoeken (think open-faced crepe). They come in sweet and savory flavors. I recommend ending your meal with a plate of poffertjes.
Cozy Brunch Spots
The Avocado Show – this newly opened all-avocado concept made headlines around the world for their innovative dishes. I suggest the avocado ice cream for a post-lunch treat.
Sweet Cup Roastery – This cozy, family-run café nearby the musemplein is the perfect spot to grab a latte and croissant. Their coffee beans are hand-roasted by the owners daily. Don't forget to say hi to 'Sjef', their resident basset hound.
Dignita Restaurant – at Dignita, all dishes are made from scratch and their airy space is perfect for a lazy brunch. All the restaurant's profits support "Not For Sale", an international organization supporting victims of human trafficking.
Dinner
De Luwte – a popular choice for locals, De Luwte has a small menu that packs big flavor. Their offerings are rotated often and the atmosphere is intimate and cozy.
Buffet van Odette – situated on the corner overlooking Prinsengracht canal, Buffet van Odette serves fresh seasonal dishes and is open for breakfast, lunch and dinner. I suggest reserving a table outside for dinner with a view of the canal.
De Kas – De Kas serves Mediterranean dishes with organic ingredients that come directly from the garden surrounding the restaurant. The space itself is a garden conservatory with lots of light, so it's the ideal spot on a sunny day.
Drinks, please
Brouwerij 't IJ – located next to a windmill, this brewery with lots of outdoor seating is ideal for some tasty craft beer and bar snacks.
Vyne – Vyne is a small wine bar with a variety of wines by the glass. If you're feeling indecisive, order the wine flight.
Café ZILT – this whiskey café has a wide selection of specialty craft beer and whiskey. The staff is incredibly knowledgeable about their spirits, and the warm interior makes for an excellent spot to spend time with friends.
Hiding in Plain Sight – a cozy, intimate bar with leather couches and award-winning cocktails. Reservations are recommended if you're visiting on a weekend.
If Amsterdam wasn't on your list before, I hope this guide has convinced you to add it to your list. Now all you need is a bike…