After taking a break from school and moving across the country, Ashley Rose settled down in the bustling city of Houston. Located just outside of the trendy downtown area, her affordable location has allowed her to truly explore and fall in love with her city. When she isn't working at Smilebooth, Ashley is a full time blogger at Sugar and Cloth, but arriving at these fantastic jobs didn't come without an abundance of hard work and networking.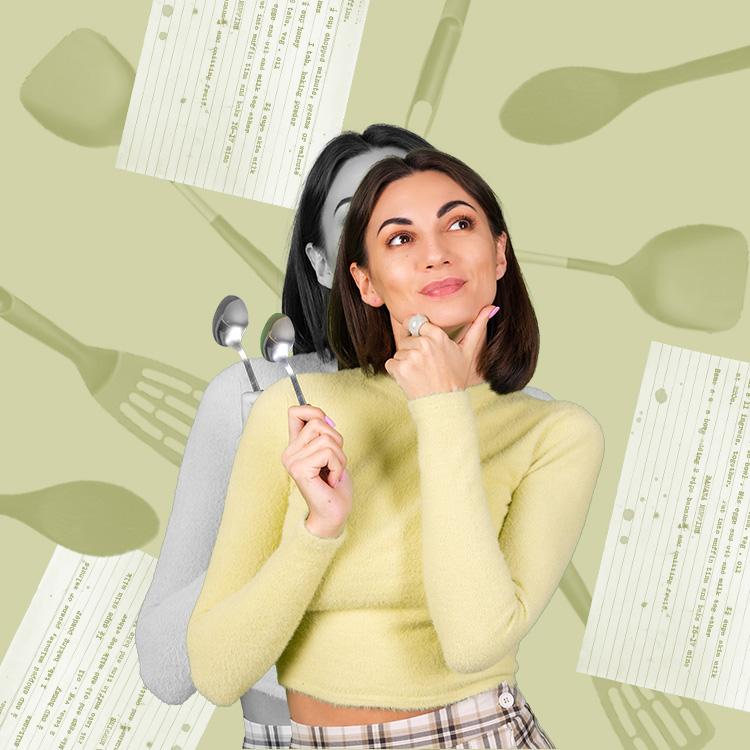 high in protein, good for gut health, and anti-inflammatory? yes, please!
When you step inside Ashley's home, it's hard not to fall in love with her style. Filled with affordable finds and a slew of DIYs, she's proof that budget never has to impact your design aesthetic. Her space is a blend of modern furnishings and eclectic accents, so naturally, we've fallen for just about everything in her home. We're thrilled Ashley has opened up her chic Houston townhouse to the Everygirl, so come inside, and get ready to be inspired!
Name: Ashley Rose
Age: 25
Current Title/Company: Founder of Sugar & Cloth and Creative Designer at Smilebooth
Educational Background: Studied Art and Graphic design at Marshall University
Year you started your blog: 2010
What was your first job out of school, and how did you land it?
I actually worked at a friend's design and photography company called McKnight Media based in North Carolina.
What sort of work do you do now?
By day I work as a creative designer at Smilebooth. I actually met one of the owners wife through blogging and ended up applying for an open position that I found out about through her. By night I write Sugar & Cloth, a blog full of DIY's, recipes, and all of the pretty things in between.
You've mentioned on your blog that you took a break from school. That must have been a difficult decision to make. How did you decide to do that? What have you learned from it?
Honestly, taking a break from school was one of the best decisions I ever made for myself. It didn't seem like it at the time, but I can't imagine my life now without the experiences that came from moving away. Taking the risk of leaving behind things I was familiar with and trying new ventures made me so much more independent and motivated to strive for new goals.
How did you end up in Texas from North Carolina?
I spent a lot of holidays and summers visiting my aunt and uncle that lived right outside of Houston, so I was somewhat familiar with the city and all of the opportunities here. When I decided I needed fresh surroundings, I instantly thought of Houston because I would have one or two familiar faces around if need be. I only regret not moving somewhere with seasons, but don't tell!
When you moved to Houston did you already have a job lined up?
No. In a perfect world I would have, but I actually worked a lot of odd jobs like restaurants to make ends meet until working strictly with Sugar & Cloth and Smilebooth. I may have gotten lucky with my job now, but it definitely took an unglamorous while to get there! Having jobs like that totally give you a new appreciation you never knew you were missing.
What was the hardest part about your move?
Forcing myself to go along with the moving chaos flow! I'm very much a planner and checklist type of person, but that only goes so far when you're packing up your whole life and traveling across the country.
Any advice for Everygirls considering a long-distance move?
I absolutely recommend visiting a city beforehand and getting a feel for the right areas of town for you. I made the mistake of living way, way too far from town and the commute was miserable for a while! I accidentally cooped myself up from exploring the city just to try and avoid three hours of traffic each way.
When you first began blogging, what were your intentions for Sugar and Cloth?
Originally I began writing Sugar & Cloth as a way to share budget friendly projects and recipes with my friends and family back home (hence the name). This may sound anticlimactic, but I didn't really have many intentions in the beginning. It was more of a "let's see where this goes" type of idea. Really I had nothing to lose, so why not!
You're constantly creating new content. Where do you draw inspiration for your blog?
I absolutely adore exploring new local shops and spaces and seeing how they recreate or repurpose items. For as long as I can remember my dad has always pointed out how things are built or what materials people use to create different objects or looks, and that's always stuck with me. I'm also super thankful he made me learn how to use tools from the get go!
What do you do with all your projects? Do you always keep and use your DIY projects yourself?
Oh my goodness, if only I could insert a photo here of my craft "closet". Any of the home décor projects I post on my blog are actually in my home or were at one point. The more glittery, party type of posts are either gifted to a friend or stashed away in my at-your-own-risk closet space. I like to think of it as staying well-prepared. I could style at least three different parties in my house at any given time.
Tell us a little about your townhouse. How did you find it and decide on the location?
I love that my home is close to cute shops and museums! There are lots of places around to bike to, but it's still just far enough out of the super hip parts of town to where it wasn't way out of budget.
What factors were major must-haves when you were hunting?
If only search engines had a "lots of natural light" button in the must-have category, that would be me.  I'm no professional photographer, so having lots of light allows me to take photos of the DIY projects that I create for my home and share on Sugar & Cloth. I definitely wasn't ready to settle down and buy a home anywhere just yet and the rental market in Houston is fierce, so the first place I toured with lots of light, any kind of modern touches, and wood floors had to be mine!
Anything you wish you could change about it?
My main wish would be for hardwood floors throughout the house. The third floor is only carpet, and carpet does not suit a fuzzy cat very well!
How would you describe your style and what do you think has affected it the most?
I'd say my style is mostly industrial modern with a few touches of eclectic/vintage here and there. My dad owned an antique store when I was younger, so I've always been used to having unique odds and ends around. I usually choose to mix vintage with clean, modern lines and projects I've made myself. Running my blog has definitely played a huge role in my home décor style, especially since I make or spruce up a lot of it myself. My style kind of evolves along with Sugar & Cloth.
Tell us a bit about your decorating process. Do you begin a room with a complete vision in mind, or do you put it together piece by piece? How long did it take you to complete your home from start to finish?
I'm mostly a fly off the seat of my pants type of decorate, I guess! I just pick out things I like along the way, and mix and match them until I found a place for things. I know that if it makes me smile when I walk by that it's pretty much set in stone there. Aside from that, it's always an ongoing process. I love change!
How do you make your place feel (and look) so open and spacious?
I love knick-knacks and sweet nothings as much as the next person, but I try and remind myself to keep it to a minimum so vignettes are interesting but don't clutter the room. My only exception to that rule is my craft room. I let it slide there 😉
What are some of your favorite places to shop for affordable decor pieces?
My favorite places are West Elm, Crate & Barrel, Ikea, and thrift stores. Finding basic pieces that fit the budget and then mixing them with a little pricier, unique items is a great way to get a custom look for less.
What is one piece you recommend splurging on?
Your bed, no doubt!
What are you most proud of in the design of your home?
All of the DIY furniture pieces I created that people would never know are DIY. That's always the best compliment! Plus, it's so much more budget friendly creating things on my own than buying everything from shops!
What are your favorite DIY projects in your home?
My favorites would be my distressed wooden shelves, stump side tables, Ikea hack nightstands, and the vintage signs on my buffet table.
What challenges have you encountered along the design process?
Deciding on a theme that incorporates everything I love while still being neutral and relaxing, yet interesting.
What advice would you give your 23-year-old-self?
Don't sweat the small stuff!
LIVING ROOM SOURCES
sofa, Serta Sleeper Sofa from Hayneedle
wooden side tables, DIY by Ashley Rose
shag rug, Overstock
coffee table, Hayneedle
artwork, handmade by Ashley Rose and a vintage record cover
floating shelf, Ikea
media bookcase, Ikea with DIY wooden legs
gold dipped bowl, Target
silver task lamp, Home Goods
artwork frames, Ikea
distressed wooden shelves, DIY by Ashley Rose
OFFICE SOURCES
desk, Ikea
chair, thrifted and DIY paint
shelves, Ikea
glittered cake stand, DIY by Ashley Rose
polka dot memo board,  DIY by Ashley Rose
faux sheepskin rug, Ikea Jonathan Adler
KITCHEN AND DINING SOURCES
white dining chairs, Overstock
dining table and bench, Merge Studios
buffet, Ikea and vintage signs
bar stools, Overstock
bar cart, Ikea
bar utensils, West Elm
map artwork, Third Floor Design Studio
laquered white tray, West Elm
polka dot linens, DIY by Ashley Rose
planters, Ikea
marble cuting board, Crate & Barrel
cake stands, Martha Stewart and BHLDN
HALLWAY SOURCES
bookcase, Ikea
greenhouse, Ikea
artwork, handmade by Ashley Rose
BEDROOM SOURCES
bed frame, Ikea
full length mirror with storage, Ikea
planters, Ikea
nightstands, DIY on Sugar & Cloth
lamps, Ikea and Home Goods
antlers, Uncommon Objects
candle, Urban Outfitters
artwork, handmade by Ashley Rose
ikat pillow, Ikea
kimberly chau jackie saffert allyson fulcher