When we first saw Ashley Wilson's home tour, we were shocked to learn it was a studio apartment—until we studied the photos in detail. Ashley is a Nike retail merchandiser turned Google business administrative partner and her home effortlessly transitions from one room to the next, featuring home decor solutions we could all learn from. Using greens, navy, and yellow, Ashley grounds her home in neutrals and we love the vintage flair of her entire space.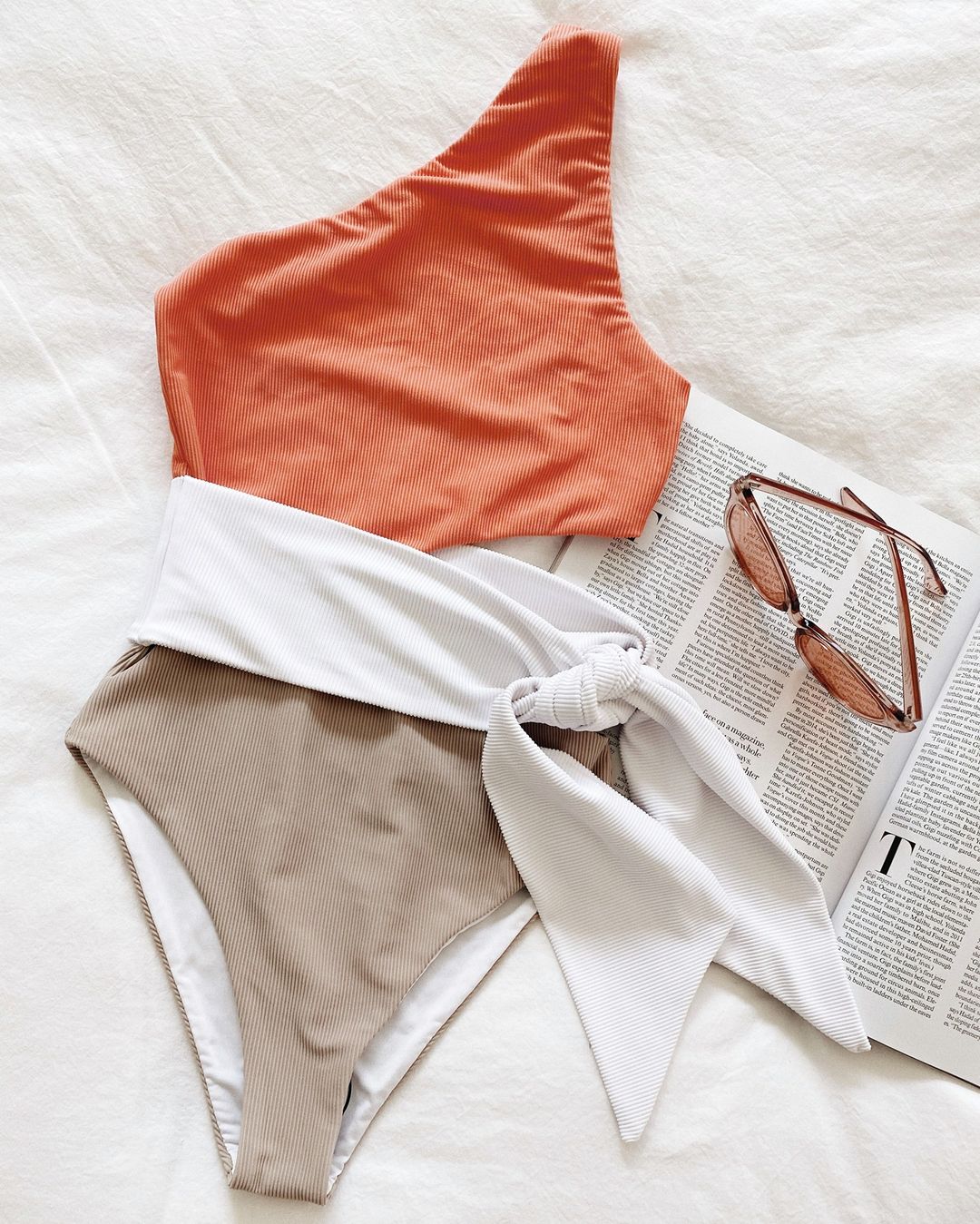 Consider your swimsuit search done.
Considering Ashley downsized from an apartment with roommates, she designed her small studio to fit her current lifestyle—but with its lack of closet space, Ashley needed to have a plan, and think about layout before she made the move (haven't we all?). Armed with research from Pinterest and Tumblr on how to divide her space into separate living areas, and inspired to purge when she read the book The Happiness Project, Ashley made her new house her home, and hasn't looked back!
Now, it's Ashley's turn to show you around her home—she shares tips on downsizing, color schemes, and how her style has evolved throughout the years. Enjoy!
Name: Ashley Marie Wilson
Age: 28
Current title/company: Business Administrative Partner, Google, Inc.
Education: Bachelor of Arts, Communication, Saint Mary's College of California
While in college at St. Mary's College of California you completed three internships! How did the internship experience aid you in your job search after graduation?
My internships were unique in the way that they weren't your typical nine to five job; they were in professional sports so that immediately catches peoples attention—they want to know what it was like to work in professional sports and is a good conversation starter when networking! That experience really opened my eyes to exploring non-traditional professions. My internships also put me in contact with a variety of people that I would not have otherwise met who were able to provide me with career advice as well as connect me to other people in the sports industry. Funny side story—my first boss (literally my first boss ever) and I are still good friends and I still go to him for career advice—I actually don't know where I would be without him!
Your first job out of college was in retail merchandising for Nike, Inc. How did you land the job?
My first job at Nike, Inc is actually a great story. I had just graduated college and knew I wanted to move to Portland, Oregon. Outside of my semester in Florence, Italy—I had never lived anywhere else but California. So I was looking into companies I wanted to work and places I had friends… turns out I had a lot of friends in Portland and Nike was located there. So I packed my bags and moved to Portland (without a job)! The key thing I learned about finding job that still remains true—it is all about who you know. I networked like crazy to meet people who worked at Nike and to get my name circulating, so people would think of me when jobs became available.
What were your day-to-day responsibilities for Nike?
My last role at Nike was Merchandising Associate for Global Men's Athletic Training. My day-to-day responsibilities included managing the Global apparel line for the Men's Athletic Training team by creating and curating consumer right assortments for each season that are inspired athletes to train harder and workout better. I managed product that appears in stores and in which regions around the world.
A few months ago you left Nike to join the team at Google as a Business Administration Partner. What does this new position entail?
I accepted a position at Google, Inc. and I am in the transition of moving back to San Francisco. My new position (and company) is completely different from what I was doing before. After 5 years in Portland—I was ready to move back to California and I knew I wanted to work in the tech industry. My position is a project manager/coordinator of chaos/assistant to the Online Publisher Group at Google. My team is responsible for helping online publishers make the most of their online business through advertising and brand awareness. I am responsible for logistics—making sure deadlines are met, budgets are on track and that everyone is happy.
Let's chat about your home! You currently live in an apartment building built in 1928. Do you missing amenities that a modern apartment building would have? 
Oh my, yes I am! My apartment building did not have a dishwasher, a garbage disposal or in unit washer/dryer! Missing these amenities really tested my ability to keep my apartment clean—I couldn't leave dirty dishes in the sink because the space was so small that it would instantly look messy.
Tell us about your apartment hunt! Do you rent or own? How long have you lived there?
I rent. I live in an adorable brick building named the Elizabeth for 2 years. I used to live down the street from the building so I walked by it every day and when the time was right—I knew that I wanted to move in there!
When you moved to your current apartment, you downsized from a two bedroom apartment to the studio that you have today. Was the transition a difficult one? How did you decide what to keep and what to sell or give away? 
It was a difficult and exciting transition in the sense that I was going from having a roommate to living by myself. I have three sisters so growing up I didn't have alone time and now all of the sudden I lived alone! Which was nice because if the kitchen is a mess I had no one to blame but myself. I read the book The Happiness Project before I moved so I was in a state of mind that I needed to purge—less was more! So I went through my closet and if I hadn't worn in  90 days, I donated it! That was my second apartment after college and I felt I had matured a bit so I also went through the kitchen and donated the majority of the hand me downs I received over the years. I wanted to start fresh in my new apartment and the theme of starting fresh dictated what I kept, sold, and donated.
You need to get creative when living in a small space! How did you approach the design of your apartment in order to make the most of the space?
I had to make my studio my living room and bedroom all-in-one; I knew I didn't want friends coming over and feeling like they were hanging out in my bedroom. So I had to create a flow that clearly defined where the bed was and where the couch was. I spent so much time on Tumblr and Pinterest looking at studio designs and apartment designs that I had an idea of how to create faux separation between "rooms" in my studio!
Where do you shop for the items in your home? Do you prefer new items or flea market finds?
I have a very eclectic approach to shopping for my home. I find things at Home Goods, West Elm, Ikea and Target. I also find items at flea markets, garage sales, eBay and Craigslist. But probably my favorite place is shopping at my Grandpa's house!  He loves garage sales and has a barn full of things that can be repurposed to household items. I currently have my eye on a crib he is restoring—I want to use different pieces of it in my apartment for a magazine rack and a blanket stand.
Your home is full of color grounded in neutrals. How did you come up with your color scheme?
I studied abroad in Florence, Italy for a semester in college and as a little going away gift, my sister gave me a calendar with vintage inspired images of Italy from Cavallini Paper Company. I loved the images so much that I cut them up and framed them. The style of the images is very much grounded in greys with bright pops; I have always been attracted to greens, navys, and yellows so it naturally came together around those images!
What was on your checklist when designing your home? What were your must-haves in terms of furniture and accessories?
I always felt like a couch and a coffee table gave the feeling of a "family room" so I knew I needed to find a compact couch that was still comfy and wouldn't overwhelm the space! I searched tirelessly for a small couch and finally I went to into World Market to buy something else; I saw their couches and loved the option to change the slipcovers. I looked at dimensions and knew it would fit perfectly! A kitchen table was also a must have. Even if I don't actually eat a meal there, I knew I wanted one to give the studio a feeling of being a complete space. Ikea had the perfect table to fit the small kitchen nook! As far as accessories go—I love books and I loved the texture that a wall of books gave my space. Again, it gave it this feeling of being bigger then it was.
How long have you been interested in decorating? Has your style changed throughout the years?
This is actually a really funny story and my mom tells this story all the time. Growing up I was obsessed with rearranging the furniture in my room. The furniture I had growing up was big, heavy, antique mahogany furniture and I would move it around and rearrange it every month. My mom would get so mad because she was nervous I would scratch the wood! I also grew up wanting to be an architect and interior designer. I created a portfolio at age nine of my designs that included restaurants, office buildings, mountain homes, beach homes—it was actually just a binder filled with binder paper and magazine clippings from Better Homes and Gardens, Sunset magazine and Architectural Digest. It is still at my parent's house and is pretty entertaining to look at now!
I would say my style has definitely matured as I have gotten older and now that I have a job that helps, too! I love things to look clean and crisp, but I don't necessarily like the minimalist and modern look. I don't like my space to be filled with all vintage pieces and have it look like a museum. So it is definitely a blend of old and new!
We love your map wall hanging! What are your favorite places to search for statement vintage pieces like your map?
I have two favorite go to shops in Portland, Oregon: Schoolhouse Electric and Christopher David, but I can't exactly furnish my entire place from their stores so I love eBay and Craigslist. I saw a similar map hanging on the wall at Christopher David and I spent several months on eBay watching and bidding on different maps. It makes the map more special because I really put a lot time into finding right one.
Tell us how you decorated on a budget. Do you have any unexpected sources for affordable decor?
Research, research, research! When decorating on a budget look at all your options and figure out where you will invest vs. where you will be furgal. While I may have wanted the gorgeous shelving unit from Restoration Hardware, I knew I could mimic the design with an affordable option from somewhere else. I just needed to do the research to figure out the best options.
What is your favorite budget friendly piece in your home and why?
My favorite budget friendly piece is the canvas hanging above my TV. The canvas came from an old project at work—they were going to throw it away so I asked if I could take it. The actual painting is a representation of my apartments and time in Portland. It started out as one color and then I slowly added other colors as I worked on DIY projects around my apartment. Now I am in the processing of looking for an apartment in San Francisco and once I find one, I will add a new color to the canvas to mark my start in San Francisco.
What advice would you give to your 23-year-old self?
Give time some time. I put a lot of pressure on myself to be the best and got caught up in comparing myself to everyone else. I read a quote somewhere that said don't compare your chapter one to someone else's chapter eight and it clicked—everyone is on their own journey. If I just focus on being my best self , as time permits everything will fall into place—and trust your instincts and take risks! I don't think I would be where I am today if I didn't take risks. So I guess this advice is still relevant for my 27 year-old-self!
Ashley Wilson is The Everygirl…
I wish I knew how to…
Upholster furniture! While I do think of myself as pretty crafty (I sewed my own curtains)—I have spent the last two years hunting for the perfect chair in an orange trellis print at an affordable price! I have found so many chairs that almost fit the bill, but then again I think this chair is a unicorn, but if I knew how to upholster—I would have had the chair at least a year ago!
Favorite way to treat yourself?
Fresh flowers! I love hydrangeas all over my apartment! And, I love having my laundry sent out. I don't do it often because I try to stick to my budget, but I love perfectly ironed and folded clothes (and the place I go to uses the best lavender laundry detergent)! It is a real treat for someone who doesn't have a washer/dryer in unit and has to use the communal laundry room!
Coffee order?
Medium Americano with a little room for cold almond milk.
Morning or night?
Morning. I love how still the city is in the morning—like the day is about to begin and anything can happen!
Describe the perfect day in Portland. 
Starting the morning off with coffee at Barista and then walking to peruse the Portland State Farmers Market. I love browsing the stands filled with fresh fruits and vegetables and then sampling all the different food (who doesn't love free samples of cheese?). While I am there, I always get breakfast at Verde Cocina, which is the freshest farm to fork mexican food I have ever had. They pile every plate with local veggies and their bacon is to die for. (I recommend the chilaquiles!) After a visit to the market (weather permitting) it is wonderful to go on a hike either in Forest Park or make a quick drive out to the Columbia River Gorge to hike one of the thousands of trails. Then I often end the day with friends having dinner and drinks at one of many amazing Portland restaurants.
Product Sources:
Dresser and night stands, Ikea
Couch, World Market
Coffee table, Pottery Barn
Rug, RugsUSA.com
Bookcases/headboard, similar from Ikea
USA Map, similar here
Curtain fabric, Ikea
Task Lamp from Home Goods, similiar from Ballard Designs
Bed side lamps from Home Goods, similar from Target
Yellow Chevron pillows, Etsy
Green print pillows, similar from West Elm