You know it, you love it, and it's probably a daily wardrobe staple. We're talking about BaubleBar and as the brand's Director of Social Media, 32-year-old Grace Atwood is working hard to make sure you keep loving it. She continually thinks from the customer's perspective and attributes this as a huge factor in BaubleBar's success. "I think one of the reasons BaubleBar is so successful is that we, the employees, are the customers so we don't have to think too hard about that part." Grace's passion for the jewelry powerhouse is also what landed her the job. "I spent the entire weekend putting together a PowerPoint with my ideas about what they should do, presented it to them the following week, and the job was mine!" All of it came rather naturally for Grace as she really just "loved the brand."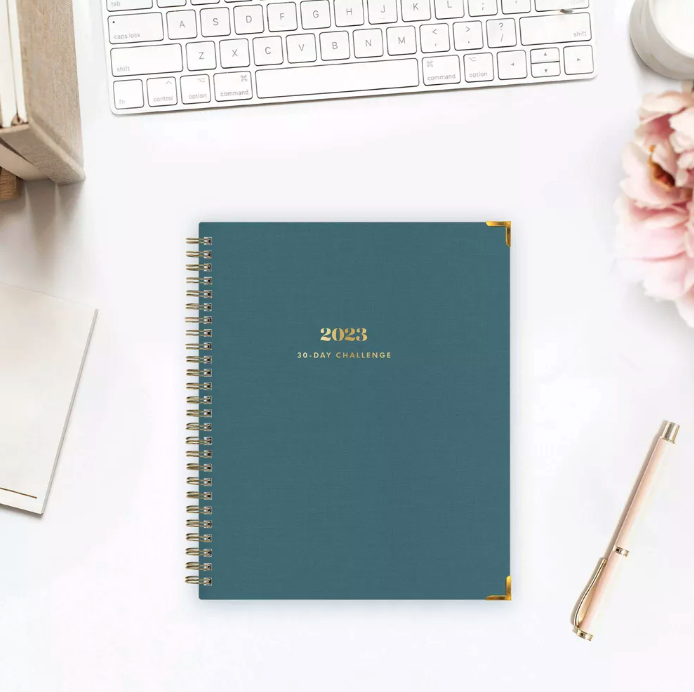 We may be biased, but this is the ultimate planner for the motivated goal-getter. Schedule your days, track your habits, and set new goals every month.
Although she is a social media maven, Grace majored in finance and cut her teeth working in the marketing departments of major corporations like Procter & Gamble and Coty. Majoring in finance isn't the traditional route to a career in marketing but Grace found that an analytical background was really attractive to prospective employers. The skills she honed obtaining her degree made her well-rounded and balanced out her innate talent for marketing. "Marketing has always been something that came more intuitively to me whereas I had to work really, really hard in my finance and accounting classes."
On top of driving the success of BaubleBar, Grace is also the voice behind the popular blog Stripes and Sequins where she explores fashion, DIY, travel, and lifestyle-related topics. Though her day job keeps her plenty busy, she still finds motivation to blog because she loves creating content. "I still get so excited when I put together a really great outfit or DIY project." Read on to find out more about Grace's road to success and how she balances her blog, the demands of her job, and the necessary evil of staying plugged in 24/7.
Full name: Grace Atwood
Age: 32
Current title/company: Director of Social Media, BaubleBar
Educational background: Bachelor of Science in Finance, Bentley College
What was your first job out of college, and how did you land it?
My first job out of college was a fun one. I was the Assistant Buyer of Women's Fragrances for Filene's Department Stores (based in Boston.) I had been obsessed with getting a job as a buyer, so during my junior year of college I made it my mission to land an internship with Filene's.
I had a friend who had gotten the internship the year before me, so I picked his brain first. He told me that retailers preferred applicants with an analytical background, so I switched my major to Finance from Marketing. I applied for the internship and got it. I remember the application process was pretty rigorous. There were several rounds, and a few dinners to screen applicants. I later found out that anyone who went home after dinner (and didn't go out afterward) didn't get the internship. Thank god I went out!
I loved my internship and worked really hard. Filene's was such a great place to work. Most days I was just faxing reports and working on data entry spreadsheets but I had the greatest team and adored my boss. It was the people that made it fun, and I worked my butt off. I still remember the day I got offered a full-time position with the company…sometime in August before my senior year. I was SO excited and it took a lot of pressure off going into my senior year, knowing that I'd already landed the job I wanted.
Though you currently hold the titles of blogger and social media director, you actually received your Bachelor of Science in Finance! How have your career goals shifted since college?
Haha, most people laugh when they find out that I was actually a finance major. I really just changed my major from Marketing to Finance because I wanted that job. I don't know if that sounds strange, but at the time I was just so focused on getting the job I wanted that switching majors seemed worth it. I never intended on pursuing a career in finance, but knew that if I could get my foot in the door in buying, I'd be okay. Marketing has always been something that came more intuitively to me whereas I had to work really, really hard in my Finance and Accounting classes. My career goals have changed a lot as time has gone on. When I was in school, there was no such thing as Facebook or Twitter. I've always loved writing and marketing, so that hasn't changed. It's more that the world has changed and with it, my career goals have changed too!
You started your blog Stripes & Sequins in 2010. How would you say the "blog world" has changed in the last 3 years? If you were just starting your blog today, would you invest in a professional web design right off the bat, or do you still believe content is king?
The blog world has changed so much since when I started! Back when I started, we all just did it for fun. No one started a blog to make money. I had a terrible design, wasn't strategic about what I posted, and just did it because I wanted a creative outlet and a place to write. Now, bloggers start their blogs and on Day One they are using affiliate links, have these professional templates already created, etc. So much has changed and now there are so many blogs out there that you have to have a great design right away or you won't be successful. I still believe content is king and am constantly striving to find ways to be creative and create content that my readers will really love and benefit from, but nobody wants to look at an ugly website, you know?
After blogging became a paying job for you, did it ever start to lose its luster? What motivates you to continually blog on a daily basis?
Blogging has its ups and downs, but I think it hasn't lost its luster for me simply because I still have a full time day job. Of course I love that my blog makes money. It's allowed me to save more money, buy some amazing investment pieces I wouldn't otherwise afford, and all sorts of other perks, but I don't actually need it or depend upon it. I have my day job for that, which is why blogging is still fun. I know that not everyone feels this way but for me, the second that I have to rely on my blog to pay rent and bills would be the second it became more stressful and less fun. I'm always inspired at work too. The girls in the office dress so cute, and I'm always getting styling or DIY ideas just from being around them.
What motivates me is that I just really love blogging, and creating content. I still get so excited when I put together a really great outfit or DIY project. I'm also really proud that I've been able to build something from nothing.
When did you first start to see your readership really grow? Was this a steady growth? If not, tell us what factors you believe contributed to your blog's increasing popularity.
My blog started to really grow when my DIY projects started to get more attention. A few bigger bloggers linked to me and added me to their blog roll, and from there my site started to become more popular. I did a few DIYs for The Glitter Guide, and that got more eyeballs on my site. Pinterest was a big factor, too. I did a few friendship bracelet tutorials and those went viral… they are still some of my most popular posts despite being over a year old. Adding outfit posts also helped. I think it helps to establish loyalty with your readers because everyone wants to see the person behind the blog. Since then, it's been slow and steady growth for the most part. In the early days my pageviews would often double in a month, but it's slowed down quite a bit since then!
How do you go about scheduling content for your blog? Do you always work ahead or do you tend to post in real-time?
I try to have my posts planned two weeks out, and scheduled one week out. I use a Google document that looks like a calendar to schedule everything out. Sponsored posts are bolded so that I don't do too many in a week or accidentally move one, and there are slots for Twitter and Facebook so that I remember important social updates. I know it may sound a little excessive, but honestly, I am so busy that if I didn't plan everything in advance and schedule ahead, I would probably spontaneously combust or forget something really important. There are times where I'm posting more in real time, but I get stressed out if I don't have at least a few posts in the queue.
Tell us about how you landed your position as social media director of the beloved BaubleBar.
I got my job through my blog! It was nearly three years ago and I was their 6th hire. There were the cofounders, the COO, the fashion director, the photographer/graphic designer, and me. So much has changed since then. At the time, I was working for Coty in brand management. My blog was this tiny little thing (I'd been doing it for a little over a year at that point and didn't even realize you could even make money from blogging) but I wrote about BaubleBar a lot because I loved the brand.
I think I was one of the first people to write about BB, because the cofounders found my posts and we started emailing. We'd go back and forth. I wanted to help them and give them ideas for things to do on social media and other bloggers they should approach. After a lot more emailing, they invited me to drinks, which turned into them telling me about a job they had opening up. I spent the entire weekend putting together a PowerPoint with my ideas for what they should do, presented it to them the following week, and the job was mine! It's funny how it happened; I honestly just liked the girls and wanted to help them. I never expected it to turn into a job (especially because I had no formal training in social media, but I guess very few people do these days.)
Before delving into social media, you held numerous positions in marketing management for companies like Procter & Gamble and Coty beauty. In what ways have you found social media to differ most from traditional marketing? What would you say are the biggest similarities?
The biggest difference is that for the most part, social media is free. If you can be funny, smart, and engaging, you can build a following. And as you build it, you get this amazing group of people who love your brand that you can market to for free. But besides that, the truth is that social media and brand management are actually incredibly similar. The biggest similarity is that it is always, always, all about the customer. At P&G we called it our "Who." Now I'm free from all of that corporate jargon, but I'm constantly putting myself into the customer's position. What does she need? What content would she want to see on our site and on our blog? How can we make her life a little bit better (and sparkly, too!)? I think one of the reasons BaubleBar is so successful is that we, the employees, are the customers, so we don't have to think too hard about that part.
Have you ever experienced "burn out" from managing social media for another company, as well as your own brand? How do you decompress after spending so much time with technology?
Oh yes. I have been very, very burnt out before, but it has gotten so much better. When I started at BB it was especially hard because I was literally the only person doing the social media, so vacations were tough. If I was out of the office I was still constantly on social media. Now, I have help at work (thank god!) and I try to spend at least an hour or two away from my phone every day, even if it is just that hour before bed where I'm snuggled up with a book. On weekends, I only go on Instagram and check the other channels maybe once or twice just to make sure nothing crazy is happening on BaubleBar's Facebook or Twitter. Spending time with my girlfriends (phone away) helps, as does reading a book or going to see a movie. Some days I'll go for a walk or run errands without my phone (it's hard, I'm addicted) and I take at least one mini vacation a year where I let myself go totally dark—no Internet, social media updating, etc. And I recently started working out a lot more, taking yoga and core fusion classes. That helps too!
What kind of hours should a social media director expect to work? Do you feel the need to constantly be checking social media pages on nights and weekends?
I don't want to scare you, (and it isn't that bad, especially as you build a team) but you should basically be prepared to work all the time. Constantly. My office hours aren't terrible (I get in around 9:30am and try to leave around 7pm), but I am always plugged in. When I wake up I check everything. And after work, it's the same thing. And besides looking at your own brand, you have to be looking at what everyone else is doing to stay current. So you never will really be totally "off" but if you love it, then it will still be fun.
Tell us about the structure of the social media department at BaubleBar. Do you have additional social media associates who assist you with writing copy and campaigns? What does a day in the life of a social media director at BaubleBar look like?
It was just me and our Social Media Manager, Elanah, though we are looking for an intern. Elanah handles all of our core social channels and I write our blog posts and work on strategy and blogger outreach. No day is the same. Some days we are in back to back meetings, other days we are putting together marketing plans, and other days we are packing up blogger gifts and writing note cards. I like that it's always different. I never get bored.
There are still some companies who are hesitant to jump on the social media bandwagon for fear that they wont see a ROI. What advice would you give to them?
I'd tell them to start slowly, but that it's completely, 100% necessary. If you are not at the very least, on Facebook and Twitter to answer customer service questions, you aren't filling a very important customer need. And while social media is not necessarily the easiest thing to measure, the qualitative results are there. If we send a necklace to a group of bloggers, or post something to Instagram, we see an immediate lift in sales. I like helping brands with this stuff and I always tell them three things: 1. Get on Instagram. You may not see an immediate lift and it will take a while to build up a following, but it will help add a more human side to your brand and create community. It will also sell product. 2. Join RewardStyle. Joining RewardStyle was one of the best things we did as a brand, as it encouraged bloggers to feature us organically since they could earn commission from featuring our products. And 3. Hire a dedicated person to manage your social media. Make sure you like their voice and that they truly love your brand. I don't think it is a requirement, but often times hiring a blogger is a good move, as they understand social media so well and usually have great connections with other brands and bloggers.
Walk us through a day in the life of Grace.
I wake up around 8/8:30am. I am NOT a morning person. If I had my way, I'd stay up til 2am and wake up at 10am. On Tuesdays I get up earlier, around 7/7:30am to shoot outfit posts with Lydia before work. The first thing I do when I get up is grab a big glass of lemon water and check Facebook, Twitter, and Instagram for both BB and S&S. I'll skim my newsfeed for anything really interesting, check email, shower, and get ready for work. On the way to the office (I live three blocks away!) I grab an iced coffee and fruit for breakfast. At work, I read emails and slowly make my way through my Feed.ly. We have a lot of meetings at BaubleBar so we're usually brainstorming and in and out of meetings. I'll order lunch to my desk and then its usually more meetings, emails and work stuff. I leave the office around 7pm and usually have plans afterward…events for my blog, a workout class, dinner or drinks with girlfriends, etc. I try to schedule one or two "me nights" so that I don't end up having plans every night… it gets overwhelming! I'll get home around 10 or so, check my content for the next day and respond to more emails, and go to bed around midnight. I try to stop doing stuff by 11pm so that I can read or watch TV for an hour before bed.
Best moment of your career so far?
That is a tough one! I guess it would be getting this job (I finally feel like I'm doing the job that I'm made to be doing) and probably hiring someone. Our social media manager, Elanah saves my life daily. I would be lost without her.
What advice would you give to your 23-year-old self?
Chill out! I remember I wanted to be successful so badly, and to build a name for myself. I'd tell myself to just work hard, put my head down, and that the rest would come with time. I'd also tell her not to worry so much about what other people think. This is still something I struggle with, but I'm getting better!
Favorite way to spend time off-line?
Reading
Must-have gadget?
My iPhone
Go-to baubles for date night?
Layered statement necklaces (loving this with this.)
If you could have lunch with any woman, who would it be and what would you order?
I would love to split a cheese plate and a bottle of wine with Jenna Lyons!
Aidan or Big?
Definitely Aidan. The nice guy always wins in my book.