I know, I know, you've heard of it all — Hyaluronic Acid, Alpha Hydroxy Acid, Vitamin C, CBD… every day it seems like a new ingredient that's "absolutely life-changing" for your skin is popping up on your Instagram feed and in your beauty products. It can get so overwhelming (and expensive!) to keep up with the changing beauty trends.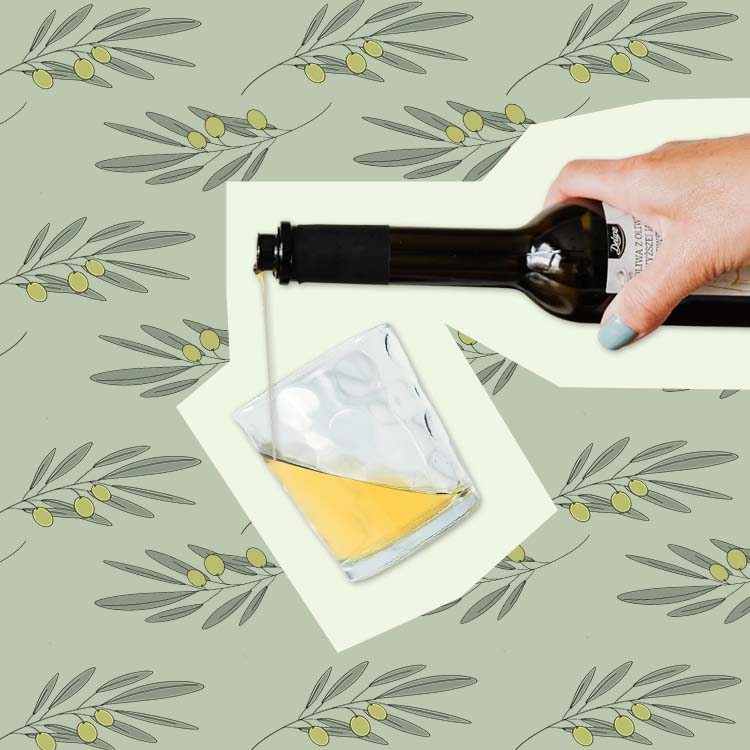 we love olive oil, but this seems a bit too far... or is it?
But sometimes, something comes along that actually delivers the kind of miracle benefits that are based more on results than just another buzzword, and is good enough to stand the test of time. The newest ingredient we're loving here at The Everygirl is not of the latest trend variety, that will come and go faster than Sephora can restock their shelves. No, this miracle ingredient is actually totally natural, and is not just endorsed by the trendiest beauty bloggers and celebs, but is an essential oil that has been used in beauty and wellness for centuries.
Blue Tansy Oil is a Moroccan chamomile (sounds fancy, doesn't it?) known for its refreshing, delicious scent and amazing calming properties, (not to mention the rich, vibrant color that surely makes it the prettiest beauty product on the shelf). However, the rich oil is produced from a seasonal crop that requires specific conditions, so it's not always as nutrient-dense or pure as it can be. That's why it's important to choose only the best brands and highest quality products when searching for Blue Tansy.
We love Primally Pure because their products are made with fewer, better ingredients that are all derived from nature, for optimal nutrients and purity. They have a wide range of beauty products, but my very favorites are the Blue Tansy products like their Body Oil (best smelling oil ever), Beauty Cream (that I put on my face and neck morning and night), and the Deodorant, (my favorite natural deodorant), and I'm not kidding (I don't kid about my beauty products!).
Read on for why Blue Tansy is the ingredient you've been missing from your beauty routine, and shop our favorite products.
Reduces inflammation
Since it's a chamomile, it's highly anti-inflammatory; azulene, the component in the oil that makes it blue, also powerfully combats inflammation. The ingredient helps to soothe skin that is red, dry, or sensitive, and calms any irritation, like reactions from other harsh ingredients you're using on your skin. It can even help reduce pesky zits by bringing down inflammation (without drying out the skin!). Using the Body Oil can even calm inflammation in muscles, helping reduce soreness after a tough workout.
Has strong antioxidant properties
Not only does it help calm inflammation, but it also works to boost skin's radiance with its high level of antioxidants. You don't have to have inflammation or skin problems to benefit from the magical ingredient — everyone can benefit from using Blue Tansy, because it will make your skin even more glowy and radiant.
Aids in detoxification
Blue Tansy assists with detoxification in the body by regenerating liver cells. It also is extremely antibacterial and antifungal, meaning it naturally kills bacteria that causes things like acne, in-grown hairs, or razor burns (so putting the ingredient in a deodorant is genius). Since stress and the environment can cause everything from acne to dry skin to redness, Blue Tansy can help, since it detoxifies these harmful pollutants from the skin.
Can help to heal a number of skin issues
Many skin problems, like psoriasis, dermatitis, and eczema, really come from issues within the body, like inflammation (specifically in the blood stream). Since these skin issues are typically manifested inflammation and Blue Tansy is extremely anti-inflammatory, it is a totally natural and healthy way to calm down many skin issues.
And has some emotional and mental benefits, too!
It has a relaxing effect, which can be used similarly to lavender when the essential oil is diffused for scent — it can make you feel peaceful and is perfect for a natural sleep aid (but don't worry, you won't fall asleep if you put Blue Tansy on your skin in the morning!). The product itself relaxes the nervous system, which helps regulate hormones and calms stress in the body. Sounds like a miracle product, if you ask me!
This post was in partnership with Primally Pure, but all of the opinions within are those of The Everygirl editorial board.