"The key is great communication and mutual respect and trust. It's also about believing in your vision and in the person you are with, through and through." With such wise advice to give, it's no wonder why BRIKA co-founders Jennifer Koss and Kena Paranjape have been so successful. These two women didn't just happen upon their business venture—they envisioned it and went after it. After years of school—Harvard College, Oxford University, and Harvard Business School for Jen and McGill University and University of Toronto for Kena—and various jobs in business, marketing, and retail, Jen stumbled upon Kena's blog In Life and In Fashion. From there, the two arranged a meeting and realized their shared interest in retail and complimentary backgrounds. Jen's forte was finance and strategy while Kena's was merchandising and branding. Through combining their different skills, plenty of persevering, and working 20-hour days, they created BRIKA. With BRIKA, Jen and Kena are linking shoppers and the artists behind each product. Every well-crafted piece, which ranges from one-of-a-kind jewelry to baby clothes to paper goods, is tied to an artist's personal story. These elements—the crafts, the artists, and the streamlined platform of the site—all combine to provide a one-of-a-kind shopping experience that keeps consumers coming back.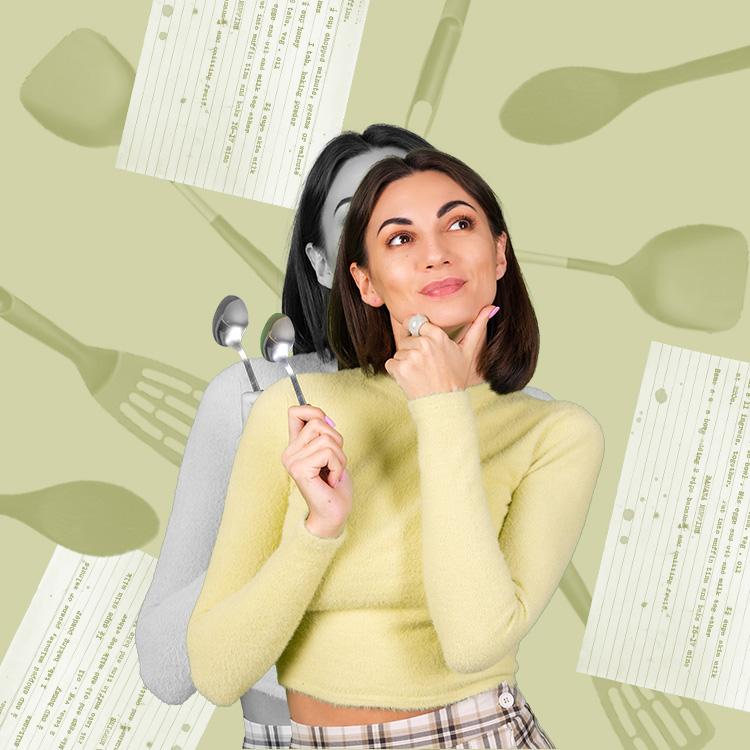 high in protein, good for gut health, and anti-inflammatory? yes, please!
In just a year, Jen and Kena have brainstormed, strategized, and launched their booming business. They certainly prove that you can achieve anything with passion, creativity, and good, old-fashioned teamwork and remind us to take chances on the people we unexpectedly come across. For all those reasons and many more, both Jen and Kena are shining role models for young women. We are thrilled they are sharing their story with the Everygirl, so read all about these two accomplished entrepreneurs, savvy business partners, and incredible friends.
Full name: Jennifer Koss (Jen)
Age: 35
Current title/company: Co-Founder of BRIKA, Builder of Business
Educational background: Harvard College (A.B.), Oxford University (MPhil), Harvard Business School (MBA)
Full name: Kena Paranjape
Age: 37
Current title/company: Co-Founder of BRIKA, Crafter of Brand
Educational background: McGill University (BSc), University of Toronto (MBA)
Year you started BRIKA: 2012
What was your first job out of college and how did you land that position?
Jen: Because I kept on pursuing my musical education right out of college at Oxford (I was a cellist for most of my life), I "delayed" my first job experience for a few years. When I finally decided to give up my musical career, I landed at an incredible management consulting firm, The Parthenon Group, in their London office. I was grateful that they took a chance on me!
If you had asked me when I was graduating college what "management consulting" was, I had no clue. I had done a few investment banking internships as an undergraduate, but consulting to me was completely foreign. Based on a phone interview my roommate did in college, I thought it had something to do with counting stop signs in Los Angeles!
Kena: My first job out of college was an event-marketing role with a large bookstore chain here in Canada. I organized high profile (Quincy Jones, Jamie Oliver, etc.) author book signings and community events for stores in the Toronto area. It's funny because the opportunity came after I'd spent a few months focusing my job search on boutique advertising/communication firms. I had an offer from a firm I'd been strongly pursuing, and then this opportunity fell into my lap!
Tell us a little bit about your background. What were you each pursuing before launching BRIKA? 
Jen: Before BRIKA, I was a private equity investor in the consumer/retail space. I have always loved everything having to do with consumer behavior and psychology—why do people buy what they do? What makes something more popular than another? Why are certain trends fleeting and others here to stay (i.e., Capri pants! I was certain that was just a fad…).
I have always been a creative person at heart. It probably stems from my musical past. Therefore, I think I always intuitively knew—or at least dreamed—that I would do something that harnessed this creativity one day.
Kena: Prior to BRIKA, I was running a high-end eco-friendly boutique hear in Toronto. I was responsible for the buying, visual merchandising, operations, marketing, and PR. It was a great opportunity for me to run a business without the personal risk (all that has changed with BRIKA!). It was my experience working with under the radar artisans and makers during my time there that sparked the idea for BRIKA. I was not only impressed by the level of talent and the quality of the products I saw, but also fascinated by the makers themselves. I thought, "how could we share these products and stories with stylish and creative women everywhere?"
Jen, you're a Juilliard trained cellist and graduate of Harvard University, Oxford University, as well as Harvard Business School! How have your career goals changed throughout your education? 
Well, I have certainly spent a lot on tuition, so I think my career goals have always been very driven by pay—for better or for worse! I don't think I ever really knew what I wanted to be when I grew up. However, I have always known that I wanted to be part of a team, surrounded by switched on people, stay intellectually stimulated and challenged, and be given responsibility and ownership over what I did every day.
In what ways has your extensive education served you in your newest business endeavor as co-founder of BRIKA? 
There is no doubt that I feel my education has certainly prepared me in many ways for what I am doing now. I can also say that it has NOT prepared me at all for what I am doing now! If anything, I look at my education as a door-opener to opportunities and networks. I don't think sitting in lectures or writing dissertations have added much to my new entrepreneurial journey…but time will tell!
Did you ever plan to pursue a career in music, and if so, what changed your mind?
There is no doubt that I had planned to pursue a career in music. My mother was a concert pianist, so I was clearly influenced by her. However, I always felt as though I "didn't belong" entirely in the classical music world. I always felt a bit like the odd person out. I was very interdisciplinary in my approach to music, and sometimes that is not appreciated.
I think my interest in the business world, which felt so much more dynamic and relevant, was what really made me change my mind. There is nothing better than performing a beautiful cello sonata or a string quartet, but I think business is what makes the world go round.
Kena, tell us about your experience as a merchandising/marketing strategist for companies including Old Navy and Banana Republic. What did your daily work schedule/responsibilities look like? How has your experience in strategy benefitted your work with BRIKA?
I loved every bit of my retail experiences. I learned from some of the smartest, most creative people in the industry. My days were filled with design reviews, sales meetings, competitive shopping trips, assortment planning, fittings, production meetings, and so much more. In a way, my merchandising roles were very similar to being an entrepreneur. You own a part of a much larger business and you are responsible for driving that business forward. What could be a better precursor to my role now at BRIKA?
Kena, you met Jen after she discovered your blog In Life and In Fashion. What prompted you to start a blog in the first place? How did you make the decision to stop posting after you launched BRIKA?
It's funny, the reason I started my blog really mirrors how many of our makers came to do what they do now. I was in a job that wasn't particularly creatively stimulating, and I was chatting with a friend about how I used to love writing. He suggested that I start a blog and I thought, "who is going to read what I have to say?" But I decided to do it for myself, as a creative expression and as a way to find my voice and just hoped someone other than my Mom would read it. Starting my blog literally changed my life because I never would have met Jen if I hadn't decided to do it. Following your passions will NEVER steer you wrong!
Once we started BRIKA, I decided to retire my blog for a couple reasons. One, taking time to focus on my blog became tough, and two, I no longer needed it as a creative outlet—BRIKA is so creatively fulfilling for me. That's not to say I won't revive it again one day….
What was the transition to entrepreneurship like for each of you? Did you ever have any doubts along the way?
Jen: I think that if you don't have any doubts, you're not telling the truth! I was on my second maternity leave with my daughter Annabelle, and I just thought to myself, is this it? Is this what I have studied and worked so hard for in my life? I just felt like it was time to try something I was really passionate about. I would say that the real decision-maker for me was meeting Kena. Without her, I'm not sure I would have made the jump.
Kena: I 100% agree with Jen. I always knew I wanted to be an entrepreneur and spent my entire career waiting for the right moment. I know myself well enough to know that I work best in a partnership or team vs on my own. When Jen and I met, I thought, "I've found her!" I've definitely had doubts, but the doubts keep life exciting—who wants to be absolutely certain about everything?
What would you say are the three main ingredients to a successful business?
Passion, Conviction, and a Big Vision.
What unique challenges and benefits come with having a business partner? What would you say is key to a successful partnership?
The main challenge is getting used to each other's pace. There are more benefits—ideas only get better with two brains on fire, we can also leverage complementary skills, balanced perspectives, and it's more fun!
The key is great communication and mutual respect and trust. It's also about believing in your vision and in the person you are with, through and through.
In addition to being co-founders, you each have specific roles in the company –  Kena as the Crafter of Brand and Jen as the Builder of Business. How did you go about establishing these positions for yourselves? 
Soon after we met, we had a meeting that will go down in history. We talked about our experiences and our strengths and what we really wanted to do with them. We both walked away and literally within an hour emailed to say to each other that we would make an amazing team! We both saw strengths in each other that were lacking in ourselves. Since day one, we have barely had to discuss what each of us would handle. Jen takes care of most of the business development, partnerships and financing. Kena is all about the merchandising and brand building!
Tell us more about your vision for BRIKA. How has it changed since it first launched? Are there any ways in which you would still like to see it evolve?
Our vision for BRIKA is to create an impactful, high-quality, high-calibre creative community of talented makers and conscious consumers. Our business model may change or expand (it already has!) but we will always have that larger vision in mind.
Please share with us how you formed BRIKA from the ground up. How did you go about approaching the "Makers" you're currently working with? What surprised you about the process? Was there anything that was more difficult or much easier than you had imagined? 
Kena: My experience made the process a little easier, but I have to admit, it is much more nerve-wracking when you are doing it for your own business! We started reaching out to makers when we had only a landing page. The makers that responded loved our branding and felt the passion through our communications with them. They took the leap early on and we are forever grateful. In retrospect, the process was relatively smooth even if our emotions at the time were not!
Tell us about your team! What are your offices like and how many team members do you currently have? At what point did you know it was time to hire on additional help?
Our team is just absolutely incredible. They are so committed and hard working and so good at what they do. We have 5 full-time hires at the moment. They all started out as interns!
What traits do you look for in potential new employees?
Passion. Resourcefulness. Flexibility (hey, we're a start-up!).
What does your average workday look like? As founders and owners, do you try to keep a traditional 9 to 5 work schedule from Monday through Friday, or do you typically work nights and weekends?
Jen: Traditional 9 to 5?! That has never existed in my entire professional life. I work nearly 20 hours a day, and I certainly do not and cannot turn this off! I am consumed by what I am doing, and I am excited to get up every morning and get back to work.
Kena: Jen is a machine! We are similar in that we are consumed by what we're doing and are excited to get up every morning and get to work, but I need little pockets of downtime (a walk, a quiet subway ride) in order to do my best work. Ok, so maybe I work 18 hours a day and not 20!
Best moment of your career so far?
Jen: THIS. I am totally in my element.
Kena: Every time I made a decision that was based on my passion and intuition vs what looked good on paper or what other people thought.
What advice would you give to your 23 year old self? 
Kena:  Harness your intuition by pursuing your passion and don't listen to negative voices (including your own). Learn from people you admire. Have a big vision for your life.