Brittany Haas, founder and owner of Happily Ever Borrowed, is one of those women who makes working a full time job and running her own company look easy. With grace, humor, and style Brittany has created a business that allows brides to wear the most fabulous accessories without the crazy price tags on their wedding day. Girls dream about the day they can walk down that aisle in a white gown and stunning veil, but do they dream about how expensive this can all be? Probably not. Brittany has though, which is why she started an online rental service for bridal accessories. Thanks to her innovative rental service, brides across the country and beyond can now afford the veil, jewelry, and sashes of their dreams.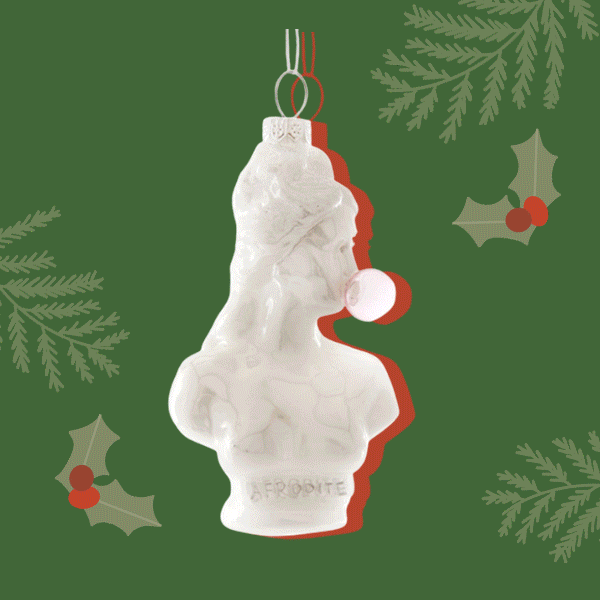 Whether you prefer your tree to be a masterpiece or a beautiful array of memories, there's something for everyone at Carlyle Avenue's ornament shop. Don't miss their expertly curated collection!
If you have ever wondered if it's possible to follow your dreams while staying committed to your day job, Brittany is proof that it is! From answering emails at 3 a.m. to dealing with some very stressed out brides, Brittany has used her wit and drive to create a business that revolutionized the way brides shop for their wedding day. Today we learn how she got into the world of weddings, the importance of thinking outside the box, and how taking a risk for something you believe in can pay off. Ladies, read on!
Full name: Brittany Haas
Age: 25
Current title/company: CEO/Founder Happily Ever Borrowed
Year that you started Happily Ever BorroWED: 2011
Educational background: Bachelor of Science: Fiber Science Apparel Design – Cornell University
What was your first job out of college and how long did you hold that position?
I was recruited to join the executive training program at Ralph Lauren right out of college. We rotated through different facets of the business cycle such as merchandising, marketing, planning, product development etc. I ended up being placed as an Assistant Merchandise Planner for Men's Wholesale. Essentially I created merchandise assortments for our wholesale specialty stores; Saks 5th Avenue, Bergdorf Goodman, Barneys NY and more. It was fantastic because I was exposed to different retailers as well as multiple Ralph Lauren Brands (Purple, Black, Blue, Golf & RLX). I was there for about 3 years before I moved over to Saks 5th Avenue and now most recently, Hermes.
Can you give us a brief explanation of what Happily Ever BorroWED is and how you came up with the idea?
Happily Ever Borrowed is the premiere, luxury, e-boutique that rents bridal accessories to brides for their wedding day! Our mission is to provide accessibility, affordability and sustainability to brides all across the US.
I have three older sisters, and from the age of 12, I was helping to plan their weddings. When I was in college and designing bridal gowns, my one sister asked me to make hers. That was far too much pressure for me, but I offered to help shop with her. When I saw the poor quality and construction of the cheaper gowns, I was horrified. All women deserve to wear quality products on their wedding day. We were also astonished at the high prices of veils, headpieces and jewelry. After spending their entire budget on their dress, most women forget that they need to accessorize as well! This is one of the most common instances where brides exceed their budget. My sisters begged me to find a solution. I let the idea sit for quite a while, but after my 3rd sister got married, the idea started to materialize.
How have you managed your day job at Hermes with starting/running Happily Ever Borrowed?
Very little sleep! Having to give 110% to each job is always a challenge. To be honest, there are days where I'm running to the post office to get our brides their orders on time, and there are times when I'm in Paris Fashion Week for Hermes, but answering bride's emails at 3AM. I end up having to "give a little" from each job to often fulfill the needs of the other. But at the end of the day, everything always gets done.
What gave you the courage to turn your idea into an actual business?
My sisters and friends! I had told enough people about my business to where they finally said, you KNOW this is a great idea – make it happen.
How have your previous jobs and career helped shape the business woman that you are today?
Learning the ins and outs of finance and merchandise planning has been an enormous help in shaping Happily Ever Borrowed. The ability to understand trend forecasting, margin, turn, sell through…all of these things have helped me understand how to correctly track the milestones that are important in a business. We're laser focused on not only having a great breadth of assortment on our site, but also investing in those pieces that are fiscally successful. Without a strong business background, any design driven business would fail.
How have you managed the ins and outs of running a business? Budgeting, filing taxes, marketing, web development, etc.?
Thankfully, my background has helped with budgeting & merchandising. But I've had fabulous help from my lawyer, my accountant, my business partner, my web developer, my web designer, my interns…seriously – I couldn't do call of it without all of their help.
Tell us about your job and daily responsibilities. What does your typical schedule look like?
A typical schedule changes on a daily basis. But on Sunday, I map out the orders for the week and get the packages ready for shipment. Most go out on Tuesdays/Wednesdays for weekend weddings. On a daily basis, I'm answering e-mails and heading up our marketing, initiatives, talking to investors, talking to customers, talking to fellow wed-tech entrepreneurs, arguing with the post office (yes this happens on a daily basis) and much more. I love my job because I get to wear a new hat everyday.
What are the best and most challenging parts of your job?
The best part of my job is seeing happy brides. I love receiving their feedback, their reviews, and their photos of their special day! We send our brides personal notes of congrats, and getting them back is just as rewarding!
The most challenging would be the juggling. There are so many things that need to get done, and only so many hours in the day.
Many Everygirls struggle with discovering exactly what they are passionate about and then how to translate that into a successful career. How were you able to do just that?
Just know that eventually, the lens becomes clear. If you told me 2 years ago that I'd be an entrepreneur, I would have laughed in disbelief. I had all intentions of working my way up the corporate ladder in the fashion industry and becoming a CEO of a luxury brand. I suppose the one thing I DID do that helped my idea come to fruition, was research. I started becoming interested in the NY tech scene, so I read every tech blog I could find and started attending meetups in the city. I immersed myself in the space . This way, I was able to talk the talk when I decided to take the leap.
Best moment of your career so far?
The day our site launched. I'm pretty positive we maybe had 100 uniques that day, but to see all of your hard work come to fruition? It was a dream. When we re-launch our new site design, I'm hoping to feel the same thing. (But with more page views!)
How do you hope to see your career evolve in the next year?
There are a lot of big things happening with Happily Ever Borrowed. Expect re-branding, a new site, new design and a whole new look. Also, lots of new partnerships with new vendors and brands alike. I want renting to become the norm and not the exception.
What advice do you have for girls looking to turn an idea into a reality?
Immerse yourself in the network and industry. Get advice, find mentors, speak to friends, talk it out. You can't build your business in a silo. Get your idea out there, get feedback, and start up as fast as possible. You'll make plenty of mistakes, but you'll learn very quickly.
What advice would you give your 23-year-old self?
Don't you dare doubt your decisions! Everything happens for a reason, and stop thinking you've been through it all…just wait until you see where the road takes you.