The marketing industry is in a ceaseless state of movement. It's multidirectional, evolves on a regular basis, and stretches to encompass new ideas, platforms, and audiences. With powerful and influential factors such as technology, the Internet, and social media, pursuing a career in marketing can incite questions, anxiety, and fear (wholly understandable).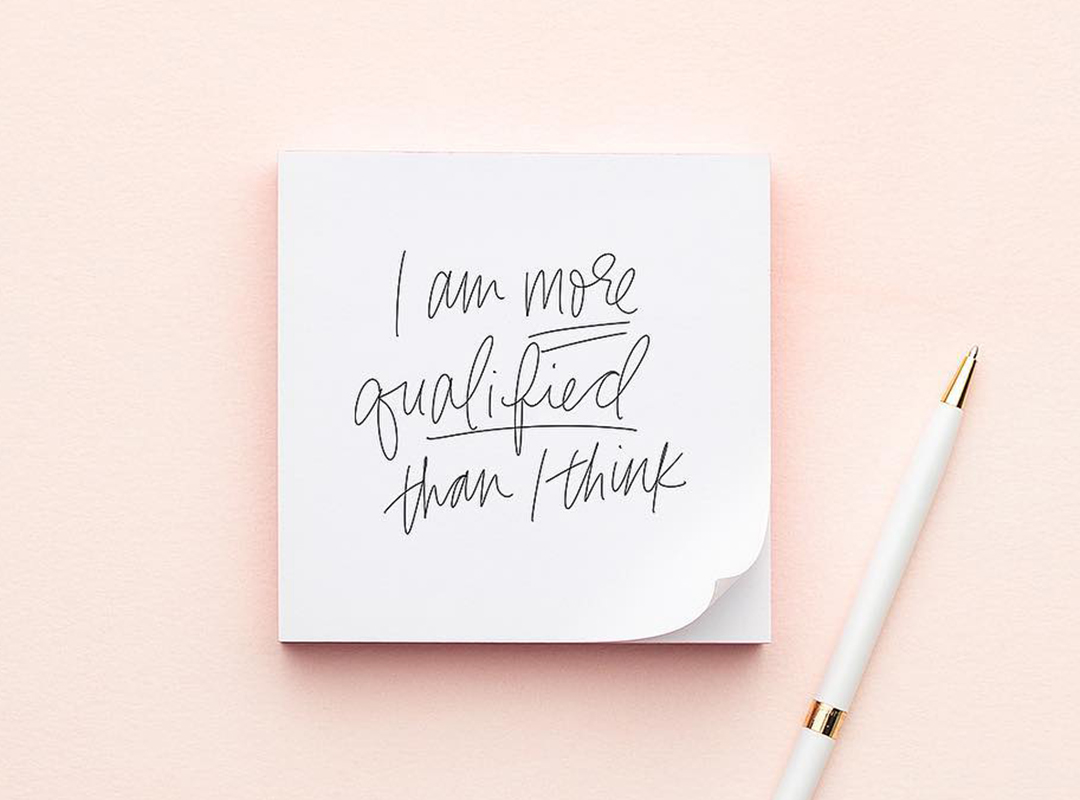 Ready to land your dream job this year? We can help.
Our Landing Your Dream Job online course is currently open for enrollment—now until Tuesday, January 19! Claim your 100-page workbook, resume + cover letter templates, guided worksheets, advice, and invitation to our private Facebook group.
Ready to get started? Right this way >
And yet, according to Pew Research and the most recent report from National Center for Education Statistics: In 2011 to 2012, about one-fifth (20.5 percent) of the 1.79 million bachelor degrees were in business, which includes marketing. Since the study was performed, we would predict, with confidence, that the number of business and marketing degree earners has significantly grown. Add to that number the individuals who didn't obtain formal education in marketing, but taught themselves and/or transitioned from another career to marketing, and the world has a gargantuan quantity of individuals who are, ideally, succeeding in the field.
Three of the women who have, without question, found success are:
Sarah VanHeirseele, 34, and VP of Digital for global marketing company Blue Chip Marketing Worldwide in Northbrook, Illinois;
Jaclyn Johnson, 30, founder of marketing agency (No Subject), creator of creative conference series Create & Cultivate, and dabbler for monthly subscription of found goods Frankie & Albert in Los Angeles;
Hayley Besecker, 25, marketing designer for community-based traffic and navigation app Waze at Google in Silicon Valley.
They shared with me their exciting and, at times, bumpy career paths, industry challenges and perks, and the advice they would tell themselves at the start of their careers (if they could!).
Can you give me a quick overview of your career path?
Sarah: I taught Advertising Creative Strategy while pursuing my master's degree in advertising at University of Illinois at Urbana–Champaign. The day after I graduated, I started working as an account executive at a niche agency in the Chicago suburbs.
After three years of wearing a ton of hats—everything from managing annual sales meetings to overseeing website development to the creation of a brand mascot and just gaining exposure to all things marketing—I accepted a client service role at Blue Chip Marketing Worldwide. I was really passionate about all things digital and social, and Blue Chip allowed me to build its digital department from the ground up.
Five years after developing the department, I'm now leading a team of 25 digital professionals and am responsible for digital strategy and new digital business development.
Jaclyn: I studied magazine production at NYU and interned at Conde Nast throughout college, taking my first job at Time Inc. Interactive in a think tank tasked with strategizing the relationship between print publications and online (clearly, this was awhile ago).
From there, I took a job at an agency called ATTENTION, which, at the time, was pioneering some of the first social media marketing and word of mouth campaigns. While there, I worked with brands such as Bluefly, M.A.C. cosmetics, Hugo Boss, and more on creating buzz-worthy online campaigns focusing on social media platforms and influencer engagement.
After leaving Attention, I was brought on at iCrossing to develop and then head their social media service lines for clients such as CVS, Mazda, and Avery Dennison. Following, I went in-house at IAC/InterActive Corp to consult on their online properties Pronto and Citysearch, which later brought me to Los Angeles. From there, I started my own agency, (No Subject), a little over five years ago!
Hayley: I panicked for three months at home in Walnut Creek, California, post-graduation from California Polytechnic State University of San Luis Obispo, before earning an interview for a new advertising coordinator position at 7×7 Magazine in San Francisco.
A year in, I was promoted to assistant marketing editor where I managed all advertiser editorials and designs in addition to the company's social media accounts. Six months after that, I left my magazine job for a marketing designer role at a newly acquired tech start-up in Silicon Valley called Waze.
Tell us more about where you are now. Inquiring minds want to know—how did you land the job?
Sarah: I've been with Blue Chip for nearly eight years. A recruiter had contacted me about the digital role at Blue Chip, and at the time, I was looking to move to a place where I could grow. I took one step into Blue Chip's offices and knew they were different. It felt like I was home.
Jaclyn: I started my own agency in 2009 (I was 24 years old at the time) called (No Subject)—we are a creatively-driven marketing, influencer, and events agency. Starting the agency happened pretty organically—I was taking on freelance clients, and one grew to three and three to six, and before I knew it, I had a staff, offices, etc.
As an agency, we work with amazing clients such as Westfield, Sprint, Marimekko, Levi's, Nasty Gal, and more—we offer services such as creating comprehensive marketing and campaign strategies to throwing measurable events for key influencers and bloggers.
Beyond that, we have our own side projects we are passionate about. We started a creative conference series called Create + Cultivate, dedicated to gathering next generation entrepreneurs and teaching them about the industries they want to be a part of such as fashion, beauty, design etc. The day also features workshops, mentor sessions, cocktails and more; we recently had our 2015 conferences kick off in March with fashion and beauty in LA.
We also launched a company in collaboration with another agency, Small Green Door, called Frankie + Albert—we curate found vintage objects for your home.
Hayley: I'm currently working as a marketing designer at Waze, thanks in part to a friend that I've made it through hell (also known as middle school), high school, and college with. After graduating with the same major from Cal Poly Slo in 2012, I went the magazine route, while she began freelancing for Waze, which, at the time, was just a small start-up with an office in Palo Alto.
Two years and one acquisition later, she emailed me to submit my portfolio for a marketing position her company had posted … and here I am.
Why did you gravitate toward the marketing industry?
Sarah: I always had a passion for anything that allowed me to be creative and artistic. I also loved selling things, so I knew I would end up in business in some capacity.
Early in college, I pieced together my love for creativity and business acumen, and realized that marketing and advertising suited me perfectly. My focus on digital happened later, as technology changed the landscape of marketing.
Jaclyn: Since I was little, I always wanted to be an editor at a magazine and was lucky enough to get key experience through internships at magazines such as SELF, Conde Nast Traveler, etc. What I found was that I was more interested in the marketing and events side of the business vs. editorial—I enjoyed the creativity of the campaigns, the analytics, and learning about what audiences gravitate toward, what they like, and how they interact.
Hayley: I've always loved the idea of making things that people enjoy. I realize I share this passion with countless people in this world, all of whom have taken it in an infinite amount of directions. This love of mine, however, has evolved through traditional art classes, creative writing, graphic design, and now, marketing. With a creative foundation, marketing has allowed me to add a strategic element to my portfolio and turn that love into a career!
What level of education do you think is necessary for success in marketing?
Sarah: Having an advanced degree could be helpful, especially if you are interested in executive level roles. Ultimately, however, it depends on the path you take. If you have a strong sense for business and marketing, you could still have an amazing career with a bachelor's degree.
Jaclyn: I was an intern at NBC during the democratic national convention; I vividly remember Jeff Zucker (the president and CEO of NBC Universal) saying: "It doesn't matter what you study in college; it matters how you approach the subject matter. Apply that to anything you are passionate about post-college, and you can have a career in whatever you want."
I had no formal education surrounding marketing specifically, but I applied my curiosity and passion toward it.
I had no formal education surrounding marketing specifically, but I applied my curiosity and passion toward it. With that, I was able to get outside the box, learn things that aren't necessarily taught in a classroom, and approach marketing from a different point of view.
I think internships are highly valuable for teaching the ins and outs of an industry before diving in head first—real world job experience is truly invaluable when deciding on the career you want.
Hayley: I can only speak for myself in this situation, as I would never discount the value that continued education contributes to a person's life, but to this point I have not regretted entering the work force post bachelor degree. That said, I studied at a school that strongly encourages collaboration between the colleges and the industries they funnel into especially with specialized majors, so I can't say I'd feel the same way had I taken a different path.
I'm fortunate to have the opportunity where I work today to continue learning through various outlets both online and around campus.
Marketing and public relations are often clumped together. In your opinion, are they different? And, how so?
Sarah: I believe that PR, digital, social media, creative, and research all work best when they are part of an integrated marketing plan. They fuel each other, and help your clients accomplish their marketing and communication goals.
[PR, digital, social media, creative, and research] fuel each other, and help your clients accomplish their marketing and communication goals.
Jaclyn: The lines between marketing and PR are definitely growing more blurred; however, they are extremely different.
Marketing focuses around creating strategies both offline and online driven by ROI and putting those campaigns into motion—oftentimes, PR firms are brought in to publicize those campaigns. More and more PR firms are starting to offer influencer outreach—which is where I see the most overlap—but again, it's approached differently.
We reach out to influencers in a campaign-driven capacity, whereas PR is often pitching for pure awareness.
Hayley: In my opinion, public relations is just that—managing the company's relationship with the public, consisting of everything from structuring major company announcements to responding to bad press coverage.
Marketing is more focused on communicating a company's value and translating that into revenue.
Tell us about your current office situation.
Sarah: Ah, technology! Right now I'm on a plane to New York. This morning I was working from my kitchen table, and yesterday, I was in my office in suburban Chicago. I can work from just about anywhere as long as I have an Internet connection.
Jaclyn: We have our own office! I really thrive off having a place to go to work; our offices are really fun, light, open air creative spaces.
Hayley: I'm generally at the office in the Silicon Valley Monday through Friday, occasionally spending time in San Francisco, depending on meetings that day.
Does the team you work with solely consist of marketers or is there collaboration across other departments?
Sarah: There are 25 people on our digital team currently, and we could easily have 30 by the time this is published. We are growing rapidly, which makes for exciting times around our office.
Our agency is really known for collaboration and expertise across disciplines. Unlike a lot of larger agencies, we work seamlessly/collaboratively among various departments, which makes for a much more collegial environment. Blue Chip focuses primarily on three practice areas: brand, retail, and healthcare; I have clients across all three practices, so my days are plenty fun (and plenty busy).
Jaclyn: We currently have four employees. I like to keep the team lean and mean. We all have ownership in our projects and work intimately together but also can operate independently as well.
Hayley: I work mostly alongside designers, product experts, and sales members, all of whom contribute to positioning our ever-changing product before clients in the best way possible.
Can you walk me through a typical workday?
Sarah: Meetings, meetings, lunch, meetings (and sometimes lunch meetings). Because I work on so many accounts, I have the opportunity to peek into the minds of a variety of consumers from meeting to meeting. I might think like a teenage boy in one meeting, an active mom in another, and a patient suffering from Celiac Disease in another.
My goal is to find key insights with these consumers, especially as they relate to digital. And the end goal is to create integrated campaigns that connect with the target audience in a meaningful and effective way.
Jaclyn: I like getting into the office before everyone else around 8 a.m. (a bit of a calm before the storm). Employees typically arrive around 9 a.m. when we have a team meeting. I try to schedule all my calls in the early afternoon and any in-person meetings in the late afternoon, which gives me from 12 to 3 p.m. to really focus on client work. I head out around 6:30 p.m. and almost always have a post-work drink meeting or dinner with clients or partners.
Hayley: I take a shuttle to the office and work for the hour or so that I'm battling traffic (thank goodness for Wi-Fi access on the shuttle). I meet with my team throughout the day and throw my headphones in the rest of the time.
What personality traits (do you think) are necessary for success in marketing?
Sarah: Creativity, leadership, intelligence, courage, and curiosity.
Jaclyn: A combination of creativity, strategic thinking, and social prowess are all key to being a good marketer. You really need to be able to think creatively but also offer measurable results plus leverage your relationships when it might be a good fit.
Hayley: A big imagination; a way with words; practicality.
Most people in this field have an imagination, but it's the second and third that make you a triple threat. Communication skills are key when you consider your job is to convey value to an audience that may or may not have any idea what you're talking about. Practicality comes into play when translating your ideas into real-life initiatives and making the best use of you and your team's time.
What about skills?
Sarah: Lots of PowerPoint and Excel.
When there are no words, there are visuals, and that is something that will set any marketer apart.
Hayley: I'm so grateful for my background in the Adobe Creative Suite and coding. When there are no words, there are visuals, and that is something that will set any marketer apart from the rest of the flock.
This knowledge helps you understand what you're asking of your creative team (assuming that's not you) and also gives you the ability to do yourself what you've dreamed. Having the ability to take an idea and get the ball rolling on your own makes all the difference sometimes.
A position in marketing usually means many different roles within a company. Is that the case for you?
Sarah: It is critical to understand all parts of marketing. I'll be the first one to make a recommendation that is non-digital, and that's because it's right for our client. I could easily make digital a large part of every recommendation, but it has to make sense for the target audience we are trying to engage and what the overall goal of the campaign is.
A can-do attitude and a solutions-driven employee is priceless for a small business owner.
Jaclyn: Yes, definitely. Hiring is always difficult for us because we demand a lot. Can you produce an event and manage vendors? Do you have relationships with bloggers? Can you edit something in Photoshop if necessary? We require a wide range of skills—but often, I will hire based on eagerness since most of these things can be taught.
A can-do attitude and a solutions-driven employee is priceless for a small business owner.
Hayley: Yes. And that's part of the fun! I've managed a company's social media accounts, designed graphics, strategized campaigns, planned events, etc., all of which I love. It keeps the day-to-day fresh and keeps the creative mind sharp.
The most challenging part of your job?
Sarah: We are fully integrated, which is a tremendous asset, but gleaning input from everyone to develop the best possible recommendation can be challenging (as we are all very busy).
However, Blue Chip knows that we do our best work when everyone is involved. We always say: "None of us is as good as all of us."
Jaclyn: I think as a business owner the most challenging part can be letting go. At the beginning of the business, I was hyper-involved in every email, strategy, and decision. It took a while, but finally I can let the business run on its own and take a step back.
Being a new voice in this crowded industry is tough, and I'm still learning.
Hayley: I would say, thus far, a lack of years in the industry; it's frustrating to say because I cannot do anything about my age, and a marketer gets better with time and experience.
Comparing the girl I was two and a half years ago in my first advertising role to the marketing designer I've grown into, makes for a very drastic before and after. It's exciting to think of how far I've come in such a short amount of time and the potential that awaits, but being a new voice in this crowded industry is tough, and I'm still learning.
How is marketing different as it applies to your specific industry?
Sarah: We have clients in just about every industry, but I specifically focus on digital and social media for all of them. The biggest difference is in the target consumer we are trying to engage.
Digital is utilized differently when you are talking to a 28-year-old woman who loves the hottest new makeup trends versus a 55-year-old male that might be experiencing signs of Alzheimer's. They both interact with digital technologies, but their habits and preferences are different.
Jaclyn: We work primarily with fashion, beauty, and lifestyle brands, which plays out in different niches (such as music, art, culture etc.). Our clients are very open to collaborations, partnerships, and outside of the box ideas, which makes our job especially creative.
Hayley: Having practiced marketing in both the magazine and tech industries, I'd say that while there's a lot of overlap, obviously they're two very different beasts. The magazine I worked for focused mainly on culture, covering everything from restaurant openings to fashion shows. This was exciting, and aligned with things I take pleasure in during my down time, making for an extra fun first year in the city!
Transitioning to tech was a great next step, broadening my knowledge of the marketing industry as a whole and quickly teaching me that different audiences expect different things from you as a marketer. Like I said: I'm always learning!
Biggest rewards and perks of the job?
Sarah: Travel, meeting new people, exposure to new technologies and companies that most people have never heard of before, and access to fellow employees that are incredibly smart and teach me new things every day.
Jaclyn: We get to work with some of my favorite brands such as Urban Decay, This is Ground, Levi's—and we get to test-drive products!
Hayley: Turning your dream into reality. So cliché, I know, but it's a metaphoric high that we marketers work for throughout our entire careers. I'll never forget the first time a big idea I had was approved by the client, and my company looked at me to lead the way; it's the little things.
And, what's not so glamorous about your work?
Sarah: There can be long hours. When you work in marketing, you are in the business of client service. You could have a social media emergency on New Year's Eve that needs to be addressed immediately or a client's website may get hacked at 2 a.m. Then it's "all hands on deck" to resolve the situation.
I'm also a full-time mom of two great kids and balancing it all can be a struggle, at times. I'm lucky enough to work for a company that lets me do both jobs well.
Get to love hats. Wear lots of them—as many as you can. The experience and education is priceless.
Jaclyn: I would say the least glamorous side of things comes with event production (lugging boxes, hanging lights, etc.). We are usually sweating in our sneakers and then, at the last minute, we throw on a pair of heels, open the door, and let everyone in—making it look effortless (although it's a ton of work!).
Hayley: The rejection. Nobody likes rejection, especially creative people. We get attached to our ideas and designs, and to have someone tell us they aren't good enough takes some getting used to. It's all part of the job, and I wish I could say it's gotten easier for me as time has passed. I guess I've grown a thicker skin over the years, but mostly rejection challenges you to get better at marketing your ideas, which isn't such a bad thing!
What advice would you give to someone who is just starting out?
Sarah: Get to love hats. Wear lots of them—as many as you can. The experience and education is priceless.
Jaclyn: Try and get experience at a small agency, whether an internship or entry-level job—you will learn the ins and outs quickly. Agency experience is always a plus in marketing whether you want to continue down that path or go in-house.
Hayley: A few good tips:
1. Never stop networking. While years in the industry is something you can't help when you're young, insight from senior marketers can fill in the blanks as you build your own career.
2. Keep track of your projects, their progress, and list a couple names of people you worked on each one with to use as a reference down the line.
3. Trust yourself and believe in your ideas. They got you this far and in the marketing industry; they're going to be what takes you to the top.
Follow and connect with Sarah of Blue Chip Marketing Worldwide; Jaclyn of (No Subject), Create & Cultivate, and Frankie & Albert; and Hayley of Waze at Google:
Sarah: LinkedIn | Twitter
Jaclyn: LinkedIn | Twitter | Instagram | Pinterest
Hayley: LinkedIn | Instagram