Although she began her career in finance, one quick look around Casey DeBois's New York City apartment will tell you she made the right decision by switching to a career in design. Now an interior designer for Homepolish, Casey spends her workdays doing what she loves most – bringing new life to spaces through furnishings, fresh coats of paint, and plenty of unique decor details. As Casey puts it, "It's surreal to have something that only existed in your head suddenly have a permanent physical presence. It never gets old for me."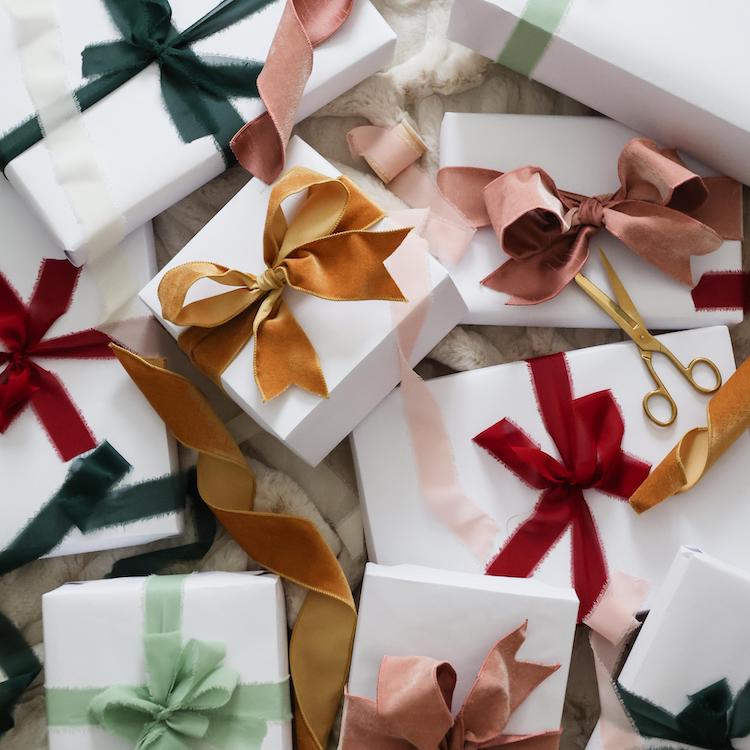 the perfect gifts for everyone—and we mean everyone—on your list
We're excited for you to take a peek around the Frank Gehry designed (for all you architecture fans!) apartment Casey shares with her husband and their adorable pup, Tuck. From the gold wall details in the entryway to the neutral palette of the living room to the vibrant colors of the home office, Casey isn't afraid to try new ideas when inspiration strikes. And for that we applaud her! So grab a cup of coffee, settle in, and take a tour of this beautiful New York City home.
Name: Casey DeBois
Age: 29

Location: New York, NY
Current title/company: Interior Designer, Homepolish
Educational background: Fashion Institute of Design, New York, NY
After seeing your home, it's no surprise that you're an interior designer! Tell us about your career background.
I was introduced to design at a young age, spending lots of time on the job with my father, who is a contractor on Long Island, New York. I originally went to school for interior design, but was persuaded to try a career in finance. I did pretty well in that field, but found myself more interested in studying architectural plans for the office redesign than the Wall Street Journal. So I decided to ditch the finance career and focus on interior design full time.
When apartment hunting, what were you looking for in a home? What sold you on your current space?

We lived in a one bedroom in the West Village before moving to our current home. We were definitely looking for more space; ideally something with a home office. We were fortunate to find a second bedroom that can double as a home office and guest bedroom. We loved the architectural detail of our building. I have followed Frank Gehry for years, and was really excited to live in one of his buildings. But what really sold us was the sunlight and the view. We have spectacular views to the east, and can see as far as Coney Island, Sandy Hook, and the Atlantic Ocean.
There's nothing quite as exciting or intimidating as an empty room to furnish. Tell us about your design process. Where do you begin?
I break the space up in my mind and picture different scenes. It has to start with function – such as, what pieces you need to make the space work — but I always try to picture living in the space. So, if I am sitting in this breakfast nook, what's my experience on a Sunday morning? I work really closely with my clients to understand their vision and make sure this is somewhere they want to long to come home to. That's how I feel about our current apartment.
Your house is full of one-of-a-kind pieces! Do you have advice on how to create a unique home on a budget (when sometimes our only options are big box stores!)?
That's the thing, one of a kind pieces don't necessarily need to cost a fortune. They just sometimes take a little extra effort to find. But marketplaces like Etsy make the world a much smaller place, and access to vintage treasures has become much easier. As for the big box stores, you'd be surprised how much a shiny coat of paint and funky hardware can change a very plain Ikea dresser. The nice thing about Ikea is that it's reasonably well made and very inexpensive. With a little creative inspiration and some DIY know-how, you can create a completely different piece than what you'd see on the floor of the show room.
How long has it taken to get your home to look the way it does now? At one point do you feel like a room is "finished?"
Your home is never finished when you're a designer! I am constantly finding amazing new pieces that I love, but they are not necessarily better, just different. I do think there is a point when you feel like a room works, and you can move on to the next room or project in your home. I spent about 40-50 hours on my current home, over several months, but it was probably 90% done in the first 2-3 weeks, since then I have just been tinkering and adding interesting new pieces.


What is your favorite budget-friendly piece in your home? Why?
Probably the rope chairs that I found on Etsy ($450 for the pair). They were actually the first thing I bought. The size and style were what I was looking for and I started to blend other pieces around those two chairs.
When do you advise your clients to save on home decor? And splurge?
I'd say it depends upon where you are in life. If you're settled and own your home, you can start to invest in pieces that really fit the space. If you're renting and may move in a few years, you need to be practical. Try to invest in the things that are reasonably sized and can move with you and things that have durability. That said, there is also an after-market for furnishings, so if you go that route, vintage pieces tend to hold value (or even appreciate in value) better than store brands.
Tell us about that tufted sofa! We need details.
It is definitely a focal point of the room. It's from Restoration Hardware. It has sharp, clean lines, but is super comfortable. And our dog, Tuck, loves to lie on the oversized arms and back of the sofa.
You somehow managed to decorate your home impeccably despite one of the biggest challenges around: living with a boy! How did you design a home that suits both of you but also feels cohesive and refined?
It's funny you say that, because I find that the bigger challenge is living with a dog. Our last apartment was originally my husband's, so it was a challenge to really influence the design of his bachelor pad. We moved into our new place with a clean slate, and an opportunity to create a home together. We have similar tastes (I'd like to say I've taught him well), but I'd say the biggest thing we challenged each other on was form vs. function. I'd fall in love with detail on the legs of a sofa, and he'd just want to know if it was comfortable enough to watch the game. Like everything in life, you learn to meet in the middle. We find there is enough room for my eclectic art pieces and his travel photos. At the end of the day, we both want our home to reflect our personal style and be a place that is welcoming to our friends and family.

What is one of the biggest misconceptions people have about being an interior designer? What are the most rewarding and challenging parts of your work?
Some people think we just shop all day and pick our paint colors all day. I actually really like the technical side of it. I love building things, doing autocad drawings, and I love working with architects and contractors to figure out how to bring a design concept to life. Thinking of an innovative space solution is exhilarating, but that's only half of the equation. Then it needs to be constructed in a safe and high-quality way. I probably shouldn't admit this, but I sometimes get emotional when I see my designs in real life for the first time. It's surreal to have something that only existed in your head suddenly have a permanent physical presence. It never gets old for me.
What are your current career aspirations? Where would you like to see yourself in five years?
One of the nice things about design is that it's always changing and every project is different. I really love what I do, and I want to keep growing artistically and professionally. I also love that this is the kind of job that I can do anywhere, and on my own terms, so I feel like my career can be really flexible.


What advice would you give your 23-year-old self?
Step away from the platinum hair dye! Ugh, too late. Well, I think, "be true to yourself" sounds really trite. But I do think knowing yourself and knowing your strengths is hard at a young age. I am glad I tried a more conventional career and figured out that its not what I wanted to do. It makes me appreciate my current job all that much more.
Casey DeBois is The Everygirl…
Favorite tricks to make a rental feel like your own?
Fresh paint (new colors) and changing light fixtures are the easiest things to do to have immediate impact, and it's the easiest things to switch back when you move out.
Go-to furniture store?
Furnish Green – locally sourced vintage pieces; they constantly are making room for new inventory and the staff is super friendly and helpful.
Dream design project?
I am recently married, so I may still have weddings on the brain, but recently I have been thinking about how cool it would be to redo a small beach hotel/b&b that could also double as a wedding venue.
Favorite way to unwind?
Bar Method; I try to go every day. It always pushes me and gets my mind off work for an hour.
If you could have lunch with any woman, who would it be and what would you order?
There are so many women I could name for this – who wouldn't want to get an hour to "break bread" and pick the brains of women like Hilary Clinton or Sheryl Sandberg? But if I'm being honest, I think Chrissy Teigen would be at the top of my list. I love doing long lunches with friends (that sometimes turn into dinner) that involve a lot of laughs (and wine). Chrissy is hilarious and I love that she isn't afraid to keep it real. I imagine we'd have a good time – well, I would, I can't speak for Chrissy. And I'd let her order, she's quite the foodie.