Reality TV stars aren't usually the first ones we think of as having impressive careers with longevity. But for Kelsey Nixon, competing as a reality TV contestant has only helped sustain her impressive career. After submitting episodes of a cooking show she created while attending Brigham Young University, Kelsey was cast on season four of Food Network Star. Kelsey didn't win her season, but her bubby personality and fresh approach to cooking charmed audiences to make her a fan favorite; dazzled the executives at Food Network enough to keep working with her; and inspired Bobby Flay to become her mentor. After a few years of working at restaurants and food companies as a recipe maker, Kelsey used the connections she made during her time on Food Network Star to pitch her own show to Food Network's sister channel, the Cooking Channel—and Kelsey's Essentials, a show that teaches viewers about the must-have tools, ingredients, and easy recipes to have on hand, came to be.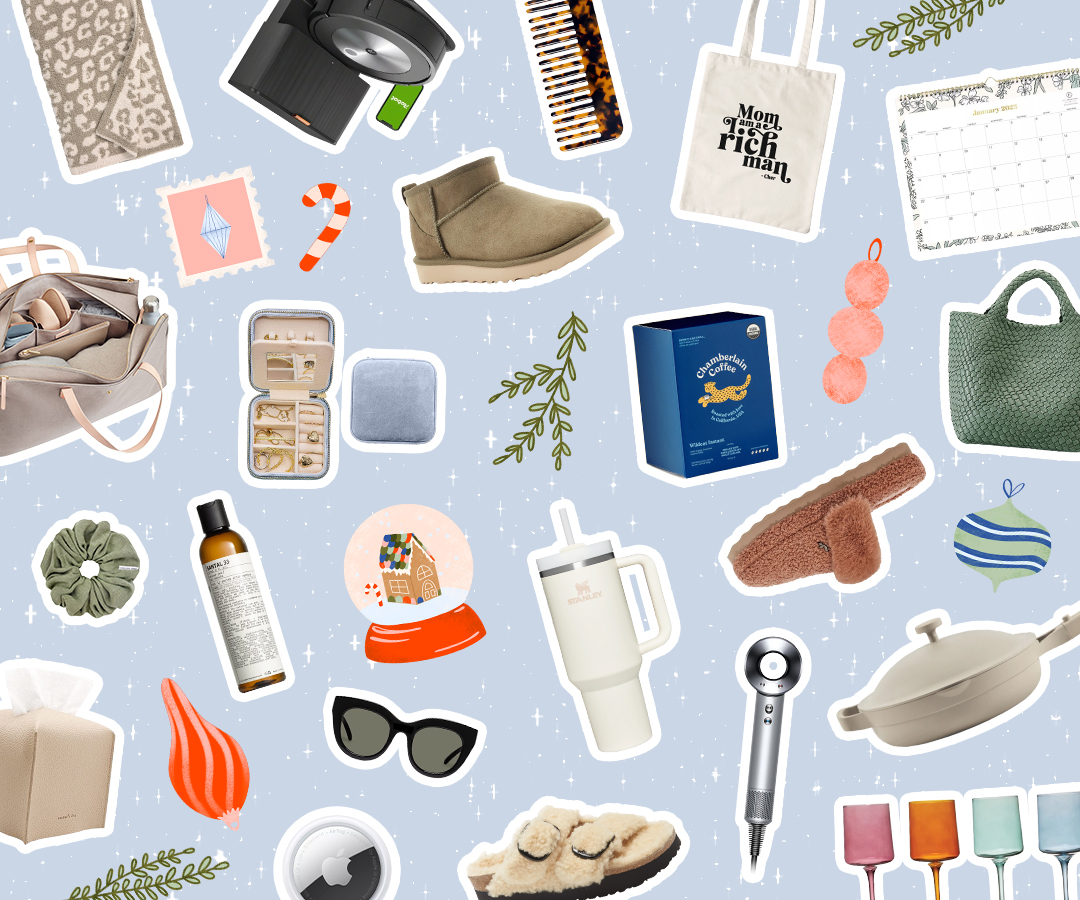 With hundreds of thoughtful gifts, you're sure to find something for everyone on your list!
Also while hosting Kelsey's Essentials, Kelsey has found time to write a cookbook, Kitchen Confidence, and build her website Kelsey's Kitchen with mouth-watering blog posts and glimpses into her life. When Kelsey isn't leaving her mark on the culinary world, she's a busy mom to her son Oliver. She credits her ability to juggle her work with and personal life to organization. "Being organized helps me feel like my life is more in control than it actually is. I think that organization helps me manage the stress of it all." That, and working while her son is napping!
We're thrilled to feature Kelsey today on The Everygirl. On top of being big fans of Kelsey's Essentials, which is always inspiring us to become better cooks in an Everygirl way, we love that the Kelsey we see on TV is the same bubbly, warm gal when the cameras stop rolling. So read on to learn how Kelsey turned her communications degree into a culinary career, listen to her advice on how to make the most of every opportunity, and be inspired to cook up something scrumptious today!
Full name: Kelsey Nixon
Age: 29
Current title/company: Host of Kelsey's Essentials and Author of Kitchen Confidence
Education: BA in Communications-Broadcast Journalism from BYU and Le cordon Bleu in Hollywood
What was your first job out of college and how did you land that position?
After earning my bachelor's degree, I went straight to culinary school and worked as a private chef throughout that experience. I was cast on Season 4 of Food Network Star right after I graduated culinary school. I finished respectably in 4th place, but I came home having no idea what I was supposed to do next. In a way, I felt like I was searching for my first real job at this point despite having been out of school for a little over a year. Bobby Flay had given me the advice on Food Network Star that "there was no substitute for experience" and that I needed to get some. I took his advice very seriously and knew that I wanted to be in a restaurant, just not in a traditional line cook role. I really wanted to do menu and recipe development, so I approached Cafe Zupas, a local fast casual restaurant in Utah, and asked about doing just this for them. They were a cult favorite in the area and were expanding fast. I was so thrilled when they gave me a shot! It was a fantastic "first" job.
You've had previous jobs/internships at Martha Stewart Living and Food Network. How did you begin working for those companies? What were those experiences like?
My incredibly valuable internship at Martha Stewart Living came after I responded to a posting on Career Builders. I couldn't believe it actually worked! Before I knew it, I was interning on the set of Everyday Food and working in the television department at MSL. That internship turned into a second internship the following summer working on the debut season of The Martha Show that aired on NBC. I made the most of that summer and split my time working on a season of Sandra Lee's show Semi-Homemade Cooking that aired on Food Network as a production assistant. I landed that gig thanks to a relationship that I'd made with an art director at MSL. All of these internships groomed me for pursuing my dream job in a unique industry. I loved every second of those summers and soaked it all up like a sponge.
The craziest thing now is that my internships have come full circle. The production company that I worked for as a PA recently produced a special that I hosted for Cooking Channel! So many of the same people that I worked with—and looked up to—over 10 years ago were now producing television that I was hosting. In fact, I'll never forget when a culinary producer on Sandra's show told me that I should go to culinary school if I wanted to break into the industry, especially at such a young age. That culinary producer still works at Food Network and has worked on Kelsey's Essentials. I'm so grateful for my internship experiences. They were pivotal in getting me to where I am today.
Were you always interested in the culinary arts? You started Kelsey's Kitchen, while studying at Brigham Young University. Did your college experience influence your desire to become a chef and/or TV personality? Did you apply the skills you learned at BYU to cooking school or your current jobs?
I grew up in a family that loved food and cooking, but it wasn't until I left home for college that I realized just how much I personally loved to cook. When my mom's meals stopped showing up at the dinner table, I was forced to do my own cooking. Through that, my passion for it really took shape. Because I was a broadcast journalism major and had ambitions to work in television, I couldn't think of anything better than combining the two! I was also a huge Food Network fan and even scheduled my class schedule around my favorite shows. It basically became my dream job to work in food television, and I felt determined to figure out a way to do it. BYU championed my crazy dreams and supported me to the fullest. When I approached a professor within the communications department about creating a college cooking show, he was totally for it—as long as it looked good. I took the initiative to host and produce the show, but the university created an elective class where students could sign up to work on the show. This professor oversaw all of the details, but he basically let me run it! We shot 100 episodes of Kelsey's Kitchen over the course of two years, and I strongly believe that the reason I was cast on Food Network Star was because of my experience with Kelsey's Kitchen. I'll forever be grateful to BYU for their support.
After graduating from BYU, you were accepted at Le Cordon Bleu. What was it like attending culinary school? We've heard that the process can be very overwhelming and demanding! How did you handle the stress?
I loved being in culinary school! In fact, I'd go back in a heartbeat if I could. Because I came straight from earning my bachelors degree, I was already in student mode, which made the transition a bit easier I think. It was demanding and tough work, but I was so motivated to be there. I felt like I attended school with purpose. That helped me get as much from the experience as possible. Knowing which direction I wanted to go after school was so beneficial.
I felt like I attended school with purpose. That helped me get as much from the experience as possible. Knowing which direction I wanted to go after school was so beneficial.
Your big breakthrough in the culinary world was being selected for Season 4 of Food Network's cooking competition Food Network Star. While you didn't win, you did end up being 'Fan Favorite' due to your infectious personality and relatable cooking style. What advice would you give to young women who want to be in the entertainment or culinary world and need to keep an audience or a diner engaged every single day?
It's going to sound so cliché, but the best way to find success in front of the camera is to be yourself. Act as if you would in your own home with no cameras. That's what viewers respond to. It's surprisingly difficult though! It takes time and experience to get used to a camera being in your face. The more time I spent in front of a camera, the better I got and the more comfortable I became. I also believe that "being yourself" shouldn't be taken as winging it. I prepare every single time I'm going to be in front of a camera, whether it's a morning show, my own show, or an interview. It's important to know your content and know it really well. 

It's going to sound so cliché, but the best way to find success in front of the camera is to be yourself. Act as if you would in your own home with no cameras. That's what viewers respond to.
How did you take the experience on Food Network Star and use it to work for brands like Pyrex and Smuckers?
Food Network Star opened doors immediately. Even though I didn't win, I received a good amount of outreach from brands after being on the show. What was important though was keeping momentum and finding a way to stay relevant after all of that great exposure. Working with brands like these was a great way to do so. I also made an effort to really nurture the relationships that I'd made along the way. A few people stood out as mentors, like Bobby Flay. I stayed in contact by sending occasional and appropriate emails asking for direction and advice. Then, when an opportunity presented itself with Cooking Channel those relationships became very valuable. Bobby's company Rock Shrimp Productions ended up producing Kelsey's Essentials, and I think that had something to do with me developing a great mentor relationship with Bobby.
Was your experience on Food Network Star what led to you star in the Cooking Channel's Kelsey's Essentials? Take us through the process of creating your cooking show.
My experience on Food Network Star was a huge stepping-stone to eventually getting my own show on Cooking Channel. I joke that after the show they stuck me on the "farm team" for a few years—meaning that they had me appear as a guest on a variety of shows on the network in addition to some web projects. When they created Cooking Channel and were looking for talent, I was rip, roaring, and ready to go. I'd found a way to keep myself in front of the camera, so I gained valuable experience. In addition, I was working as a recipe developer for big brands. Because of all that, I knew what I wanted to say to people and what I wanted to stand for. When I was approached about the possibility of a show on Cooking Channel, I knew exactly what type of show I wanted to do and luckily it was in line with their goals as a network.
Kelsey's Essentials teaches viewers tips and techniques for creating dishes that are classic but with fun twists. Do you enjoy teaching the fundamentals of cooking?
I love the mission of Kelsey's Essentials. It's a fresh approach to the basics in the kitchen, and each show includes recipes that I think every home cook should have in their back pocket. The format is great for both new and experienced cooks. I feel very lucky to have a platform to share the solutions that work in my own kitchen with my viewers. It's the best part of my job!

What is your favorite thing to cook? Any dishes that you detest preparing and/or eating? Are there any flavors or spices you don't like to use?
I love making sauces. I think that a delicious sauce can take a dish from good to great. Whether it's a pan sauce or a simple vinaigrette, I can't seem to get enough! I like just about anything, but I do hate cream cheese. I don't mind cooking with it, but I would never even think of smearing it on a bagel!
And you're now writing cookbooks! Why did you decide to write? How did you publish your book, Kitchen Confidence?
Writing a cookbook has been on my bucket list. It's something I always wanted to do, and I'm so glad I did it! Kelsey's Essentials was a great platform for the book, and I consider Kitchen Confidence a wonderful companion to the show. After putting together a book proposal, it was sent to multiple publishers. I ended up choosing to work with a publisher that I've admired for years. I was so thrilled they wanted to work with me as well. Writing the book was hands down the most challenging thing I've ever done in my career. I have unbelievable respect for any author out there. 

Do you ever feel overwhelmed juggling various jobs and being a mom to your adorable son? How do you handle that stress? What do you do for "me" time?
I feel overwhelmed all the time! My son Oliver is almost two, and I'm still searching for the right balance between work and home life. It feels like a juggling act most days, but I'm very grateful that I get to spend a lot of time with my son. When I'm filming, days are long and intense. However, that only accounts for about 6 to 10 weeks out of the year. The rest of the time I have more flexibility and can do a lot of my work from home, which includes recipe testing. Admittedly, most of that work happens during naptime and between the hours of 8pm and 12am, but it works for my family and me. Being organized helps me feel like my life is more in control than it actually is. I think that organization helps me manage the stress of it all. When it comes to "me" time, I love a long hot bath!

What does a typical day for Kelsey Nixon entail?
My days change quite a bit. A filming day is completely different than a recipe development day. When I'm filming, I'm usually out the door by 6:00am and don't walk back in again until 7:00pm or later. They are long days but so much fun. When I'm not filming, I get up with my son and spend the mornings with him. We make breakfast and go to the park before I put him down for a nap. I always work during his nap time, and then usually my sister Kylie helps me in the afternoons. She'll watch Ollie or help me with work projects like blog posts, photography, or design. We're a great team and I'm so grateful that we get to work together!
What advice would you give to your 23-year-old self?
Relax and enjoy the journey. Things happen for a reason, and sometimes events that feel like huge disappointments when you're younger turn out to be the greatest opportunities you'll have.
Kelsey Nixon is The Everygirl…

Describe your perfect day.
I'm a homebody! My perfect day would be spent with my family at home and enjoying our neighborhood. It would be slow paced and easy going with no obligations. And we'd all finish the day with a slice of pie!
What is your go-to date night dish?
Skirt steak with a chimichurri sauce paired with roasted fingerling potatoes and a simple salad. It's quick and easy, yet feels special enough for a date night.
Best moment in your career so far.
Being nominated for a Daytime Emmy Award.
The top 5 kitchen tools Everygirls should own.
1. A cast Iron skillet
2. A great chefs knife
3. Spring Loaded Tongs
4. A bench scraper
5. A big wooden cutting board
If you could have lunch with any woman, who would it be and what would you order?
This may sound crazy, but my answer is Tami Taylor from the TV show Friday Night Lights. In real life Tami Taylor is Connie Britton, but I'd want Connie Britton in character the whole time. I'm a huge fan of the show and her character in particular. We'd eat Texas BBQ and discuss high school football and parenting. In my dreams!