If you were to run into college-aged Eileen Street and ask her where she saw herself working in the future, she probably wouldn't name The Grand Canyon, Yosemite, Washington D.C., Florida beaches, Yellowstone, Canada, Las Vegas, the Amazon Jungle, Buenos Aires, or Rio de Janeiro. But as a Contiki Vacations Tour Manager leading groups across the United States, Canada, and South America, Eileen is living every adventurer, traveler, and wanderluster's dream. With parents who met while her dad was working as a tour driver/guide in California, it almost seems pre-destined that Eileen would end up working in the same industry. But things didn't click into place right away. Before landing her Tour Manager position, Eileen worked various advertising and PR internships and created a marketing and publicity position for herself at Transcendental Media. At the end of the day, she still had an unfulfilled desire to work and travel. Fast-forward to 2014 and Eileen has found her niche—all over the globe.
Fueled by a #noregrets lifestyle, Eileen talks to us about how her determination and desire to travel has pushed her to take risks, where she's been and where she plans to visit someday, and what it's like to work a 24-hour job (on the road, no less!). Keep reading and you might find yourself itching to hop on a plane. And you just might be inspired to capture your very own dream job, wherever it may be.
Full name: Eileen Street
Age: 28
Current title/company: Tour Manager, Contiki Vacations
Educational Background: B.S. in Business Administration with an emphasis in Marketing and a B.A. in Spanish from California State University, Long Beach.
What was your first job out of college and how did you land that position?
I created my first job out of college, which was handling marketing and publicity with Transcendental Media, a Los Angeles-based film company that aims to make documentaries to "agitate the sleep of mankind."
In my last semester of college, I was unsure of what I wanted to do. The year prior, I decided what I thought I always wanted to do wasn't it anymore, and the job interviews I went on didn't excite me. However, during that last semester, I applied for a travel internship, which required a video application. It was my first time shooting and editing a video, but I felt a passion and focus that I hadn't felt in awhile. It made me think that perhaps film was an industry I should get into. I didn't have a film degree, but I had a marketing degree!
I've always had a passion for independent film, and I enjoy things that push my limits intellectually. I recalled seeing a documentary, "Flight From Death: The Quest for Immortality," the previous year and researched who produced it. Turned out the film company, Transcendental Media, was just a few miles away from where I lived! They were a very small company and didn't have any jobs available. So in a nutshell, I offered to handle the publicity for their newest documentary release for a month. I was successful in my work so the company decided to hire me full-time. It was the first time the company had a full-time in-house employee dedicated to marketing and publicity. It was an experience with a huge learning curve and I'm happy I took the risk.
Take us on a brief synopsis of your career path. Have you found your background in PR, Marketing, and Spanish to be beneficial along the way?
In college, I was very career driven and preferred real life experience to the classroom. I worked various internships in the fields of advertising and public relations. When I graduated from Cal State Long Beach in May 2009, I had the month-long stint at Transcendental Media, mentioned above, lined up. Transcendental Media then hired me on full-time and I worked there until January 2011.
I still had an unfulfilled desire to work and travel. So I applied for the USA Tour Manager position at Contiki Vacations in mid-January 2011 and started training on Valentine's Day that year. I initially just led tours across the United States, but Contiki Vacations was aware of my Spanish fluency, so when they needed last-minute help with their first tours in South America, they asked if I was interested and I didn't hesitate saying yes! I ended up working a total of nine months over two years in South America for Contiki.
I never imagined in college I would ever work in South America. I just enjoyed speaking Spanish. Working for Contiki Vacations in South America made me realize all my time and effort to learn Spanish was worth it! It also showed me that I could incorporate Spanish into my career. My experience in marketing and public relations via coursework and internships, coupled with my ambitious nature, provided me the skills necessary to work for Transcendental Media in a very autonomous role. This showed me that I could do anything I put my mind and focus towards.
You were working in PR and marketing when you discovered Contiki Vacations. Where did you find encouragement to apply for a USA Tour Manager position? What's the story behind getting an interview and landing the job?
I've always had a passion for travel and after college I still felt a burning desire to work and travel. In my free time, I researched ways to make that happen. In early January 2011, I remembered that the CEO of Contiki Vacations spoke at my university's American Marketing Association meeting. I looked online to see if they were hiring and I saw the Tour Manager position.
The real encouragement to apply came from my Dad. In the early 80's, he took some time off at university and started working for a company called "Your Man Tours." He worked as a tour driver/guide (I don't know how he did both!) throughout California. That is actually how he met my Mom (she was a passenger on vacation from Wisconsin). He always spoke so fondly of the experience he gained from that position. When I told him about the position with Contiki Vacations he encouraged me to apply.
To land the interview I tried to think of what would make me standout amongst other applicants. Contiki Vacations asked for a resume, a completed seven-page application, two letters of recommendations, and a travel journal (with no specifications on what that meant). For starters, I wrote a cover letter even though Contiki didn't ask for one. I also researched the company and paid close attention to the job description. I made sure to incorporate Contiki's "personality" into my cover letter and made sure my experience highlighted every bullet point that they asked for in the job description. I emphasized that I understood this position is about giving the customer the experience of their life. I also made it clear that I knew this was a job and not an opportunity to travel on someone else's dime. I made a short video, which highlighted my previous travels, for the travel journal. I triple checked every document to ensure it was flawless. I had one letter of recommendation from a previous job in promotions and customer service and then the other letter of recommendation was from the Director of a camp that I taught English at in South Korea. I submitted all materials in a professional folder that also had a slit to hold the DVD. On the DVD I printed a label as well. I basically just tried to make everything look perfect and stand out. I also followed up once I knew the application was delivered to ensure Contiki received the packet. The Operations Manager emailed back right away saying she did and then scheduled the phone interview with me that day. And the rest is history!
Tell us about your responsibilities as a tour manager. What skills/personality traits do you find necessary to succeed in this industry?
As a Tour Manager for Contiki Vacations, I am responsible for all on-the-road organization during a tour, so organization is key. There are many other skills and personality traits that are necessary, such as being a forward-thinker, personable, flexible, creative, and patient. In addition you must have excellent public speaking skills as you spend a lot of time on the microphone. Some responsibilities include managing the passengers on tour (normally 30-50 people) and your relationship with the driver, giving all city tours and history/cultures talks, confirming and making reservations, planning tour activities, managing tour finances, and handling any client issues (such as medical) that come your way.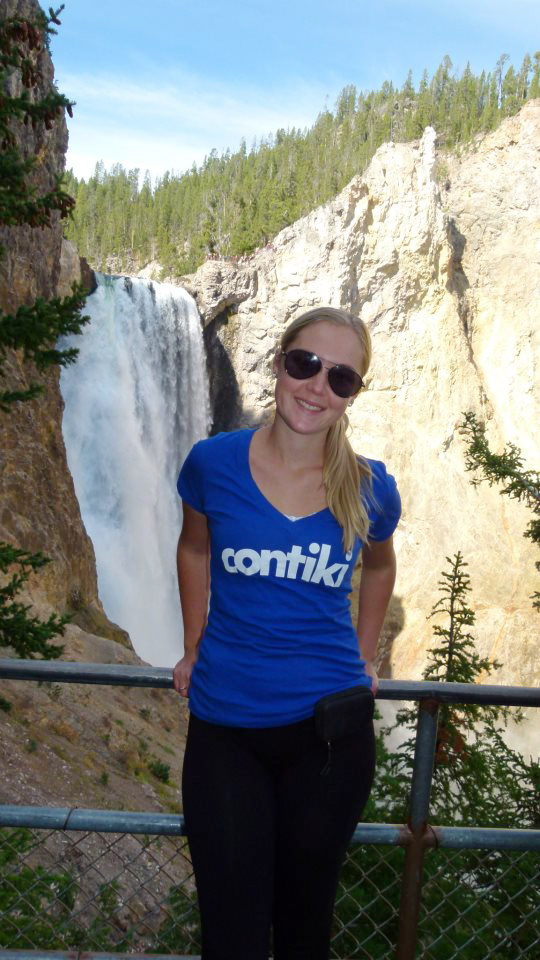 It is also important to maintain equanimity during unforeseen, high-stress, events such as client medical situations, client/supplier disputes, airline strikes, weather changes, etc.! One must think on their toes, keep Contiki informed, and know how to address the group during these situations. The most important aspect of the job is ensuring that each traveler has #noregrets and the experience of their life while traveling with Contiki Vacations. The experience a Contiki traveler has on tour likely determines if they will travel with Contiki again in the future. So when I am on the road, I am the face of Contiki Vacations.
You've managed tours in the US and Latin America. Can you tell us about some of the highlights you explore in these regions?
In the United States highlights are dependent on which tour you go on. Our Wild Western 14-day tour on the west coast highlights major cities (San Diego, Los Angeles, Las Vegas, and San Francisco) and also nature, such as one of the seven natural wonders of the world, the Grand Canyon, and the beautiful Yosemite National Park in California.
Our Grand Southern tour is 26 days and explores the south of the United States. I love the mix of America's southwestern culture. Passengers always love Texas and the culture of cities like Memphis, New Orleans, and Savannah. Washington D.C. is always a nice surprise for passengers. I think they always expect it to be boring because it is the nation's capital, and they are blown away by how much the city has to offer. We spend the most time in the state of Florida. Its beaches and Miami nightlife are always a big hit! The Grand Southern is our most popular tour.
Our Grand Northern tour is also 26-days and gives a great mix for someone who likes a bit of everything. The first two weeks on tour, we travel to major cities in the U.S. and Canada (Boston, Quebec City, Montréal, Toronto, and Chicago). However, the last two weeks of tour we spend time in small towns and National Parks in the U.S. My favorite National Park is Yellowstone. There are some parts of the park where I feel like I'm on another planet! We top off the tour with the last three nights in Las Vegas! I highly recommend this tour for people that like both big cities and nature.
In South America, I led the 25-day "The Adventurer" tour, which covers major highlights in Peru, Argentina, and Brazil. The best parts are the Amazon Jungle, Machu Picchu, Buenos Aires, Iguazu Falls (collection of 275 waterfalls on the Argentina/Brazil border), Rio de Janeiro, and the beach/resort town of Buzios outside of Rio. Contiki travelers always love the vast difference in culture between each country and compared to home.
Describe a typical day (or week) working as a Contiki Tour Manager!
A week would take a few pages so I'll stick to one day! There is no typical day on Contiki, which I love! I normally get up around 6:30 a.m. and get myself ready, check under the bed to make sure I don't leave anything in the hotel (important), and organize my paperwork for the day. I usually skip breakfast to get more sleep. Everyone brings their bags down at 7:45 a.m. and we are on the road by 8 a.m. Throughout a typical driving day, we usually have one to three stops with 2-3 hours of driving in between. Stops can range from a simple restroom break to a two-hour stop in Santa Fe, N.M. to have lunch and sightsee. The stops vary depending on where we are driving.
During a driving day, I will talk on the microphone for about 2-4 hours depending on what's going on. For example, on our drive from Dallas, TX to Memphis, TN, I talk about Texarcana (a city that straddles the Arkansas and Texas border), the state of Arkansas, the Arkansas State Capitol Building, Little Rock, Ark., a Civil Rights history talk, a Tennessee state talk, and then I conclude with a city tour of Memphis before we get to the hotel. In addition, I give practical information at each stop to let clients know what options there are to eat, where the restrooms and ATMs are, etc. I also make sure to "walk the coach," which is where I ask each person how the last city was, what they enjoyed, etc. We may play a game such as coach trivia, and we may watch a movie that relates to the city we are driving to. For Memphis I usually play The Blind Side or Walk the Line. While passengers are listening to music or watching a movie I am making phone calls and doing paperwork for the tour.
When we arrive at the hotel (3-5 p.m. depending) there is normally 1-2 hours to settle in. During that time, I usually always have things to organize for the tour. I've learned how to get ready in 15 minutes on Contiki! Around 7 p.m. the group meets for dinner and afterwards, I take them out for nightlife. I always try to find nightlife options that are unique and different. For example, a bar that has classic arcade games for free, line dancing lessons, or the largest honky tonk in the world, to name a few. Depending on how much work I have the next day, I stay out with the group anywhere from 11 p.m. till 4 a.m. It's all about pacing yourself! I usually average about 4-6 hours of sleep per night, but I have pulled all-nighters too. Even when I am back at my hotel, I am on-call. So if a client has a medical emergency or something happens, I need to be ready to respond. This is definitely a 24-hour job!
What's your schedule like? How often do you travel? Do you find yourself needing downtime to relax and refuel?
I typically work five months on and then one month off with Contiki Vacations. So I normally tour 10 months out of the year. When I have time off, I sometimes visit my sister and brother-in-law in Minnesota or stay in Los Angeles to visit college friends. Normally though, I go home to the Bay Area in California to spend time with my family. I also live there between tours, because with this job it is crazy to rent an apartment. You are just wasting money. I live out of a suitcase! I don't travel other than seeing family and friends between tours because I have been saving to take a round-the-world trip in the future. I did go to Australia in November 2013 for a month though, which was amazing!
I definitely need downtime to relax and refuel. The best way to do that is sleep! Other fun things I do to recoup and relax is get a pedicure with one of my drivers (okay that only happened once), go to the movies, see friends in cities on my days off, call family and friends, or explore parts of the city that interested me.
How do you find balance between your personal life and professional life? Have you gotten a chance to travel outside of work?
This has been a challenge for me because when I get focused on something career-wise, it is hard for me to pull away. The greatest stress reducer for me is dancing. I try to take dance classes when I can. Currently I'm really enjoying salsa. I've recently started a course on meditation, which is great too. Reading and watching movies are also a great way to relax.
I have traveled a bit outside of work. I studied abroad in Spain for a year during college and traveled a bit in Europe. I also taught English at a summer camp in South Korea and with the money I earned, I traveled throughout the country. I have been to the Caribbean on a cruise and have also volunteered in Mexico. Since working for Contiki, I haven't traveled a lot personally (except for the trip to Australia mentioned above) because I travel when working. However, after my first four months in South America, I was able to go to Rio de Janeiro's carnival. It was a great way to top off my adventures working for Contiki in South America.
Many people think that traveling is very expensive, but in reality, if you are resourceful and do your research you can find ways to do it without having a lot of money.
What do you enjoy doing during your down time when traveling and when you're back home?
That is a hard question because for the past three years, I haven't had much downtime! When I have downtime on tour, I try to get out and explore new things in the city, specifically things our scheduled itinerary didn't have time for. I also have many friends who live all over the United States. So I try to catch up with them when possible. When we're in National Parks, I really enjoy hiking. When I am not on tour, I enjoy spending time with family, catching up with friends, reading books, going out, going to the gym, and going to the movies. When you are on the road ten months out of the year you miss simple things like just going to a movie theatre and reading a book because when on tour, you don't get a lot of personal time to do those kinds of things.
Do you have any advice for women looking to work in the travel industry?
To work in the travel industry, you definitely need a passion for travel and showing you already have one is a plus. There are so many facets to the industry that one must do their research, like with any career, to find a path that is right for them. Many people think that traveling is very expensive, but in reality, if you are resourceful and do your research you can find ways to do it without having a lot of money. For example, there are so many opportunities for those with a college degree to teach English in South Korea and one can easily save $10-20,000 in a year. Go out there and experience a new culture and meet some new people. Afterwards take some of the money saved and travel to other places you want to visit. Southeast Asia offers a lot of bang for your buck!
After you have some travel experience, take your interests and the skills you know, and start researching how you can turn that into a career. I like customer service, business, traveling, and learning, so tour managing with Contiki Vacations seemed like the perfect fit for me. If you're interested in being a tour manager, look into ITMI (International Tour Management Institute). I personally didn't do it and you don't need to do the course to work for Contiki because they will teach you everything, but some people I have met who used ITMI found its training helpful. They have an event you can attend where the whole purpose is to interview with tour operators so you can find a job that fits you. There are hundreds of tour operators around the world. Contiki Vacations caters to 18-35 year old travelers, but there are tour operators who focus on nature travel, adventure travel, travel for retired people, travel for women, and the list goes on. So knowing what you want is important.
What obstacles have you faced during your career and how were you able to overcome them? What are the greatest rewards?
My greatest obstacles have been not trusting myself and lacking confidence in my abilities. For example, during my training with Contiki Vacations I lacked confidence in my ability to lead such a large tour. Also, when Contiki asked me to go to South America I worried my Spanish wasn't fluent enough as I hadn't spoken it regularly since leaving Spain, for three and a half years. In the end, none of those worries held me back. I still moved forward and everything worked out. I know the aforementioned examples are normal worries, but it would be nice to be easier on myself by being more confident and trusting in my abilities. This is something I am still working on since I tend to be hard on myself.
The greatest rewards have been pushing myself and knowing I can succeed, traveling to places I never thought my career would take me, and meeting many great people along the way. I feel so grateful for all I have experienced thus far in my career.
You've seen quite a lot of the world already. Are there any places you haven't been to yet, but plan to visit someday? Any places you hope to re-visit?
There are so many places I haven't been that I would love to see! Specifically I want to explore and see the northern lights in Iceland. I also want to visit and spot wildlife in Alaska, Antarctica, and Africa. Another interest I want to explore more of is adventure travel. Biking across the United States, hiking Mount Kilimanjaro, and trekking to base camp at Mount Everest, are all on the bucket list! I also want to explore more of South America, specifically spending more time in Rio de Janeiro and dancing in a samba school during carnival!
Best moment of your career so far?
I can't pick just one, but the best moments have been when my career has taken me to unexpected places. I went to Haiti, six months post-earthquake, with the Transcendental Media film crew for the documentary La Source. Contiki Vacations asked me to help them with their first few tours in South America. Less than a week later, I was on a plane headed to Peru, and what was supposed to be one-month working in South America turned into four! I went back for another five months in January 2013 and it was another positive experience.
What advice would you give to your 23-year-old self?
Life will continue to be interesting post-college, so don't worry so much about your future career and just let the pieces fall as they may. Enjoy the moment, always keep a lookout for opportunities, and listen to your intuition!
Eileen Street is The Everygirl
I wish I knew how to…
play a musical instrument really well (either piano or violin) or knew more about photography and filmmaking.
Who would play you in the movie of your life?
I've been told many times that I look like Amanda Seyfried. So for looks, she would be it. However, to capture my personality I would choose either Jena Malone or Carey Mulligan.
Item you can't leave home without?
My smart phone when I'm on tour with Contiki Vacations. When I'm not on tour, my small Coach wristlet. I'm not a big purse kind of gal, so this wristlet fits everything I need (lip gloss, cell phone, credit cards, and my driver's license). The wristlet allows me flexibility to dance at a nightclub or shop easily without being bogged down by a huge purse.
If you could have lunch with any woman, who would it be and what would you order?
I would love to have lunch with Lisa Ling. Being the host and producing a show like Our America, on OWN: The Oprah Winfrey Network, is my other dream career. I always love trying new things, so I would ask Lisa what her favorite restaurant is and order what she recommends!