As a self-proclaimed type-A personality with a love of interiors, I was both excited and anxious to move into a new home. A move represents so much for me–starting over, getting organized, and of course, a chance to redecorate. Ever since I was a child, I would spend my days doodling my dream homes and rearranging my mom's home whenever she left the house (thanks for putting up with that, Mom). When I'm stressed, I style my home, straighten things up, and clean. I blog about anything and everything that inspires me over at Breakfast at Toast, and run my own graphic design and photography business. Style and design are big part of my life; it's who I am. So when it came time to move from my downtown high-rise apartment to a vintage walk-up, I knew I wanted to stay true to my style but push myself to try something new as well. I saw this as an opportunity to organize, reinvent myself, and explore a new neighborhood in Chicago.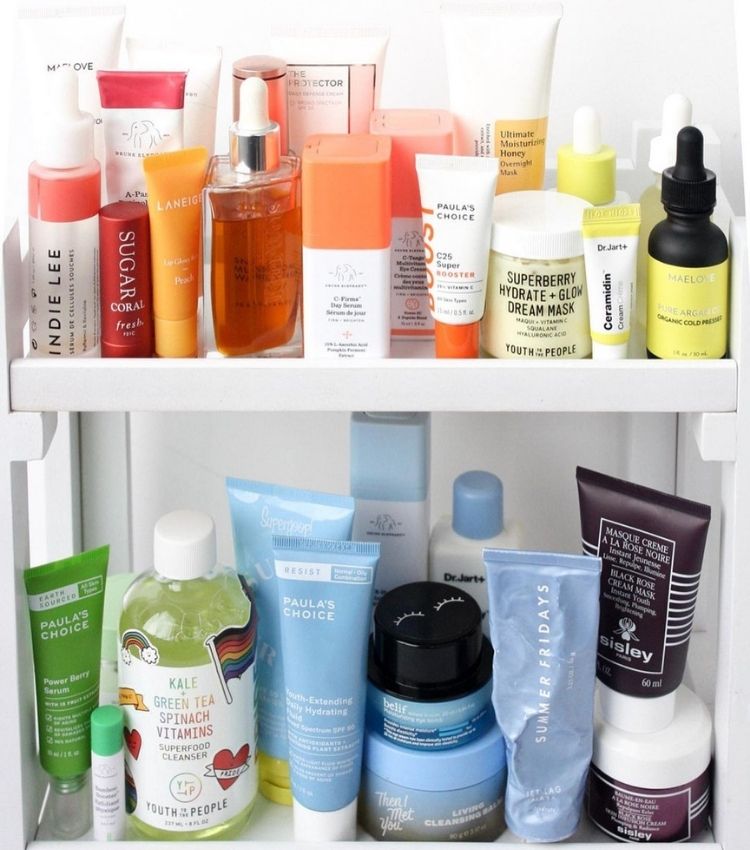 the wrong order can reduce effectiveness
The past few years have been full of big changes for me—starting my own business, the end of a (very) long relationship, a cross-country move, and of course, launching The Everygirl. For some reason, moving from River North to Lincoln Park felt like a more significant change than moving from LA to Chicago. I became very attached to my tiny modern high-rise apartment and loved living downtown, but this quaint Lincoln Park apartment with delicate moldings and a vintage feel quickly began to feel like home. This space is not just where I live; it's also my office. where I spend my days and nights. Having both a comfortable and functional space keeps me inspired throughout the day.
My first Chicago apartment was small, modern, and more than I could afford. I had my heart set on living downtown and had to dip into my savings while I lived there. Moving north of downtown Chicago allowed me to gain square footage and save on rent. I love my home and neighborhood so much more than I ever thought I would. Granite counter tops, floor to ceiling windows, and modern touches were fun, but vintage charm and this lovely little neighborhood have stolen my heart. I am so excited to share my space with you, and hope you enjoy the tour. Welcome to my little home!
Full Name: Danielle Moss
Age: 30
Location: Chicago, IL
Current Title/Company: Co-founder and Editor of The Everygirl // graphic designer and photographer // blogger behind Breakfast at Toast
Tell us about the process of finding your apartment. How long have you lived there?
When I moved to Chicago in August 2010 I rented a tiny 600 square foot apartment in River North, where I lived for almost two years. As I learned more about the city, and what my friends were paying, I decided to begin looking for something less expensive and with more space. I loved living downtown, but paying a premium for something so small no longer felt worth it. The process was actually much easier than expected. I started looking at apartments on Craigslist and ended up renting the second apartment I looked at. I saw so much potential–more space, beautiful details, and of course, an in-unit washer and dryer. I am no longer in the heart of downtown, but still within walking distance of the train, buses, lake, and grocery store. I've been in Lincoln Park for almost one year and love this neighborhood and my second Chicago home.
You moved from LA to Chicago. How did you find your first apartment, decide on a neighborhood, and move all on your own?
Initially the thought of moving to Chicago from LA completely overwhelmed me, so I decided to sublease a place for a month. The winters are tough and I'm a California girl, I needed to make sure I could handle it before I took the plunge. I realize that most people aren't able to test the waters the way that I did, but I was running a graphic design business from home, so I was able to take my job with me. I spent Feb 1 – March 15 '10 renting a condo in the loop, and in spite of the cold, fell in love with Chicago. I came back again that spring to look at apartments, and found my tiny little 600 sq foot apartment in River North, in the heart of downtown Chicago. I don't have a car, so I was hoping to be within walking distance to grocery stores, shops, etc. It was a little out of my price range (Huge mistake. Never spend more than you can afford!) but had a doorman and gym, was dog friendly, and I felt safe there.
Prior to the big move, I had been living at my mom's home so I didn't really own much other than a headboard, dresser and had boxes of dishes stuff from my college apartment. I would scour Williams-Sonoma sales, so while I did not have any furniture I did have a fancy chip and dip bowl, and three sets of mixing bowls (all bought on sale!).  I packed my stuff and had everything shipped to Chicago. My mom joined me in Chicago for a few days to help me get settled in.
Do you live on your own now? What really sold you on your current apartment?
I don't live with any humans, but I do have a great little roommate–my pup Buddy. So many things sold me on this space. The building is older but has a lot of charm, enough space for a real life grown-up dining table, and most importantly, a washer and dryer in the unit. This was a must-have for me. I love its charm and character, and the fact that it's in a great neighborhood. I walked in and instantly saw its potential. I also loved that it had a hallway. My last place was so tiny, and something about this little hallway made it feel like a tiny little home. There's even a patio–actually more of a stairwell but I'm on the top floor and no one can get up here, so I've broken a few rules and have made it a patio. Hopefully my management company isn't reading this.
After moving in, what was the first step in decorating your new place?
The decorating process for my first place took well over a year. I simply couldn't afford to do everything at once, but slowly and surely it all came together. The process was much easier this time around–I moved in with furniture, and only needed a few essential pieces to finish this space. The first step was painting. Taking the walls from a creamy off white/buttery yellow to grey, black, and minty blue added so much to this space. It instantly felt like it was my own, and I was excited to start decorating. Painting tip: buy those little samples and see how the paint looks before painting an entire bedroom to realize that you just turned a room into a sea foam green nursery, not good.
What was the rest of your decorating process like? Did you have a general idea in your head how you want a space to look, or do you design piece by piece as you shop?
I kept all of my old furniture, repurposed a few things (coffee table became a side table, brought my kitchen shelves into my office and my office shelves into the kitchen, moved pillows around etc), and bought a new chair, dining table, dresser, and nightstands. My last apartment was very neutral, so I played around with a little color this time around. I love neutrals and never tire of them. I had an overall idea of what I wanted my design aesthetic to be and definitely know what I do and do not love. I'll scour shops both in person and online, and when I find something I love, I'll pick it up. Living on a budget obviously means not being able to do everything I'd want to do. For example, I ended up choosing my dining room table because it was a floor sample and I got a great deal on it. I like it, but would have ideally wanted something bigger.
How long has it taken to get your home to look how it does now?
I started decorating the day I moved in, and had everything (mostly) together by the end of the year. I worked on styling and finishing touches up until the shoot. In fact, the rug in my hallway arrived the morning my apartment was photographed. I am always making little styling changes.
How would you define your overall home aesthetic? Where do you find design inspiration?
I would define my style as clean, a little rustic, feminine, neutral, and a little modern. Maybe a touch of glam since there seems to be gold everywhere. I like to keep things simple–everything works together. I've moved my bedroom pillows to my sofa, chair, and vice versa. I am always inspired by Caitlin Flemming of Sacramento Street. I love every single thing she does, and getting to visit her home earlier this year was one of the highlights of my life as a blogger. Yes, it is that beautiful in person. Then there's my co-founder Alaina Kaczmarski, who has inspired me to think outside my neutral box and bring a little color into my home. There are so many people I look up to. Erin Gates (I had the pleasure of photographing her home for The Everygirl last year, and she's the one that told me to go with Farrow and Ball's Cornforth white) Emily Henderson, Elle Decor, design books, blogs, and Pinterest.
Favorite colors to decorate with?
If it isn't completely obvious by looking at my apartment, I prefer to stick to a neutral palette of white, grey, and black with touches of gold. I did bring some color in with my artwork and the walls in my bedroom which was a very big step for me.
Buddy is your adorable dog. Has living with a pet changed the way you decorate at all?
I have a black dog, white sofa, white bedding, and have covered my wood floors in area rugs. I don't know that this would work with any other dog, but he hasn't ruined anything. If and when he has an accident, it is almost always on the wood floor. Although he may or may not have had an accident on my sofa, luckily it's white and slipcovered, so I was able to bleach it. Buddy sleeps on his own blanket on my bed, and I wash it every week. He's quite lazy but knows two commands. 1. Take it to your bed (to keep him from chewing treats on my area rugs) and 2. Get off my chair. (I love him, but the English roll arm is mostly off limits). He's a great dog. I lucked out.
The gallery wall in your bedroom and the prints in your dining room serve as great focal points—tell us the process behind building your wall. Is there a story behind any of the prints you have? Where do you purchase your art?
It took a few months before I was ready to hang my gallery wall, and I didn't put much thought into the actual process. I just started hammering nails into the wall and hanging frames. Let's just say that there was a lot of hole patching involved and I am so glad I held on to my extra paint. One of my favorite "prints" is a shoe box top that was signed by Christian Louboutin. My sister met him at a shoe signing and had him write a note to me. I have a few old photos of my great aunt rose and grandparents, one of my favorite photos of the pup, and of course, lots and lots of etsy art. Then there's the show stopper. The Coco and Hearts painting by Jen Ramos. I would not ordinarily commit to decorating with color, but trusted Jen to bring color into my home. It was the first "real" piece of art that I purchased, right around my 30th birthday.
The Everygirl is all about incorporating great bargain pieces in with more pricey investment pieces to create a personalized space. Tell us about your favorite budget-friendly piece that you incorporated into your space. Tell us about a splurge.
My favorite budget friendly piece is my Malm dresser from Ikea. When I moved into this apartment, I had enough space to add one more dresser to my bedroom, but needed to spend as little as possible. I considered adding gold hardware but was afraid that I'd ruin the dresser, and really love how it looks. The splurge was my Serena and Lily English roll arm chair. I have blogged about having a grey English roll arm for years, and I don't know what it is about turning 30, but I decided to buy the piece that I had been dreaming of for such a long time.
What are some of your favorite home stores where you found affordable pieces for your home?
My dining chairs, coffee table, desk, desk chair, and both living and dining rugs are from West Elm. Their price points are very "Everygirl" and I love the store's aesthetic. I also have some great pieces from CB2 and Ballard Designs. I love Ballard's upholstered pieces–multiple colors and fabrics to choose from. I've found a few great things at flea markets and antique shops as well. I love these because they're one of a kind, and often very reasonably priced. One of my favorites is my gold bar cart bought at Randolph Street Market for $75. It served as a nightstand in my last apartment, and is now a real bar!  I recently bought a malm dresser from Ikea and love the look and style of this piece. And it was priced under $150. Can't beat that.
What advice can you give to other girls who may be overwhelmed with the process of decorating an entire apartment while on a budget?
Don't put too much pressure on yourself. The decorating process takes time, and trying to set a deadline can make the experience very stressful. Budget for the things you need, and take time to scour flea markets, craigslist, and antique shops. Also–look for floor sample sales! I never could have afforded my dining table full-price, but found a floor sample and saved almost 50%. I could not buy everything I wanted or needed all at once, so I've learned space out purchases.
What is your favorite room in your apartment and why?
My favorite room is my living room. I loved my old living room, but it was very small and wasn't the ideal space to have friends over since it was so tiny. I have room to scatter poufs, and friends can sit around the coffee table. Something about this living room feels a lot more inviting. The molding, fireplace and mantel–I've always wanted one of those–my favorite chair, and of course, my first real piece of art. It feels like a little home.
What do you love most about living in Chicago?
I love everything about this city. The buildings, lake, downtown, bars and restaurants, easy access to public transit, and the friendliness of the Midwest. I even love the snow through January. February – April I question my move from sunny California, but once the weather spikes back into the 70s, I am reminded of how very much I love this city. After being here for 2.5 years, it really feels like home.
LIVING ROOM SOURCES
paint color: Farrow and Ball Cornforth White
sofa, Pottery Barn
wall lamp, Euro Style Lighting
painting, cocoa and hearts
athena feather tray, Jayson Home
rug, West Elm
side table, Ballard Designs
media console, CB2
chair, Serena and Lily
gnome, Imm-Living
non je ne regrette rien print, Sarah & Bendrix
lucite tray, Parker & Rain
elephant, Furbish
gold pillow, Caitlin Wilson
pillows, Aurelia
candle, Jonathan Adler
bone inlay box, Furbish
glass hurricane, Crate and Barrel
glass hurricane, Crate and Barrel
OFFICE SOURCES
paint color: Farrow and Ball Cornforth White
parsons desk, West Elm
lamp, Ballard Designs
gold pig bookends, CB2
mug, Anthropologie
phone dock, Jonathan Adler
chihuahua stamp, Imm-Living
lacquer tray, West Elm
shelves, CB2
horse Jar, Imm-Living
textured horn boxes, Ballard Designs
chalkboard spice jar, Anthropologie
vintage books, Sorry Thank You
shuffle calendar, CB2
pouf, Lulu and Georgia
gold urchin, Furbish
pillow, Caitlin Wilson Textiles
notepad, Molly Jacques
gold stapler and tape dispenser, Russell and Hazel
quips and queries, Russell and Hazel
KITCHEN AND DINING SOURCES
paint color: Farrow and Ball Cornforth White
pastry board, Williams Sonoma
pepper mill, Crate and Barrel
shelves, Savafieh
pitcher, BHLDN
measuring hedgies, Anthropologie
gold flatware, West Elm
dot mugs, West Elm
mixer, Kitchenaid
rug, Dash and Albert
clock, Wisteria
art, Paris in Color
werk jars, West Elm
mixing bowls, Williams Sonoma
gold glasses, Jayson Home
jute rug, West Elm
dining table, Crate and Barrel
giraffe, Animal Print Shop
runner, Williams Sonoma
candle holder, CB2
napkins, Williams Sonoma
brass urchins, Furbish
HALLWAY SOURCES
paint color: Benjamin Moore Black Horizon
table, Lulu & Georgia
candle, Volluspa
lamp, Lulu & Georgia
rug, Rugs USA
BATHROOM SOURCES
baskets, Ballard Designs
towels, Serena and Lily
soap dispenser, West Elm
tray, West Elm
canister, Pottery Barn
tissue cover, Pottery Barn
bird canister, World Market
rug, CB2
vase, Jayson Home
nail polish art, Laura Trevey
candle, Diptyque
BEDROOM SOURCES
paint color: Farrow and Ball Cabbage White
dresser, vintage
sunburst mirror, Ballard Designs
custom pillows, Aurelia
malm dresser, Ikea
rug, Layla Grayce
mirror, Wisteria
headboard, Ballard Designs
gold lamp, Euro Style Lighting
gnome, Imm-Living
terrarium, Jayson Home
pandan bins, Serena and Lily
duvet and shams, Serena and Lily
sheets, Serena and Lily
navy pom throw, Serena and Lily
books, Coralie Bickford Smith
flower tray, Baba Souk
gilt frames, Pottery Barn
dish, BHLDN