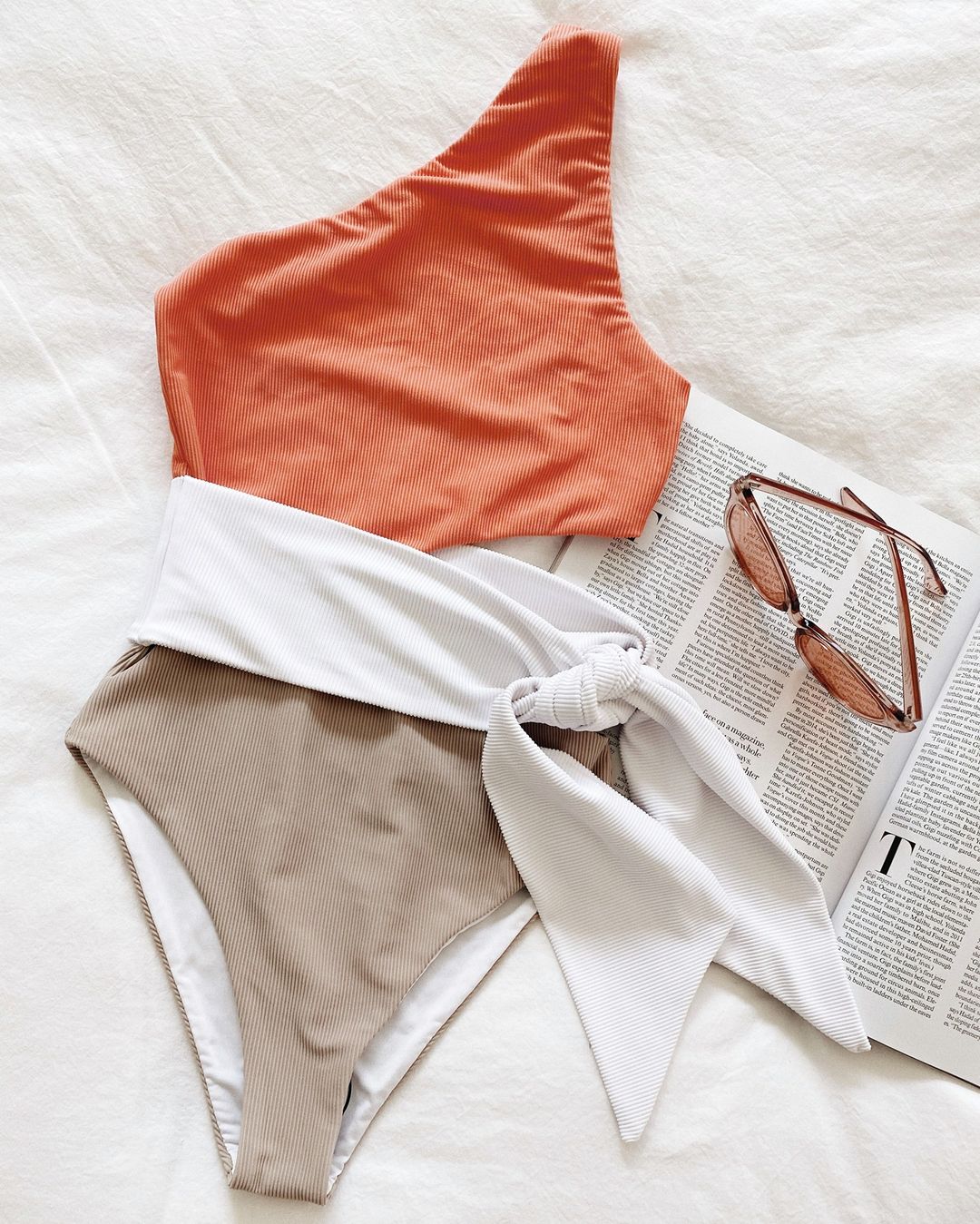 Look No Further: These Are the Best Swimsuits for Summer
The idea of "having it all" is one that's been talked about for as long as I can remember, and what "it all" means seems to vary person-to-person. Even more interesting, it's a concept that only women seem to talk about. One that usually includes a career, marriage, and family, but there's so much more to it than that.
I was so excited to travel from Chicago to New York to visit Lean Cuisine's ItAll store with my friend Christine of View from 5 Ft. 2. Lean Cuisine is on a mission to ignite a new dialogue around what it means to have 'it all' with the goal of sparking meaningful conversations between women – about each woman's individual wants and needs, and how she defines having it all.
Neither Christine or I had any idea what to expect – only that we would be browsing a popup "shop" and choosing what we wanted out of life. Would I be grabbing stuffed puppies and a vacation home off a shelf? Ha. Let's just say that we were both intrigued. Things have changed a lot for us over the past few years. Christine moved from Texas to Chicago to New York, has a great new job at Away, moved in with her SO, and is newly engaged and in the process of planning a wedding. I got married last year, just closed on my first home, launched a new website (The Everymom), and am expecting my first baby in July.
Visiting the ItAll store was so different and if I'm being honest, even better than what we could have imagined. It gave us both an opportunity to define what an ideal life meant for each of us, and the chance to talk things through with a friend, which is something I hope this will inspire you to do after reading about our experiences.
Before attending the event, we each completed the ItAll survey. Some of our answers changed from taking the survey solo at home to standing in front of bottles labeled with how much sleep we would get per night and what we really wanted out of our day-to-day lives, which isn't ever something we really thought about when we thought about having it all. A few things we learned during this experiment: 89 percent of women set more ambitious goals in the presence of other women, and 77 percent chose greater aspirations in the aspects of life they deemed most important. Bottom line – women helped each other set a higher bar when striving for 'her all'.
Danielle's Experience at the ItAll Store
I don't know that I ever knew exactly what having "it all" meant (to me) aside from checking those typical career, family, home, and travel boxes. Would there be an "I made it" moment if and when I got to where I wanted to be? Would I ever find happiness if it felt like something was missing?
I moved to Chicago back in 2010. I was in my late 20s, just getting out of a terrible relationship, and working as a freelance graphic designer. Finances were a struggle and everything felt very up in the air. The following year, I teamed up with my cofounder Alaina [Kaczmarski] and together, we launched The Everygirl. The next few years were spent scrambling – trying to make it all work, just hoping things would start to come together. Our company grew from the two of us and one website to a full-time team of six, two part-time employees, over 20 regular contributing (part-time) writers, and most recently, adding a The Everymom into the mix. It's a lot of work but has been so rewarding and so worth it.
There were so many other pieces to the puzzle. Times when I felt uncertain or unfulfilled about having/not having children, not traveling until after my 31st birthday, and generally trying to manage a career, exercise, sleep, wellness, and relationships. I used to think having "it all meant" checking a series of boxes – of accomplishing what I thought I needed to feel fulfilled.
But it's so much more than that, and that is where having "it all" comes in. And as I've gotten older (I'm 35 now, guys), what I want out of life has changed. The biggest change is wanting to push less. To feel fulfilled by all those facets of my life that I love (work, family, friends, working out) but not feel defined by them. To strive to enjoy them vs. making sure they're perfect.
A Master's degree sounded great when I was sitting in front of a computer at home. Who wouldn't want that, right? Then we went through each shop section: Health and Wellbeing, Relationships, Children, Friendships, and Money to name a few.  At each section, we stopped to talk about what we really wanted before taking something off the shelf. Knowing there were limits in what I could do (i.e. picking four things and not listing ten goals that just sound great), and really mapping out what I want my life to look like, I opted against going back to school.
Among the women who visited the ItAll store, the majority of choices about finance shifted from conservative selections in the individual survey like "not living paycheck-to-paycheck" to more ambitious selections when shopping with others like "saving enough to retire before 60" and "traveling multiple times per year" which held true for me as well. I loved being able to discuss what I want with Christine and encourage you to have similar conversations with the people you love to bounce ideas and inspiration off of.
With everything I have going on, I'd rather focus on my career, family, and friends. I learned that I wanted even more time with friends than I thought, and that there's give and take, because working out 4-5 days per week beat my original goal of 6 days per week.
Then we had a chance to speak with Dr. Emily Balcetis, a psychologist who's goal is to start a new and modern dialogue on what having it all means. She went over our initial survey results and then compared the contents of our baskets to the survey. Ultimately, we learned that whether women can have it all remains unknown, but the biggest takeaway is to be aware of what YOUR "it all" looks like — instead of the vauge "it all" that society presents to us.
Christine's Experience at the ItAll Store
I had the great pleasure of joining Danielle and checking out the ItAll store by Lean Cuisine. It felt very fitting because Danielle and I actually met in Chicago when we were both single! Fast forward a year and I had unexpectedly moved to New York to pursue a new job and Danielle was in town visiting – we had coffee and she started telling me that she had met someone special. I was so excited to hear the news and share with her that I had, too! Fast forward several more years and she's married and about to have her first child with Conor and I'm engaged to my fiancé, Mickey.
I found that in some categories my "ideal life" hadn't changed at all since taking the survey. I'm driven by work that I'm passionate about, value my friends and family and spending a lot of time with them, and hope that my fiancé and I will have a family of our own and the opportunity to be there for all aspects of their lives. In terms of physical and mental health, I said that four of the most important things to me were working out a few times a week, getting plenty of sleep, maintaining friendships, and getting to cook. These are things that in the last five years have always made me feel happy and balanced.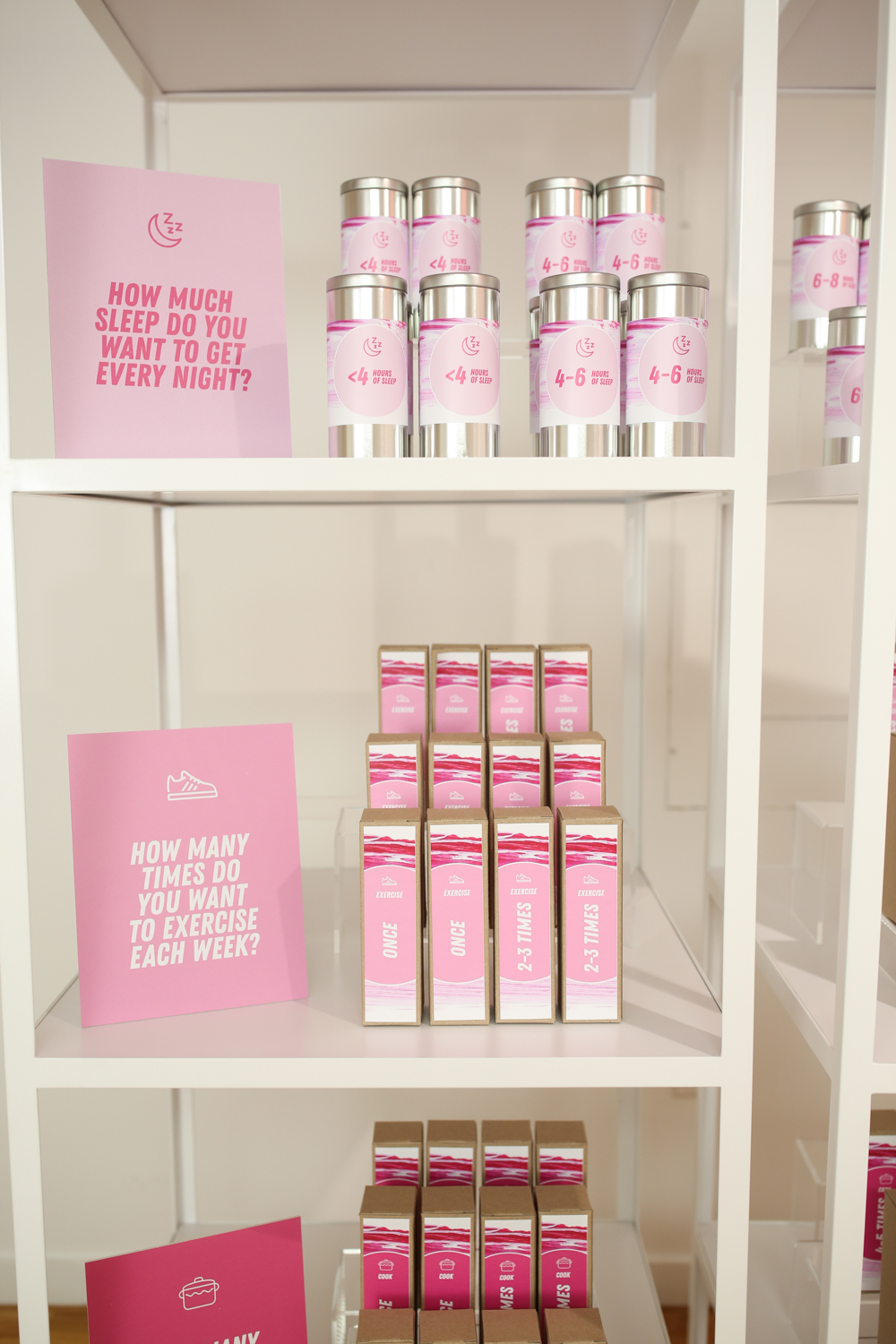 One of the most interesting aspects of the experience was choosing everything at the same time as someone else. Danielle and I would stop and chat about specific categories where our opinions differed (she wants four dogs and I'll be lucky to convince my fiancé to get one!) and learn how the other person's personality or preferences were guiding that choice and why. While we differed on the pet front and in our working styles and preferences, we had a lot in common when it came to personal health and how we wanted to spend time with our growing families.
In other areas I've found much more balance than what I would've chosen for myself in my early 20s – I value my work just as much, but I place more value on my personal time than I used to. I have a much more difficult time today feeling inspired and creative in my job and my blog without having the time to enjoy life. When my blog was younger I felt like I never stepped away from my computer. Every night I was coming home to answer emails, write, and build it into the small business it is today. I'm very proud of that work, but my priorities today have shifted. Today I've learned that balance is key and it's more important than ever to me to feel like a well-rounded individual. It's still just as important to me to feel rewarded by the work that I do, but I love nothing more than coming home to spend time with my fiancé – it's truly my favorite part of the day. I need to be able to set my computer aside and spend quality time together, just us.
A lot has changed for both Danielle and I since we first met, but I'm happy to say that we are both are finding out what "having it all" really means and it's different from what we used to think – in the best way.
Shopping alongside close female companions helped shoppers at the ItAll Store appreciate the realities of having HerAll, and how that might impact time, schedules, or relationships.
We encourage you to make a list of what you want out of life, ask a friend to do the same, then sit down and discuss your wants, needs, and goals.x
We want to know what YOUR "it all" looks like! Tell us in the comments below! 
This post was in partnership with Lean Cuisine, but all of the opinions within are those of The Everygirl editorial board.