We're always told that to be successful in life you must be determined and work hard . Jenna Britton's story is proof of this. As Digital Marketing Manager at Attention and Chief Writer at Jenna Arak, her experiences show us that hard work really pays off. She's done everything from freelancing to working in the non-profit industry and at the age of 28, this California girl knows her way around the digital world. In fact, she found her current job entirely through social media.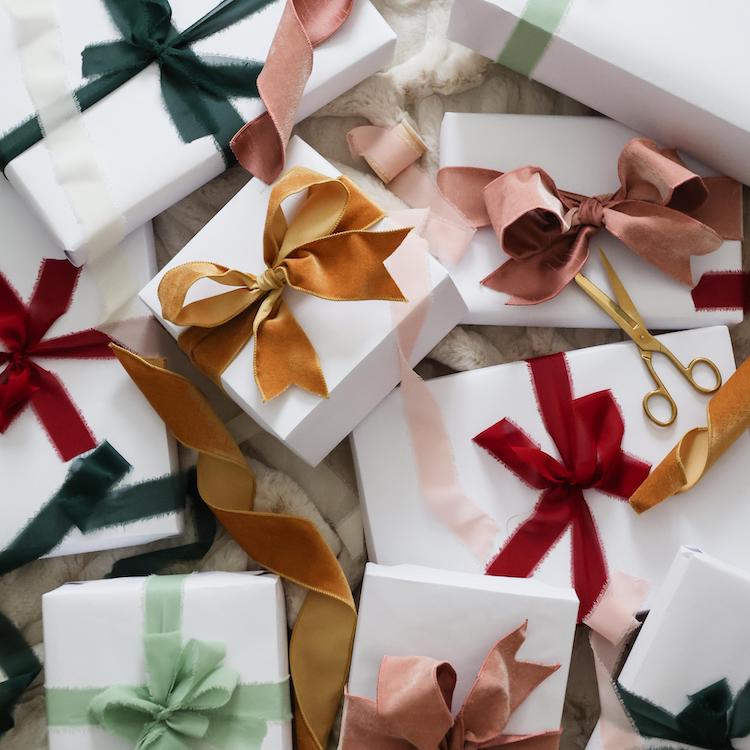 the perfect gifts for everyone—and we mean everyone—on your list
We were able to chat with Jenna and learn about the ins and outs of digital marketing, copy-writing and the like. "Be prepared to work hard, but also know that the rewards of your work are immediate and gratifying." This piece of advice she shares resonates with us and reflects her go-getter attitude. Read more about her and you'll see why she is an inspiration for any driven woman.
Full name: Jenna Britton
Location: Los Angeles, California
Age: 28
Current title/company: Digital Marketing Manager at Attention // Chief Writer at Jenna Arak
Educational background: Associates Degree from Pasadena City College (2005) // Bachelors Degree in Mass Communications from UC Berkeley (2007) // Masters Degree in Education from Loyola Marymount University (2012)
What was your first job out of college, and how did you land it? Take us through a brief career bio.
My first job out of college was as an Account Coordinator for a boutique, tech-focused PR firm in San Francisco. I had been an intern there during my last semester at Berkeley and a few weeks shy of graduation, they offered me a full-time job. So I scrapped my plans to move back to Los Angeles and stayed put in San Francisco for a few years, working my way up to the Account Manager-level there. It was an incredibly tough job – PR is a notoriously difficult industry to work in and agency life tends to be pretty back-breaking, but at the same time, it was a dream gig for me. Because we were so small, I learned an incredible amount and progressed quickly. Plus, I worked with people there who I still consider some of my best friends and I got to spend a few years living in beautiful San Francisco!
Once I left that job, I left the city too and I moved back to Los Angeles. I spent about a year working as a freelance PR consultant, before I decided that I wanted to go back to school and study education. I got a job working for an educational non-profit called College Summit, but left after six months due to the siren song of a plum PR gig for another San Francisco-based, tech-focused PR firm (though I worked out of their Los Angeles office in sunny Hermosa Beach). After working there for two years, I most recently left to join the Attention team as a digital marketing manager.
You attended a few different colleges and have your Associate's and Bachelor's Degree, as well as a Masters in Education. Tell us about these experiences and what you've learned from them.
I should preface this by saying that I love being in school. Absolutely love it. I wish someone would pay me to stay in school. During my senior year of high school, with the encouragement and support of my mom, I decided I'd spend my first two years out of high school at a community college. I wasn't happy about it. I felt I had worked too hard in high school to go to community college. I felt pressured by the self-imposed stigma that people would believe I hadn't gotten into a good college and wanted to show that I could do better (which – SPOILER ALERT – is not a great way to choose a college). But, to be blunt, it was the option my family could afford and it turned out to be the perfect opportunity for me. Community college was challenging and fun and I'm so thankful to have begun my educational career there, even if I was forced to initially.
But even back then, it was tough to get through community college in just two years. I took classes every opportunity I got – fall, winter, spring, and summer – to be able to transfer and graduate from a university according to my self-appointed timeline. I eventually transferred to UC Berkeley, where I graduated with my BA in Mass Communications two years later.
After two and a half years of work, I went back to school to get my Masters in Education. At the time, I thought I wanted to be a teacher – I've since discovered otherwise – and I spent two years working full-time during the day and going to class at night. Though I figured out early on in my program that becoming a teacher wasn't the right career path for me, I also loved what I learned while I was there. I loved going back to school and studying the intricacies of educating human beings. It's an education that has proved its value to me a million times over in my career and in my life. And it has shown me that while I may not love teaching English to 10th graders, I still love the act of educating others and I especially love learning.
Unfortunately, it's gotten to the point where I can't afford another degree (who can these days?). And honestly, I'm not sure I need one. I'm so thankful for what I've learned in school, but I've learned so much from my real-world career experience and the plethora of free information available on blogs or in books or from the lips of friends and family who have traveled these paths before me, that I'm certain I'm all set with the education I've got.
And what did I learn after all of that? Nobody gave a damn where I spent my first two years of college. To be quite honest, nobody gave a damn where I spent my last two years either. What they did care about was that I worked hard and performed well – and those are qualities anyone can convey: at a community college, at a university, or in your first (and last and every job in the middle) job. Work hard and do well – and do some good while you're at it. It always pays off.
At what point did you realize teaching wasn't the right career path? What advice can you offer other girls contemplating a career change but are unsure what steps to take?
I realized that I didn't want to be a teacher pretty soon after I began my Masters program at Loyola – though it wasn't for a lack of great professors and incredibly fascinating class topics. I learned about lifespan development, cultural anthropology, cultural paradigms of education, psychology of childhood and adolescence, theories of second language acquisition, and more. Honestly, I took some of the most interesting classes I've ever taken that explored human development and the myriad ways in which we all successfully develop, interact, and learn.
But the first time I sat in a high school classroom and watched an educational professional teach a classroom of rowdy high schoolers, I knew the job wasn't for me. Not because I don't value the role of teachers, of course, but because I place so much value on the work that they do. I didn't feel up to the task. It was disheartening at first because, on some level, I felt like I had failed before I even began, but I quickly realized the value in learning what I am not supposed to be doing. There's so much importance placed on being right and being successful, that it's hard to recognize the value in discovering what's not right for you too. And that's what I gained here – even more insight into the career path that is right for me.
I don't believe I have my "perfect career path" figured out yet – and I'm positive it will evolve as I do – but I'm happy to keep experimenting, to keep trying and pursuing different opportunities and, even more importantly, to keep learning – as I adjust and progress and create just the right career for just the right time in my life. And that's my simple advice for anyone else: understand that your interests, your passions, your skills may change and be open to evolving with them. If something seems like it might be a good fit for you, try it out! Don't sit and think about it forever. The sooner you find out what works and what doesn't, the happier you will be.
After working in Public Relations for a few years, you moved to digital marketing. How did you know this was the right fit? Tell us about the motivating factors behind the desire for change and the job search process.
I knew I was tired of PR, but for a long time I didn't know why. It wasn't just about working long hours, it was about truly finding very little happiness in what I was doing. And it had been that way for a long while, but I was scared to make a change, because that was all I knew.
There came a point when my fiancé, my friends, and my family all said enough was enough and encouraged me to look for new opportunities. So I took the time to sit down and list what I did and didn't enjoy about my career. And, at the same time, I listed those things I wanted more of – more opportunities to write creatively, more opportunities to work with consumer-focused companies, more opportunities to explore my interest in the reach and power of social media. And it quickly became apparent that a move to digital marketing was a perfect fit.
I didn't actually search for a new job right away – I didn't have much time to – but I already followed Attention on Twitter, because I knew several people who worked for (and raved about) the company. Not long after I had mentally decided I needed to make a move, Attention posted a photo on Twitter of their LA office – an office I hadn't even realized they had – and I knew I had to work there. I found a fitting job opportunity on their Website and the rest is history.
Does your educational background apply to your current career? If not, where and how did you acquire the necessary skills?
Yes and no. My degree in Mass Communications should be a perfect fit, but my education at Berkeley was very theory-based and involved far less practical education. And, of course, the goal of a Masters in Education – at most any university – is to teach you how to be a teacher. And I'm not a teacher now, so you'd think the education I received wouldn't be applicable to the work I do now. But I think it is. I think it's applicable to most any work, actually; for the same reason I believe that a good teacher is core to the success of any person in the world, regardless of the profession that you choose. When you understand the varying ways people develop and are receptive to information and learn best, then you understand how to successfully share and promote your ideas with the world. That's been an incredibly valuable skill, not only in my specific career, but in the general advancement of my ideas.
Please tell us how you found Attention and share the story behind how you landed an interview and the job.
I knew about Attention for awhile. I followed several New York-based Attention employees on Tumblr and was always struck by the company culture and the incredible work that they did. Being an LA resident myself, I didn't think to apply for a job, but of course, I followed the company on every social platform. Early in 2013, I saw a tweet from Attention with a photo of their LA office. I went to the company's Website, looked up their job opportunities and found an open Manager position in the LA office. I had been looking to leave my current position for awhile, but only for the right opportunity. It felt like this one fell right into my lap.
I spent a week researching the company and its LA office, I reached out to my network to set up informational interviews with current and former employees, and I quizzed my friends during regularly-scheduled Wednesday Wine nights for their thoughts on updates to my resume. Once I felt confident in my ability to apply for the job, I reached out to one of the LA-based employees on LinkedIn, told her I was interested in the position and invited her out to coffee. Unfortunately, she was traveling, but she offered to send my resume in. I received an invitation to come interview a few days later and had a job offer within a few weeks. I, quite literally, found and secured my job through social media.
What advice do you have for girls looking to find or create a position in similar fields (digital marketing and copywriting/storytelling)?
If you're looking for a position in digital marketing, I suggest that you educate yourself – read everything you can on Mashable, Social Media Today, and Adweek – and be prepared to work hard. It's a job that looks incredibly easy from the outside, but it requires a lot of time, a lot of creativity, and a lot of strategic thinking. Working in the digital world means that you can never really leave your work at the office – that's both liberating (for your ability to work from anywhere) and inhibiting (for juggling that elusive work/life balance). Be prepared to work hard, but also know that the rewards of your work are immediate and gratifying.
If you want to be a copywriter – or just a writer – I think the best preparation is just to write. Every day. As much as you can. I write a lot as a digital marketer, but certainly not the same kind of writing I do as a copywriter or a personal essayist. And the writing I want to do as a storyteller requires practice. So I try to write that way every day. And I recommend that to anyone who wants to follow the same career path. It requires practice and it requires diligence and, if you want to make it a business, it requires commitment. So, the best way to prepare for a career in this field is to commit yourself right now. Write even if no one is paying you yet. Write even if no one is yet reading. They will.
What do you believe are the most important things to look for in a company when job searching or making a career transition?
I think company culture is huge. Which, of course, doesn't mean a company needs to have "Beer Fridays" to be the right job for you. Pay attention to what's important to you in an environment where you'll be spending the majority of your waking hours – perhaps it's a laidback, startup environment or maybe you prefer the structure and processes of a corporate gig. Whatever it is – look for that and stay true to that. The culture of a company is a solid foundation that will leave you feeling supported on even the toughest of days.
I'd also encourage looking for a good boss. This is not an easy one, I know – but pay attention to the woman or man who will be leading you. Are they smart? Are they encouraging and motivating? What are their plans to help you grow and succeed? These are important things to note in a boss, because there are few feelings more difficult to traverse than the feeling that you're going it alone. Again, there will be hard days at any job and the tough ones don't seem nearly as bad when you have a solid professional support system in place.
Tell us about your responsibilities as a Social Media and Digital Marketing Manager? What skills or personality attributes do you believe are necessary to succeed in this industry?
My responsibilities vary every day. Overall, as my title indicates, it is my role to "manage" my client accounts. It is my job to work with my Account Directors and Directors to develop higher-level strategy and it is also my job to work with my Associates to execute that strategy. On any given day, I am writing content, creating a strategy deck, posting for a client on Facebook, taking photos at an event for social posting, and I'm in meetings, meetings, and more meetings. It requires flexibility and it requires agility. You have to be prepared to juggle a lot of different things at once and you have to be prepared to do many different jobs. From day to day, I am doing work related to every role in this company (as are my coworkers) – that's the nature of an agency. I remember having an informational interview with a former Attention-ite before I got this job and I asked her what her day-to-day was like. "This is not like PR," she warned me. "Every day is completely different." And she was absolutely right. But I wouldn't have it any other way.
In addition to your "9-to-5" job, you freelance as a copywriter and storyteller, which sounds like a full-time job in and of itself. Tell us about your work. How did you start building your portfolio and gain clients?
It definitely can be another full-time job. But the beauty of having your own freelance business is that you can control your schedule. So, depending on my work schedule (which is often more like 6am-1am), I can scale the freelance work I do on the side. Given that I have a full-time job that pays (most of) my bills, I can be very selective about the clients that I choose to work with – I do the work because I want to and I love to, not because I need to.
All that being said, I started building my portfolio by writing for anyone – and for free. I've wanted to have this business for a long while and up until a year ago, I felt inhibited by my lack of experience. Molly Mahar – the wonderful, sweet, wise woman behind Stratejoy – actually encouraged me to offer my services for free to a few people, just to get the ball rolling. And that's what started it all. I offered my writing and copyediting services to friends and strangers alike and got my first few testimonials. I truly haven't advertised what I do since then, the work has just come in through word of mouth.
If this ever becomes my full-time gig, I will undoubtedly put more energy into getting it out there, but for now I'm completely satisfied with the work that I have and the people that I work with. It all started just by putting myself out there and showing just a few people what I could do.
What have been the biggest challenges or obstacles you've faced in your career and how were you able to overcome them? What are the greatest rewards?
The biggest challenge has been (and continues to be) solidifying the elusive balance between my work life and my personal life. I tend to put a much higher value on the rewards of long days and nights spent working than the rewards of spending uninterrupted time with the people I love (regardless of how much I desire more time with those people). It's something I work on day by day. I love my work, and I want to be successful at it, but I also don't ever want to come to resent it or regret the time I lose with the people I care most about, so I work to gain that balance every day.
The greatest reward for me is the feeling of accomplishment and knowing that my team can count on me. I have perfectionist tendencies – always have and I suspect I always will – so it feels really good to put in a full day's work to me. To know that I've been a solid contributor to my employer – but most especially to my own business – is a fantastic reward. Additionally, it feels great to be in a position where I'm learning something every day. I take great pride in education and learning constantly and the positions I'm in now provide me that opportunity every day.
Take us through a typical day or week in the life of Jenna Britton.
I typically spend nine to ten hours every day working for Attention. A lot of my time at home is spent catching up on emails and finishing projects, while also trying to spend some time on the one or two projects I've committed to through jennaarak.com.
I'm also planning my wedding at the moment, so my pace feels pretty frantic. But when I stop and think (not often enough) about how good I have it (so incredibly good), I'm glad for the things that keep me busy. They challenge me and excite me and constantly offer up new opportunities, and I wouldn't have it any other way.
How do you balance your personal and professional life?
I haven't perfected this just yet. Most of my weekdays and nights are spent working, but my weekends are fairly sacred to me. For the most part, I try to close my laptop, ignore the work emails that pop up on my phone and savor the time I have to spend with my family and friends or just with myself. The best solution to balance I've found thus far is to stay organized and to plan. If you want to keep your weekend clear of work-related activity, be very clear about what needs to be accomplished in your professional life and set aside the time to get it done during the week. Sometimes it calls for early mornings and late nights (and every hour in between), but if it means I get to spend uninterrupted time with the people I love every weekend, then it's more than worth it.
Best moment in your career thus far?
The best moment in my writing career was the day Salon published one of my personal essays.
And there have been a lot of great moments in my short-lived, three-month digital marketing career – none of them are huge; they're just those small, quick moments when someone notices the work that I've done and the time that I've spent and takes the time to acknowledge that and just say thank you. Especially given that this is a new career path for me, it doesn't get much better that.
What advice would you give to your 23-year-old self?
You are young and you are imperfect and that's okay. No need to be frustrated that you're not running the world just yet. And no more tears, baby girl. He is not the one.