Two friends of mine were telling me this past weekend that they don't understand why people have Amazon Prime — and I just about fell out of my chair. Not only is Amazon truly the best place for a city-dweller like myself to buy basics (no one should have to lug a six-pack of paper towels onto the 73 bus) but it's also an absolute hotspot for just about ANYTHING else. My new favorite shirt? Amazon. Danielle's eco-friendly obsession? Amazon. The device that single-handedly saved Kelly from injuring her face while reading (again)? AMAZON. Here we're sharing details on all those products… and more. BEHOLD! Everything the Everygirl editors bought on Amazon this month, July 2019 edition.
your one-way ticket to your cool, calm, and collected era
Revlon
I finally did it — I bit the bullet and bought the hair tool everyone and their mother has told me to buy... and I'm SO glad I did. This bad boy blow-dries while it straightens, effectively cutting down on my DREADED post-shower getting-ready time. If you're on the fence, DO IT — you won't regret it.
Y&M
I don't often wear big earrings (I'm usually a pearl-studs-every-day kinda girl), but I bought these statement earrings for a wedding this month, and I'm SO glad I did. They add a kind of boho vibe to a fancier outfit — so glad I bought them at such a great price point!
landeer
I kid you not — this is my favorite top I've bought in a LONGGGG time. It's the perfect length, the perfect amount of flowy, and goes with anything. I bought it in black and I wear it as often as I can (aka every time I do laundry, lol).
Olaplex
Olaplex is the sole reason that my dyed blonde hair is even slightly healthy, so when I discovered that it's sold on Amazon, all of my prayers were answered. I've been a user of good 'ole No. 3 for years, but this leave-in product is just as amazing — it makes my hair soft and shiny, and has made it MUCH healthier over time.
Simple Modern
I've been a gallon-a-day water drinker for years, and I love having a giant water bottle with me at all times to cut my runs to the Brita down. This 32 oz. bottle is my favorite water bottle I've had yet — it's just like a hydroflask, but at a fraction of the price.
Kindle
I bought the little Kindle Paperwhite on Prime Day and I LOVE IT SO MUCH. It has honestly changed my life, because I used to read on my iPad Pro that I use for work (it is absolutely ginormous) and last week I fell asleep in the middle of reading and literally dropped the iPad on my face, which is just how extreme my reading style can get sometimes. The Kindle is considerably lighter and actually made for reading, so I'm anticipating less injuries. Win, win!
Vital Proteins
I bought this on a whim one month and it has really backfired because now I cannot live my life without my collagen in the morning. This is my favorite brand and flavor, because it is honestly tasteless. I throw a scoop or two in my coffee while I'm getting ready for the day. The easiest way to make your skin glowy without doing any work!
Utopia Kitchen
I'm 26, but I have a worrisome amount of kitchen products, as in I basically have zero. I have had the same frying pan since college and I finally decided it needed an upgrade, but Ina Garten I am not, so ya know I didn't want to shell out $100 for something to cook my basic ass eggs. I bought this set of three from good ol' Amazon for like $20 and ya know what, I feel great about it.
Best Friends by Sheri
My dog is absolutely obsessed with her new bed. The first day it came, she refused to get out even at mealtime. It's incredibly soft and the instructions make it easy to clean. I wish they made it in human-size.
HEBOLEN
We had guests almost every weekend in July so I wanted to dress up our guest bedroom without spending a ton of money. Enter this pair of wall sconces we placed on each side of the bed. They add such a decorative touch and the entire project only cost us around $70 (between the lamps, extension cord, and bulbs) so it was a total win win. The only downside is you have to assemble them when they arrive.
Chuanqi
I've been wearing this dress on repeat because it is cute, but the fit is very loose so you can wear bike shorts underneath (holla to all my girls with thigh rub) and no one can tell when you're drenched in sweat.
Bankers Box
Ya girl is moving in a few weeks, so to prepare myself for the hours of packing I'll have to do, I picked these up. I'm moving myself pretty much on my own, and I wanted to make the process as easy as humanly possible. These boxes (at a pretty good price — why in the world are boxes so expensive??) don't require tape and have handles. What more could you ask for? Anyone moving — you deserve these. According to the reviews, they also fold up and store easily for your next move!
HEETA
This medieval-torture-device-looking-thing has changed my life. I use it to massage my shampoo into my hair to get a really good clean, and it has transformed my scalp and the length of time my hair lasts between washes. I feel like I discuss my oily-hair issues in every other article, but it's a serious issue in my life as a wanna-be Cool-Girl that I'm constantly working on fixing. This cleans my hair like nothing else and turns every shower into an amazing head massage.
Undone Beauty
I have been dying to try this brand since I found out on a late-night Amazon spree. They're a beauty brand owned and made by women (which is surprisingly rare in the industry), and everything in the line is super affordable (we're talking drugstore prices, people), cruelty-free, and lightweight and easy for summer. I've been obsessed with cream blush since, let's be honest here, Glossier illuminated the world with their Cloud Paints, so I decided to give this one a try. I'M OBSESSED. It's sheer but buildable, giving you a customized look every time. BRB, ordering the other shades as we speak!
PuTwo
I've been dying for one of those vanities that is Insta-worthy at any moment (instead of what mine usually looks like which is a total mess). If only I had known all those years of cluttered vanities and messy makeup strewn everywhere that it just takes one chic product to fix all of that — this gorgeous makeup organizer is literally THE perfect size to fit all my makeup. It's not too roomy (can't take up more space than I need!), but my makeup doesn't look cluttered (even the random eyeshadow palettes I bought for Halloween costumes have a place). It totally transformed my vanity in one simple step. Thank you, Amazon!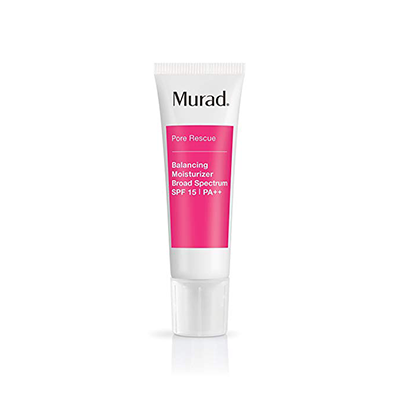 Murad
My favorite moisturizer of all time is on Amazon, which is probably one of the best things to ever happen to me (even if I run out, I get it in two days with Prime!). It's the moisturizer I use during the summer months because it's lightweight and uses fancy ingredients like Japanese alder flower to prevent blackheads, while still being insanely moisturizing and glow-inducing — it's loaded with vitamins A, C, and E to brighten skin and lactic and amino acids for hydration. There's really nothing this happy little tube can't do.
Greenco
If you can't tell, I'm really into home organization lately. Laundry baskets are a necessity, but are always such an eyesore — even the cute baskets from trendy stores are clunky, take up space, and are just inconvenient (I mean, have you tried lugging one of those baskets down two flights of stairs?). I found this affordable, minimalist laundry hamper and knew it was absolutely perfect. First of all — the sorting thing, I mean how genius is that!? It takes the step of sorting laundry totally out of the equation because it's already sorted as soon as it's ready to go. Not to mention, it's super lightweight, easy to carry (even with heavy loads!), and so minimalist it basically blends in next to the table in my closet.
Mad Hippie
I've been in the market for a new vitamin C serum, and from what many of the reviewers on Amazon say, this one's a real winner. I love that it's a 1 on the EWG Skin Deep scale, plus it's also full of hyaluronic acid and ferulic acid — two of my other favorite skincare ingredients.
Miracase
After I bought my expensive new iPhone XR I really didn't want to buy a case that broke the bank, and this Amazon find was the perfect solution. I love the light pink color and the texture of the case, and so far, it's been really protective!