Like many of us here at The Everygirl, Elizabeth Hyland doesn't want to wait to get into the holiday spirit — starting November 1st, her home is decked out and ready for Christmas. With an entryway that looks straight out of Home Alone and greenery everywhere you look, she incorporated lights with natural elements to deck her halls in the most magical way.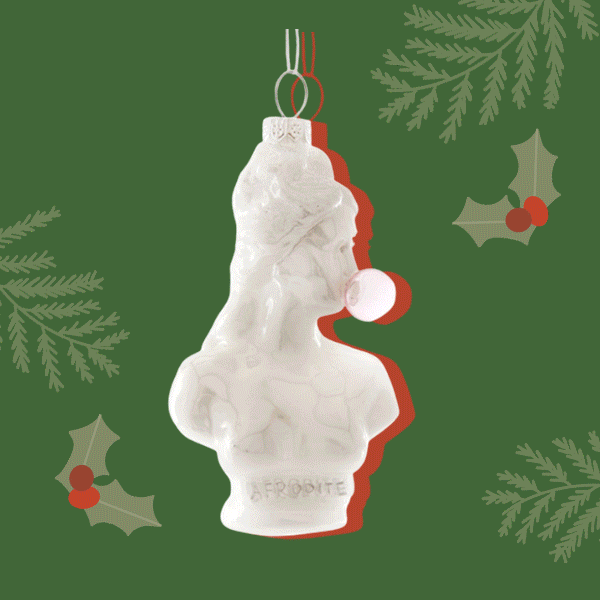 Whether you prefer your tree to be a masterpiece or a beautiful array of memories, there's something for everyone at Carlyle Avenue's ornament shop. Don't miss their expertly curated collection!
A portrait photographer by day, Elizabeth loves hot yoga, baking, entertaining, and of course, decorating. She let us know how she decorates every year, where she gets her holiday decor, and when she (somewhat controversially!) starts listening to Christmas music.
Name: Elizabeth Hyland
Location: Midwest
Sq. Ft: 1,800
When do you start decorating for the holidays?
November 1st — I am one of those people. I just love celebrating the season and I love to enjoy the feeling for two months instead of only one.
Tell us about your holiday decorating process.
I am always drawn to natural elements and tend to focus on bringing that into the decor. Greenery, branches, seasonal fruit, and some twinkle lights — I like it really simple.
How do you budget when it comes to decorating seasonally? (Things can get expensive for such a short time of the year!).
Like anything, try to stay away from trends. The best advice I have is to decorate more for winter and less for specific holidays. I like to use fresh greenery all around our home throughout the season. A vase with water and cedar is my favorite.
Where do you shop for holiday decor?
Anthropologie for everything festive. I love their selection for holiday entertaining!
Do you have any holiday traditions that are special to you?
We celebrate Christmas! I love the family time — my nana and I always bake her jam filled cookies together and I end up eating them until I feel sick because they are THAT good. I love playing games and focusing on the time together rather than the gifts. It's funny how I don't remember gifts. I remember moments with loved ones because that's what it's all about!
Do you have any tips for readers who may live in smaller apartments (and who are on a budget) who might not be able to decorate to their heart's desire?
I might sound like a broken record, but just go with fresh, natural elements! I think greenery goes a long way. Also, twinkle lights and candles always set the mood. If you are going to splurge, splurge on something that will last the entire winter season like a big chunky knit blanket or beautiful copper mugs for gatherings with loved ones.
What was your childhood home decorated like at the holidays, compared to your own as an adult? Did you take any influence from your childhood when putting your own together?
My mom liked the color red and always had cranberries in our trees. I like to string dried oranges and place on garland or on a tree. My nana is the best at creating mood and that cozy feeling. She always has wreaths in every window — I love that and might try it next year.
Have you slowly been collecting your holiday decor over the years, or did you purchase it all at once?
Slowly! I did get caught up in some trends last season and found that they stayed in the box this year. Our home feels so much more us this time around — simple, functional, and (hopefully) inviting.
Do you have a favorite ornament on your tree?
I love one that my husband made in grade school, it has a picture of him inside. I also love the pretty wool ornaments that I always find at Anthropologie.
What's your favorite piece of holiday decor that you own?
I have this Max Wagner print that is framed over our bar cart entitled "Pines. It has a winter feeling and perfect for this time of year.
Overall, what's your favorite thing about celebrating in your home?
I love to entertain! Our home is not massive, however, and I love the cozy feeling it brings. I love making festive cocktails and enjoying good conversation with friends and family. Being able to look back on the memories is what makes a entertaining in a home feel so good.
You live in an older home that you and your husband have worked on together. What are some of the projects you've done and what have you learned from this process?
Our home was built in the 1880s, so it has some weird quirks. It also has changed a lot in the short time we have been here. The most basic changes happened with paint. We have done tile work, replaced light fixtures, and installed new carpet, and have replaced flooring in many rooms as well. My husband removed stone flooring, which proved to be extremely hard work. Our house was covered in dust and we had picnics on the floor — I wouldn't trade a single moment. We still laugh so hard when we think about some of the obstacles that came with renovating a house this old. I am proud of what we have been able to do together.
How do you make your home feel cozy when it's time to take all the gorgeous decorations down?
Candles and cozy knit throws. I didn't realize how into the Danish concept of Hygge I really am — I love to create a space that feels cozy and comforting.
Elizabeth Courtney is The Everygirl…
Hot chocolate or hot cider? Cider
Favorite Christmas song? Merry Christmas Baby by Otis Redding
Favorite Christmas movie? I have way too many. The Holiday, The Santa Claus, Home Alone, Elf
The best gift you've ever given? We gave my father in a law a puppy last Christmas. That wins.
The great debate: when do you start listening to Christmas music? I don't even want to admit — my husband put it on in October this year which was too early for me because I LOVE Halloween… but yeah, November 1st baby.
Get The Look