For many people, the dream job includes working from home. The benefits are amazing and include setting your own hours, not having to commute, and avoiding gossipy coworkers. But whether you are an entrepreneur, work remotely for a larger company, or are still in school, the flexibility of working out of the house leaves room for slipping into a laissez faire work routine. Throw in a few loads of laundry? Sure. Run to the grocery store? Why not? Catch up on Homeland? Yes, please.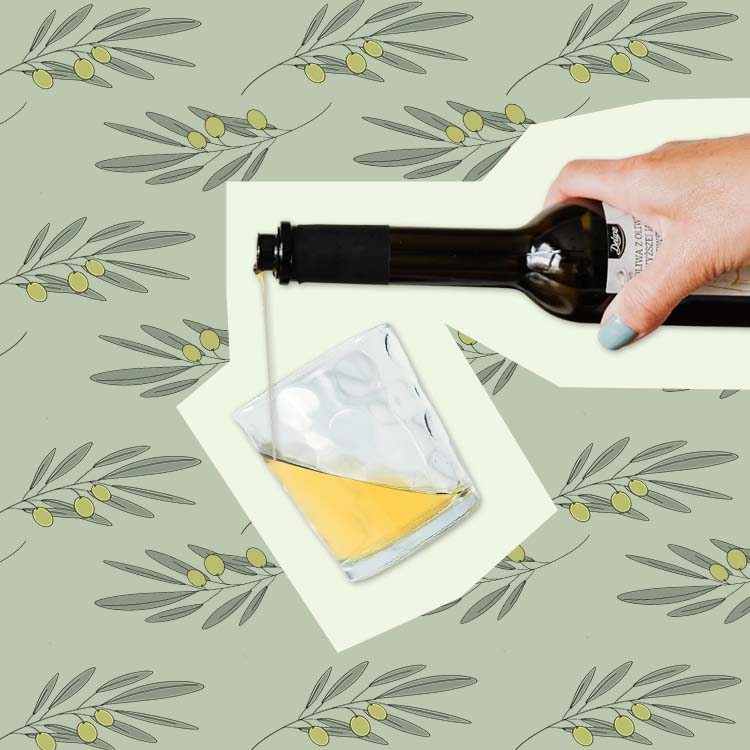 we love olive oil, but this seems a bit too far... or is it?
Undoubtedly there are a handful of people who can plug away for hours on the sofa without ever changing out of their pajamas, but most of us who work from home require a sense of organization and routine to get into the zone. A properly outfitted workspace helps to maintain focus and get the job done. Here's a list of items we've found help improve productivity at the home office.
Designated Work Space
The most important factor for having a productive home office is to have a designated spot to work. A place other than the kitchen table, the sofa, or the bed (fact: anyone who works from home can attest they've sent plenty of emails from the comfort of their pj's). Even if you live in a small apartment, prioritize space for a small table or desk that will be used solely for work. It will dramatically help separate your "home" from your "office," and will be very beneficial when you clock out at the end of the day. People who work from home often have a difficult time separating work hours from their non-work hours because it's so easy to keep at it late into the night. But maintaining a balance and shutting down the computer and email is important for overall well being. Physically being able to step away from the desk helps promote that balance. Similarly, it's easier to get into work state of mind when you're at your desk/in your office, and away from the living areas of your home.
Natural Light
Countless studies have been done by scientists and pyschologists that show natural light improves productivity and mood (here are just a few articles you can read: 1, 2, 3). If possible, position your home office as close to a window as possible–preferably one that gets more light. Exposure to natural sunlight also helps our bodies get on a better sleeping schedule, further aiding in concentration.
Good Artificial Lighting
In addition to having natural light, it's important to have soft artificial light instead of harsh fluorescent light. Use a desk lamp and/or floor lamp as well as an overhead light so that you can adjust the lighting throughout the day to how you see fit.
Computer with Wifi
This is how the world runs today. Even an artist needs to send the occasional email or order supplies to their studio. We assume a computer and Internet goes without saying, but it couldn't not be on this list.
Phone
Business calls, conference calls, cold calling. Even if you're an avid emailer and prefer to do business through the comfort of your inbox, you will inevitably have to pick up the phone and talk to someone. Yes, an actual human. Make sure you have a charged phone and good service at all time.
Printer (preferably with scanner and/or fax)
Whether your work involves contracts, receipts and invoices, photos, briefs, what have you, odds are you'll need to need to print, sign, scan, copy, repeat at some point. And in order to save on space, we recommend an all-in-one device. Our recommendation? The Canon PIXMA MG7120. It's Wireless meaning there's only one cord to deal with (cue beaming rays of light from the heavens). PIXMA also connects to social media and is cloud-ready with the PIXMA Printing Solutions (PPS) app, allowing it to connect to your cell phone, Dropbox, Facebook, email, et al. at the touch of a button. For example, if you're running late for a meeting and away from the office, you can easily send items to the printer using your cell phone and the PPS app. That way the documents will be ready to go by the time your client is walking through the door. Not to mention this printer gets bonus points in our book for the sleek white design.
To Do List or Planner
Start your day off by making a to do list outlining exactly what you need to accomplish before finishing work for the day. Set a realistic time frame in which all of that should be completed. Then enjoy the undeniable joy as you check each completed item off.
Coffee Maker, Espresso Machine, Teapot, whatever you prefer
Sure not everyone relies on a jolt of caffeine to get their day going (and props to all of you if you fall into that category). But for the rest of us, it's important to have that favorite morning beverage available and on hand. Invest in the coffee maker, espresso machine, teapot, what have you. You'll end up saving a lot of time and money in the long run by not heading out to the nearest coffee shop every morning.
Pencil Cup & Basic Office Supplies
This seems obvious but how many times have you gotten on that important call and all of a sudden you're scrambling to find a pen? Keep the basic office supplies organized and on-hand at all times: stapler, post-its, pens, pencils, pencil sharpener, tape, paper clips, scissors, note pad, etc. Traditional offices have them and your home office should too.
Ample Storage
Whether you realize it or not, papers will pile up. They always do. Bills, files, mail, invoices, you name it. It's important to keep work documents and supplies neat and organized, and separate from your personal paper accumulation. Shelves, storage boxes, and magazine files are a great way to make what could potentially be a mess look great. Ikea sells a variety of office storage products at really affordable prices; our new favorite is this mint-colored collection–the boxes are only $5!
Calendar
Many people now a day rely on digital calendars, and that's wonderful–especially when your appointments can sync through to all of your devices and pop up with reminders. But it also helps to keep a paper calendar up and open in front of you. Planning is that much easier when you have your whole month staring you in the face throughout the day. We created this super-budget friendly calendar by tacking hot pink post-it notes onto the bulletin board; each day had its own note card.
Place for Inspiration
While this may not seem necessary, especially for those in less creative fields, having a source of inspiration in your work place is absolutely essential. Maybe it's a photo of your family that you work so hard for. Maybe it's a picture of the dream vacation you're saving for. Or perhaps it's a quote that you love that motivates you to work. Whatever your inspiration is, make it visible in your workspace as a constant affirmation of why you're doing what you're doing.
This post is brought to you by Canon and all opinions contained herein are those of The Everygirl editorial staff. Discover more about PIXMA Printing Solutions here.