When making dinner on a busy weeknight, it's smart to keep things simple and fresh, with a focus on a filling lean protein and fresh veggies. Chopped salads are a great go-to dinner, but it's easy to get stuck in the balsamic-vinegar-and-olive-oil-dressing rut. Blogger Meg Opel of Peaches and Cake is sharing a quick and healthy homemade chicken taco salad with a delicious spiced cilantro lemon vinaigrette that is used to both marinate the chicken and dress the final salad. For quick and easy assembly, the marinade/dressing can be prepped ahead of time. Take THAT, weekday night!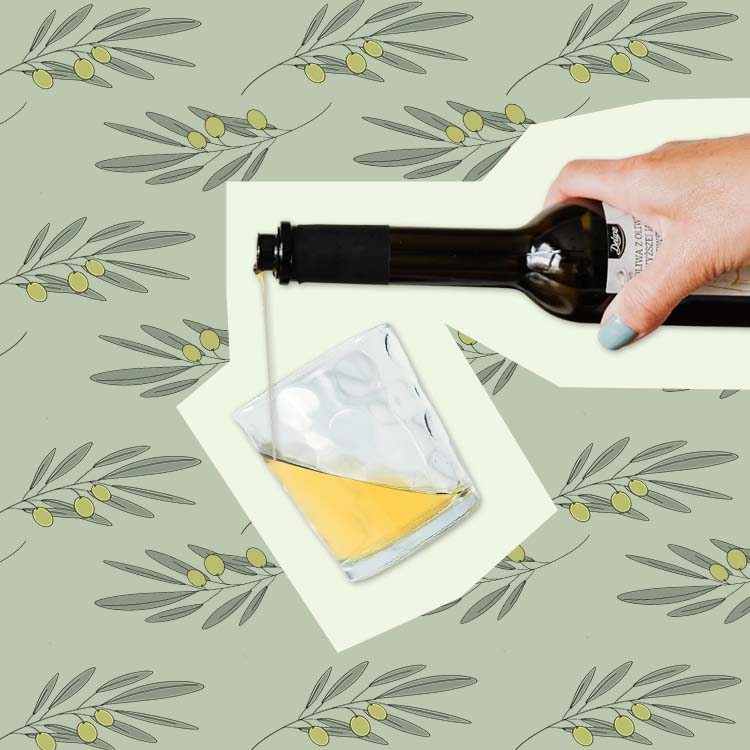 we love olive oil, but this seems a bit too far... or is it?
For chicken marinade/salad dressing:
¼ c. fresh lemon juice (about 2 lemons)
1/3 c. good-quality extra-virgin olive oil
½ cup fresh cilantro leaves
1 small clove garlic
½ tsp. ground cumin
¼ tsp. paprika
1/8 tsp. sea salt, plus more to taste
¼ tsp. freshly ground black pepper
2 boneless, skinless chicken breast halves, pounded to even thickness
1 Tbsp. coconut oil, butter, ghee, or olive oil
2 cups organic mixed green and herb salad mix
1 organic red or yellow bell pepper, sliced thinly
1 ripe organic tomato, sliced into wedges
1 medium avocado, peeled and sliced
2 tbsp. minced chives or scallions, for garnish
To prepare marinade/dressing:
Add lemon juice, olive oil, cilantro, garlic, cumin, paprika, salt, and pepper to a blender or food processor; pulse until combined. Season to taste.
To prepare chicken:
Pound chicken breasts to even thickness with a mallet or rolling pin. Combine 3 Tbsp. dressing and chicken in a large bowl; toss and let stand at least 10 minutes. Remove chicken from marinade; discard marinade. Heat a skillet coated with 1 Tbsp. oil or butter over medium-high heat. Add chicken; cook about 6 minutes per side or until internal temperature registers 157˚F (cooking time will vary depending on thickness).  Let rest 1-2 minutes; slice at an angle.
To prepare salad:
Add 2 Tbsp. dressing to salad mix; toss to coat. Transfer greens to two plates. Divide bell peppers, tomato wedges, avocado slices, and chicken slices evenly among the two plates. Season with additional fresh ground black pepper. Garnish with minced chives or scallions, if desired. Pass the remaining dressing on the side.