Finding the right bra can seem more hopeless than finding a needle in a haystack. For something so seemingly simple, why is it enough to reduce many of us to tears? They're too small, too big, they pinch, they create bulges in places we didn't even know were possible… the list goes on. And what about underwear? Why does it cause so much readjustment on a daily basis?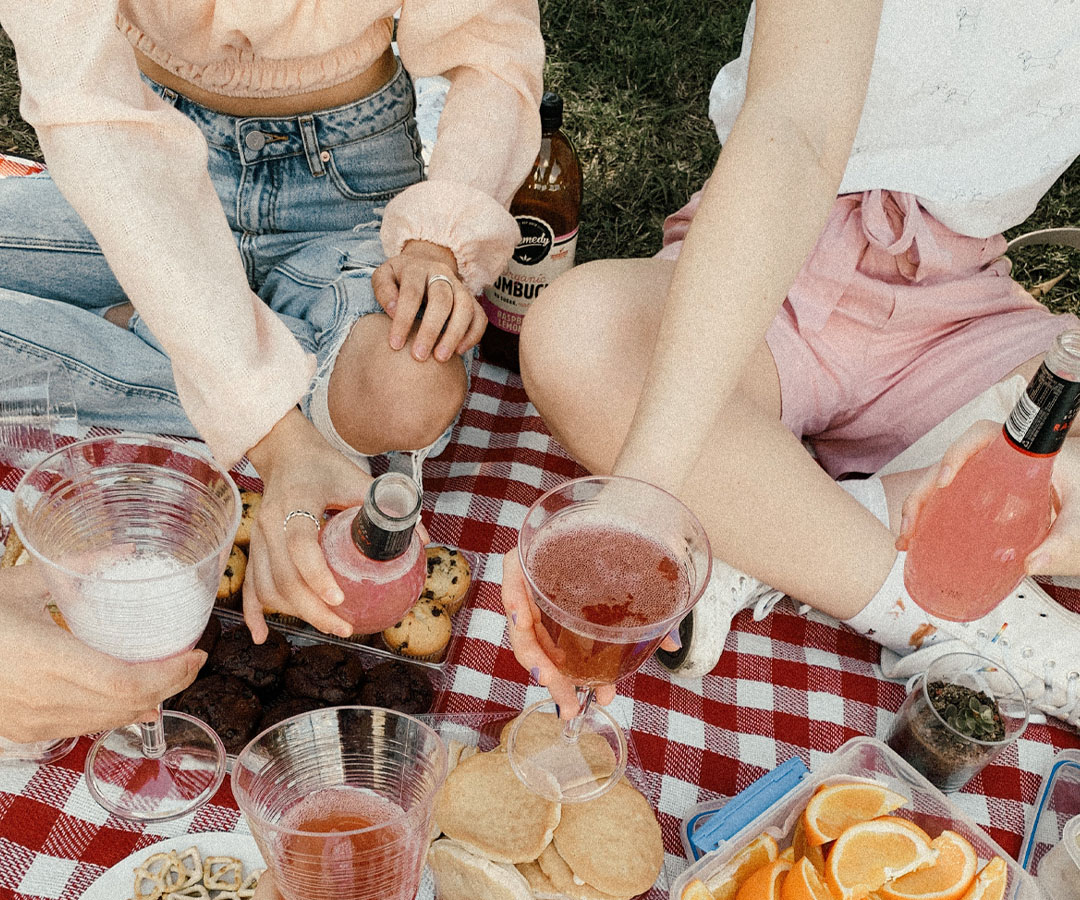 CURRENTLY TRENDING IN /
LIVING
your complete summer shopping guide
Although we've accepted life as it is with annoying ill-fitting undergarments, we really should be paying better attention. With the right bras and underwear, you can feel like a whole new woman. Feeling beautiful in your clothes starts with feeling beautiful in your underthings.
To help us bring light to the mysterious subject of (gasp!) actually finding properly fitting lingerie, we partnered with intimates brand, Soma, to give us a little Bras and Underwear 101.
BRAS
Let's start with bras, shall we?
Acquiring a collection of bras that fit perfectly is certainly no small feat. How many do you really need anyway? At last, the question is answered! Here are the three most important bras every woman needs in her lingerie drawer.
The Everyday Bra:
From day to day, there is usually one style of bra we reach for. It's the tried and true version that gets us through work, the weekends, and sometimes even nights out on the town. Soma recommends having at least two everyday bras and rotating them every other day. This keeps them from wearing out too quickly. You should also invest in both black and nude colors. Here are a few of our favorite everyday bra options:
For everyday support:
For added lift: Try this push-up or this push-up with a vanishing back. Same benefits as above, but with a little extra something for those who need it!
For side bulge protection: If you struggle with your chest bulging out of your bra side (instead of forward), try a side slimming bra.
The Strapless Bra:
A great strapless bra is essential if you often find yourself wearing strapless or thin-strap dresses, slinky tanks, and the like. Strapless varieties in particular have earned a terrible reputation of lacking support and comfort, which is true in many cases, but it doesn't have to be. Finding the right strapless bra will make a big difference.
Why you can never find a strapless bra that fits correctly:
Many women don't know that typically, you need to go a size down when it comes to buying a strapless bra. Why? You need a tighter band to compensate for the lack of straps. A proper fitting strapless bra should be very snug but not uncomfortable. If you have to pull it up, it's far too big.
Did you know that the larger your bust, the wider your back band should be? In the case of any bra, the back of your bra (not the straps) pulls the most weight in holding up your chest. Without straps, the back of your strapless bra should be as wide as possible in order to provide proper support.
Strapless bras wear out much faster than normal bras because they work so much harder. If you wear your strapless bra often, consider replacing it every six months.
Additional features to look for:
Convertible straps: Often you don't need to remove your straps, rather, just move them around! This is important for gals who want to take advantage of a little more support.
Non-slip band: A great strapless bra has a no-slip, stay-put band (often made of silicone) that will prevent riding down as time goes on.
No-show lace: Standard lace is beautiful, but it's definitely not practical for general wear. Smooth lace bras are ideal—they're still beautiful, but are smooth and invisible through clothing.
Some of our favorites:
For more support: For bustier ladies who agonize over the word "strapless," we feel you. And so does this bra. Extra snug and supportive with no-slip features, it's not going anywhere. Plus, it's really pretty!
For average support: We love this version, which comes with convertible straps. It's comfortable, has a non-slip silicone back, and strap loops around the top of the bra for customized strap placement.
For backless needs: For a "barely there" backless dress or top, you need a barely there bra! Adhesive bras are perfect for this situation—you can find one with regular cups and adhesive sides or a fully adhesive bra, where the cups are sticky too. The latter has an adjustable hook in the front, allowing you to adjust lift and push-up qualities.
A Special Occasion Bra:
Who wants to pull on any old bra when you're getting all dolled up? There's no shame in having a few pretty numbers in your skivvies drawer! Think of beautiful lingerie as you would that special occasion "little black dress." It's important to have a few go-to's that make you feel like a million bucks. When in doubt, you can't go wrong with black and lace, like this one, this one, or this one.
FINDING THE BEST BRA FIT
About bra quality:
Regardless of your shape or size, it's important to not skimp on quality! In the world of undergarments, you usually get what you pay for. That means a $50 bra is going to take you a lot further, providing much better support and comfort than a $15 bra. They might look similar on the hanger, but will feel much different on your body.
A surprising note about bra sizes:
Contrary to popular belief, your cup size has little to do with how large your bust is. It's the measurement of how large your bust is in relation to your ribcage, in essence—the volume of your bust. It's a common misconception to think that, for example, a 30D and a 40D are the same cup size—they are drastically different.
When you know how bra measurement works, this makes finding the right bra much easier. Just follow this simple rule: if you need to go up or down a size in band width, you also need to go up one cup size, as this ensures the volume stays the same. For example, if you typically wear a 34C, but find your bra band is too loose, you might think trying on a 32C is the solution. (Wrong!) You'll find the cups are too small. In actuality, you should be trying on a 32D.
Tips on finding your best fit:
How tight is the back band? When purchasing a new bra, it should fit best on the least tight hook. This leaves room for your bra to stretch over time without compromising your fit.
The fit test: The best way to tell if your bra fits well is to put a formfitting, lightweight top over it. You should see only your body shape, no bulges or bra lines should be showing through your shirt. If it does, the cups aren't the right size, or the material could be too thick so consider going with an unlined version.
Give the feel some thought. Does it feel comfortable and make you feel beautiful? A bra should stay put when you sit, stand, move around—even after 10 or 12 hours of wear.
Look in the mirror from all angles. A bra that pushes the girls too close together doesn't fit right and can create dreaded "uniboob." Check for any bulges in the front, side, or back. (If so, see below.)
Check the "gore." For proper bra fit, the gore (the flat part in the front between the cups and right on your breastbone) should lie flat against your body. If it's lifted up, or shifts when you move, the cups may be too small.
Feel the straps. Do they stay put, fit snuggly (but comfortably), or do they slip off? If they tend to slip, this is a sign that the straps are set too wide for your shoulders or need to be tightened.
Assess the back band. One of the most common mistakes in bra fit is a back band that rides up. When fastened in the back, it should be straight across, parallel with the floor, and stay put below your shoulder blades.
Cup size check. If there's any space where the cup and strap meet, your cups are too big. If any portion of your chest protrudes out further than your cup (yes, even the top) your cup size is too small. (Read below).
Bulge test: If you see any bulging in the front, go up a cup size. If you see bulging in the back, your bra is likely too small or try a bra with a bulge eliminating back. (See above.)
UNDERWEAR
Although undies might not cause as much grief as finding a great fitting bra, searching for great underwear is no walk in the park! Here are our three tried and true favorites:
Lace Thong:
Even if you don't prefer to wear them daily, there's no denying it—sometimes certain outfits just require thong underwear: thin dresses, light colored pants, the list goes on. A pair with soft, stretchy lace is a must—this ensures you won't be able to feel them! Even if you weren't a fan before, you'll be one now.
No slip briefs:
For those who prefer a little more coverage (some days a girl just needs a little extra material, you know?) these undies are going to change your life. Remember the no-slip, silicone lining on the strapless bras above? These briefs have that same lining around the leg holes, which means zero riding up and no panty line! We've even worn these with our yoga pants.
No slip boyshorts:
The no-slip boyshorts have the same amazing non-slippage factors but a little more coverage. These are cute, comfy, and an essential preventative measure under skirts and dresses in case of a Marilyn Monroe moment!
CARE
Proper care of undergarments will ensure they live a long, healthy life (and save you a lot of money in the long run), so pay close attention to the tips below!
To prolong the life of your bras: Purchase at least two for everyday wear so you can rotate them between each wear—this ensures they'll last longer.
For washing normal bras: Use a mesh lingerie bag, close the hooks and eyes on the bra before putting it in the bag then toss in the washer. Washing bras with other clothing is fine as long as you wash with cool water.
For washing adhesive bras and bras and underwear with "no slip" detailing (i.e. strapless or backless bras that use adhesive to stick to your skin): These should be handwashed in cool water and laid flat to dry.
How to dry bras: Never put a bra in the dryer! The heat ruins the stretch properties. Simply hang them on hangers or lay flat to dry.
Detergent: When washing more delicate bras and underwear (think lace, silk, thin fabrics) always opt for hand-wash. Use a mild detergent formulated for unmentionables, like this one. However, everyday cotton undies are OK to throw in the washer and dryer.
When to replace: A good quality bra you wear on occasion should last years, but with frequent everyday wear you may need to replace every six months to yearly. Signs to go shopping: when the back band has stretched out and is too big, even on the tightest hook. If it rides up above your shoulder blades, your straps start slipping, underwire becomes exposed, or the elastic starts to wear—bring on the new!
​
What other questions do you have about undergarments? Ask us below!
This post was sponsored by Soma but all of the opinions within are those of The Everygirl editorial board.