Standing proud at five feet tall, Melanie Pace's petite frame packs in the spunkiest of personalities and rocks the boldest of fashions. The stylist and owner of Melanie Pace LLC may be "pocket-sized," but she would be noticed in the largest of crowds for her amazing sense of style and her award winning smile! Surely her personality has a lot to do with her success, but it is her keen eye for fashion trends and business knowledge that has brought her to where she is today. She is truly a Jane-of-all-trades when it comes to fashion, from celebrity styling and personal shopping to on-air commentary and editorial features, there isn't much that Melanie has yet to do in the fashion world.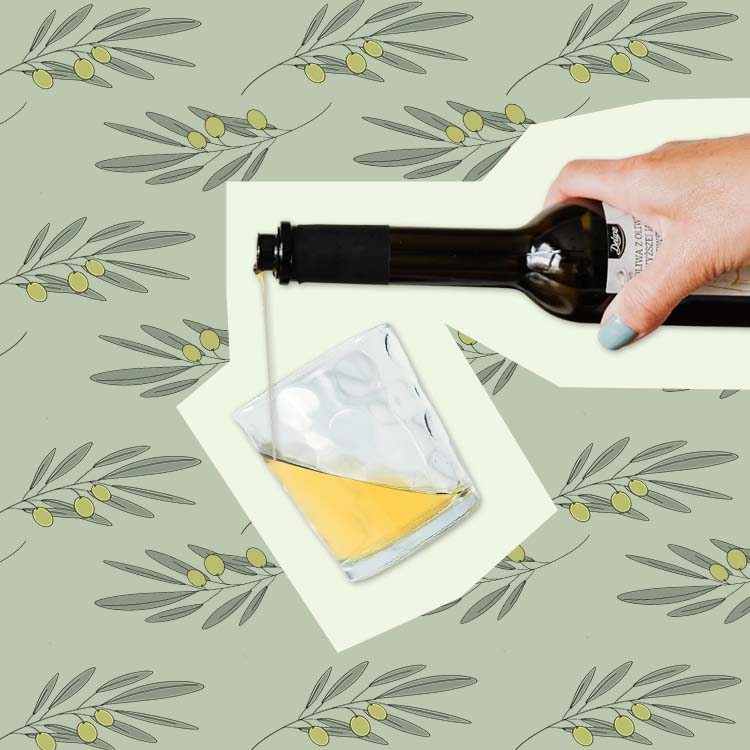 we love olive oil, but this seems a bit too far... or is it?
After working at Anthropologie as an Apparel Manager, Melanie gained the knowledge and expertise to move forward with her dream of wardrobe styling and personal shopping. She quickly became a fashion expert in the Orlando area, working for stores like Neiman Marcus and Bloomingdales, and styling Orlando's Mall at Millennia's Fashion Week. Melanie landed her first celebrity client after hitting it off with Giuliana Rancic, the host of Fashion Week.  After pinching herself, Melanie grabbed her favorite pair of stilettos and boarded a plane west to L.A. where, for two weeks, she guest-styled Giuliana for Fashion Police, E! News, and Giuliana and Bill reality show. From this opportunity, many of Melanie's clients and projects popped up outside of the Orlando area, putting her on the map in the fashion industry as an innovator of fashion and a savvy business woman.
Whether it's a high-profile celebrity for a red carpet event or a recent college graduate looking to update her wardrobe, Melanie gives each of her clients the same amount of respect and attention, making her easy to work with and definitely easy to love! From advice for girls looking to make it big in the industry to explaining what it takes to be a stylist, Melanie gives us a peek into her world of everything fashion.
Full name: Melanie Pace
Age: 29
Current title/company: Owner of Melanie Pace – Everything Fashion
Year that you started Melanie Pace LLC: 2006
Educational background (school, training, majors, degrees, etc.): Fashion Merchandising major and business minor from Florida State University, Internship at Anthropologie Visual Merchandising
What was your first job out of college and how long did you hold that position?
My first job out of college was as an apparel manager for Anthropologie. I worked in that position for about a year.
Does what you studied in school apply to your current job? If not, where did you learn the skills you use at work?
I definitely say that what I learned at Florida State applies to what I'm doing now. However, we learned a lot about buying, planning, and visual merchandising rather than styling. Being a stylist wasn't a popular career choice and is less corporate than some of the more common job options, so a lot of what I do now has been a learned process. The skills I use every day aren't necessarily ones that everyone can learn. Being a stylist is about having great taste, being a people person, and knowing what to do and what not to do with different personalities and lifestyles. I think it's also really important to keep up with current trends as well as keeping up with local retailers and building relationships with managers, owners, and showrooms. Keep every business card, stay in touch with people, send thank you notes, be an aggressive business woman. I never really did a formal internship or had a mentor in the fashion industry, but I was lucky to have strong business women around me and have learned by watching them. My motto has always been "Fake it 'til you make it," and it's just about figuring it out as you go.
Tell us how you went about starting Melanie Pace LLC. Did you always know that you wanted to run your own business?
I don't necessarily think that I always knew I wanted to run my own business, but I knew that the idea of having the same boss every day and going to the same workplace every day almost made me feel sick. I have more of a salesperson personality, in that I can't have the same job everyday, and that's what styling is. It's almost like the job came to me, instead of me going to the job. I met some really amazing, high-profile clients—my first job was styling for The Ryder Cup in 2006. I had a budget of $20,000 to shop for one client, and I got a little taste of what a stylist needed to do. I thought, "Wow! This is really amazing," and I felt myself shine. From there I knew I wanted to turn it into a career. I started working part-time at some high-end boutiques around town and gained that clientele until I could do it full-time.
You used to work for Anthropologie as the Apparel Manager. What did you learn from your experience in that position that has helped you with running your own business?
It taught me how to understand the way a person shops. The way a person walks through the door, whether they take a left or a right says a lot about their personality and what kind of shopper they are. For the personal shopping part of my business, that's very important. I learned how people see colors, as far as rearranging and organizing people's closets. How to fold jeans, fold tops, organize a rack, etc. Managing people really taught me how to adapt to a wide variety of personalities. Whether it's styling a client, on the set of a TV show, shopping in the mall, every single person is different. Being a manager helped me learn how to react and handle different kinds of people.
In what ways have your blog and social media made an impact on your career and business?
I am so huge on social media—I think it's so important in an entrepreneurial career! Whether it's Facebook, Instagram, Pinterest, or Twitter, it allows you to connect with so many different people around the world. Social Media creates a legitimacy for your brand, and it also can change other people's lives. I may post "5 Ways to Wear a Jean Jacket" on my blog and somebody may take that information and use it in their everyday lives. You could even get your next big client from Twitter, so it's important to keep all social media channels up-to-date and engage with your audience. Plus, it's a great way to get free advertising.
How would you like to see your career/business evolve over the next year? Five years?
In the next five years, I want to focus on building my brand. I want to be on the Today Show as their style expert, be a wardrobe stylist for high-profile celebrities, style fashion spreads for mainstream magazines, and continue to create and brand my on-air TV personality. I want to have a fashion school! I could go on and on!
What is the best part of your job? What is the most challenging part?
The best part of my job is that it's not really a job and every day is different. I don't have a set schedule, and that's what really makes me thrive. I don't have the same job or boss everyday, I'm not sitting at my desk from nine to five, clocking in and out—that would drive me nuts! The most challenging part is that I can never let it go—it's more of a lifestyle than a job. I can never stop thinking about it. I have a freelance, independent business, and I am always working for the next job. That's the most challenging part—I can't ever really let it go. You never know from whom, or from where, your next job may present itself.
Can you describe a little bit about what goes into your position? What's your day-to-day work life like?
Organization, hard work,and determination. Making sure you get up early and go to bed late. I wake up early, eat breakfast, and go to the gym. That's what really starts the day for me. Then I'm following up on emails and getting organized with my assistant and interns, figuring out how to do everything we need to do in a small amount of time. Our days go by so quickly, and before we know it, it's already 8 o'clock. My life depends on the day, whether I'm styling a photo shoot for a magazine, traveling to different cities, working with a big department store, preparing for fashion week, shopping with a client, or filming a TV segment. It's about making each day as productive as it can possibly be.
You have worked with some pretty big names early on in your career, including Giuliana Rancic, Jimmy Choo, Bloomingdale's, and Neiman Marcus. How did you handle marketing and gaining a clientele when you were just starting out?
It's all about being prepared, even over-prepared, when you're meeting with someone. Do your research. Always have your business cards and promotional material to hand out. It's also important to hire a team that you trust for events, so you're able to do meet and greets when the event is over. You never know when you'll meet an amazing contact. Giuliana Rancic was our celebrity host for The Mall at Millenia Fashion Week here in Orlando, and we really hit it off. She kept me on her radar, and I followed up with her assistant on many occasions. From there, Giuliana hired me to come out to LA for two-and-a-half weeks to style her for Giuliana and Bill reality show, her everyday E! News show, as well as Fashion Police. That was an amazing experience and really put me on the map, as far as celebrity styling. My relationships with Neiman Marcus, Bloomingdale's, and Jimmy Choo all started from personal shopping. They understand the benefits of what a personal shopper can provide to their business. I strongly recommend introducing yourself to every store manager and PR person—it really does make a difference.
What advice do you have for other everygirls who want to make it in the fashion world?
The best advice I'd give to girls who are trying to make it in the fashion world is that it's important to realize and understand that it's not all glitz and glamour. There is a lot of blood, sweat, and tears that go into working in the fashion industry—especially as a freelance wardrobe stylist. It takes a lot of hard work and a lot of hours. It's not something you can just jump into. I have been very lucky and very blessed that I got to where I am without having to be someone's assistant or intern, but that isn't usually how it works. You need to be prepared to get coffee, schlep bags, and do whatever it takes to get to where you want to be. It's important to find out what you want to do early on and then make it happen! Don't make excuses for yourself about why you can't go here, why you can't go there—make it happen. Once you get a taste of success, you can really do anything.
Best moment of your career so far?
Styling Giuliana Rancic in LA was the best moment of my career so far. Being on set and seeing your work on TV is a feeling like no other.
What advice would you give to your 23-year-old self?
Wear sunscreen, wear a hat and stay out of the tanning bed—especially living in Florida! Take the risks earlier in life; don't wait for opportunities to come to you. Seek them out and don't be afraid to ask for help.