When you think of Finland, you probably think of a sparkling, winter-white landscape and the crisp crunch of fresh snow underfoot. But that's just a small (yet truly majestic) part of what Finland has to offer. From the glittering snow of Northern Lapland to the bustling, design-focused hub of Helsinki, Finland is just waiting to be explored. We think it should be the next stop on your bucket list, so we created this travel guide based on our favorite spots and sites. Happy exploring!
A few quick things to note: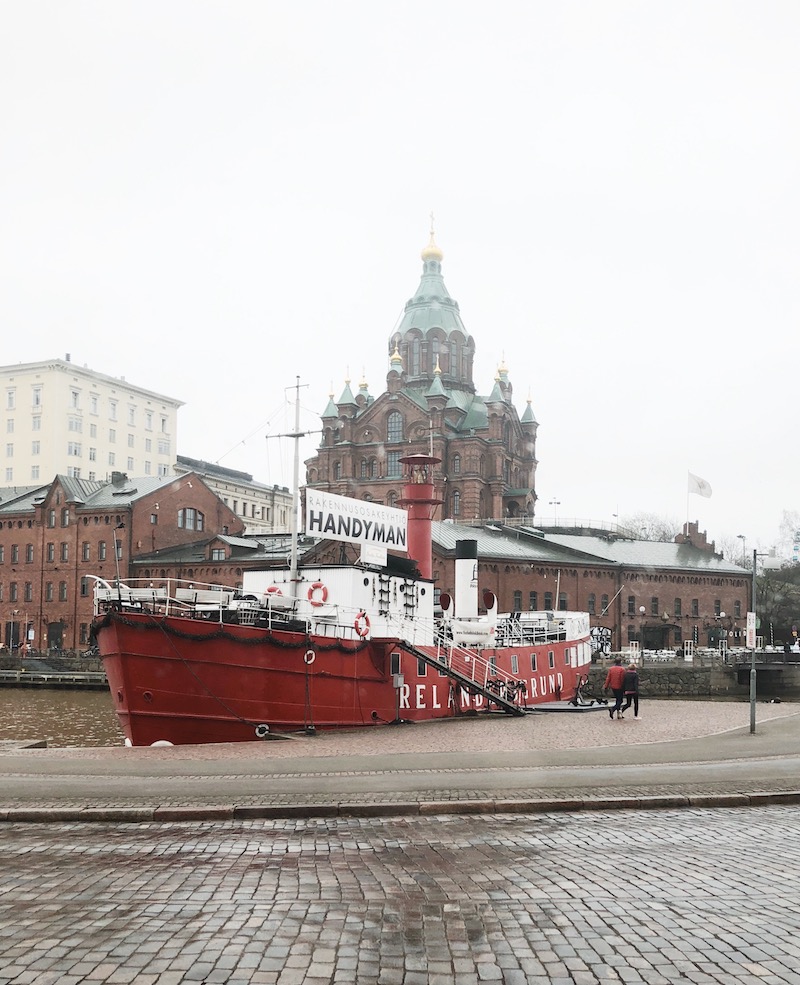 1. You'll want to plan your trip in either the summer or winter to get the most out of the beauty of Finland. Spring and fall months are slower seasons with less opportunity for outdoor activities. I'd recommend Helsinki (located in the southern part of Finland) if you're traveling in the summer months and Lapland (the northern area of Finland) if you're traveling in the winter.
2. Daylight is a matter of extremes in Finland, so be prepared! If you're traveling to Helsinki in the summer, you'll experience long hours of sunlight — it stays light past 10:00 pm! The opposite holds true for Lapland in the winter months — daylight hours are much shorter.
3. Helsinki is a great stopover city — it's a perfect option to fly into for a night or two on the way to another destination like Amsterdam, Stockholm, St. Petersburg, Prague, and more.
4. Bring your swimsuit, no matter what season you're traveling. More on that later!
5. If you're in the Chicago area (or can easily get to Chicago), Finnair is now running direct flights from O'Hare to Helsinki! International flights can be tricky — sleeping on a plane is always challenging — but Finnair's amenities, like in-flight Wifi and tasty food selections, ensure lengthier flights are a breeze. Bon voyage!
Where to Stay: Helsinki
Hotel Lilla Roberts: Located in the Design District, Lilla Roberts is a chic hotel with a gorgeous bar and a serious, ain't-messin'-around breakfast situation. It's in a great, walkable location to the best of Helsinki and boasts spacious, bright rooms with lovely views.
Hotel Kämp: A gorgeous hotel with a very old-world vibe — think sumptuous fabrics, dark wood finishings, and floor-to-ceiling windows. Located centrally, you'll be close enough to walk anywhere. Win, win.
Airbnb: This sweet little apartment in the center of Helsinki is perfect for a trip for two. With just enough space — and budget-friendly! — it's the perfect escape while you're in the city. Helsinki doesn't boast a ton of Airbnbs, but this is one of the best and top-rated.
Where to Stay: Lapland
Arctic Treehouse Hotel: If you're looking for a truly magical view, this is it. Suites are snug and cozy but boast huge windows for viewing the beauty of Lapland — and if you're in the right season, the Northern Lights!
Hotel Levi Panorama: If you're a skier, this hotel situated on a ski slope is for you — because obviously. Rooms are stylish and reasonably priced and the location can't be beat. See ya on the slopes!
Arctic Light Hotel: A chic hotel in a great location — with easy access to transportation, activities, and shopping — the Arctic Light is a great, budget-friendly option to experience Lapland.
What to Do: Helsinki
Go for a sauna at Löyly: The sauna experience is a huge part of Finnish culture and tradition. Most homes and apartments are equipped with a sauna and many Finnish people go to sauna multiple times per week. The traditional experience is to sweat in a sauna — much like our saunas in the U.S., only the Finnish pack 'em tight! Be prepared for close quarters — and then shock your system with a blast of cold water.
At the stylish city sauna, Löyly, you use a ladder to 'dip' into the Baltic Sea (yes, it's VERY cold) and then head back into the sauna. You repeat this process a few times to complete the sauna experience — remember to end with the burst of cold water. If you're feeling tentative, you can skip the water, but remember the bragging rights! Plus, you'll get to say you swam in the Baltic Sea. It's a truly authentic Finnish experience.
Or try Adventure Apes: If you're looking to experience a more traditional sauna (rather than a city sauna), Adventure Apes can help you out. A guide will provide gear (like water shoes, towels, etc.) and lead you through a rustic, traditional sauna — it's the same process, but located deeper into the Finnish woods/country. Much less tourist-driven!
Wander through the Design Museum: Helsinki is known for its design aesthetic, and you can soak it all up at the Design Museum. It's a small space and easily doable in an afternoon — enjoy a leisurely wander and then hit the gift shop for some must-grab souvenirs.
Visit Suomenlinna: An actual sea fortress built over six islands, Suomenlinna is a gorgeous place for a hike — just be sure your phone storage is empty enough for the million photos you will snap. Pack a picnic for a picturesque afternoon.
Shop at Iittala & Arabia Design Centre: After browsing the design district, you'll want to take a piece of classic Finnish design home (of course). Shop classic and contemporary glassware at the Iittala & Arabia Design Centre located a few miles outside of Helsinki. With discounted prices and a gorgeous collection, you'll want to budget at least an hour here.
See the Helsinki Cathedral: A classic landmark, the Helsinki cathedral is a beautiful, neoclassical structure in the center of the city. Stop outside for an ice cream on the steps or go inside for a breathtaking view.
Wander the Old Market Hall: A historic Helsinki landmark, the Market Hall first opened in 1889 and maintains its old world charm today. Wander through for some leisurely shopping and a quick bite to eat.
What to Do: Lapland
Try your hand at winter sports: Lapland is the perfect place to partake in all your favorite winter sports — think skiing, snowboarding, cross-country skiing, snowmobiling, and more. Working up a sweat will keep your mind off the chill and let you take in the natural beauty all around you.
Visit a snow village or ice hotel: Sculpting out of snow and ice is always especially breathtaking, and Lapland boasts a few snow villages you can explore. One is even themed around Game of Thrones, for all the superfans out there. Grab a coffee (or a cocktail) and wander. Plus, if you're feeling really adventurous, you can always book a room for the night.
Go dog-sledding: Cute puppies and a magical ride through the snow?! What more do you need to know.
Catch the Northern Lights: The Northern Lights are on a lot of bucket lists for a reason — their beauty and scope is seriously incredible to experience. You can see them on clear nights in Lapland from around September to March, so be sure to plan your trip during that time frame if you're on the NL lookout.
Hot tub with a view: What's better than a regular ol' hot tub? Hot tubbing with a sparkling, snow-covered view spread out around you. Warm up and get a little cozy without missing anything.
Go for a hike in the snow: The natural beauty of Lapland is seriously breathtaking, you'll feel like you're in the North Pole. Grab some heavy duty snow boots and your coziest, fluffiest coat and wander through your very own winter wonderland.
Where to Eat: Helsinki
Brunch
El Fant: The best Avocado Toast in Helsinki — made on rye bread that is seriously life-changing. Plus a sweet and 'gram-worthy atmosphere.
Vegetarian
Yes Yes Yes: Helsinki actually has a LOT of vegetarian and vegan-friendly dining options, and Yes Yes Yes is at the top of the pack. With small, shareable plates each more delicious than the last, you'll be glad you said yes. Pro-tip: Sit at the bar to watch the dishes get made and feel at the center of the action.
Dinner
Ateljé Finne: A gorgeous spot for a late evening dinner, Ateljé Finne is atmospheric in the best way and boasts an extensive wine list. It's a tiny space, which makes it all the more romantic. Try the reindeer meat (trust) or the fish of the day.
Coffee
Andante: A sweet little coffee shop in the heart of the design district of Helsinki. Perfect to stop in for a quick coffee before some local shopping.
Where to Eat: Lapland
Lapland encompasses a huge area of Northern Finland, so you'll have varied dining options depending on where you are in the region. Here are a few highly-rated restaurants across Lapland:
Nili (Rovaniemi): A unique and cozy dinner spot serving classic Finnish food. Try the arctic char or anything featuring lingonberries.
Ravintola Rouhe: Local, seasonal dishes (seasonal eating is a huge trend in Finland) with a great wine selection to compliment. The cozy atmosphere will have you ordering a second (and third, let's be real) glass.
Cafe & Bar 21: If you're looking for cocktails, this is your place. With outdoor seating and a cozy, hipster-ish vibe, it's a great place to grab lunch or sit, sip, and people-watch. Plus, it's very 'gram-worthy, if you're into that sort of thing (aren't we all).
This post was in partnership with Finnair, but all of the opinions within are those of The Everygirl editorial board.
Where are your favorite spots in Finland? Any must-do day trips?